Arts & Living
Friday, April 10 Kicks Off the Arts at Amherst Annual Spring Festival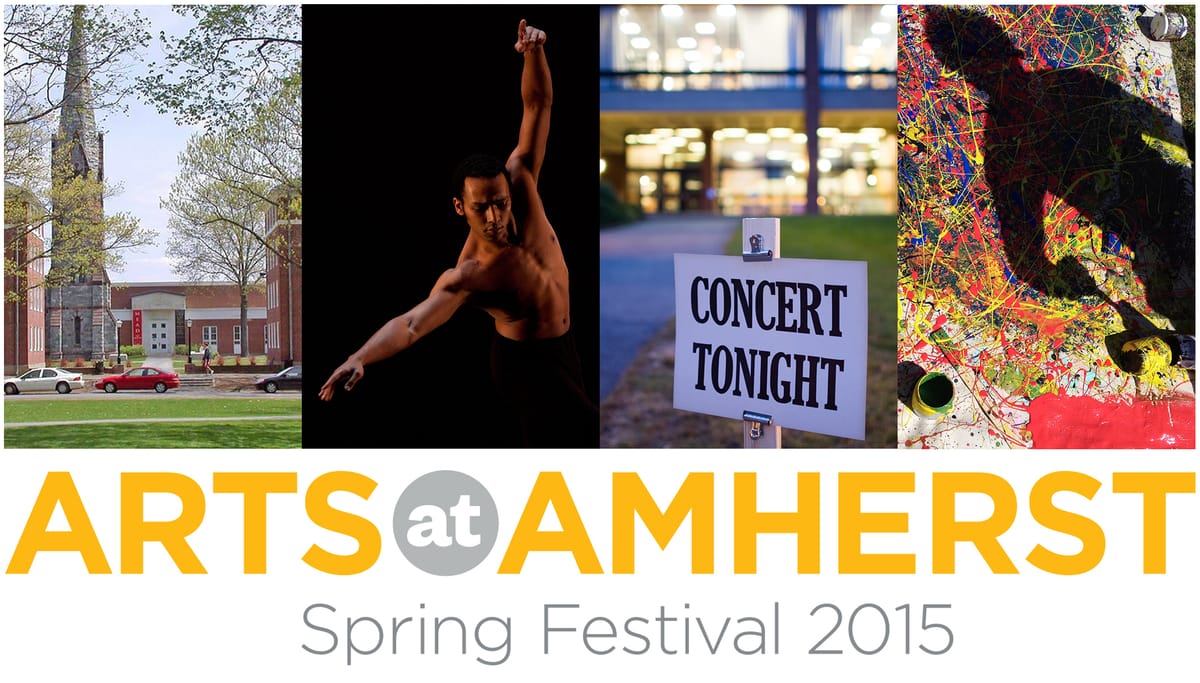 The Arts at Amherst Annual Spring Festival kicks off this Friday, April 10 with an opening reception at Arms Music Center, and continues for another nine days of arts-related events, concluding Sunday, April 19. The events range from student-led performances featuring the talents of Amherst College students to musical productions led by outside ensembles and a variety of film screenings.
The idea for an arts festival stemmed from a collaboration among the major four arts departments and institutions on campus in a voluntary steering committee, featuring the Mead Art Museum, the theater and dance department, the art and art history department and the music department. This is the second year this committee has coordinated this large of a festival, and they hope that this year's Arts at Amherst Festival will be even more successful than the previous year's Fringe Festival.
The purpose of the festival is to connect the disparate arts communities on campus, and ultimately to celebrate them, Ian Stahl '14, coordinator of arts communications, said. A variety of speakers and performers have been invited to campus to showcase their work, including Ghanaian-American filmmaker Akosua Adoma Owusu, long-exposure photographer Jonathan Keats '94 and New York City-based jazz scene band Circle Wide. Part of the large-scale connection occurs through the student group, the Arts Advocates, who come from various disciplines to create events for the festival.
"It's not often that something happens every day consecutively for 10 days," Stahl said. "Also, it's the attitude towards the arts that makes this festival special. There's more of an emphasis on being involved in them and celebrating them."
This year's festival is noteworthy for its inclusivity — last year's Fringe Festival had no student events.
"This position [as coordinator of arts communications] allows me to give input on the festival as an Amherst alum. I really pushed to include the students in the art festival that was, in its inception, meant for the students," Stahl said. "While Amherst does have a variety of student art scenes, even students in those separate scenes do not know of each other because of the way the campus is set up, with theater and dance in one place and music in another. They're all tossed to the wind, without a chance to meet each other and collaborate with their differing media."
One of the highlights of the Arts at Amherst Festival for student artists will be the "Arts Party" at the Powerhouse on Thursday, April 16. Student groups from all disciplines will congregate in one building and have a chance to showcase their talents. The acts in place range from a capella groups and performance art pieces to local live bands and improv groups to a splatterpaint section and gallery of student art. Three Amherst film classes will be showcasing their original work, and David Gloman, the senior resident artist of the Department of Art and the History of Art, will be leading a workshop on using songs and music as inspiration for paintings. Stahl said the event will include a large number of student artists.
"I have accepted nearly every act that applied for exhibition, and those that I didn't take would have torn the Powerhouse down. There are so many people involved; it's exciting and terrifying!" Stahl said.
Stahl said that an administrative steering committee, which is comprised of faculty from the four featured art departments, has been working on the festival for many months. The steering committee is responsible for the organizational components of the event.
"The steering committee are the real movers and shakers. People don't realize how much time it takes to put on such big things, and it doesn't happen unless there is someone sweating over it for six months," Stahl said. The institutional support and the Steering Committee brought the event off the ground.
"And that's one of the great things about Amherst ," he added. "There are so few students, and the support network is awesome. People at the top of their game are willing to help you get where they are now."
And on the probability of a third arts festival, he said, "We are all for more student involvement in this huge event, so the bigger it is, the better chance that these festivals will continue!"
More information about the Arts at Amherst Festival and its many events can be found at Amherst.edu/arts.