Arts & Living
Fright Fright Baby: The Year's Best Halloween Costumes
Halloween brings out some brilliantly creative costumes every year, and 2021 has been no different — either on or off campus. From Baller Biddy to Megamind, Managing Arts & Living Editor Brooke Hoffman '23E breaks down her favorite costumes from last weekend.
Halloween: the time of year when the costumes come out and the creativity comes on. From classic costumes — cats, witches, athletes, characters from the beloved '90s sitcom, "The Office" for the third year in a row — to the new — Pitbull, President Biddy Martin with a basketball, Baby Yoda, and more — this Halloween was one for the books.
Whether you want to relive the best of this spooky season, or kickstart your costume prep for next year, we're capping off Halloween 2021 with a rundown of this year's top costumes. Let's start with the celebrities.
Lizzo as Baby Yoda from "The Mandalorian"
If you were on the internet at all this weekend, chances are you probably came across Lizzo's next-level costume at some point. From the full length robe to the green body paint, singer Lizzo transformed into Baby Yoda from The Mandalorian, taking Halloween to new heights and arguably clinching the title of best Halloween costume of 2021.
Harry Styles as Dorothy from "The Wizard of Oz"
Another star turning heads this Halloween was singer Harry Styles. Performing at his show 'Harryween,' Styles dressed up as Dorothy from The Wizard of Oz. Sporting the iconic blue and white plaid dress and ruby red slippers, Styles excited his fans and turned the stage into his own personal yellow brick road.
The Weeknd as Don Corleone from "The Godfather"
One of the best-executed celebrity costumes of the year, singer The Weeknd spent Halloween as Don Corleone from "The Godfather." Donning a suit and impressively realistic makeup, The Weeknd had this costume perfected down to a T, even taking to Instagram to show off a pretty spot on portrayal of the famous character.
Rihanna as rapper Gunna
Singer and Fenti mogul Rihanna dressed up as Gunna, sporting a recent outfit of the rapper, with knee-high leather high top sneakers, tank top vest and oversized sunglasses.
Lebron James as Freddy Krueger from "A Nightmare on Elm Street"
Frightening in the paint and in the costume department, Lebron James took spooky season to the next level. Dressed as Freddy Krueger from "A Nightmare on Elm Street," James's costume captured Krueger in all his scary might and raised the bar for the celebrity costume game this year.
While these celebrities certainly deserve applause, our very own Amherst College student body gave the stars a run for their money, crafting top-notch costumes that undeniably impressed.
Suni Lee and Simone Biles
What's better than dressing up as  Olympic gymnasts? Dressing up as Olympic gymnasts and getting their attention on Instagram. Hannah Colaizzo '23 and Grace Tarantola '23 came to compete and won the gold this Halloween, creating a look so good, it caught the attention of Suni Lee and Simone Biles, who commented on Colaizzo's Instagram post of the costume.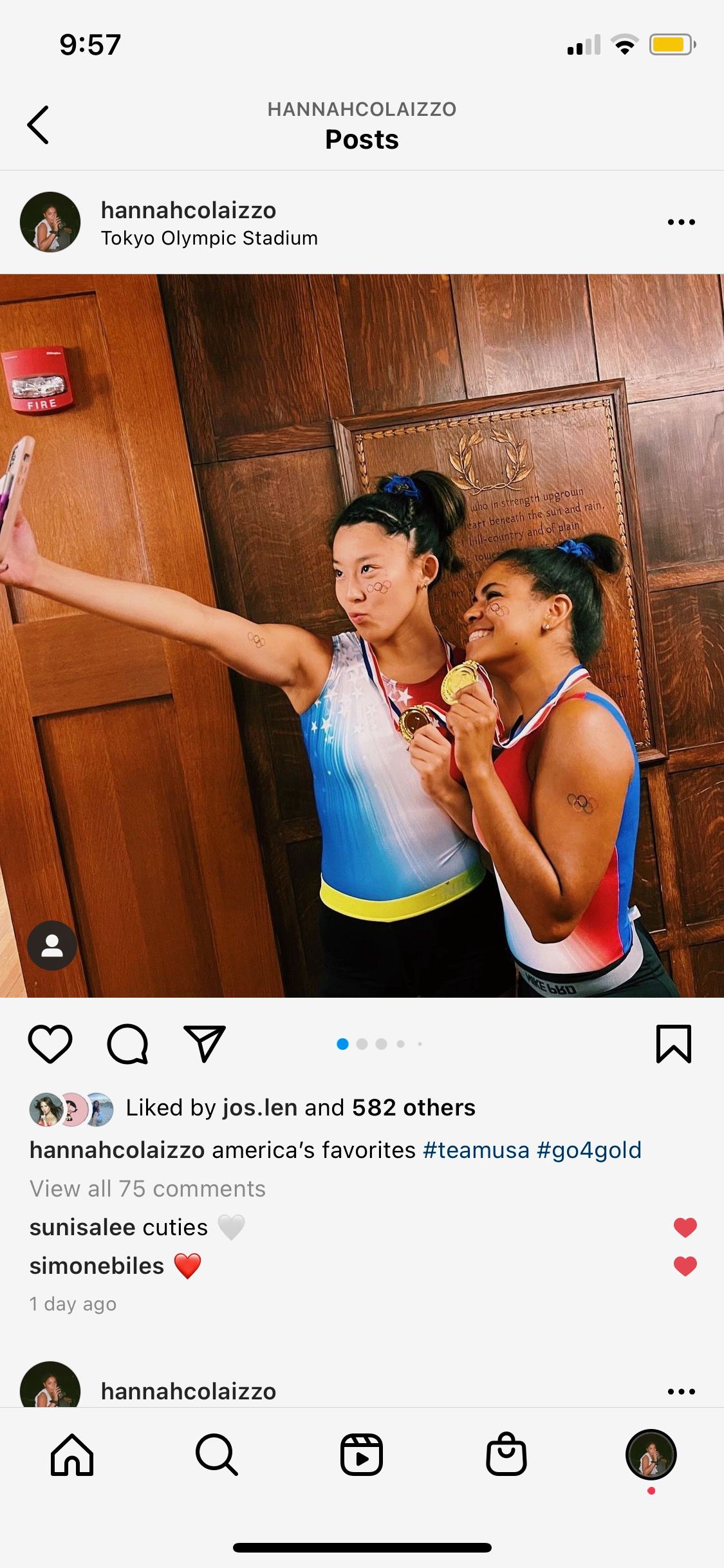 Baller Biddy
A Halloween half-court press? Recreating an iconic, viral photo, Emma Cape '22 dressed up as President Martin playing basketball.
Commenting on the inspiration behind the costume, Cape explained "I think the photo of Biddy breaking ankles is absolutely iconic and the people loved it when I originally posted it on Twitter, so I thought 'what better way to celebrate my last Halloween at Amherst than as the main character herself.'"
Megamind
Best in Blue. Sydney Larsen '23 went all out, transforming into the animated character Megamind. With a full-length cape, blue facepaint, blue hairspray, and long black gloves,  Larsen undeniably understood the assignment.
Machine Gun Kelly and Megan Fox
Colaizzo and Tarantola's costume wasn't the only one to garner the attention of celebrities this Halloween. Diana Daniels '22 and Lisa Zheutlin '22 recreated some photos from Megan Fox and Machine Gun Kelly's notorious GQ photoshoot. Their Instagram post was shared on Megan Fox's own Instagram, offering further proof Amherst students crushed the costume game this year.
Other top costumes on campus included Pitbull, the Val Dasani cans, the characters of "Squid Game," and T-Bo from "iCarly"
And if you're looking for inspiration for next year, here's a list of popular costumes across the country from classic to clever to straight-up comedy:
- Mr. Clean
- Moira and Johnny Rose from "Schitt's Creek"
- Napoleon Dynamite
- "Scooby Doo" characters
- Guy Fieri
- Powerpuff Girls
- Thing 1 and Thing 2 from "Dr. Seuss's The Cat in the Hat"
- Characters from the Mario video game franchise
- The dwarfs from "Snow White and the Seven Dwarfs"
- Wanda and Cosmo from "The Fairly OddParents"
- The Addams Family