Arts & Living
HBO's Documentary Miniseries "The Jinx" Captivates Viewers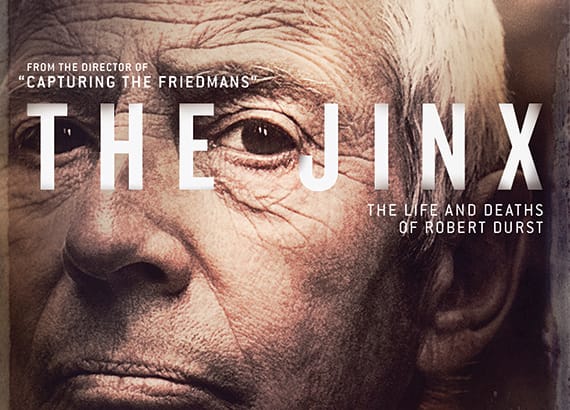 The first episode of the HBO series "The Jinx", which investigates the unnerving life of multi-murder suspect and New York real estate heir Robert Durst, feels like a cheesy "Law & Order" episode. An innocent civilian embarks on a stroll by the bay and notices many mysterious trash bags floating on top of the water. The police arrive and discover that the bags hold four dismembered limbs and a headless torso. There is no head to be found. Cue the haunting, catchy music, introducing the show, the producers and a montage of crime scenes, newspaper clips and a potpourri of Durst's infamous murderous props. It seems unreal, merely a ploy by creative, manipulative Hollywood moguls to make money. And while it may be a ploy to make money, the events it narrates are certainly real. Real enough, at least, to put Durst back in court following the airing of the series' fifth episode.
Jarecki, the producer of the series, was no stranger to Durst's life before filming began. In Jarecki's 2010 thriller, "All Good Things," Ryan Gosling stars as a violent, controlling, oddball Durst who ultimately murders his wife and possibly a pet husky over the course of the movie. The film saw little success, floundering in the box office and receiving a 32 percent score on Rotten Tomatoes. Yet, Jarecki's latest Robert Durst focused feature engrosses critics, audiences and FBI officers alike. So what has changed?
After the premier of "All Good Thing," Jarecki received a call from Durst, who shared his praise for the film and offered Jarecki the opportunity for an in-person interview. Like any sensible producer, Jarecki jumped on the chance to make media history. "The Jinx" pieces together Durst's convoluted past — but this time Jarecki's work isn't fiction. Jarecki intertwines clips from past police interviews and court hearings dating back to 1982 (the year Durst's first wife disappeared) with recent interviews with victims, relatives and Durst. The series highlights the murders of three people, all related to Durst in one way or another. The first, and most infamous case, which inspired Jarecki's initial film, is that of Durst's bright and beautiful wife Kathie McCormack, who disappeared without a trace in 1982 after marital difficulty. The second involves Susan Berman, a longtime friend of Durst who facilitated his alibi during the police's investigation of Kathie's disappearance. Days after being interrogated briefly by the Los Angeles police regarding Kathie, Berman's body lay lifeless in her California home after being shot execution style. After these events, Durst moved to Galveston, Texas and posed as a mute woman. The series' first episode finds Durst in Texas as he is being arrested for the murder of his neighbor, Morris Black, who was found dismembered, headless and bagged in the Galveston bay. And yet, despite the interconnectedness of each of these incidences, Durst somehow emerged unscathed, posting thousands of dollars in bail and only spending a handful of days in prison.
At times throughout the series, the gravity of each of these murders is overshadowed by the absurdity of Durst's actions. After Morris Black's murder, Durst fled town, and the police issued a warrant for his arrest on a charge of bail jumping. Only days later, surveillance cameras in a grocery store in Pennsylvania caught Durst shoplifting a chicken salad hoagie and Band-Aids. He had $500 cash in his pocket. When asked if he shaved his eyebrows for disguise while on the run, his lizard-like eyes dart and he unflinchingly responds, "How do you accidently shave your eyebrows?" He justifies dismembering his neighbor with swerving logic: "I had to get this corpse out of my apartment. I thought about putting it in a sleeping bag and dragging it out, but good God, that's ridiculous!" Every now and then, Jarecki incites a disturbing sense of sympathy for Durst as the camera seems to mock the elderly man as he hobbles throughout the streets of New York City, is rejected by body guards from his family-owned real estate corporation and wades outside the doorstep of his brother's home.
While viewers might be tempted to giggle at Durst's grotesque theatrics and pity his solitary existence, we cannot forget the grave undercurrent that fuels this series. For each of the victims featured in this series — Kathie, Susan, Morris and all those related to them — justice has yet to be served. Each case illuminates the glaring flaws within the United States criminal justice system. Time and time again, savvy lawyers and loads of money save Durst from jail. Detectives overlook crucial evidence and fail to follow important leads. The judicial system falters and fails. At one point, it is hard to keep watching, as jurors find Durst not guilty of Morris Black's death, despite his confession of dismemberment. It's impossible to watch this show without being reminded of the severe flaws within our country's criminal justice system.
Yet, it is this disarming balance between gravity and theatricality that make the series most fascinating. The series seems almost fictional due to its dry wit, its tragically flawed authority figures and its hoagie-stealing murderer. But the real-life interviews, court cases, evidence and especially the obituaries prove otherwise. Somewhere along the series, the truth of the subject matter catches up to Durst and the stakes become tangible.
On March 14, FBI agents detained the 71-year-old real estate scion in New Orleans after Durst produced a condemning confession. At the scene of his arrest was more than $44,000 in cash and a tracking number for a UPS parcel containing another $117,000. Near these items lay 5 ounces of marijuana and a neck-to-head latex mask. A week ago, a Louisiana judge ruled that Durst, who is charged with the first-degree murder of Susan Berman, would be held without bail, a decision undoubtedly based on his past record of fleeing. Naturally, Durst's most recent arrest led authorities to revisit the past cases of Black and McCormack, as well as a handful of other past, unsolved disappearances in other places that Durst resided. It finally seems like the Jinx cannot slither out of this one. However, Durst, who is purportedly worth $100 million, is backed by yet another team of savvy lawyers, so only time will tell.