News
"I Would Be a Great Diva," RBG Says at College Event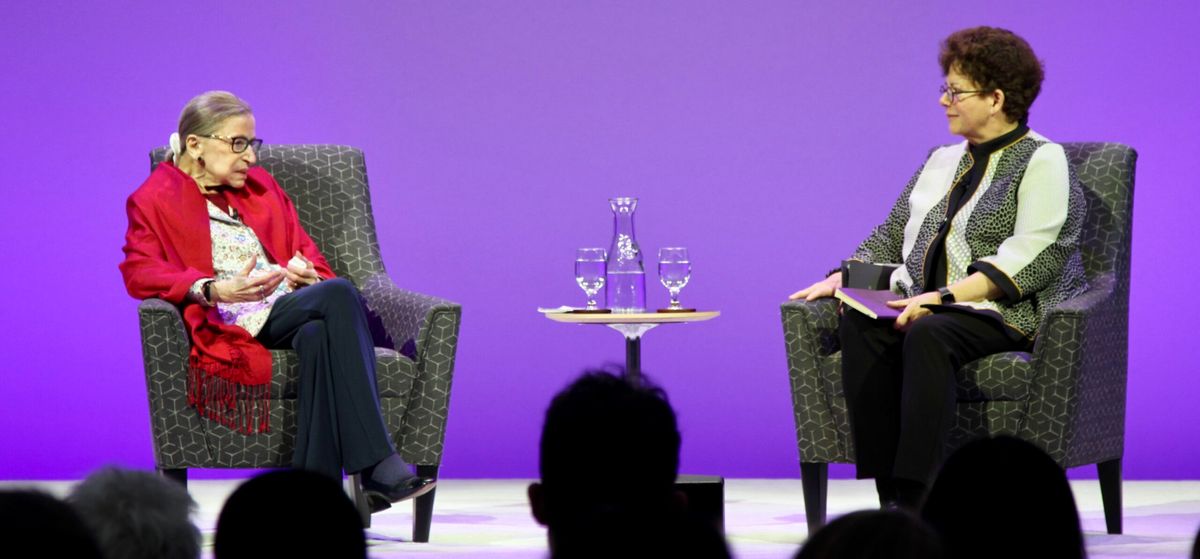 Supreme Court Justice Ruth Bader Ginsburg addressed the role of the Court, workplace discrimination and the current political period — "an aberration," she said — in a conversation with President Biddy Martin on Thursday, Oct. 3. The event, which was highly promoted and took place in Coolidge Cage, drew nearly 1,600 audience members from the college and Amherst community.
Ginsburg, the oldest justice on the Court, was appointed by President Bill Clinton in 1993. A Brooklyn native, she was the first in her family to attend college. After graduating from Cornell University and Columbia Law School, she worked as a lawyer, advocating for gender equality and women's rights and winning multiple cases in front of the Supreme Court. Since her tenure on the Court, she has faced a number of health issues, including three instances of cancer, but received a heavy outpouring of support for her commitment to the Court despite these concerns. A pop culture icon, she has been dubbed "The Notorious RBG," in reference to the late rapper The Notorious B.I.G., and is the subject of last year's lauded documentary "RBG" and the feature film "On the Basis of Sex."
Andrew Nussbaum '85, chair of the Board of Trustees and a former law clerk for Ginsburg, opened the event with a brief biography of the Supreme Court justice, noting that audience members may already know a lot about her from "read[ing] one of the many books about Justice Ginsburg, or see[ing] her portrayed on Saturday Night Live."
Following the introduction, the Amherst College Choral Society sang a piece from one of Ginsburg's favorite operas before handing the stage back to Martin, who began by asking Ginsburg about the origins of her love for opera. Ginsburg recalled that composer Dean Dixon used to travel across high schools to increase exposure of opera to youth in the U.S. Ever since then, she has been hooked.
"Sometimes I'm so consumed by my work … but when I go to the opera, all the briefs and opinions are put on the high shelf and I just enjoy the glorious music," Ginsburg said.
Martin next asked Ginsburg about learning the value of writing during her undergraduate career at Cornell. After describing one of her professors who was particularly interested in the different shapes of writing and the ways in which they pushed her thinking — what Martin commented sounded like "a good education" — Ginsburg conceded that "some things were not right about Cornell in those days." Back then, the ratio of male to female students was four to one.
"This made it a favorite place to send daughters because if you couldn't find your man at Cornell, you were hopeless," she joked.
Drawing on Ginsburg's childhood years during the Holocaust and World War II, as well as her college years' overlap with the rise of the infamous communist-accuser Sen. Joseph McCarthy in the 1950s, Martin pivoted the conversation to discuss the role of free speech in today's political climate.
Ginsburg's constitutional law professor wanted her to see that there was something "really wrong" with McCarthyism, Ginsburg said. "We have the right to think, speak and write as we please and not as Big Brother government tells is the right way to think, speak and write," she said.
Inspired by her professor, "I had the idea that being a lawyer was a nifty thing to do," Ginsburg added, citing that she anticipated advocating for people's First Amendment and Fifth Amendment rights of freedom of self-expression and freedom from self-incrimination, respectively. "I wanted a well-paying job that would make the future better."
When asked what she thought about the current state of freedom of speech in the United States, Ginsburg said that "we've done pretty well."
"I am optimistic for the future, and I am especially optimistic about the people in this room and what you will do to repair tears in our society," she said.
Martin, who hails from Virginia, proceeded to ask about the United States v. Virginia Supreme Court case in 1996, in which the federal government sued the state of Virginia over the men-only admissions policy at the Virginia Military Institute (VMI). Ginsburg stressed the importance of the decision, which sided with the federal government and ordered VMI to admit women, adding that the vigor of the institution remained consistent and the decision "meant they could upgrade their applicant pool."
The sole dissenter in the case was the late Justice Antonin Scalia. Scalia, Ginsburg said, gave her his dissenting opinion early so she could consider its arguments while writing the majority opinion. "It absolutely ruined my weekend when I read [Scalia's opinion]," Ginsburg said, laughing.
The pair infamously maintained a good friendship despite their conflicting judicial views. When they worked together on an appellate court prior to their Supreme Court appointments, Scalia would pass Ginsburg funny notes on the bench. Scalia also "cared about good writing," like Ginsburg. The two were even featured in a comic opera portraying their friendship — "Scalia/Ginsburg" by composer Derrick Wang.
Moving toward other Supreme Court cases, Martin compared the unprecedented nature of both Brown v. Board of Education, which prohibited segregation in public schools, and Roe v. Wade, which ruled anti-abortion laws unconstitutional. Ginsburg countered the comparison, however, emphasizing that while Brown had prior court cases on which to build an argument, Roe did not have the same approach.
"[Roe's] decision was absolutely right," Ginsburg said. "Texas had the most extreme abortion laws in the nation … The Court made every restrictive abortion law in the country, even in the most liberal states, unconstitutional. All the Court had to say was that extreme law is unconstitutional."
"I think it might have been different if the Court took the approach that it took in Brown and take Texas' most extreme law, then the next law and the next law," she added.
Martin then asked Ginsburg about her relationship with her late husband Marty Ginsburg. "Marty cared that I had a brain," Ginsburg said. Marty Ginsburg was also a good cook, so much so that their daughter eventually asked why her mother was the primary cook of the household. Once Marty began cooking every day — in 1980 — Ginsburg never cooked again.
Following the conversation, the floor was open to pre-screened questions from the community. The Q&A covered Ginsbrug's desired occupation if she had not gone into law ("I would be a great diva," she said), her favorite cases she has decided on and practicing forgiveness.
One question asked about the role of the Court in addressing climate change. Stressing that the Court is not a legislative body, Ginsburg said that it is instead "reactive" to the people and what they do about the climate.
Martin concluded by asking Ginsburg whether she anticipated future ratification of an equal rights amendment explicitly outlining equal protection regardless of sex. "I hope so. When I pull out this pocket Constitution," Ginsburg said, holding it up for the audience to see, "I would like to be able to say to my granddaughters the equal citizenship statute is as basic to our society as free speech."
Kate Kopatic '20, who attended the event, said that Ginsburg's talk was "surreal."
"It is such an inspiration for us who may be striving for positions like hers, to see that happening," Kopatic said.
Witter Swanson '21 echoed similar sentiments, adding that "it was incredible to see someone so influential and so sharp on a wide variety of topic ranges."
For Maya Hossain '21, while the event was "the coolest experience of my life," some of Ginsburg's viewpoints on political divisiveness caught Hossain by surprise.
"It was stunning to see someone so measured and calm, which surprised me more than I thought because I'm so entrenched in how divisive [politics] has gotten," she said. "I found that some of her takes on anger were not what I expected … It's the first time I've listened to an opinion like that and absorbed it and felt like I might incorporate it into my worldview of division."
Nearly 130 students were also able to attend a seminar with Ginsburg and Austin Sarat, professor of law, jurisprudence and social thought. The seminar discussed cases decided in the 2018-2019 term.
Correction: An earlier version of the article incorrectly published that Andrew Nussbaum graduated from the college in 1995. Nussbaum graduated in 1985.
Correction: An earlier version of the article incorrectly published that Justice Ginsburg received a degree from Harvard Law School. Ginsburg holds her law degree from Columbia Law School.