commencement
Juanita Jaramillo: A Track Star With a Passion for Policy
Juanita Jaramillo came to Amherst as a track recruit, but her time on campus has been about far more: She found a passion for policy-related research, which she will pursue as a predoctoral fellow at MIT.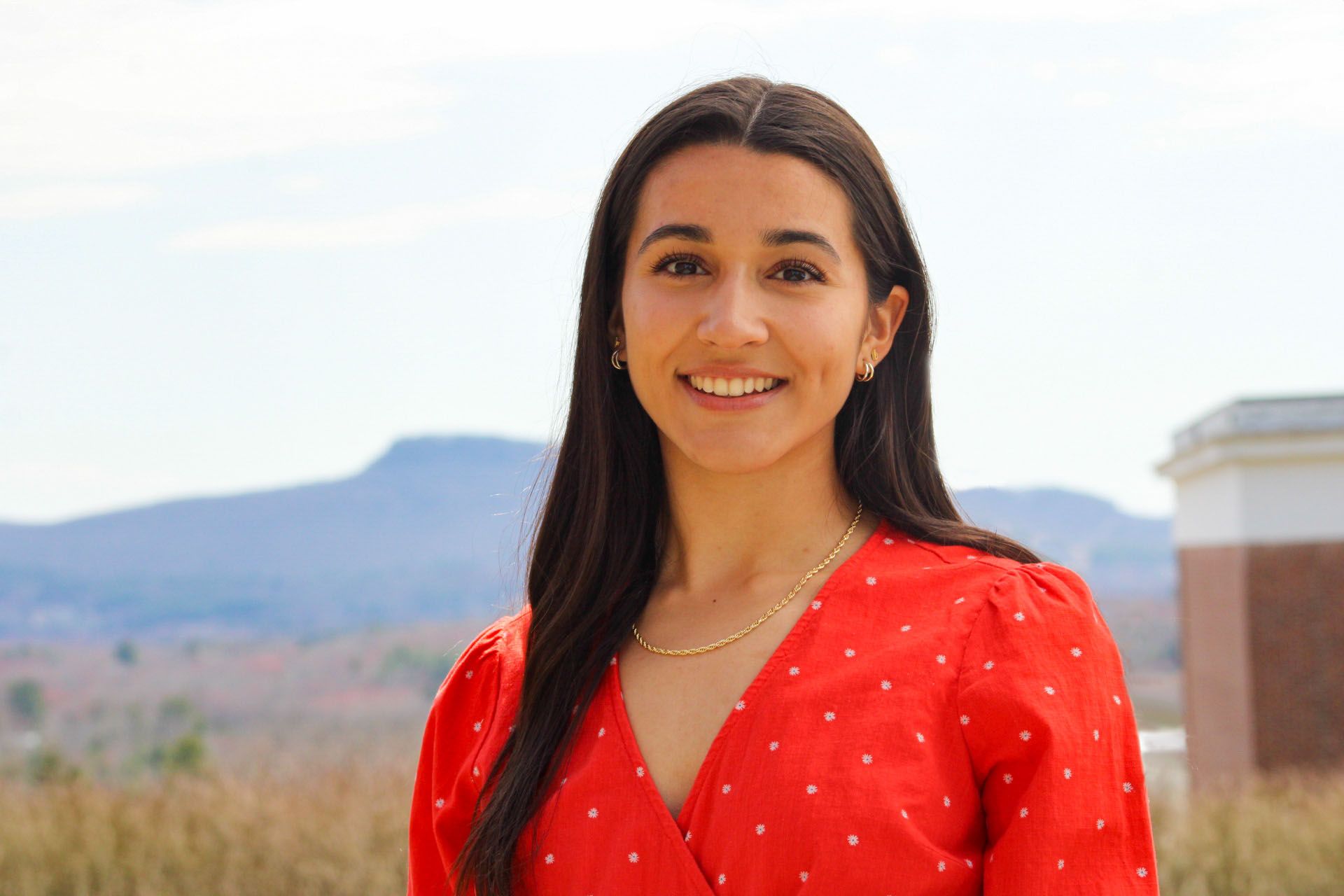 As Juanita Jaramillo '22 cites her track coach Steve Rubin as saying, "It's not about the results, it's about the process." For Jaramillo, a school record-holder and future MIT predoctoral economics fellow, plenty of results have come — but, still, it's been all about the process.
Jaramillo's journey to Amherst began with a comment from a friend's mother. NESCAC schools were not a popular destination for students at her magnet high school in Washington, D.C., so Jaramillo had never even heard of Amherst until her friend's mom brought it up.
"I was mostly looking at really big schools near the city, so Amherst was really the outlier for me," Jaramillo said.
Even though Jaramillo ran track in high school, she wasn't considering running in college until she heard about Amherst.
"I think I literally just Googled 'best DIII academic schools,' saw Amherst on the list, and was like, 'Sure, I'll fill out this recruiting questionnaire.'"
Soon enough, after a conversation with a coach, Jaramillo came on an overnight visit to Amherst.
"I sat in on a class, I really liked that it was small, I saw people participating and asking questions, and I realized that a smaller school might be a better academic fit for me, since it just seems like the kind of place where I would feel comfortable engaging with other students and the professors," Jaramillo said.
Once she arrived, Jaramillo's life has been nothing if not busy. Between various campus jobs, two majors, and a two-season varsity sport, Jaramillo's free time is hard to come by.
One of the most important parts of her time at Amherst has been track and field, a sport in which she holds both an indoor and outdoor school record as a member of the 4x400-meter relay.
Jaramillo, who is a long sprinter, came into her first year at Amherst with an unusually large amount of recruits in her event group. Some of her best memories, she said, come from spending time with her teammates in the long-sprints group.
"I think with a relay in particular, as much as it's been successful in that we've been to nationals and broken school records and stuff like that, it's been all the more rewarding because I've gotten to do it with them," Jaramillo said. "I think it's kinda rare that you have a relay team where most of the people are in the same grade, and so we've gotten to work and keep building our success over the four years, which has been really special."
When Jaramillo was recruited, she and her classmates were specifically selected to be part of a relay team — a team that has been especially successful throughout its run at Amherst.
"We pretty much came in knowing that we would be a relay team and we'd try to do well together. I came in kinda put in that box, and I guess stayed there," Jaramillo said. "It was definitely intimidating at the beginning — I feel like there were some expectations to fulfill, but I think that over time, you just grow a lot more confident and comfortable in yourself."
Looking back on the evolution of the team, Jaramillo is happy to see that the group has become more socially cohesive — and successful on the track. When Jaramillo joined the team, Rubin, the current head coach, had only been at Amherst for one year, and the men and women's teams had only been training and competing together for two years.
"Just seeing the way it is now, in the freshman class, how immediately close the track versus cross country groups are, or the men versus the women are, it's been very rewarding to see the culture change and grow, and then exciting to see how the success of the team has changed as well with our performances at NESCACs or DIIIs," Jaramillo said. "I think there's been a better experience over time, so that's been really cool to see throughout my four years here."
Track has not been the only area in which Jaramillo has excelled, though. An economics and psychology double major, Jaramillo has worked as a research assistant with Assistant Professor of Economics Caroline Theoharides, a development economist. Much of Jaramillo's work with Theoharides has focused on policy-adjacent questions.
"She does a lot of development research in the Philippines, so I've worked with her on a variety of her projects, and they have to do with things like child labor intervention, or changes in compulsory education laws, or overseas Filipino workers," Jaramillo said.
"Working with her got me kind of exposed me to the kinds of questions you can look at with economics, and so that kind of got me interested in the research side of things, which has definitely influenced my career path moving forward," Jaramillo said.
Jaramillo wrote her senior thesis for the economics department about the impact of refugee flows on the U.S. labor market and education outcomes. Through writing her thesis and doing research with Theoharides, Jaramillo decided to do research next year as a Pre-Doctoral Research Fellow at MIT Blueprint Labs.
"I've figured out I really liked doing research — econ research — and policy-relevant research more specifically, and so I'll be pretty much doing research next year, and then thinking about pursuing grad school, like a Ph.D. in either economics or public policy or some sort of related field."
The goal of the position, Jaramillo said, is to spend two years gaining research skills and getting experience doing research. As of now, Jaramillo's plan is to apply to graduate school after her two years in Cambridge, Massachusetts, and then work in a public policy field.
At a previous internship, Jaramillo worked at a non-profit doing education- and inequality-related research, which she said she really enjoyed.
"I think that's something I'd really like to do, working for PEW Research Center or Brooking or any of those kinds of places, and so the pathway up there is to just keep pursuing research, get some practical experience, and then hopefully from there I'll jump into a policy research position," Jaramillo said.
Looking back at Amherst, Jaramillo said her fondest memories come from all over campus, but her friends were there for each one.
"I have especially fond memories of the Greenway volleyball courts," Jaramillo said. "I've been there many times — any volleyball game with a group of people where it's just a beautiful day outside and your friends are there, and people you know walk by and you're like, 'Come join.' You just find yourself spending all day out there, laughing, listening to music — it feels kinda like the quintessential college experience, being out there. You're like 'Wow, this is what they pitch to you at the admissions tour.' So, yeah, I have really good memories of those days in the spring."
Surprisingly, Jaramillo also said some of her best memories are of late nights spent working at Frost Library.
"It's kinda Stockholm Syndrome, but I have lots of fun memories in Frost," Jaramillo said. "Late nights there with your friends, as much as it's just like grinding and getting your work done, in a lot of those moments you like get into these random conversations with your friends, go take a study break and go to Schwemm's and grab a milkshake and come back, so I think a lot of those more simple moments have brought me a lot of joy and really represent my Amherst experience."
Overall, Jaramillo said she is incredibly grateful for one aspect of her time at Amherst above all: the relationships, including everything from connections with professors to her community on the team.
"I think that's something very unique to Amherst that I don't think I would have gotten at other schools, just having gotten the help and support and mentorship from professors during my time here and also just relationships with people, whether it's meeting people through CACSAC [Council of Amherst College Student Athletes of Color] and getting closer with people in that community, or having the team and having that as a community to make memories with and get support from," Jaramillo said. "I think it's just a small place, but it's a good place to build close relationships with people, and I think that's what's made it such a good experience — it's who I've gotten to have that experience with."
In other words: According to Jaramillo, it's all about the process.