Arts & Living
Julia Jacklin Tackles Pain and Desire of Love in "Crushing"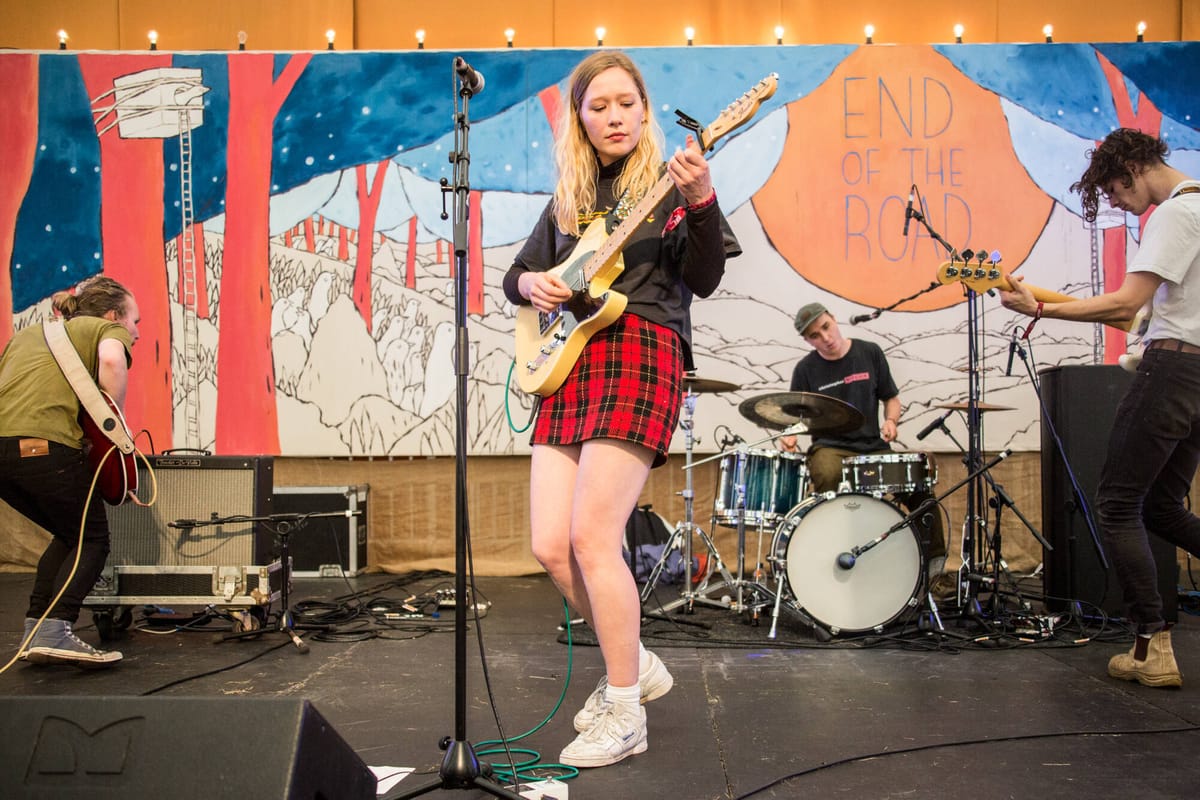 Since her 2016 debut, conservative chord progressions and moving vocalizations have marked the style of Sydney-based singer Julia Jacklin. The intonation she carries feels kin to that of fellow dreamy alt-folk singer Angel Olsen. However, unlike Olsen, Jacklin has recently found more edge in her lyrics and a shocking level of vulnerability. In her debut album, "Don't Let the Kids Win," Jacklin crafted a coming-of-age tale that is memorable for its stripped-back ballads that recount outgrowing her childhood environment. Now, following the release of her sophomore album, "Crushing," Jacklin's work has shifted to be more intimate than before, as it recounts a recent breakup. Her lyricism is more biting and reads as near diaristic in its explicit nature. She sounds more wary of her relationships and attempts to break free from the grips of nostalgia while dealing with bouts of confusion, fear and desire. The album opens with "Body." The track details incidents with her former lover, including him getting in trouble with the police for lighting a cigarette in an airplane bathroom, that lead Jacklin to be frustrated with how he treats her. She paints her lover as immature and sings, "You're more kid than criminal … I'm gonna leave you, I'm not a good woman when you're around." The attitude of her unhealthy partnership continues to grow and her vulnerability stings in the second half of the song when she tells of a time her partner took a picture of her body to embarrass her.
She questions whether he still has the picture and whether he would use it against her. In an interview with NPR Music, Jacklin claimed that this incident "happened, in a way," and later said that the song "speaks for itself, but … it's just a very long and exaggerated sigh." As the narrative slips into Jacklin repeating the lines "I guess it's just my life, and it's just my body," the long sigh Jacklin references is truly felt. Her intention to share her hurt and accept her situation becomes the backbone of the album, rendering "Body" a painful welcome into the vulnerability that will follow.
However, the album is not without its more upbeat, alt-pop-centric singles such as "Head Alone" and "Pressure to Party." Jacklin plays to her familiar acoustic riffing, producing tracks which will likely be the more successful ones and define the alternative sound of spring. Because of the sunnier sound, the poetry of her lyrics can be washed out in the first listen. Ironically, "Pressure to Party" is a complete manifesto against going out after a breakup, but is the most party-friendly track on the album.
Despite being fantastic compositions, both "Head Alone" and "Pressure to Party" feel a bit out of place when compared to the general tone of the album. If anything, the two songs ensure a certain market success to members of Jacklin's audience who may not be ready to fully absorb the melancholy of a breakup album. However, it could be argued that Jacklin is trying to reify the mélange of highs and lows that accompany the wreckage of a breakup. Regardless of intention, Jacklin peels away from the safety of this familiar pop and introduces piano into her work on "When the Family Flies In." For those familiar with Jacklin's work, this is quite the shock given that the vast majority of her sound is guitar-centric. The piano addition serves the track well and becomes another voice to guide the narrative. Perhaps unironically, the track introduces new voices and characters as it is about her family coming from out of town to check on her wellbeing. The track is a depressed lullaby with a tongue-in-cheek way of illustrating that you've obviously got to be doing pretty bad if your family feels the need to travel to see you.
Jacklin attempts to recreate this tinge of dark, self-aware humor in the following track "Convention," but is undermined by the stolen riff that opens the track. The unique plucking that defines "Convention" unmistakably made its debut on Father John Misty's 2016 album "I Love You, Honeybear" in the song "I Went to the Store One Day." However, Jacklin manages to redeem this slip-up with the originality of her closing tracks, "Turn Me Down" and "Comfort." The two represent the culmination of Jacklin's hurt and confusion, followed by acceptance of the painful romantic dissipation.
Initially, "Turn Me Down" appears to not be an entirely remarkable track, carrying the lull of Jacklin's stream of consciousness. The song seems to end after about two minutes, but she brings it back with a pleading coda. It swells as she begs her lover to spare her the pain of remaining if he doesn't see a future with her, longingly repeating, "Oh, please just turn me down / why won't you turn me down?" The beat punches under Jacklin's feverish crooning, until she pauses and then emerges from the silence with a sigh of acceptance. "Maybe I'll see you in a supermarket sometime," she whispers as the instrumentation fades out. In under three minutes, Jacklin captures the anguish, self-destructive thinking and longing that so often perfume a breakup. Her hurt is so palpable that her acceptance is something she is convincing herself she needs, whether or not she can admit she is far from moving on.
"Crushing" closes with Jacklin telling herself that both she and her former lover will be okay, yet it is unmistakable that she has not fully bought into this reassurance yet. Her desire to leave has transformed into the confession of missing her past. She asks, "Are you thinking of me too? I was so happy all those years with you." Scolding herself for forgetting that she was the one who left, she sorrowfully continues, "Don't know how you're doing, but that's what I get. I can't be the one to hold you when I was the one who left." The song and the album conclude as she sighs the last word, and there is no sense of resolution for Jacklin or the listener. Jacklin's wrestling with romantic waste and regret on "Crushing" is not for the faint of heart, but it is quite moving in its simple sincerity. Bearing the trademark honesty of Leonard Cohen, Jacklin offers a new generation with her acoustic-centered, poetic authenticity in summing up her heartbreak. There may be confusion and pain, but there is also hope. Closing "Crushing" with "Comfort" is a promise to the listener that both Jacklin and the audience will heal in their respective times regarding their personal pains.