Arts & Living
Met Gala 2021: Where History Meets High Fashion
The first Met Gala in more than two years was held Sept. 13 with a theme focusing on American history. Contributing writer Sofia Rodrigo '24 breaks down some of the event's best looks and what they say about our country.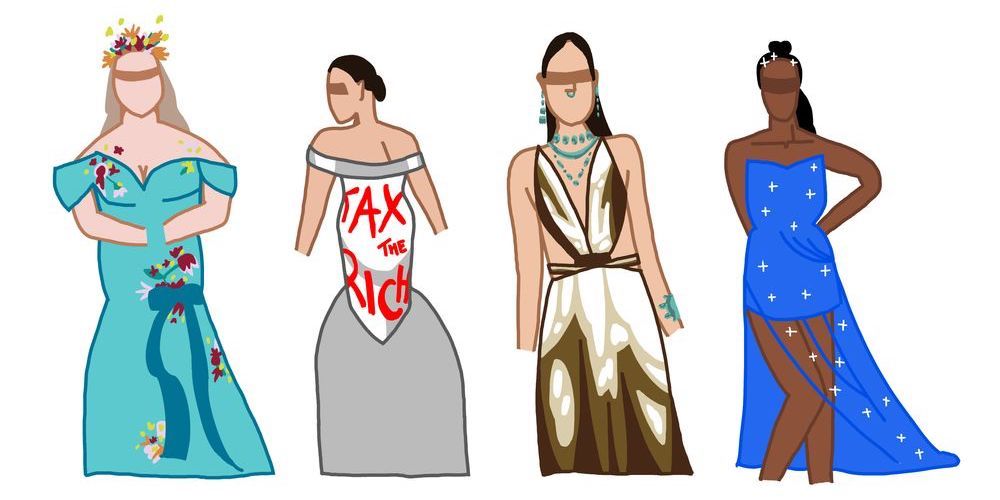 After a long hiatus, the fashion world's biggest night of the year came back in full swing. Postponed from its usual May date due to Covid-19, the Met Gala was instead held on Sept. 13 in the Metropolitan Museum of Art in New York City. To celebrate the Costume Institute's new exhibit, "In America: A Lexicon of Fashion," the theme this year was a tribute to the history of American fashion, leaving designers with plenty of room to get creative. With a broad theme open to interpretation, and hundreds of looks to choose from, there are four looks in particular that I think best captured this year's theme and paid homage to American history in noteworthy ways.
Nikkie de Jager
Makeup artist Nikkie de Jager, popularly known as NikkieTutorials on Youtube, honored trans icon Marsha P. Johnson with her Met Gala debut. Marsha P. Johnson was a prominent leader of the LGBTQ liberation movement in the United States and played a role in the Stonewall Riots. De Jager, who came out to the public as trans last January, arrived at the Met Gala in a teal Edwin Oudshoorn Couture tulle dress, adorned with flowers and a bow on the bottom reading "Pay it no mind," a phrase Johnson would use to respond to questions about her gender. De Jager also wore a flower crown resembling one Johnson often wore. By drawing attention to LGBTQ history in the U.S., De Jager's look amplifies an element of American history that is too often overlooked, executing this year's theme impeccably.
Alexandria Ocasio-Cortez
Representative Alexandria Ocasio-Cortez sparked a great deal of political controversy with her Met Gala look. Intertwining fashion and politics, AOC was styled in a custom Brother Vellies white gown with the message "Tax the Rich" written boldly in red across the back, accessorized with a red handbag carrying the same message. Immediately, her look broke the internet as her political statement generated scrutiny from all areas of the political spectrum. AOC's look made an attempt to address the history of class relations in the U.S., and while some have defended her for speaking on wealth inequality, others have labeled her a "hypocrite" and "performative activist." The ability for people of opposing opinions to vocalize their thoughts on AOC's look is another fundamental aspect of American history that AOC managed to incorporate into her look: political debate.
Quannah Chasinghorse
Making her debut at the Met Gala this year, 19-year-old model Quannah Chasinghorse served looks and Indigenous representation in the fashion world. The beauty of her identity shines through in a stunning gold gown with chain accents and a flowing cape styled by designer Peter Dundas. Most importantly, Chasinghorse pays tribute to Native American culture through her jewelry, wearing turquoise and silver pieces loaned to her by her aunt, a member of the Navajo tribe. In an American history full of mistreatment and misrepresentation of Native American culture, Chasinghorse's authentic representation of her heritage reminds the world that we cannot erase Native American history from American history.
Amanda Gorman
Activist and poet Amanda Gorman, best known for reciting her poem "The Hill We Climb" at Joe Biden's inauguration, attended her first Met Gala as a co-host of the event. Wearing a strapless, royal blue Vera Wang dress paired with matching royal blue heels and an elegant braid, Gorman came prepared to impress. Her most noticeable accessory, a blue book shaped clutch that reads "Give us your tired," plays perfectly into this year's theme. The line is a quote from the poem on the Statue of Liberty that represents a call for inclusivity, a vision where immigrants and refugees are welcomed and embraced. What could be a bigger tribute to American history?