News
Scientist Leaves Impact Beyond the Lab Bench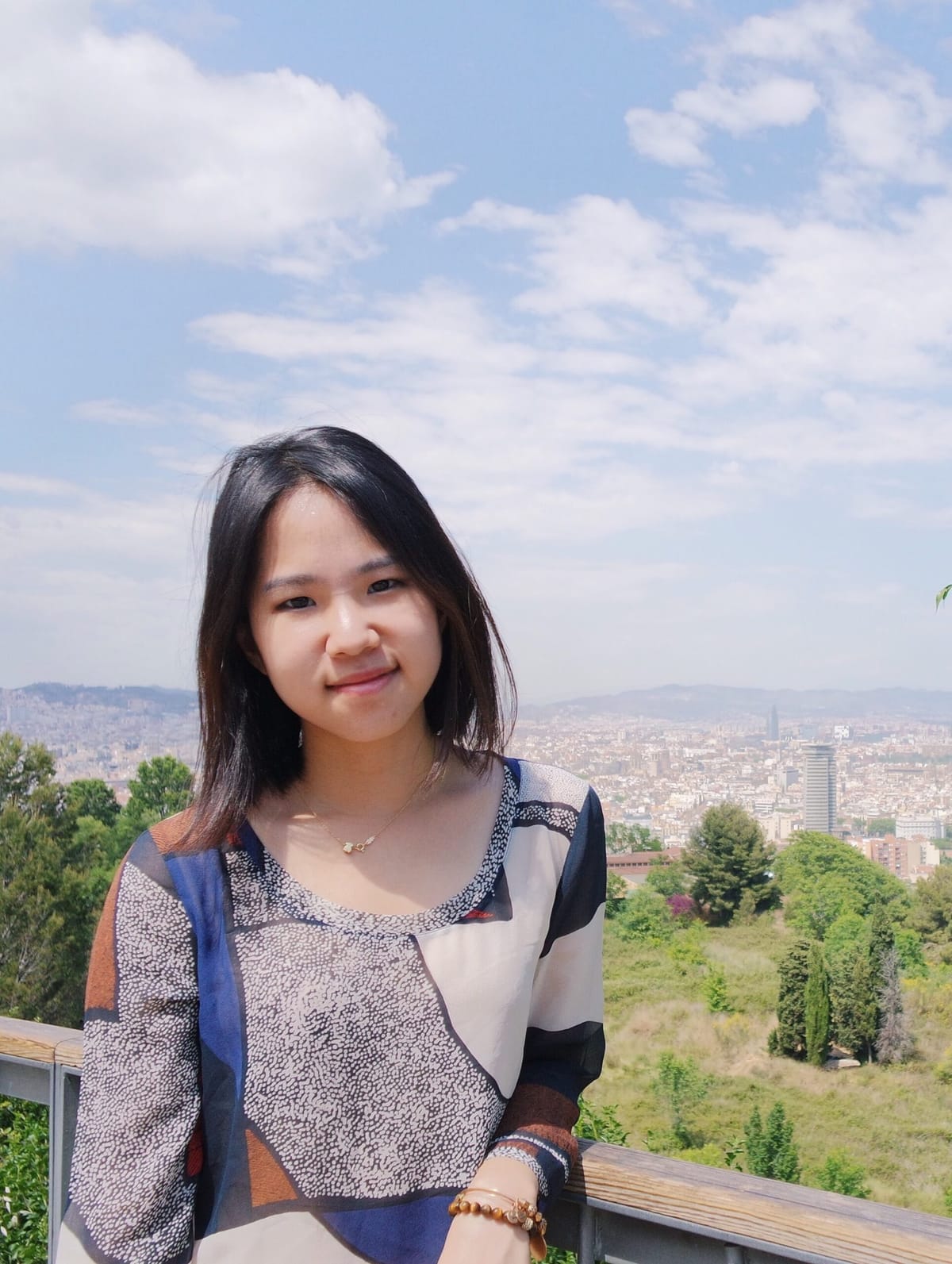 Rarely does one find an undergraduate scientist and future physician with a list of high science honors and accomplishments. Rarer still is such a scientist who also has a deep passion for providing support and resources to help her peers. Yet, this elusive ideal describes Minjee Kim perfectly. The Seoul-born, Seattle-raised biophysics major has left a mark in the hearts of faculty and students who have experienced her simultaneous dedication to scientific excellence and to helping her fellow students advance in their own intellectual journeys.
Changing the World from the Lab Bench
Kim's scientific exploration arose out of her early interest in medicine. As a high school student, she was determined to be a doctor, but also wanted to do something to help others with the skills she already had.
In her sophomore year of high school, Kim took the initiative to email nearby cancer research laboratories, asking to work and learn with them. Her parents were supportive of their only child's independent endeavors, and Kim adds that they never pressured her to pursue science or medicine, even though her father is a doctor.
Interest in research led to curiosity about the basic sciences, and Kim knew Amherst was the right school for her after attending an introductory chemistry course during admitted students weekend.
"I went to Chem 161 … and it was Professor Leung and Marshall," she said, laughing. "It was the day when Professor Marshall was lecturing and he was jumping up and down. And other colleges were more like a general lecture, but I felt like Professor Marshall made it a lot more … interactive."
In her sophomore year, Kim declared the biochemistry and biophysics (BCBP) program with a focus in biochemistry, later switching to biophysics after taking linear algebra. She also took quantum chemistry, taught by chemistry professor Mark Marshall, "for the fun of it."
This past year, Kim completed a thesis with chemistry professor Sheila Jaswal, studying and developing a procedure called hydrogen-exchange mass spectrometry (HXMS) and verifying its usefulness as a tool for studying protein folding and stability. Kim has worked on this with Jaswal, who is also her advisor, since her sophomore year. As with most scientific research at Amherst, Kim was conducting basic science research. However, Jaswal added that Kim's work can advance researchers' understanding of human diseases, which leads back to Kim's foremost interest in health and medicine.
"I think writing a thesis is really nice your senior year, actually, because it makes you be in charge of one big project," Kim said. "It gives you something that you can present as your work."
Jaswal described Kim as "[taking] complete ownership and initiative" of her thesis with "the ability to understand the big picture of the science combined with a natural intuition at the bench."
Perhaps it was out of her characteristic humility that Kim did not recount the numerous accolades that arose from her academic and research endeavors, but Jaswal detailed her impressive accomplishments in an email.
"Although there are some final experiments and analyses to complete, we are already drafting a manuscript with Minjee as the first author for submission to the top journal in chemistry," Jaswal wrote, adding that Kim shared the BCBP senior award and won the "Best Undergraduate Poster" award at the Annual International Protein Society Symposium last July. Kim was also a Michael Kauffman Fellow for biomedical research and the first-ever undergraduate to speak at Amherst's annual Fink Bioscience Symposium.
With all those experiences and honors under her belt, Kim's thesis defense, which took place a few hours after I spoke with her, was a piece of cake and the perfect capstone for her years of dedicated research.
Supporting Fellow STEM Students
Kim also left a deep impression as a mentor and problem-solver who sought to build support where she perceived a lack. She was one of the first students involved in founding Amherst's Association for Women In Science (AWIS) chapter.
Originally, Kim said, the effort was faculty-driven, specifically by physics professor Ashley Carter. One of the major accomplishments of AWIS was hosting a series of lunch talks with STEM faculty, which Kim described as a hit. AWIS initially only invited female faculty to these events, but Kim opened them to male faculty as well. Support for women in STEM, Kim said, was "a conversation that needs to happen with the entire community rather than just select female members."
Kim also sought to improve the experiences of Amherst students seeking to gain entry to the world of scientific research by constructing an AWIS internship toolkit — a readily accessible booklet containing advice from upperclassmen who had had prior research experience.
"Because I started working in a lab from a pretty early age, I had a lot of opportunities when I applied to internships because I had experience," Kim said. "But I realized that it's so hard for a lot of students to get that first internship experience." Kim added that Jaswal had noticed that it was also challenging for some to adjust to their first internship experience after landing
the position.
The booklet of resources and advice was one way in which Kim accomplished her goals for her involvement in AWIS, which she described as "really the mission statement — it was to create a student network for female students, and also to provide research for underclassmen, for them to come to AWIS as a support network."
Biology professor David Ratner calls Kim's leadership in AWIS "a clear example of her devotion to the success of her peers."
"This male professor certainly appreciated Minjee's clarifying insistence that all faculty who support the success of women in science were invited to attend the events she organized," he added.
Kim values community and support in STEM fields, with these ideals serving as important motivating factors. She became keenly aware of the intensely human aspect to Amherst's STEM departments after Amherst Uprising, a student protest against racism in the fall of 2015.
"It was then that a lot of professors expressed how much they cared about the students," Kim said. In her conversations with Ratner and biology professor Jeeyon Jeong, who taught her molecular genetics course, she was "surprised at how moved they were, and how they were so willing to stand on the side of the students in terms of the movement."
Ratner recalled that shortly after Amherst Uprising took place, he and Jeong, along with several other students in the molecular genetics course, went for a TYPO (Take Your Professor Out) that Kim had coordinated.
"Sitting in Pasta E Basta at the end of that exhausting week … I was mightily impressed by the love and support this very diverse group of students showed for one another," Ratner wrote. "For me personally, that dinner was one of the most moving 'silver linings' to be found in the critical challenges those days highlighted."
The Growth of a Leader
Kim's support for other students went beyond STEM into other areas as well. She is a leader of the Amherst College Public Health Collaborative. The group's mission, Kim said, is to work with the local community, a mission which faced challenges like the inability of college students to provide community health organizations with certain much-needed resources like funding. Recently, Kim and several other students developed a way to survey town residents' health needs and provide the information to Amherst's fledgling community health center.
Despite these limitations, Kim's leadership helped make the Public Health Collaborative a space for students interested in public health to act on that interest. She has also been part of a joint effort with leaders of four other pre-health organizations — GlobeMed, Project Salud, KDSAP and the Charles Drew Pre-Health Society — to foster community among students who plan to work with health and medicine in the future.
"Minjee doesn't shy away from facing challenges," wrote Richard Aronson '69, health professions advisor. "When she sees a need to make our pre-health community better, for example, she takes the initiative to address it."
Kim has also worked one-on-one with other students as a three-time mentor in the college's pre-health peer mentoring program. Outside of the pre-health community, she is involved in Big Brothers Big Sisters, a Hampshire County organization that connects adult volunteers with local children in a mentoring relationship.
Through these experiences, Kim has developed the capacity to be a leader in her own way. Surprisingly, there was once a time when Kim did not think she could lead a student organization.
"I'm usually not the most talkative person or not the most extroverted person, so I didn't think that I could be a good leader as a non-extrovert kind of a person," she admitted. "But … I learned that I have those qualities in me."
Kim's leadership style, as Aronson described, is "uniquely humble but strong."
Aspiring to Be a Role Model
Reflecting on her undergraduate career, Kim said, with a laugh, that she has become "nerdier," or more "intellectually curious."
"Asking questions became a large part of me, I think, whenever I learned new things," she said.
After graduation, Kim will stay at Amherst for a year as a chemistry pedagogy fellow, during which she will be a TA in upper-level chemistry courses and support the integration of Jaswal's project, titled "Being Human in STEM," into an introductory chemistry course.
During this gap year, Kim will also be applying to medical schools. She wants to be a surgeon, or perhaps a pediatric oncologist. Such specifics are still up in the air. However, Kim's future as a mentor and a leader are certain. She hopes to be a role model and help those like herself — younger female scientists, especially Asian women scientists — overcome stereotypes and difficulties.