Arts & Living
New Documentary Chronicles the Impact of Boston's Gentrification
Yasmin Hamilton '24 reviews "A Reckoning in Boston," a 2021 documentary that forces viewers to acknowledge the pervasiveness of systemic problems and consider how the construction of the documentary itself reflects inequalities in our society.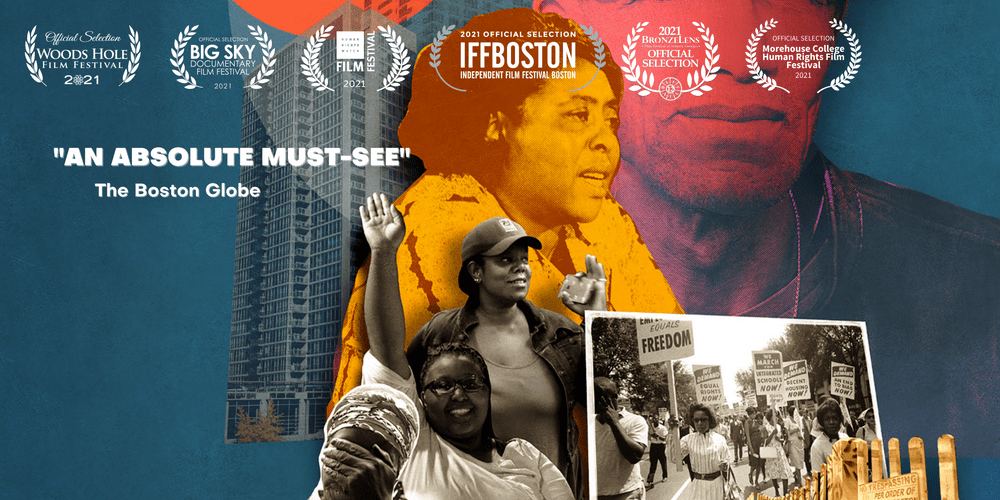 Gentrification is something we are all either complicit in or affected by. For this reason, it is seldom spoken about in informal conversation at places like Amherst because to do this would be to acknowledge one's complicity. Last week, I ran over to Amherst Cinema for one of my classes ("Race, Education, and Belonging") to watch "A Reckoning in Boston," directed by James Rutenbeck. As the start of the semester typically goes, I was a bit overwhelmed with work and hadn't had time to research the movie beforehand. I would soon find out that this was a movie best entered blind. Without knowing what to expect, I settled into my chair surrounded by other Amherst students, also there for class.
The narrative focus of "A Reckoning in Boston" evolves throughout the film, which takes place over the course of five years. At the start, Rutenbeck narrates an introduction about how a program called The Clemente Course impacted the lives of under-privileged adult students in Dorchester, a neighborhood in Boston, MA. The film goes on to explain that The Clemente Course is designed to provide low-income adults enriching experiences by analyzing classic literature. Later on, Rutenbeck's narration evolves along with his filmmaking approach, as he realizes that the course is much less salient than it seems in the face of the systemic obstacles the students face.
But throughout the movie, Rutenbeck's approach changes from distanced and spectatorial to more closely involved with the community of learners. This transition happens as Rutenbeck forms connections with some of the students, including Kafi Dixon and Carl Chandler — two residents of Dorchester. Rutenbeck follows Dixon as she lobbies the city to create a community garden in an empty lot, and Chandler as he taps into his intellectual potential and helps raise his grandson. This shift in perspective causes the film's focus to contextualize The Clemente Course within larger, more systemic problems.
Over the course of filming, Dixon and Chandler — along with many of their peers — experience both the threat and reality of eviction, homelessness and racism at the hands of city officials. As Rutenbeck's focus moves outside the classroom and into the personal lives of the Clemente students, he seems to realize that the course is only a single facet of the students' intricate realities, which are affected by the systemic inequality around them. As viewers, we are witnesses to these obstacles and to Rutenberg's ruminations on privilege. One of the film's questions is how a documentarian should best approach telling these stories — whether it be giving Dixon and Chandler space to live on screen or stepping in when the use of his own privilege was necessary.
By the end of the film, we are witnessing Rutenbeck exercising the latter action much more frequently—like when he accompanies Dixon on a meeting with a government official and is able to easily get demands approved by simply providing his presence. Rutenbeck makes the point that gentrification is a systemic problem that can only be fixed by the people who benefit from it, and this message ends up becoming much more impactful than the one he expresses in his original narration.
There are many ways that "A Reckoning in Boston" could have been exploitative and condescending to the very people that it tried to spotlight. If Rutenbeck had tried to film only how The Clemente Course impacted the students, he may not have formed the close connections to Dixon and Chandler, and the movie may have boiled down to just an advertisement for the organization. He also would not have been able to help Dixon overcome some of the bias-related obstacles she ran into. As a movie that deals so heavily with gentrification, it is essential that it did so much of the boundary-breaking that gentrification discourages. "A Reckoning in Boston" reminds us that if we would like to move to fix large social ailments like gentrification, the first step is to be open to learning and to break the distanced point of view that many of us so easily hold. Amherst Cinema's screening of "A Reckoning in Boston" only lasted for one day, but you can find a list of upcoming screenings on their website.