Arts & Living
New Mead Exhibit Asks "If Timing Is Everything, What is Time?"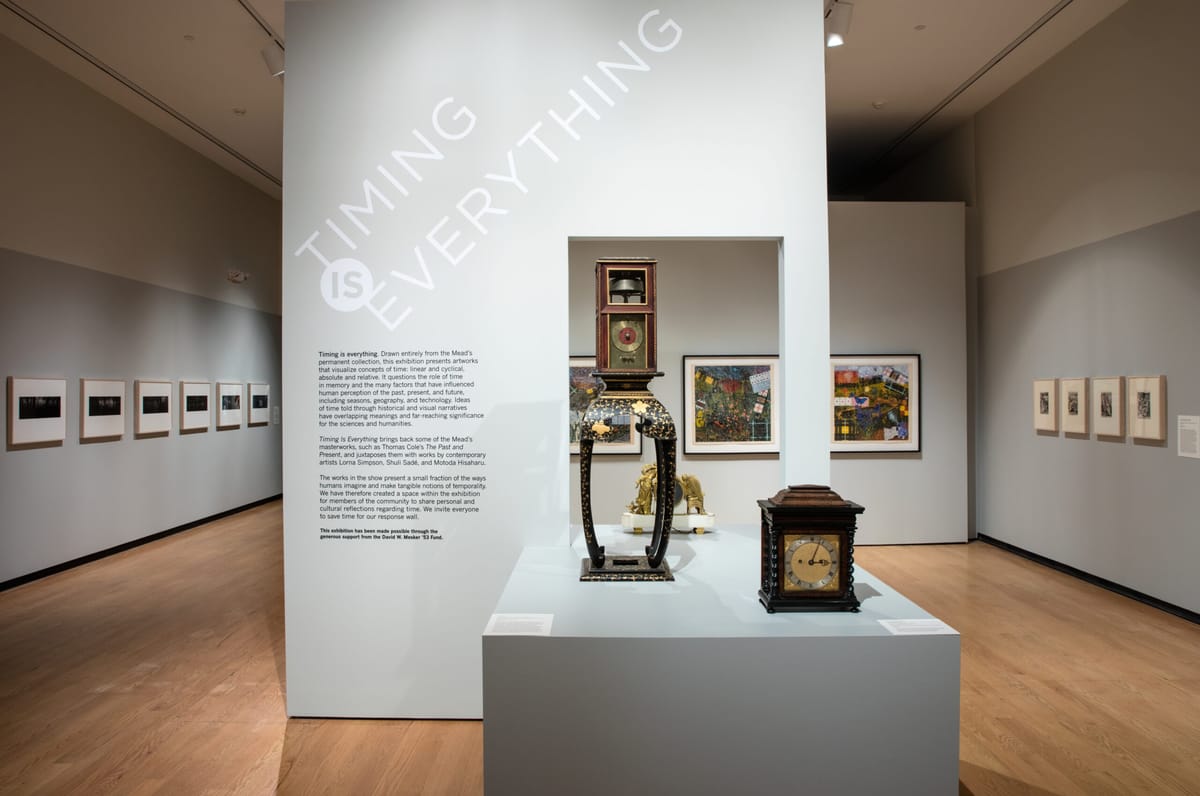 When walking into the the Mead Art Museum, one will inevitably pass by Stearns Steeple, which has stood on the same ground since 1873, even as the landscape of the rest of the college has evolved around it. A closer inspection of the Steeple reveals that many of the stones that make up its base are engraved with different years: 1927, 1869, 1921, 1898. These markers remind me of the persistence and influence of the past in our present — which also happens to be what the staff at the Mead intends to explore through the museum's newest exhibition: "Timing Is Everything."
"Timing Is Everything" was the result of many conversations that the staff at the Mead had about science in preparation for the Mead's Spring 2019 exhibition "Dimensionism: Modern Art in the Age of Einstein." Attempting to describe the specific motivations, Jocelyn Edens, assistant museum educator, said that, "Because we actually don't have an answer to the question: 'What is time?' … this is an interesting case where a museum is trying to pursue a question to which there is not a scientific answer, but instead [there are] many cultural answers."
The Mead's interpretations of time vary from the straightforward — ornate clocks, pocket watches and engravings, silkscreens and paintings that depict different seasons and times of day — to the subtler — intricate still lifes that capture a moment in time and more abstract pieces that play with the relationship between space and time.
Miloslava Hruba, one of the curators for the exhibit, noted that grappling with the theme of time was a unique challenge for the Mead, especially in comparison to working on last semester's exhibition.
"The previous exhibition 'HOUSE' was easy to grasp, and it seems that time is easy to grasp too," Hruba said, "we're thinking about time all of the time … there's both time that concerns us as individuals, time that concerns our environment and there's natural time … This is where the topic that we thought was comprehensible started to really open and become layered."
Another challenge the Mead faced in curating this exhibit was cultural differences in understanding and interpreting time. Hruba notes that the European view of time is that existence continues, but in Japanese culture, time is momentary and temporal.
Hruba noted that these differences are on display in two pieces that he featured in the exhibition: "Indication – Shibuya Center Town" by Japanese artist Motoda Hisaharu and a pair of paintings by American artist Thomas Cole titled "The Past" and "The Present." Cole's works depict the transformation of a stately castle falling into ruin and being overtaken by nature. With his two paintings, Cole is able to demonstrate the movement of time and the continued existence of the environment. Hisaharu's print also depicts a landscape that has fallen into ruin — specifically the Shibuya Center in Tokyo ravaged by some unspecified disaster — but because it is a standalone work, we see time as just a single moment, as the print provides no information on what happened in the past to cause such a disaster nor what may happen in the future.
Returning to Amherst itself, and Stearns Steeple specifically, Edens explained that the structure now represents the passage of time in two ways: it is both a historical landmark and a monument to the future. Since 2015, the steeple has held a pinhole camera designed by artist Jonathon Keats called the "millennium camera," which will capture images of the Holyoke Mountain Range over a 1,000-year exposure. In Edens' mind, this is "an incredibly optimistic view of the future. To some extent it's invested in the human, but it's also invested in a scale that's way beyond the human scale." Edens also sees this piece as representing an interplay between art and science that the exhibition at large intends to convey. Edens points out that art and science became separate disciplines only relatively recently, and that thinking representationally can be a useful strategy for working out science, technology, engineering and math (STEM) problems. Hruba added that she sees the collection of pocet watches on display as representing the way science and art can benefit each other. Alone, timekeeping devices are scientific instruments, but the beautiful and intricate designs on the watches make them art as well.
Along with curating the exhibition, the Mead's staff has also dedicated thought to developing programs for students that relate to the theme of time. Danielle Amodeo, public programs coordinator at the Mead, said that one goal she had for programming this semester was to ensure some level of usefulness for students, a goal that led her to create a series of time management programs hosted by the Mead.
In these, program leaders use pieces of art in the exhibition to highlight lessons on managing stress and time. Amodeo specifically referenced the series of silkscreens in the exhibition "The Four Seasons" by Jennifer Losch Bartlett. In the pieces, which were inspired by chaos theory, Bartlett layers unrelated objects onto an ambiguous background, simultaneously creating a feeling of order and disorder. For the lesson related to these pieces, Amodeo said she hopes to highlight that, "No matter how you plan, you don't plan for things that are unexpected … so how do you plan for the unexpected and work that into your timeline as a student?"
The second part of this time management series will take place Wednesday, Sept. 26 from 6:30-8 p.m. and aims to help students create a system of planning and goal-setting that works for them. Amodeo added that she hopes the program will empower students and remind them that the Mead is a space where they can relax, take a break and feel at home.
"Timing Is Everything" is on view through Feb. 17, 2019 at the Mead Art Museum.