Arts & Living
Oscar Night's Twist Ending Overshadows Award's Record Diversity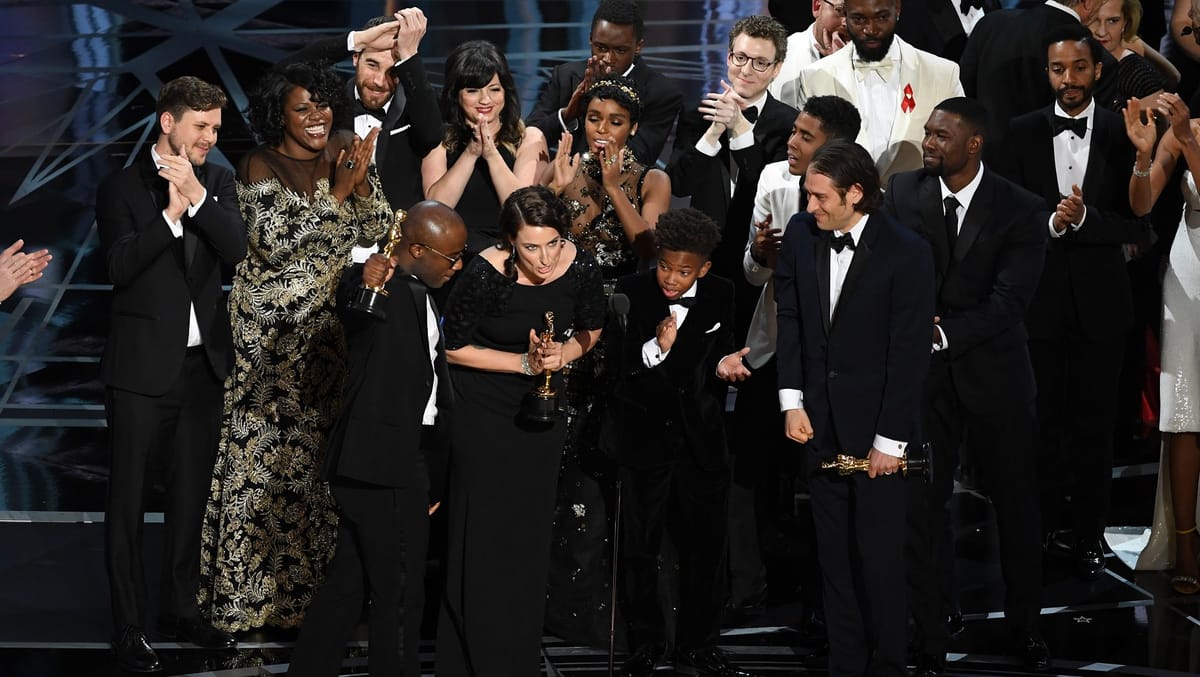 The 89th Academy Awards will go down in history for one very obvious reason, the massive blunder that was the final and most important award announcement of the night. For those that live under a rock, here's a quick recap: While announcing the "Best Picture" winner, Warren Beatty took a pause when reading the card. However, his hesitance seemed like a cheesy effort to build suspense, causing his "Bonnie and Clyde" co-star, Faye Dunaway, to take the card and name "La La Land" as the winner. What the card actually read was "Best Actress: Emma Stone" for her role in "La La Land," which was the category announced right before. The entire cast and crew of "La La Land" was already on the stage and beginning to give their acceptance speeches when an Oscars producer ran on stage to tell them that they were in fact not the winners, and that "Moonlight" had won best picture. It was a jaw-dropping moment too chaotic to have been planned out (in my opinion), and in its aftermath the Internet blew up with memes blaming Steve Harvey for the mix-up (in reference to the time he accidentally crowned the wrong Miss Universe winner) and celebrating the "Moonlight" win.
This sudden upset contradicted the recurring trend we've seen since Nov. 8 of last year, where the expected winner is beat at the last minute by the whiter lead. Think about it, everyone was sure Hillary would win (yes she's white but she did not run on a campaign of white supremacy), and then Trump wins the Electoral College leaving the majority of Americans shell-shocked. Then, in this year's Super Bowl, the Atlanta Falcons were winning only to be overcome at the last minute by the New England Patriots (historically the NFL's whitest team). This even happened at the Grammy's, everyone was sure Beyoncé's "Lemonade" would take best album. Adele's win took even her by surprise and she used her moment to emphasize how Beyoncé should have won because of the impact her album had on the black community. The Oscars proved an interesting twist on this trend in which the "white" movie, "La La Land," a movie about jazz with no black people in it, was expected to win over the "black" movie ("Moonlight," a young man's experience growing up black, gay and poor in Miami) and ended up losing in a surprising turn of events. A Buzzfeed article described the night well: "[these instances] all felt like nationally broadcast instances of whiteness reasserting its grip on a country that has been fighting its way, ever so slowly, toward a future in which whiteness does not mean a guaranteed win." To "Moonlight," a black LGBT film, winning is meaningful to a country currently struggling with the sudden reversal of the slow progression fought for during the last 50 years.
Watching the producer of "La La Land" respectfully hand over the Oscar to the "Moonlight" crew was momentous, no matter which movie you were rooting for. Although the mix-up robbed the "Moonlight" producers from giving their full speeches and having their proper moment of victory, it produced a moment people will be talking about for a very long time.
The evening still contained other memorable moments. Jimmy Kimmel, host of a late night talk show on ABC, hosted the Oscars for the first time. He played it relatively safe compared to last year's host, Chris Rock, but a few of his jokes were racially insensitive, which shifted focus from the fact that this year's nominees were the most diverse group in The Academy's history. For the first time there was a person of color in every single acting category. In his opening monologue Kimmel commented on the divided state of the nation and said, "Maybe this is not a popular thing to say, but I want to say thank you to President Trump. I mean, remember last year when it seemed like the Oscars were racist? That's gone, thanks to him." Although The Academy has improved in their diversity (it may have been the first time that none of the black actors were nominated for having played a slave), to claim that this institution is no longer racist is calling it much too soon. Hollywood is not exempt from the troubling current state of race relations in this country. Kimmel's joke was especially inappropriate given how he made fun of multiple people of color's names, especially Mahershala Ali, the first Muslim actor to win an Oscar for his role in "Moonlight." While Kimmel mostly strayed away from making race-related jokes, jokes about people of color's names undermine the more socially conscious jokes he made at President Trump's expense.
Nevertheless, Kimmel's performance was not hated overall. He followed up his simple, but funny opening monologue with a series of bits that went on throughout the night. My particular favorite was his grudge against Matt Damon. The two have had an ongoing feud since the start of Kimmel's late night show, where every night he ends the show by apologizing to Damon for running out of time and not being able to interview him. This bit has continued for years and the two playfully trash talk each other in interviews constantly, so of course this quarrel would make an appearance during Kimmel's first appearance at the Oscars. He began the banter by offering to make amends with Damon, only to eventually tease him for giving up an Oscar-worthy role in "Manchester by the Sea," the movie he produced, to star in "The Great Wall," which was a total flop. In response, Damon tripped Kimmel while he was walking by his aisle. Kimmel got revenge when Damon appeared on stage to present an award with Ben Affleck. The announcer simply called him a "guest" and, while Damon spoke, the music swelled up to the point where no one could hear what he was saying. A cut to the orchestra pit showed Kimmel conducting and yelling, "Hurry up already, we want to go home!" There was one final joke planned against Damon for the very end of the show that had to be scrapped due to the "La La Land" and "Moonlight" fiasco.
Another bit that was entertaining but off-putting was Kimmel's prank on some unsuspecting Hollywood tourists. He arranged for one of the "celebrity sight-seeing" bus tours to stop at the Dolby Theatre and the tourists were told they were going to an Oscar red-carpet history exhibition only to walk in on the actual Oscar's themselves. The tourists contrasted sharply in their regular clothes and selfie-sticks with the celebrities in ball gowns and tuxes. But the celebrities warmly welcomed them, shaking hands, hugging and taking pictures with the lucky few. Denzel Washington unofficially married a black couple from Chicago and the tourists were invited to touch Mahershala Ali's "fresh" Oscar. While it was a deviation from the norm, the short-lasting bit felt like a parade of the poor regular people for Hollywood's most glamorous. Nevertheless, those people got their money's worth in terms of celebrity sightings.
The night was filled with show-stopping music performances. Justin Timberlake kicked off the night with his performance of the "Trolls" movie song, "Can't Stop the Feeling," which was nominated for best original song. Lin-Manuel Miranda rapped an original intro to his "Moana" song "How Far I'll Go" performed by the beautiful Auli'i Cravalho. I encourage you all to watch a recording of this performance because her voice and the special effects on stage are too gorgeous to describe. And, while you're on Youtube, watch John Legend perform both nominated songs from "La La Land," featuring dancers among the stars. Best original song ended up going to "City of Stars" from "La La Land," robbing Lin-Manuel Miranda's chance at achieving EGOT status (Emmy, Grammy, Oscar and Tony winner). I'm not too worried though; he'll be back there soon enough.
As anticipated, a lot of the winner's acceptance speeches were political, specifically denouncing Donald Trump's racism and xenophobia. The most impactful statement, however, was given by the foreign movie winner, Asghar Farhadi. The Iranian director of "The Salesman" made a powerful statement by not attending the Oscars. Instead he had Iranian astronaut Anousheh Ansari accept the award and recite a statement from Fahardi stating that he did not travel from Iran in solidarity with those disrespected by Trump's travel ban.
There were too many memorable moments to fully cover all of them: candy fell from the ceiling, Viola Davis made everyone cry, Seth Rogen and Michael J. Fox sang a song from "Hamilton" and a living person's picture was displayed during the "in memoriam" sequence. All were inevitably outshined by the huge mistake that occurred in the final five minutes of the show, the only time the Oscars have made such a mistake in its 89-year history, yet it was still an overall enjoyable show. "La La Land," which was nominated for a record 14 awards, went home with five, including best director and best actress, while "Moonlight," which was nominated for eight awards, ended the night with three, most importantly best film and best supporting actor.