Arts & Living
Pioneer Valley Band Brings Fresh Material to Marsh Coffee Haus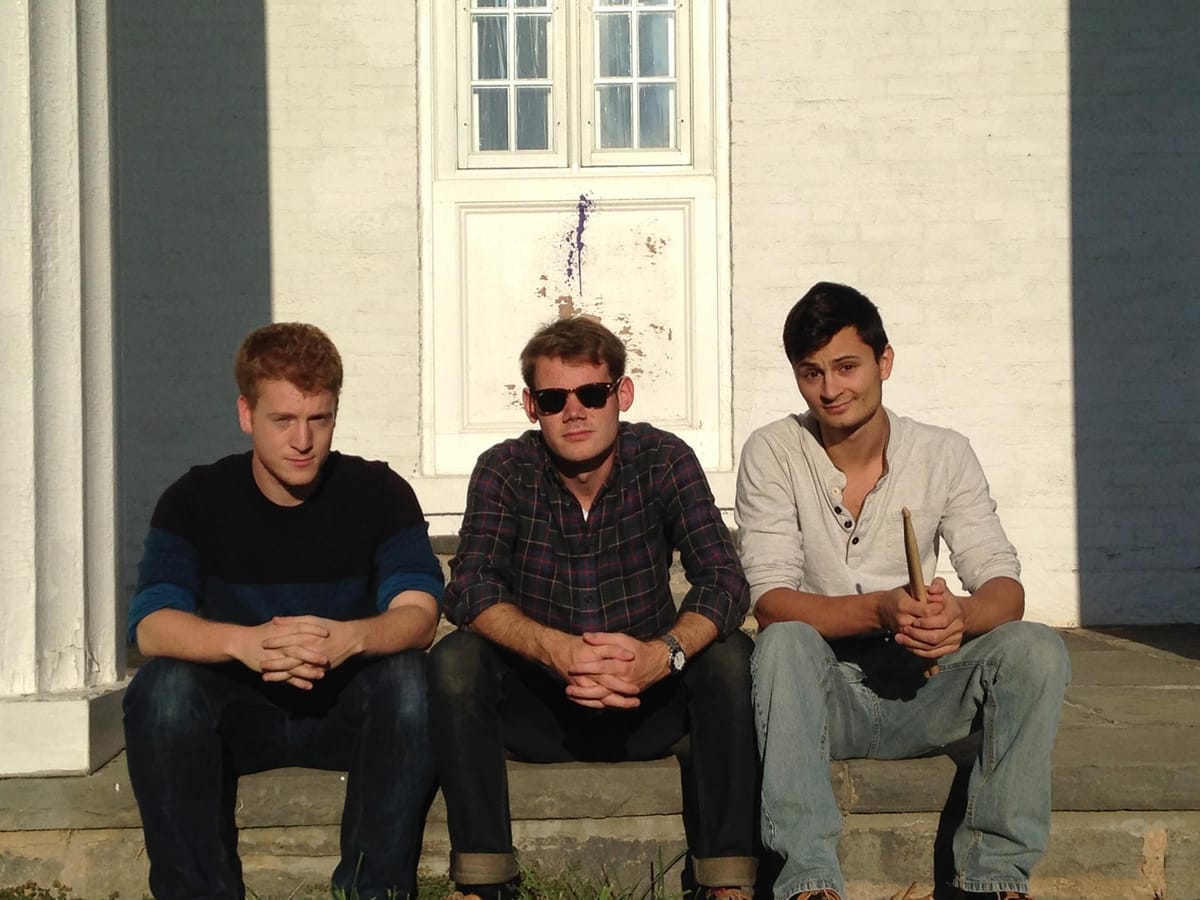 It's impossible to regret my first trek to Marsh after experiencing the magic that is The New Rockwells. The Amherst collaboration debuted with infectious energy at this year's first Coffee Haus, and has since gained a notable fan base. Their musical prowess is evident in both their first original song, "Where are You Tonight?" and their magnetic stage presence, which had the Marsh Coffee Haus audience clapping until their hands were numb. The group consists of recent Amherst College grads Ben Muller and Ian Stahl and UMass Amherst senior Marty Boyle. I had the chance to sit down with the hilarious crew that is The New Rockwells this past Sunday to delve into the band's past, present and future.
Q: Will you tell me a little about yourselves to start off with?
Ben: I'm from Chevy Chase, Md. and I majored in music composition [at Amherst]. Right now I'm working as the orchestra TA; I teach ear-training sections for classes and I'm assistant director for the orchestra. I've been exploring the idea of going into film scoring — Ian and I work on that together, so we have a couple of projects lined up, so we'll see how those go. That would be a dream come true, creating music for films. Even if that doesn't work out, I'll probably work in some aspect of the film, TV, music side of things.
Ian: I was also a music composition major [at Amherst], although my thesis was vastly different from Ben's. I'm primarily a rock musician: alt rock, rock, whatever. I think the biggest bands that inspired me growing up were not the biggest bands that inspired [Ben and Marty] growing up. I listened to bands like Incubus, Foo Fighters, and Radiohead — bands that are on the cutting edge in different ways, incorporating more electronics and very surreal soundscapes, rather than just acoustic instrument stuff.
Marty: I'm from Springfield, Mass; I'm the local punk and I'm a senior at UMass.
Ben: Where?
Marty: University of Massachusetts.
Ben: Oh, I've heard of that.
Marty: I'm an accounting major … so very different. I guess I'm a singer- songwriter, folk musician. Bands that inspired me: The Beatles, Simon and Garfunkel, Paul Simon, Cat Stevens — the whole 70s singer-songwriter era. Basically, I'm continuing a decades-old tradition of being an okay songwriter, and bringing in really good musicians to fill in the gaps.
Ben: That's my favorite part about this. I played on Ian's thesis, and we both played on Marty's album. I feel like frequently when you talk about a band, you say 'oh it's a band, and there's this one project.' But, we're all doing solo stuff, and it all bleeds over and into each other. We'll be playing as this group, but then there's also going to be other stuff happening. Ian and I have a gig tonight and it's just the two of us and we're trying a totally new thing. Different group, different name.
Q: So, how did you all find each other, and make the decision to start The New Rockwells?
Ben: Coffee Haus. We played all over Amherst for four years …all over Amherst, and all over the [Pioneer] Valley in different contexts and at Coffee Haus frequently.
Ian: These two were in this group first, but Ben and I have been playing since freshman year in jazz combo, and I just couldn't shake him.
Ben: I think Marty and I were showing Ian the song we played at Coffee Haus, and we were like, "it would be nice to have drums," and then it just made sense to be a trio.
Q: How would you describe your genre? It's definitely some sort of hybrid thing, which is great.
Marty: Definitely. I think it works really well if you look at what each of us brings. My genre is probably folk singer-songwriter. Ian is alt rock and all that that encompasses, which is pretty broad. Ben is typically jazz. I think we're a fusion of all those elements … and then some.
Ben: The song we performed at Coffee Haus, "Where are you tonight?" is kind of rock, but you get some folk elements too.
Ian: I'd say it's pretty folk. Marty's voice and the way he writes songs are very folk infused, but the reason I like being in this group is that it's not like folk is this box that says "this is it." You can add in these other elements that make it bigger than folk; it's infused with other stuff.
Q: Have you guys been inspired by any bands in particular?
Marty: Well, whenever I'm doing band stuff, The Beatles always come to mind. Particularly, with this band, the Rolling Stones have been big for me. Jim Croce — we've been talking a lot about making Jim Croce-sounding songs.
Ben: I've been listening to a lot of Ben Howard lately, and Alexi Murdoch. I don't think in the one song we've played so far you can hear them, but in the songs I'm working on … those are more oriented in that direction. There's this relatively new era of bluegrass that's called newgrass. So, the Punch Brothers, the Oh Hellos. It's like folk music with that bluegrass element, with a banjo and that kind of stuff. It's like folk music with more interesting chord changes. I think the Head and the Heart, too. They have a nice acoustic sound that's very rich. So, that's what we've been doing so far. We've got the piano, and we've got guitars, and we're hopefully going to include more harmony. There are a lot of these new bands that actually have an older sound, so that's what I like.
Marty: I also think we can bring in the brass element.
Ben: There are so many talented musicians on campus that it's an awesome place to be for music.
Marty: That's the idea of the band. It's a core group of us that are writing songs, and then we can bring in other people to fill in the gaps.
Ben: All the horn and string players on campus should watch out, because we're coming for you.
Q: Are you working on any songs right now?
All: Yeah, always.
Ben: We have another one that's kind of in the same vain as "Where Are You Tonight?"
Ian: What's this one called?
Ben: I guess it's called "Where'd You Go?"
Marty: I write snippets of songs every week. Maybe one out of five actually gets finished.
Ben: The other week Marty came to me with a song he was writing and said, "I don't think it's quite done yet." We came up with a chord progression, and then he went home and sent me words, and a melody, and now that song is pretty much done.
Q: When do we get to hear it?
Ben: We'll play it at our gig next weekend, probably, and we're going to be playing at every Coffee Haus.
Marty: This song will be more folk than what we did before.
Ben: I'm personally really excited, and my hope is that we can get some gigs playing on campus. I was really excited when you wrote me, because I guess that means that people like the music; that makes me really happy.
If you missed the New Rockwell's debut, be sure to attend the next Marsh Coffee Haus. They will also be performing this Saturday, Oct 4, at the Fall Fest 5k/ Race. The event, hosted by the Isenberg Women in Business, will be at the UMass Fine Arts Center, and benefits the Boston Children's Hospital. Ben, Ian, and Marty's music can be found on Spotify and iTunes, and more information on the New Rockwells can be found on their Facebook.