Arts & Living
Pioneer Valley Offers Variety of Venues, Performers for Music Lovers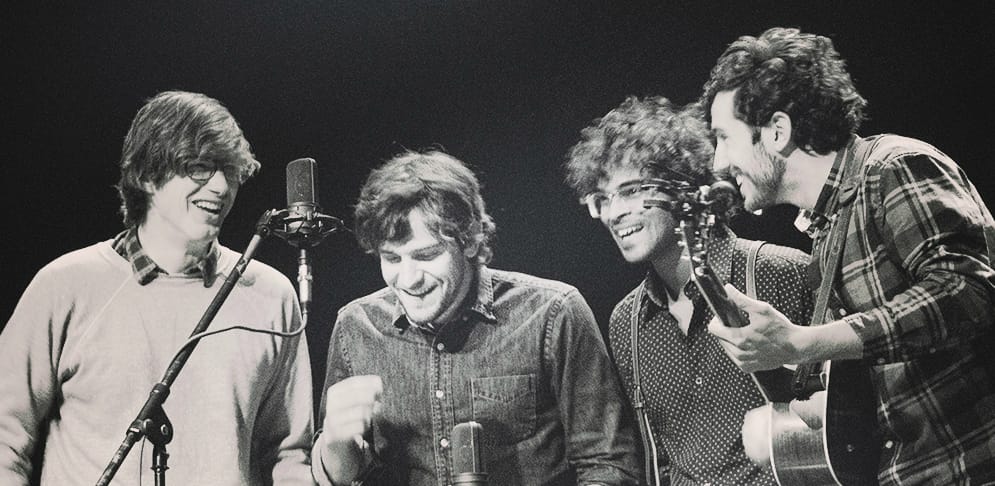 Many of my most memorable nights at Amherst have involved going out to see live music. Amherst itself has some concert venues (for example, the biweekly Coffee Haus in Marsh), but, in my opinion, Northampton is where it's at. It's where things can get a little more intense. This guide is mainly intended for first-years who want to have a great music experience, but don't really know where to go yet. (I definitely didn't during my first semester at Amherst.)
The Iron Horse Music Hall is one of the many concert venues in Northampton. It hosts a wide variety of musicians, including local groups, classic rock bands in decay (like The Yardbirds), DJs and one-man bands. Here are some highlights I found on the show schedule.
Philly-based Vacationer, performing on Sept. 16, serves up a sunny fusion of electro-pop and samples with influences as diverse as indie giants Beach House and Animal Collective alongside J. Dilla and The Beach Boys. (Notice the theme of beaches there.) The group has two albums out now, their latest one from 2014, so expect to hear some new songs. Joining them under the name of Great Good Fine OK are singer-songwriter Jon Sandler and multi-instrumentalist and producer Luke Moellman.
"You're the One for Me," the single that resulted in their breakthrough, is an incredibly groovy and danceable song accompanied by a music video th at seems to be an ode to sandwiches but gets really weird really quickly. It's best to just see it to know what I mean. In any case, this night will be great for fans of Bombay Bicycle Club, The Naked And Famous and Tennis.
Tall Heights is another highlight for fans of indie music. They started out in Boston as a typical folk group, but their newest song "Spirit Cold," which reached Spotify on Aug. 21, adds a more contemporary feel to classic strings and vocal harmonies. The group's bigger ambitions are evident in the sounds of deep drums and crashing cymbals. They're playing at Iron Horse Oct. 2 together with Oregon folk duo ShookTwins.
ShookTwins' sound is more traditional, but they too add some contemporary elements to their banjos, mandolins and strings, spicing things up with interesting electronic effects and vocal modulation. Fans of Sufjan Stevens, Father John Misty and The Tallest Man On Earth will enjoy their music.
Last but not least in my selection from the Iron Horse is Darlingside, a string rock quintet from Hadley. The group actually met at Williams, our beloved rival institution in the middle of nowhere. Apart from the Clark Museum, they're pretty much all that Williamstown has to offer, because their music really is great.
If you have no idea what string rock means, they described their music on the Williams website as "Strings smothered with sings: Mandolin rocks, cello shocks, Face-melting drums —- POW!" (That's actually a haiku — nice poetic touch there.)
Their newest song, "Go Back," came out Aug. 28, and they're playing on Oct. 3. If you like Tall Heights, you'll probably like this band, too. Accompanying them that night is Matt Lorenz as The Suitcase Junket, a one-man garage band with gritty vocals and chunky guitars running through big guitar amps, accompanied by clanging pots and pans as drums.
Pearl Street Nightclub, also in Northampton, is less intimate than Iron Horse Music Hall; the space is more conducive to big crowds moving and swaying. This is where you can be ecstatic — outside of yourself — and thus you can be with everyone and float in a sea of potential interactions. For me, there are two highlights at Pearl Street this semester: Wild Child and Born Ruffians.
Born Ruffians is an indie rock band from Toronto. On August 20 the group released "When Things Get Pointless I Roll Away," with a great performance by frontman Luke LaLonde, who shouts, speeds up his delivery and sings in falsetto to get the point across. With the floating, icy synths in the bridge, this song is definitely a departure from their earlier work, which was more conventional in terms of instrumentation. The early stuff reminds me of The Fratellis and The Kooks, whereas their later work is more clearly influenced by Fleet Foxes and Vampire Weekend. Their singles are all great pieces of pop rock; you will not resist the urge to move to "Needles" (from 2013) and "We Made It" (2015). Born Ruffians are playing on Oct. 30.
Finally, there's Wild Child, a pop band from Austin, where local music fans widely praised their debut effort "Pillow Talk." Since then, they've achieved nationwide recognition, and NPR called their "Living Tree" one of the Top 10 Songs of 2013 At the show they will be presenting their new album "Fools," which will be released Oct. 2.
They've released two singles so far this year. "Bullets" is somewhat conventional but catchy, with the horn parts adding a nice touch. "Fools" is more interesting musically. Singer Kelsey Wilson really shines on this track, with a mix of fuzzy, piercing bass lines, soft strings and smooth horns in the background.
They do well with conventions, though: As reviewer Raymond Lee wrote on Pop Matters, they display "a seemingly effortless combination of emotional purity in lyrics and vocal delivery combined with a pleasing, repetitive musical accompaniment." Wild Child is performing Nov. 8.