News
Professor Lyle McGeoch Remembered by Community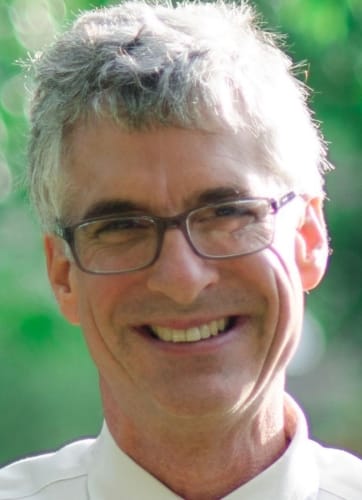 Lyle McGeoch, Brian E. Boyle '69 professor of mathematics and computer science, passed away on Oct. 5 from a heart attack. He was 60 years old.
McGeoch was a professor at the college for over 30 years. During his time at Amherst, he chaired the computer science department and served as a class dean.
In an email to the college community, President Biddy Martin and Provost and Dean of Faculty Catherine Epstein praised McGeoch for his warmth and empathetic mind. "Lyle was an extraordinary scholar, teacher and mentor; the most generous of college citizens; and a kind, modest and gentle man," Martin and Epstein wrote. "As a class dean, he earned a reputation for the care and compassion that he brought to his work with students, including the lengths to which he went to help those who struggled the most."
"He was also a cherished husband, father and grandfather, who treasured his immediate and extended family — including the Amherst community, of which he was such an integral and admired member for more than 30 years," the email stated. "It is impossible to convey in words how dearly and deeply Lyle will be missed."
An additional email sent by Chief of Student Affairs Karu Kozuma announced the resources available to students, including 24/7 on-call assistance, the Counseling Center, religious and spiritual life counseling, the Office of Student Affairs and the employee assistance program.
"It's hard to find words to describe how keenly his loss will be and already is felt in our department, in the larger Amherst community and by me personally," said Professor of Computer Science Kristen Gardner '12, who was a student of McGeoch when she attended Amherst. "I'm grateful to have been his student, and I feel enormously privileged to have had the opportunity to work alongside him for the past few years."
McGeoch was "genuinely interested in my success," said Wayne Nyabuto '21, who was McGeoch's academic advisee for the entirety of Nyabuto's time at Amherst.
"He was always willing to listen and help me figure things out whenever I felt like I was struggling," Nyabuto said. "The Amherst community has lost a great mentor and professor. Even worse, we've lost one of the purest souls we had on campus. His good work will remain in the hearts of all who interacted with him."
When Sunghoon Kwak '22 enrolled in McGeoch's Introduction to Computer Science, he didn't think he would enjoy it. "I left the class loving it, all because of how he taught the class … and how he connected with the students," he said.
A remembrance gathering took place in the Friedmann Room on Oct. 7, which Kwak attended with a few of his classmates.
"We told stories about him … [Director of Religious and Spiritual Life] Harrison Blum was there, and he was a great resource," Kwak said. "Just telling him about McGeoch, it was a way to cope and talk about his presence on campus."
McGeoch's obituary, which was published in the Daily Hampshire Gazette on Oct. 8, referred to him as "a good man who will be remembered above all for his indomitable kindness and generosity. He lived every day of his life the way he intended."
In place of McGeoch, Professor of Computer Science John Rager will be teaching his Algorithms class, while Professor of Computer Science Scott Kaplan will teach Data Structures.
A funeral service will be held on Oct. 12 at 10 a.m. at the Wesley United Methodist Church in Hadley. The college will host a celebration of McGeoch's life in Johnson Chapel on Dec. 14.