News
Queen of the Court and Quantitative Thought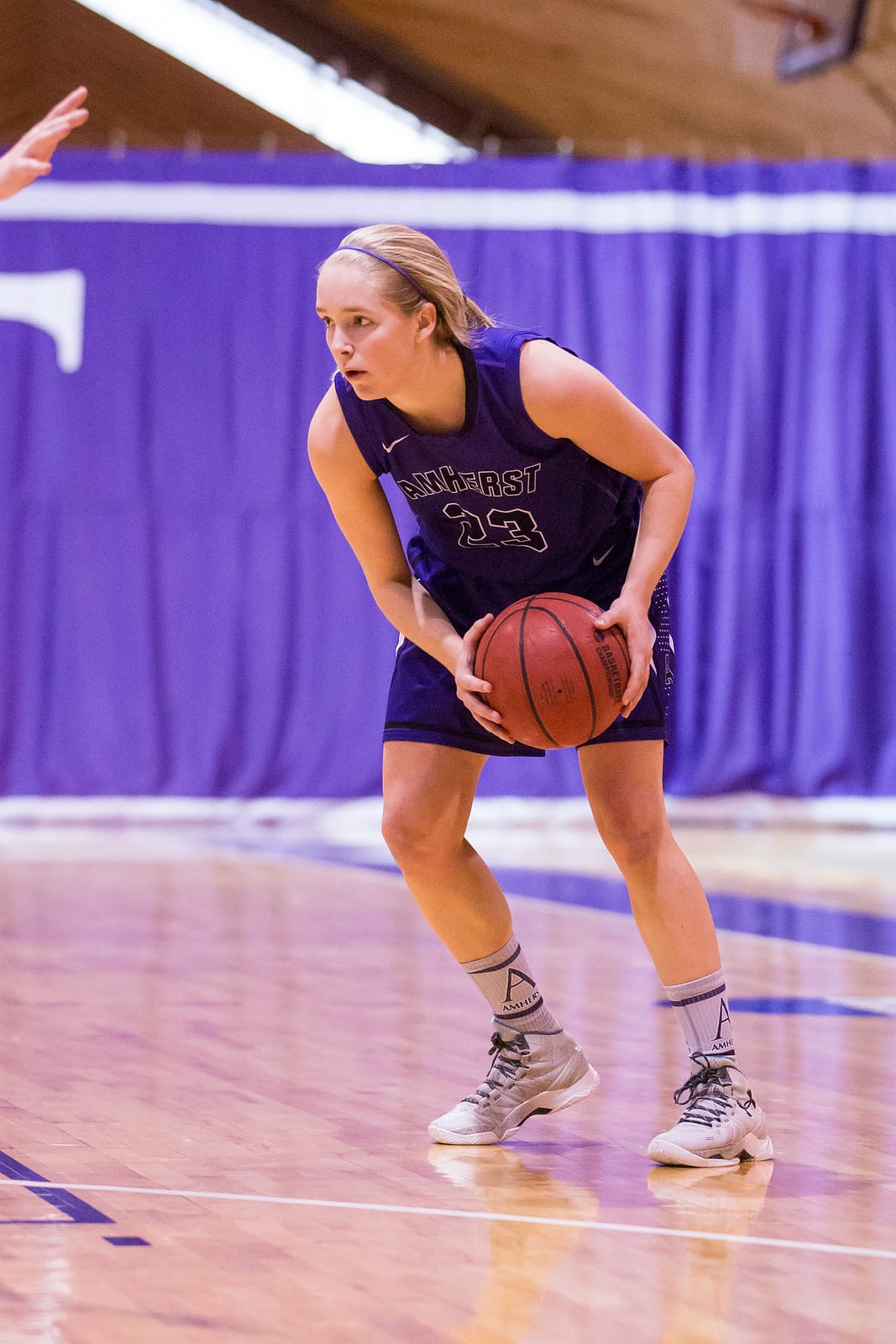 When I asked Ali Doswell's family, friends, coaches and professors to describe her, the most common word was not "athletic" or "talented" or any of the typical superlatives you would expect for the reigning Division III Player of the Year for women's basketball. Instead, the common trait attributed to the Richmond, Virginia native was "grace."
The elegance and poise that this physics and psychology double major has demonstrated throughout her historic success on the basketball court at Amherst are matched in the classroom. As Ali's physics advisor Professor Kannan Jagannathan succinctly put it, "What is common to her role in physics and in basketball is her high intelligence, skill and grace."
The Doswell Family
Ali Doswell grew up in a dynamic, female-dominated household. Doswell's family, which included her three older sisters and twin sister Meredith, was constantly involved in athletics. Meredith and Ali excelled at basketball from a young age, and both knew they wanted to play in college.
Initially, the sisters wanted to stay close to home, mainly looking at Division I programs in Virginia, when Amherst head coach G.P. Gromacki stumbled upon them at a tournament in Washington D.C.
"I was set to watch another player on a particular court, and when I arrived early, Ali's team was playing before my scheduled game," Gromacki said. "I noticed how skilled she was and how much she competed. I also noticed she had a very talented sister in Meredith. I only watched her play about 10 minutes in the game. I checked her schedule and came back the next day, and I was completely sold on both of them."
From that moment onward, Gromacki knew that he had to have the Doswell sisters in his program. After weeks of ignoring Gromacki's phone calls, Ali and Meredith decided the academic reputation of Amherst was worth considering and flew north to visit campus. Gromacki's perseverance ended up paying off, as the twins fell in love with the school and, in their four years at Amherst, have taken the program to new heights.
"My first impression of Ali was that she seemed pretty normal," said close friend and former teammate Rachel Boyette '17. "Boy, was I wrong, but in all the best ways. Over time I've found that she's overachieving, kind and incredibly mature — far away from just 'normal.'"
Listening to Rachel talk about Doswell, the exceedingly poised senior's lighthearted, goofy side started to shine through. To her closest friends, the graceful exterior gives way to "a bit of a weirdo" who is impossibly easy to love and admire.
Team Games and Individual Awards
In a fairytale ending to a historic career, Doswell led the Amherst women's basketball team to a dominating National Championship performance this year. The Mammoths completed their undefeated 33-0 season in Grand Rapids, Michigan by taking down NESCAC foe Tufts 52-29.
Doswell led the charge in the National Championship game, recording 21 points, five rebounds and four steals, to earn her the honor of Final Four Most Outstanding Player.
In addition to garnering national recognition, Doswell's achievements won her the Howard Hill Mossman trophy from Amherst College. The annual award recognizes both achievement and sportsmanship. It is presented to the athlete who, during his or her four years at Amherst, "brought the greatest honor in athletics." Doswell was the first female athlete to receive the award since 2013.
Doswell has garnered more titles, awards and honors during her time at Amherst than most athletes earn over a lifetime of competition, but the one that meant the most was the team win.
"Doswell is the type of person who cared more about winning a championship with her teammates than winning individual awards," Gromacki said. Doswell herself acknowledges the vital importance of teamwork and chemistry.
Still, however much Doswell might play down her own individual successes, her place in the spotlight is well-deserved. She concluded her career as the Amherst women's basketball program's all-time leading scorer with 1,572 points.
Doswell also ranks eighth in program history with 664 rebounds and sixth in assists with 334 dimes. She set the program's record for three-pointers made, finishing her career with 273 buckets from behind the arc.
Greatest of All Time
Her success, combined with her leadership on the team and sportsmanship on the court, has arguably made Doswell one of the greatest athletes ever to put on an Amherst jersey. In the classroom, however, Ali is just another hardworking physics major.
"If one had just observed Ali as a member of the physics department, one would not know that she also has this other major commitment on the basketball court," said Jagannathan, who spoke at length about her commitment to her schoolwork and to the department.
In addition to having an advisor-advisee relationship, the two have also become close friends over Doswell's time at Amherst. The pair spent most of their time together talking about Ali's career aspirations, her experience at Amherst and, of course, about basketball.
"Ali has had a very mature medium-term and long-term perspective, and beneath the easy-going exterior, has the fierce discipline of superb scholar-athletes," Jagannathan said.
Doswell worked hard to make sure that basketball didn't interfere with academics, striving for excellence in both pursuits. Certainly, the choice to play a Division III sport is a commitment to academics and a future off the court. Doswell perfectly embodied this commitment.
Jagannathan emphasized that Doswell was an example for her peers. "Ali never asked for extensions, rescheduling, or any special consideration," he said. Given that the basketball season straddles both semesters and the winter final exam period, this was truly a remarkable feat, and it was this unassuming outlook that made her stand out.
As one of only three varsity athletes in the physics major, Doswell said that all of the new people she connected with and the friendships she formed with her fellow physics majors made her experience at Amherst special.
She worked to stay engaged in the department throughout her four years, serving as a teaching assistant for introductory physics classes, collaborating with faculty on job searches and volunteering her time to tutor underclass students.
Doswell's worlds of physics and basketball came together when the physics department threw a party honoring the women's basketball team after their national championship win, an event that was one of her favorite memories of senior year.
When Doswell talked about what she will miss most about Amherst, she always returned to the friends she has made and the people she has met. She talked about her nine suitemates like they were a part of her family and noted how her classmates have impacted her time at Amherst immeasurably, thoroughly "challenging" her perspectives.
Doswell, Gromacki said, "cares about the individual person." Jagannathan echoed this sentiment, citing her natural inclination "to treat everyone kindly and well."
As much as the people at Amherst have meant to Doswell, she has meant just as much, if not more, to those around her. "Ali has meant everything to our program," Gromacki said.
Doswell's impact on her friends is just as clear and tangible. "If I had to describe Ali to someone who didn't know her, I'd say it's a shame they haven't met her yet," said Boyette. "There's a lot more than what meets the eye with Ali, which is saying something, because even on the surface, she's a fantastic person."