Arts & Living
Reproductive Justice Alliance Hosts "Trails Towards Solidarity" 5K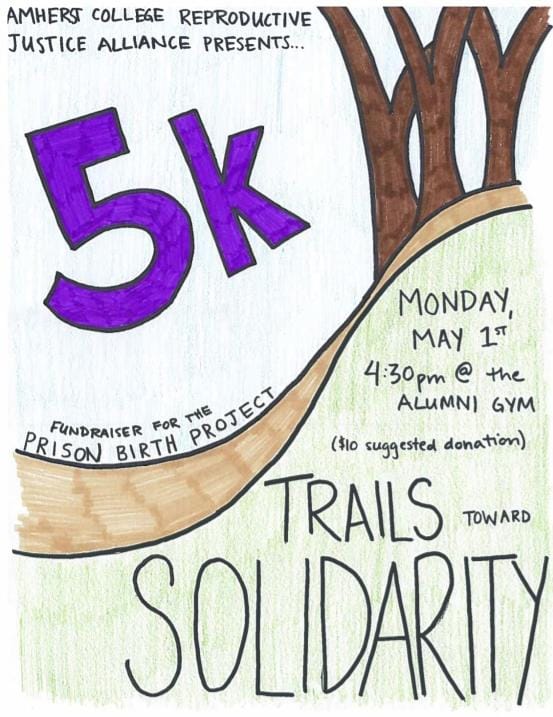 The recently-founded Reproduction Justice Aliance is organizing a 5K trail run or walk here at Amherst to raise funds for the "Prison Birth Project." The PBP, based in Holyoke, supports and educates formerly incarcerated mothers and "trans*" parents about reproductive justice and community organizing regarding the intersections between parenting and the criminal justice system. Sam O' Brien '18 and Kamini Ramlakhan '17, two staff members at the Women's and Gender Center, founded the RJA in the wake of the new presidential administration. One of their first events was organizing a trip to the Women's March on Washington and hosting a panel afterwards. They have been working on a variety of projects — from assisting local groups like the Prison Birth Project with childcare at fundraisers to making and selling necklaces to sell to fund donations towards Planned Parenthood. After this work all semester, the 5K walk or run is their first big public event, organized by Katherine Stanton '18, Alisa Barjamovic '18, Julia Pretsfelder '18 and Emily Goore '17. We interviewed two of these proactive women who spoke about their inspiration and hopes for this event.
Sam O'Brien: Kamini Ramlakhan '17 and I founded RJA in November 2016, when we had to confront our feelings of helplessness in the face of the new president-elect and wanted to turn the dial up on the activist work that we were previously involved in at the Women's and Gender Center. We recognized the ways in which his rhetoric (and policy proposals, if you could call them that) threatened almost everyone, not in separate, discrete ways but in overlapping, mutually reinforcing ways. The rhetoric of a "women's" movement or "women's" march, in our opinion, did not square with our intersectional feminist approach to social justice. We were skeptical of potential white feminism, trans-exclusionary feminism, as well as the narrow-mindedness that comes with fixating on a single issue rather than looking at the broader picture. Kamini and I decided to create the Reproductive Justice Alliance because of our refusal to "pick" a single issue — rather than focus on "women's rights" or "immigrant rights," we opted for an intersectional approach. The three tenants of Reproductive Justice (those being (1) the right to parent, (2) the right not to parent, (3) the right to raise your child in a safe and healthy environment) capture essentially everything Trump's rhetoric serves to undermine. We hope to build a movement of community organizing as well as local and national activism. This has, in the past, involved attending marches, participating in phone banks and making necklaces to raise money for Planned Parenthood. One of our main projects in the community is to raise money for and volunteer with the Prison Birth Project, a local non-profit organization that helps reintegrate formerly incarcerated people (particularly women of color and trans folk) back into the community. The organization also engages in political advocacy, fighting to end shackle births as well as fighting to reverse the overall trend of criminalizing these women of color and trans people for non-violent crimes, namely drug addiction.
Katherine Stanton: The Reproductive Justice Alliance wanted to host an event on campus to not only raise awareness to the student body about the issue of reproductive justice, but also raise money for a local nonprofit. We thought that a 5K run/walk would be a great way to get members of the community involved. All of the funds raised will go to the Prison Birth Project, an organization that works to support currently and formerly incarcerated mothers and trans* parents. To plan this 5K, we have gotten into contact with many groups on campus, including athletic teams, affinity groups and the Office of Student Activities, in order to create an inclusive, widely attended, exciting event for the great spring weather! After finding a good trail and securing funds, we designed and ordered T-shirts, and have been recently working to register people and collect donations. We hope the 5K will be a fun event in support of a vastly important group, and we are so happy that the Amherst community is getting involved.