News
Schwemm's Set To Become Merch Store Before Plans Put On Hold
This past week, the Schwemm's Mammoth Market began to be converted into a merchandise shop, with hot food offerings eliminated. Plans to make the transition, which were met with concerns from workers, were suddenly canceled, however, with a final decision on the changes delayed until later.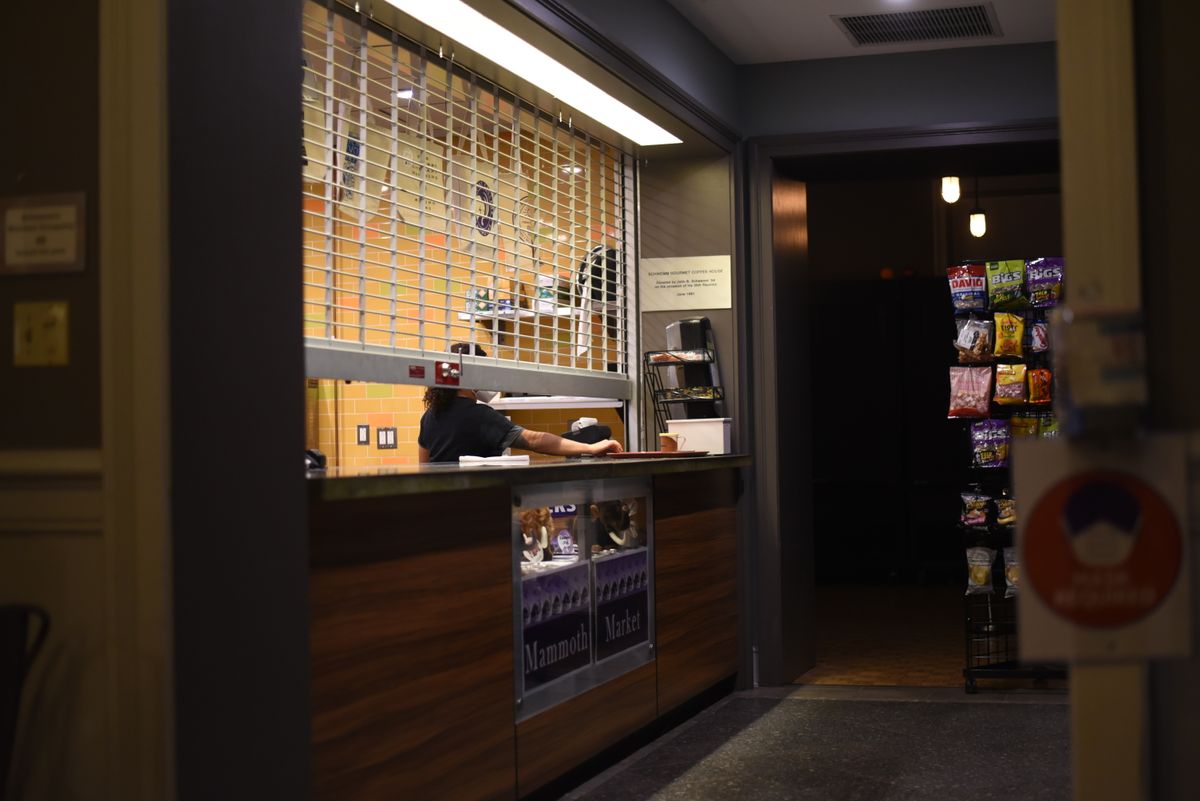 The Schwemm's Mammoth Market faced the threat of extinction this past week.
The cafe, currently beloved for its hot food offerings like mac-and-cheese bites and mozzarella sticks, was set to be converted into a shop primarily selling college merchandise by the end of this week, reported several student workers and staff, who said they were notified of the change last Tuesday. Hot food and non-perishable food items were to be moved out of Schwemm's and to the Science Center Cafe over Fall Break.
Plans to make the transition, which were met with concerns from staff and student workers, were abruptly canceled, however, with a final decision on the matter delayed to later in the term.
In a closed meeting last Tuesday, full-time staff who work at the Mammoth Market were informed by Dining Services leadership that, by Thursday, the interior of the space would be redesigned to accommodate merchandise purchased from A.J. Hastings, a local shop which sold the college's merchandise for many years but closed its doors in July.
Staff were also told of plans to no longer serve food at the Mammoth Market, with some menu items being transferred to the Science Center Cafe, whose hours would be extended later to meet the increase in demand. These changes were reportedly supposed to go into effect by Oct. 11, the last day of Fall Break, with plans already in motion to remove the kitchen's ovens.
On Thursday, staff stayed late to put together display cases and rearrange the market's interior in preparation for added merchandise. Soon after, an array of new items — including purple beanies and scarves, mammoth-emblazoned visors and decals, and ball caps labeled for sports teams — arrived on the shelves, with many open spots remaining for future additions.
Despite close proximity to Fall Break, however, an official announcement of either the changes that had already occurred or any to come had yet to be made.
In an email response to The Student on Tuesday from Executive Director of Dining Services Joe Flueckiger, he maintained that, contrary to what staff reported and the alterations already underway in the Mammoth Market, "no final decision has been made" regarding the transition.
The changes to the Mammoth Market had been discussed, he said, but they had only been relayed to staff as a possibility. "We have not released this information outside the staff group as a decision has not been made yet," he added.
Jeramie Marquez, a full-time staff member who works shifts at both the Mammoth Market and the Science Center Cafe, said he was informed on Tuesday that the additional planned changes were being put on hold for the time being.
In addition to the closing of A.J. Hastings, the considered changes were motivated by decreased demand for food from the Mammoth Market relative to the Science Center Cafe, Flueckiger explained. "Very few students are using Keefe in the evening and, instead, seem to be using the Science Center lobby as a hangout/study space well into the evening," he wrote. "We need to offer services where they have the greatest impact for students."
A number of full-time staff and student workers expressed concern about the changes, however, as well as the way in which they were communicated.
Belane Abdurahman '25, who started at the Mammoth Market last month, had already grown comfortable in her current role at the location. "Now I have to move to the Science Center Cafe, in theory, and learn how to maneuver a new oven, learn new prices, and make new menu items, which is super annoying," she said. "[It's unfortunate] to have to relearn or retrain in the middle of midterm season, especially after just getting comfortable."
The loss of established routines was also a concern for Mikayah Parsons '24, another Mammoth Market worker, who emphasized the destabilizing effect that changes, even small ones, can cause. "Change in a retail or food service place — it's very serious," she said.
For Marquez, the logistical problems of merging the two were a key concern. "You're taking a whole night crew, enough to fill one space, and a whole day crew, and we all have to meet in the middle here," he said.
He added that there would be a number of difficulties raised by moving the Mammoth Market's equipment into the limited space of the Science Center Cafe.
In addition to these disruptions, workers feared losing a sense of community — both with each other and with regulars of the space.
Parsons noted the market's "sentimental value," pointing to the behind-the-scenes effort staff put in to build connections with students, which she said would be lost. "It's not fair to staff, because they care so much about us, right?" she said. "They're constantly churning out new recipes, and they're constantly trying to make the place work for us."
Abdurahman was also concerned about the potential loss of an important space. "I love Schwemm's," she said. "I love the people that come in. I love messing around with menu items and ingredients. I love the actual staff that work there."
More often than anything else, though, workers — staff and students alike — expressed disappointment at the lack of substantive communication in advance of the changes being enacted. They said that the way they were informed of the changes felt sudden.
Parsons added that she wished student workers had been told of the changes further in advance and asked for their feedback. "We would have given suggestions," she said. "It wouldn't have just been empty complaints."
For Marquez, the lack of advance communication created a sense of uncertainty. "That's the worst part about it," he said, "that we don't necessarily know all the answers until it's literally happening."
Contrary to employee concerns, Flueckiger held that even if the changes happened, "[s]taff locations may change, but their roles and responsibilities would remain largely the same."
He explained that no committees representing staff or students had been involved in discussions, because "[w]e are not reducing services."
Nevertheless, workers maintained doubts. "[There are] some things that aren't quantifiable that are being lost in this transition," Parsons said.
The administration hopes to come to a "final decision" about the Mammoth Market changes by the end of the term, Flueckiger wrote. In the meantime, though, the space appears to have avoided meeting its fate.