News
Science Center Opening Explores Liberal Arts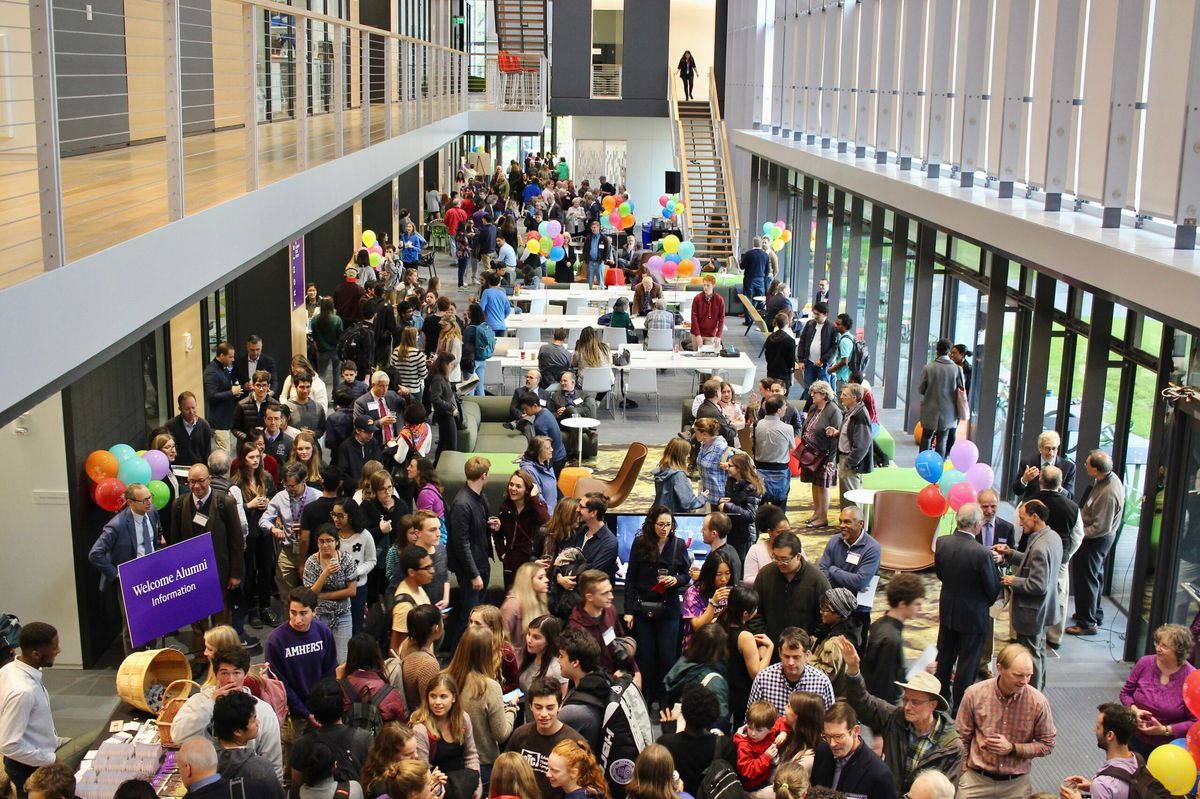 With the official opening of the Science Center on Oct. 20, the question of how science fits into a liberal arts education, and more specifically an Amherst education, guided the events of the day.
Andrew Nussbaum '85, the chair of the Amherst board of trustees, began the event by speaking about the presence of science throughout Amherst's history and into today.
"Our message, which is now gloriously manifested in this building, is simple and it is clear: science, scientific inquiry and discovery reside together with other forms of the arts in the humanistic inquiry that occur here every day, every week," he said in his remarks. "It is not A or B; it is A and B."
Nussbaum emphasized the fact that the science center has been put to use immediately by students and faculty members.
"To me, the beauty of this facility is not just that it's a beautiful facility, but that we have the faculty and the students who are going to put it to excellent use now," he said in an interview with The Student. "We don't need to wait to attract better students and superior faculty. We have both of those and we're very lucky in that regard. It's not 'build it and they will come.' They are here."
During her remarks, President Biddy Martin explained that the science center will provide students and faculty with more opportunities.
"[The Science Center] says that we have faculty and students who warrant a facility of this sort, whose research and teaching deserve to occur in a place that is completely up-to-date and allows them to do their best work," Martin said. "We have faculty and students with ambition and that's as it should be."
Julie Segre '87, a senior investigator at the National Human Genome Project, spoke during a panel of alumni in science careers about how her experiences with science at Amherst tied into her liberal arts education as a whole.
"My advisor, under whom I wrote my senior thesis, taught me how to write," Segre said. "Of course I was taking English classes, but to write scientifically and not have it be technical is something that has really served me and has enabled me to be not just a scientist, but a leader in science … I thought of myself as a scientist who was a liberal arts student first and foremost."
Nussbaum explained that although not every student at Amherst is necessarily immersed in the scientific community, science itself is a central part of an education at the college.
"The reality is that a liberal arts education Amherst-style has always believed that science, scientific inquiry and discovery are not ancillary or on the margin, but that they are part of the very center," Nussbaum said. "Not every student who comes to Amherst will become a scientist, but every student who comes to Amherst should have the ability to learn about the scientific process, the scientific method and what it means to ask a question in the context of a scientific dialogue."
Martin, along with some of the panelists, pointed to the ability to ask good questions as the foundation of a science education and a liberal arts education more broadly, no matter the discipline. She also highlighted the need for students to understand science enough in order to take part in debates surrounding science's place in politics today.
"Several of the panelists emphasized that it's impossible to become adept at virtually anything, whether it's writing or science, if you don't learn how to ask good questions," Martin said in an interview with The Student. "At the very least, all students should graduate understanding the tenets that really define the scientific method and know enough about science to be able to participate meaningfully in policy debates."
Both Martin and Nussbaum see the building's design, specifically its all-glass facade, as an asset that will help facilitate more interaction and communication between students and faculty members who use the building on a daily basis.
"Interaction is critical to knowledge and that's the base upon which we offer residential education," Martin said. "I think any facility that makes people more visible to one another, makes interaction easier and has labs and instrumentation that allow for the best possible science will mean that students will graduate from this place knowing how to do science really well."