Arts & Living
Senior Thesis Explores the Trials and Tribulations of Growing Up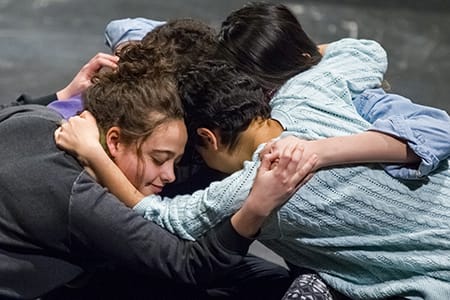 Right in the midst of thesis season for Amherst's Theater and Dance Department, Evan Paul '18 sat down with one of the stars of one of the numerous pieces being presented. First-year student Irisdelia Garcia just finished a three-performance run as the lead in senior Valerie Rodriguez's final project, "Grow Up, Already!"
Rodriguez's play recounts the struggles of four friends as they grow up throughout their four years in college. The play tackles subjects from the lighthearted to the tragic, as the characters experience awkward romantic encounters, sessions with therapists and a heart-wrenching suicide.
Q: How long was the rehearsal process?
A: The rehearsal process started Jan. 5, so about two months total.
Q: What was the play about? What do you want the audience to take away from the play?
A: If people are going to take away one thing from the play, it would be that you can't go into something new with certain expectations. Life happens, people happen and our challenge when growing up is learning how to accept that.
Q: Can you describe your character?
A: Jayla is an energetic eager beaver. She comes to college on a very high moral ground and with certain standards. Sometimes her idealistic view of the world and how relationships work blind her from growing as a person.
Q: What were your favorite things about her?
A: How energetic and excited she is. I share a lot of her qualities, but overall I think her enthusiasm about life and people's stories were my favorite things about her.
Q: What were your least favorite things about her?
A: Where do I begin? Jayla can be a little too excited for me, and tends to jump to conclusions. I'm the type of person that likes to process things, Jayla doesn't.
Q: What was it like working with your cast mates?
A: I loved it! We became a very supportive family. I think my favorite rehearsal was our tech rehearsal, where we would crack jokes as we waited for the set lights to work. The cast is brilliant, and I was so honored to work with such an amazing group of people who loved me as much as I loved them.
Q: What was it like working so closely with the playwright? Is it different from working with say, Shakespearean texts, when you don't have the author sitting right there through every bit of the process?
A: Oh definitely. It's so different working with the writer, because you get to see how the show evolves and how things need to be cut or added into the show to make it work. With Shakespeare, or anything else really, the language tells you what's going on. With "Grow Up, Already!" Valerie put a lot of trust is us as actors to show and not tell the story. That's something that's really amazing and that we wouldn't have gotten to do otherwise.
Q: What's your background in theater?
A: I did a lot of theater in high school. I was in a production or doing something theater-related every semester.
Q: If you could do it all again, what would you change?
A: I wish I didn't over-think my character. Jayla didn't happen as naturally as I wanted her to happen. My nerves about doing this character right were gone after opening night, which I personally think was a little late in the game!
Q: What was your favorite line from the play?
A: After the kiss scene, when I tell Matthew, "Uh-uh. This isn't happening. Goodbye." Because I'm just as awkward as Jayla when it comes to boys.
Q: Who was your favorite character?
A: Mallory, hands down. I think her character arc is beautifully written, and her death took an emotional toll not only the characters but on the actors who played those characters. There have been many times where I've cried on my bench as Claire delivers her powerful monologue. Also, Mallory is super cool and always supports Jayla, no matter what.
Q: If you could have played anyone else, who would it have been?
A: I don't know, to be quite honest. Jayla was so close to my journey in my life that I can't think of anyone else to embody. Maybe the therapist, because there has been many times that I've been skeptical of some of my friend's issues. It's so easy to say the wrong things when it comes to friends who sound crazy, and I really like the humor in that.
"Grow Up, Already!" closed this past weekend, but the Theater and Dance department's senior thesis season is not yet over. "Destiny", written and directed by Daejione Jones '15, plays in Studio Three in Webster Hall March 5-7, and Bryce Monroe '15's piece "Invisible Man" plays April 2-4.