Arts & Living
Short Film Oscar Nominees Provide View of Human Condition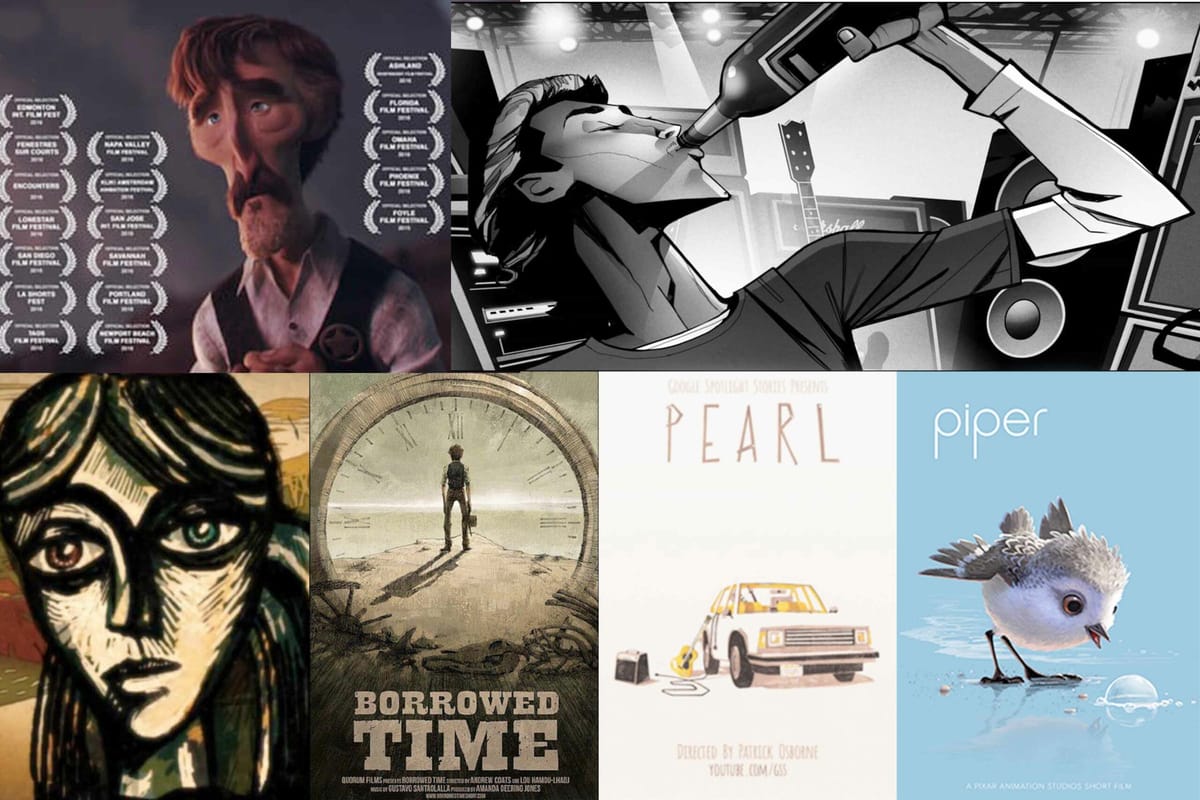 Every year, the Oscar-nominated animated shorts present a pool of feelings. Each piece accentuates and lingers on a certain aspect of the human condition, and watching all in succession leaves a lively feeling brimming in the viewer. The directors strategically use color, form of animation and voice to explore subjects that almost require deviation from real life to begin to adequately express what they want to portray in their work in such a short glimpse.
This year's animated shorts include three American shorts: "Borrowed Time," directed by Andre Coats and Lou Hamou-Lhadj; "Pearl," directed by Patrick Osborne, and Pixar's "Piper." The nominees also include "Blind Vaysha," a Canadian short directed by Theodore Ushev; and "Pear Cider and Cigarettes," a Canadian and English short directed by Robert Valley. Most pieces are around six or seven minutes long, but this year's outlier, "Pear Cider and Cigarettes," is 35 minutes long.
"Piper" presents the playful story of a baby bird learning the wonders and perils of life on the seashore. The young bird flits in and out of the gentle yet sometimes threatening waves while searching for food for the first time with a lovable, relentless enthusiasm for this new life. Nestled between shorts that explore heavier subjects, "Piper" provides a heart-warming respite from the less joyous sides of the human condition.
"Blind Vaysha" artfully tells the folklore of a girl whose left eye sees only the past and right sees eye only the future. In other words, Vaysha cannot perceive the present. She is left more than blind. In her suitors, she sees a child and a dying man; in the world, she sees original creation and eventual destruction, so she is left tortured. The director, Theodore Ushev, leaves the audience with a rather heavy-handed question, prompting each viewer to examine the way in which s/he sees the world: Should she tear out one eye? Which one?
In "Borrowed Time," a lanky, weathered sheriff finds himself in the now-deserted and dismal Grand Canyon subjected to the crux of life: a tormenting memory relentlessly muddies his reality. He walks and limps on the same path, and the scene flickers between this memory and the present moment. After re-working through this tragedy, the dust settles, the sun brightens and the clay-earth reddens.
"Pear Cider and Cigarettes" delves into two of life's most persistent features: true friendship and addiction. When our narrator finds his childhood friend — who lives off of pure adrenaline — as an ex-pat in need of a liver transplant in China, he's not surprised but still does all he can to help. The rushed, dangerous mood is reinforced by the animation, which is sketched together in fast red and blue strokes.
In "Pearl," a papier-mâché-like animation, Patrick Osborne presents a coming-of-age, life-cycle narrative of a troubadour and his daughter. A loving, enthusiastic child grows into a disinterested, angsty teenager, then a wide-eyed, adventurous young adult and finally a budding artist that has returned home to share her discoveries with her father. In old age, the father is grateful to realize that the apple doesn't fall far from the tree.
This year's shorts that were not nominated, but nevertheless commendable, include "Asteria" by Alexandre Arpentinier, "The Head Vanishes" by Franck Dion and "Once Upon a Line" by Alicja Jasina.
"Asteria" comically portrays Americans as clueless and reckless colonizers. Two astronauts die in a futuristic shoot-out with aliens, but importantly still manage to plant the American flag in the moon-like surface. Asteria sympathetically (and deprecatingly to Americans) takes the aliens' side.
"The Head Vanishes" depicts the struggle of memory and identity in the midst of Alzheimer's disease, bravely meditating on the patient's perspective.
Finally, "Once Upon a Line" shows a banal life and what happens when love invades the daily routine.
The 2017 Oscar-nominated animated shorts are all worth seeing. The shorts are playing all week at Amherst Cinema, leading up to the Oscars this Sunday, Feb. 26. Each piece uniquely and artfully comments on a tender part of the human experience. Through these shorts the viewer can do as Piper does by experiencing both the wonders and the terrors of this world.