Arts & Living
The Six Podcast Series Guaranteed to Take Your Mind Off of Midterms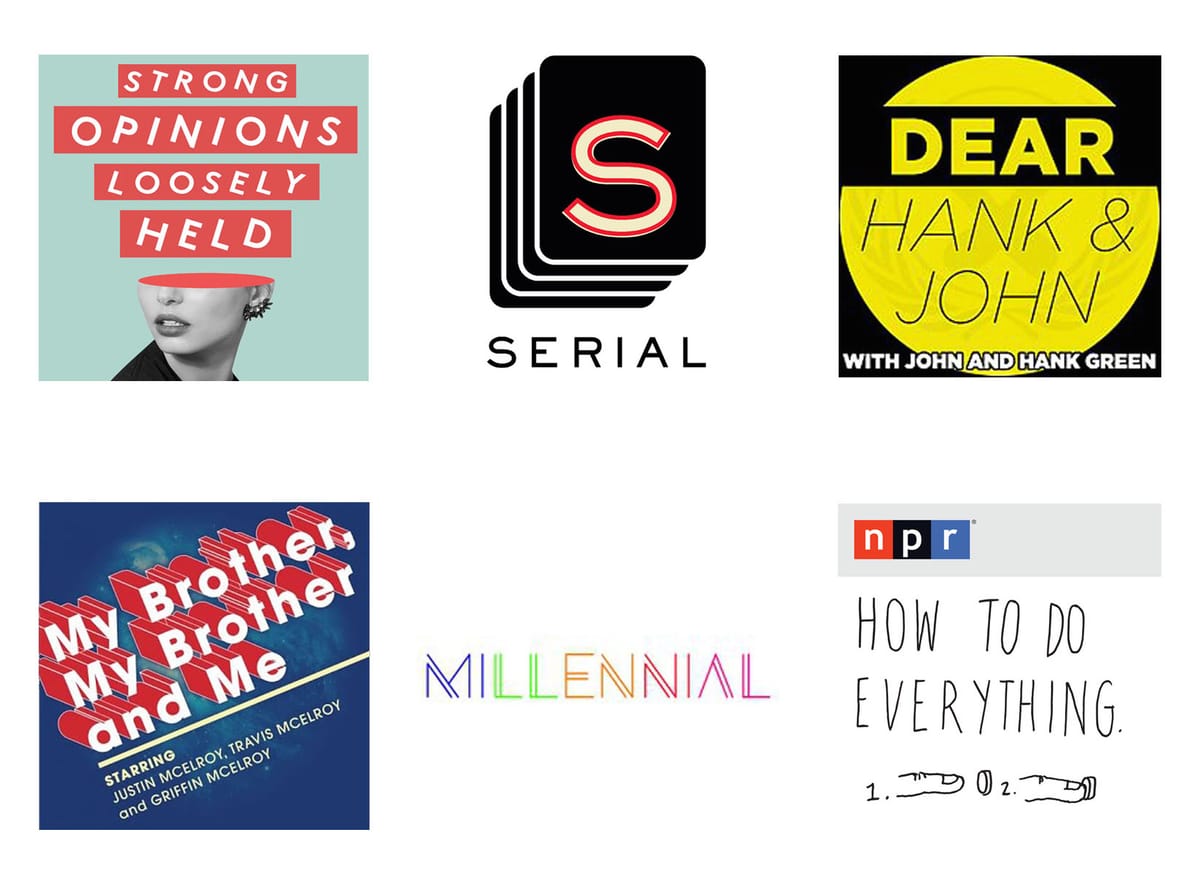 It's midterms season, that time between add/drop and finals season where you're drowning in multiple "mitdterm" papers and tests. This period may seem endless, but on your commutes into town for Starbucks you can have a good laugh and maybe learn something from these podcasts.
NPR's How to do everything: Mike Danforth and Ian Chillag have listeners send them questions via email or telephone and the pair do their best to answer it. The questions vary from scientific to life advice to just general things you didn't know you were curious about. For example, whether TV and movie producers use actor's real baby pictures when showing their character as a child. They bring in experts, such as Claire Dane's mom, to answer the questions. You're bound to learn a thing or two while laughing at their quick wit.
Serial: If you've only listened to one podcast, it's probably Serial. If not, you should. From the creators of "This American Life," the podcast, hosted by Sarah Koenig has thus far followed events tainted by controversial legal issues. The first season follows Adnad Syed, a man convicted of his ex-girlfriend's murder. The second follows PFc. Bowe Bergdahl, who leaves his U.S. Army outpost only to find himself drowning in controversy. Both seasons rely heavily on interviews with the protagonists, individualizing them and thus leaving their guilt questionable, and ultimately up to the listener. The agency granted to the listener renders it utterly addicting.
My Brother, My Brother, and Me: A very popular podcast that is also based on questions sent in by listeners, and also any funny questions they find on "Yahoo! Answers". Hosted by brothers Justin, Travis and Griffin McElroy, this podcast will definitely teach you less but make you laugh until your stomach hurts. I started listening to this after hearing it be heavily recommended by the likes of Lin Manuel-Miranda and John Green, and I promise you will not regret giving it a try. (Warning: Do not listen to this while on the elliptical at the gym, you will laugh and fall and people will stare).
Refinery 29's Strong Opinions Loosely Held: Many online sites like Buzzfeed produce a number of podcasts in their efforts to take over the Internet. However, "Strong Opinions Loosely Held" hosted by Elisa Kreisinger, was the only one of these Internet conglomerate podcasts that kept me looking for more. Episodes average around 20 minutes but each contains a ton of information on a variety of topics related to feminism. Kreisinger provides her own inspiration for the topic and then brings in a variety of audio clips of other people speaking on the issue as well as occasionally experts from music and movies. She prides herself on asking for smart women's opinions on a variety of questions such as: "Are selfies vain? Do hashtags reflect something deeper in contemporary culture? Why is there pressure for young women to be effortlessly perfect?" If you're a feminist, I promise you will love her way of exploring these questions from all angles, teaching you something as well as validating women's experiences in the modern age.
Millennial: Megan Tan's podcast gained a lot of traction during it's first season as the relatable and comforting retelling of maneuvering through your 20's in the 21st century. Tan, a young Asian American woman, has a similar style to Kreisinger's, however Tan is much more introspective and focuses on her own experiences rather than trying to answer a question for all women. In each episode Tan takes on a different aspect of millennial life and plays with it by analyzing it in her own life and interviewing those around her. In one episode titled "Moving Out," Tan interviews two of her friends who moved back in with their parents in their 20's and then interviews the parents. Tan acts as a sort of documentary narrator, expanding on the points that her interviewees made and posing rhetorical questions to the listener. Her topics range from asking serious questions about the millennial lifestyle to pondering on phenomenons like "Pokemon Go." Not all her episodes are funny, but it's guaranteed to make you think about what it means to be young in this day and age.
Dear Hank and John: This is a personal favorite, the podcast that got me into podcasts. Hank and John Green, who you may know as the author of "The Fault in Our Stars," are brothers who began a YouTube channel in 2007 called "Vlogbrothers." I use to be a big fan of theirs in high school and participated in the "Nerdfighter" community, but lost interest in their educational and funny videos when I got to college. I was talking with a friend about this when he mentioned that although he felt the same way, he was addicted to their new podcast. It is a "comedy podcast about death" where John and Hank give "dublious" advice to their listeners on questions they have emailed them and also update them on the news from Mars and John's favorite soccer team, AFC Wimbledon. Even without being a long time fan of theirs, you can learn a lot from Hank and John who answer questions in a variety of fields (science, philosophy, dating) in their unique comedy style. I think of them as a more relaxed version of "My Brother, My Brother and Me," but both sets of brothers are worth listening to when you need a laugh. For other YouTube fanatics I recommend "Not Too Deep with Grace Helbig" where Grace interviews a variety of Internet personalities in the least introspective way possible.
You may find that you do not have enough time to binge-listen to one of these podcasts. The best way to listen is on your daily commute, wearing headphones and laughing out loud as people on the bus/train stare. If that's not your style, I recommend setting aside an hour to take a walk in the bird sanctuary or elsewhere where you can turn off your mind and listen to people teach you about things and try to make you laugh. It's the most productive form of self-care I can think of.