News
Soaring the Skies on the Quest for Justice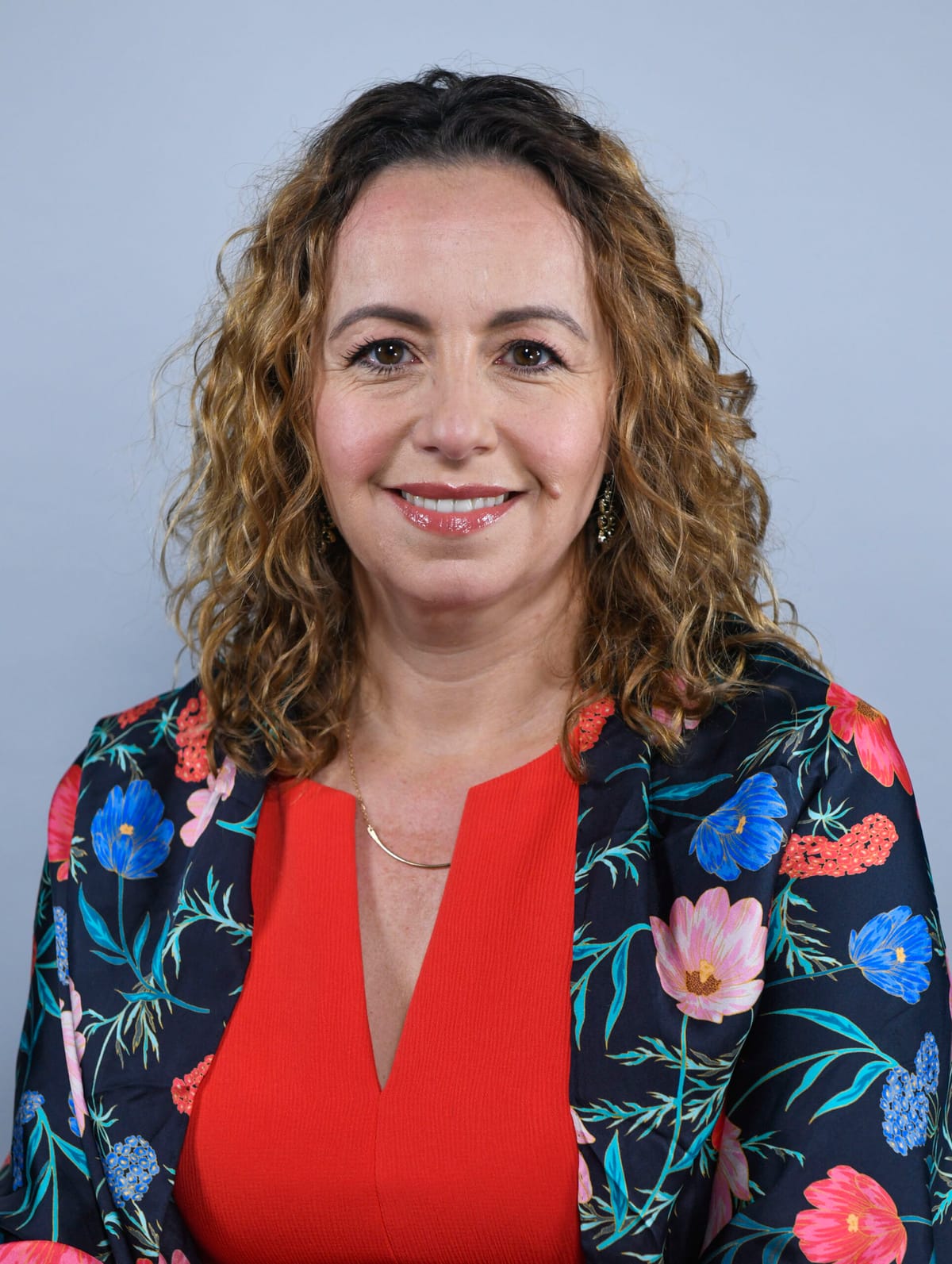 Abigail Golden-Vazquez '90 is more used to being in the air than on the ground. By her estimate, she has traveled to at least 23 countries outside of the U.S. In her childhood years alone, she moved six times — all before her 10th birthday. During and after her time at Amherst, she traveled constantly and planted roots in various clusters around the world.
For some, the idea of bouncing around is daunting and discomforting. Touching down in places you've never been, adjusting to cultures and discovering how you fit or don't fit, speaking, working and relating in completely different tongues — the thought itself can be overwhelming.
But not for Golden-Vazquez. When she talks about her travels, her voice is warm, animated in such a way that the words pouring out of her mouth paint an effortless scene in my mind. She talks candidly with me, slipping in anecdotes and conversing so casually I feel as if I'm her friend. The generosity of her authenticity would be clear to anyone who listened to our conversation. This is a woman who delights.
That comfort with curiosity has been integral to the winding road tracing her life. At every fork in the road, she asks herself if it will be interesting, if she will be able to do good in the world, if she can minimize harm. These are the questions that have molded her career. Even after 51 years, she keeps an eye on the horizon for her next flight into the air.
"I always admire the people who are strategic and knew what they wanted — I'm gonna do this and this to get there by x, y, z time. That was never me," she said. Maybe it was because I grew up moving around all the time, but it's always like, 'What's next? What's next? What's next?'"
Learning to Adapt Golden-Vazquez has the remarkable ability to walk in different shoes and be comfortable in many communities, says Phil Henderson, a former boss and friend. When you look at her early life, it's clear she learned that skill very quickly as a child.
Golden-Vazquez was born in New York City to a Puerto Rican mother and Jewish father. After her father bought a farm in Oregon, her family moved out west and started a commune. She lived in Oregon until her parents divorced, when she moved with her mother to Nashville, Tennessee. "I was actually bussed to a white school," she said. "I don't remember exactly, but it felt like hours away when I was 7 years old in Nashville."
Later, her father asked her to return to the farm, and she did for a brief time frame, attending a "little small-town school."
In the meantime, her mother separated from her longtime boyfriend. Pregnant with her second child and longing for community, Golden-Vazquez's mother moved the family to Oakland and eventually to San Francisco, where Golden-Vazquez lived in a "very Chicano" neighborhood. "So the first period of stability in my life was literally [when I was] 8 or 9 to 15 years old," she said.
After that, she returned to New York to attend a Quaker school where she began exploring sports and academics, eventually setting her on the path to Amherst.
"I'll tell you, I had to learn very early on adaptive skill, and just the ability to figure out how to operate in incredibly different environments," Golden-Vazquez said. "I'm lucky enough that I read white probably for most people, but … I remember one teacher in Nashville had my mother come to the school to ask her why I played with the black kids. Because for her I was, you know, a little brown-eyed, golden-haired kid, and she thought that that was problematic."
All those experiences — being bussed to a white school, living in an all-black neighborhood — deeply informed her thinking about "justice and equity and haves and have-nots and race and ethnicity in America, essentially." And these thoughts started to unblur for Golden-Vazquez just what kind of purpose she would pursue in her future interests.
On But Not of the Margins Stepping onto the Amherst campus, however, Golden-Vazquez remembers feeling overwhelmed. "I'll be honest with you, I hadn't seen so much privilege," she said. "It was very intimidating."
After about three months on campus, she called her dad. "I don't belong here," she told him. "I want to change schools."
"Okay, finish out the year," he responded. "And then we'll talk."
In hindsight, she's glad she listened. By the end of the year, she wasn't necessarily in love with Amherst, but she had started to "find my people."
Funnily enough, the first person she met at Amherst — at the now-defunct Minority Orientation, a pre-orientation program for students of underprivileged backgrounds — later introduced her to her husband. They still keep in touch.
One of the reasons Golden-Vazquez chose Amherst was its basketball team, which she thought she would make. After experiencing "my first heartbreak," she ended up managing the team instead. "That's a special kind of torture for someone who wants to play basketball," she said, laughing.
In her first year, she also joined track and connected with people in La Causa. Later, she lived in the Spanish house, joined the arts circle and learned to be self-sufficient at the Zu, a co-op on campus. "I made community along the margins that ended up being really wonderful," she said.
In the meantime, her classes became vehicles for her to test out various interests. She didn't have any inklings or gut instincts about her major, she said, but quickly realized that political science opened the doors to the kind of humanitarian work she wanted to pursue. Taking a class with Professor of Political Science Thomas Dumm convinced her to declare the major.
"Liberal arts, you don't necessarily graduate with a skill, but you graduate with a set of tools for viewing the world," she said. "It really served me well."
Her other major, Spanish, gave her the opportunity to explore her Puerto Rican heritage. "Being Puerto Rican and not exactly being fluent in Spanish, I always knew I had a desire to learn it and learn it well," she said. She had chosen Amherst partly because of its commitment to study abroad; she knew early on she'd want a study abroad experience in a Spanish-speaking country.
And she did just that, traveling to Madrid, Spain, and falling in love with the country. She joined the women's basketball team there and made friends who hailed from all across Spain and provided place and space when she visited later down the line.
Getting through Amherst wasn't easy at times, especially when she didn't know how to interact with the "mainstream tribe."
It was particularly hard seeing "how siloed every group was." Having grown up around black folks and family members who were black, she always felt that she fit into the community. "There was some self-segregation there that was shocking to me, too," she added.
Nevertheless, finding the spaces in which she did feel a sense of belonging enabled her to embrace her identity as a Latina. The people made it all worth it: friends in her various communities, as well as Puerto Ricans in the Pioneer Valley both on and off campus.
One friend, in particular, ran a show on the college radio station that played Latinx music. Being more shy, Golden-Vazquez didn't think she could ever do such a thing. "I couldn't possibly," she thought. But she would sit next to her friend in the booth on the days of the show and enjoy the music — a moment of empowerment and reclaiming, even on a campus that didn't always feel welcoming.
Like A Butterfly After graduation, she returned to Spain for what was supposed to be a two-week trip, but ultimately decided to stay, revitalized in her love of its culture. She went from city to city for a whole year teaching English. Returning to New York, she worked in marketing while applying for graduate school. She had the "exact same application I had pulled up when I was a senior at Amherst," and she was accepted to and chose to attend the Johns Hopkins Paul H. Nitze School of Advanced International Studies in Bologna, Italy.
Adjusting to Italy was a little harder than adjusting to Spain, however. Everyone around her was saying that it would be be easy for her to learn Italian given her Spanish- and English-speaking roots. "The words sound the same but they mean different things," she said bluntly. A light chuckle followed.
At Nitze, it became clear that Golden-Vazquez wanted to focus on humanitarian work. Development work and international aid sparked her curiosity and ambition to improve people's lives. She graduated with a master's in international relations with a focus on Latin American studies and economics.
"I'll be honest, I graduated during a recession and waitressed for several months while I looked for jobs," she said. She secured a contract to put on conferences in different parts of the world, including Peru, Egypt and Kenya, and ended up getting hired on to do communications outreach at an international development company.
After returning to New York, she worked as an account manager at a public relations agency that was starting a new Latin American practice. She eventually moved up the ranks to run its nonprofit practice and work on human rights campaigns.
Three years into the job, however, she wasn't working in the international career she had imagined for herself. "I wasn't using my language skills," she said. And, even more so, the writing was on the wall: technology "was eating up everything else." Uninterested in writing press releases for tech companies, she hopped onto another contract that allowed her to work with the U.S. embassy in Honduras, developing speeches, press releases and launches for projects and partnerships after a catastrophic hurricane.
She returned to New York almost three months after the 9/11 terror attacks. "It was so depressing to be in New York," she said. There was another recession, but she didn't want to work purely in the corporate sector. And so she went to D.C., working in PR for the German Marshall Fund, an international foundation focused on Europe-U.S. relations.
"When I was in grad school, we were seeing the wall in Germany come down," she said. "I thought, 'Here's a chance for me to get in deep and understand what's going on.'"
Helga Flores Trejo, who first crossed paths with Golden-Vazquez at the German Marshall Fund, distinctly recalls meeting her — it wasn't often that she came across another Latino person in their line of work, but here was "a very interesting Latina."
"I have really never seen anybody in D.C. doing more for integrating a very diverse community in a very caring, very proactive way," Flores Trejo said. "Not networking, but truly caring for society, for others, for a divided community, for helping on a very personal level to connect women from diverse communities that are working professionally in different areas of D.C. Again, not networking, but rather community-building. And you notice that. That's the difference."
"I don't know anybody who does that, the way she cares for others," Flores Trejo added, and it's apparent in both her personal and professional life.
After four years at the German Marshall Fund, eventually taking on public affairs and external outreach, Golden-Vazquez "finally decided that I wanted to be on the other side, of actually doing the work."
In 2006, she joined the Aspen Institute, an international nonprofit thinktank devoted to helping "citizens lower barriers to learning, work and health" according to its website. At the Institute, Golden-Vazquez built out the local leader initiative, traveling to Africa and the Middle East to partner with "rising stars" and plan programming that would help people think critically about their values and larger societies. She later started a China initiative for the Institute.
"The work that I loved was all around travel," she said, but her son was born during that time period and the travel grew difficult.
"After eight years, it does become a bit repetitive," she said. "It was time."
Settling In Even though she touched back on the ground in D.C., her work didn't stop. The Institute recruited her to start a new policy program focused on Latinxs in America. It's ironic, she tells me over the phone with what I imagine is a wry smile. "My first job when I came back from Spain was … selling airtimes at a Spanish language radio station," she said. "I joke that I sell air because that's what I did — I sold airtime, I sold advertising."
"When I was doing that — first of all, I'm terrible at sales and I hate it — but when I was doing that, I was trying to make the case that Latinos were the future," she added. "I was telling them, 'You need to reach this market.'"
She could've been selling manure, she said. That's how it was perceived. "Lo and behold, 25 years later, everyone got on board in real life," she said, citing statistics that Latinxs are the largest growing population in the U.S.
It did take labor on her part, however, and organizing to kick the program into gear. While traveling for Aspen, she'd always questioned why she was the only Latina in the room. "I'm feeling like … 'Where are we?'" she recalled. "Here is an incredible influencer institution that I love and admire the work that they do. If they don't start thinking about Latinos, they're going to be absolutely irrelevant."
Golden-Vazquez engages with numerous leaders — including Supreme Court Justice Sonia Sotomayor — from around the world in her work at the Aspen Institute. Photo courtesy of Abigail Golden-Vazquez '90.
The initiative is thriving now "because of the caliber of leadership that Abigail has brought to it," said Monica Lozano, chair of the Institute's Latinos and Society Program. Upon accepting the position, Golden-Vazquez hired in staff, developed a pioneer plan, reset strategy, sharpened the program's focus and brought on a "highly regarded" advisory board, Lozano said.
"There's always certain qualities that you look for in a leader: are they able to manage complex projects, convey and set forth a strategy and inspire people to follow them? Abigail has all of the qualities that you would look for in a leader … [and] she has a deep sense of conviction, of humanity, of values. She's fun," Lozano said. "She clearly has a way about her — you're just enthusiastic in terms of wanting to be with her … With Aspen Institute, that comes through in her leadership style. It's not about leading, it's about doing it in the right way and making positive change."
The Latinos and Society Program today has a host of goals: it works to build greater awareness within the Institute about embracing not only diversity but also inclusion, change the narrative around Latinx issues writ large and help non-Latinx people understand the importance of including Latinxs in conversations around policy, economic opportunity and social relations.
"I'm right back to where I started, where I'm selling airtime," Golden-Vazquez said lightheartedly. "I'm saying, 'Look, pay attention, Latinos are the next thing and people are like, 'Yeah, yeah, … we just care about equity writ large; we don't see the need to look specifically at Latinos.' It's like I'm back in the same exact place, where I'm like, 'You do.'"
It's exciting and wonderful and exhilarating, she says. It's also the hardest work she's ever done, building something from scratch. "When I get depressed or when I think it's too hard, I remind myself there are people working in the environment," she says, bursting into a string of laughter.
In a way, her current work also reflects a personal shift that grew out of her time at Amherst. It was at Amherst that she came into her identity and accepted and embraced being Latina. "It helped me to understand my identity," she said. "It helped me understand that background as an affect, just having that community."
Though she's made an incredibly rewarding and accomplished life for herself in D.C. — surrounded by many of her friends from Amherst — Golden-Vazquez still has an international experience left in her. "I'm constantly whispering into my husband's ear, 'When this kid graduates, we're all moving, we're gonna be out of here,'" she said, laughing. "I'm not done."
No. No, she is not.
Correction: An earlier version of this article incorrectly stated that Golden-Vazquez is 52. She is 51. The article was updated at 9:50 p.m. on Oct. 27, 2019.