News
Staff Spotlight: Joan Slocombe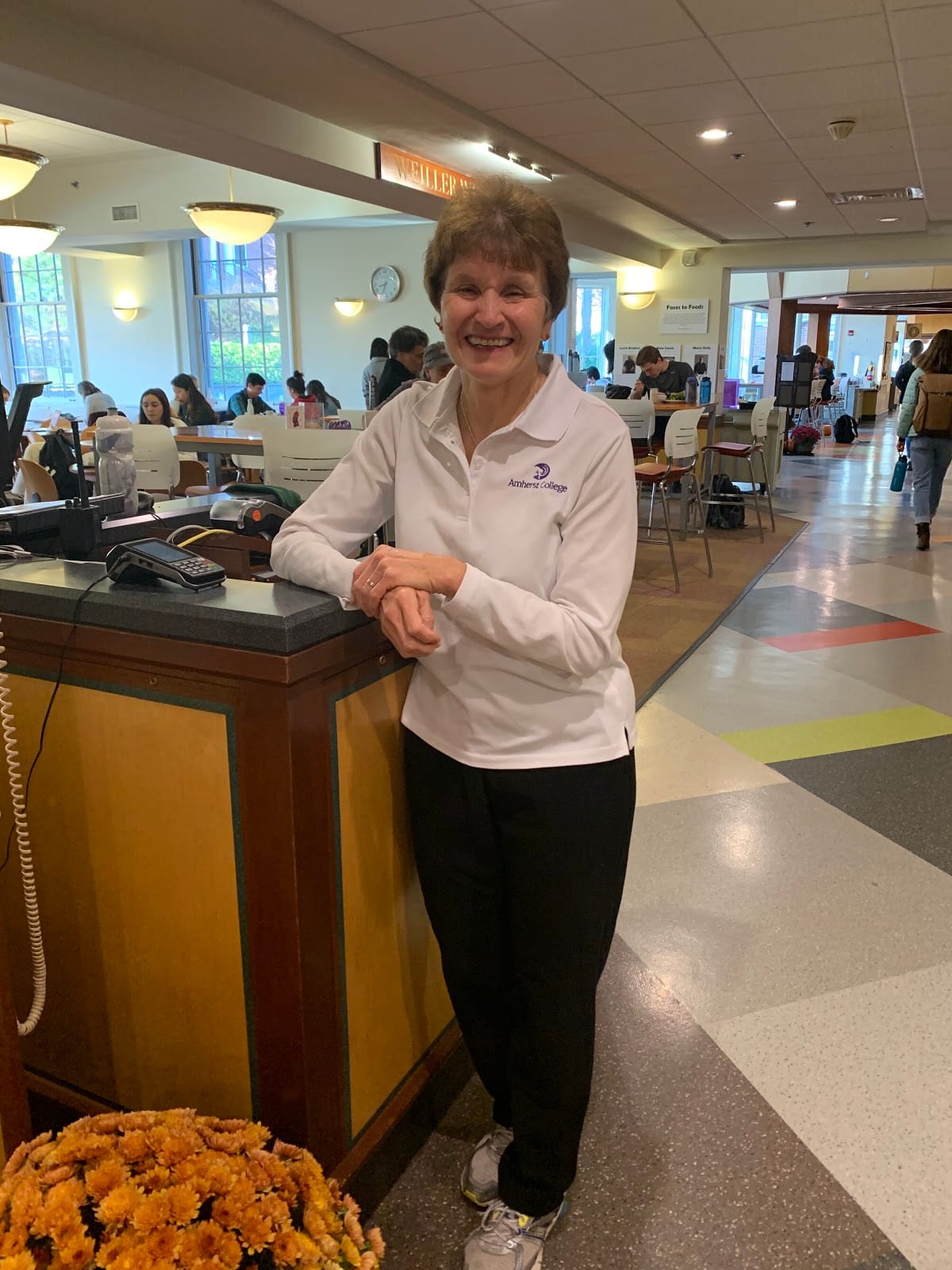 Joan Slocombe is a card checker at Valentine Dining Hall. She previously worked at the Clarke School for Hearing and Speech in Northampton, Massachusetts. Additionally, Slocombe was elected as an honorary classmate by the 2019 graduating class.
Q: How long have you worked at Valentine Dining Hall? A: I've worked at Valentine Dining Hall for four years and counting.
Q: What is the role you perform in Val? A: They call us checkers, but I like to think of us as cashiers! My job entails checking IDs and then helping to clean up Val when the meals are over.
Q: What drew you to work at Amherst College? A: I always thought that Amherst College would be a great place to work, but I had to retire to actually get a job here. I've benefited from association with Amherst College the last few decades — mostly using athletic facilities — since my husband is a long-time employee of the college. So I always thought Amherst College would be a great place to work. Working at Amherst College is not my profession — I was a teacher for deaf students for a majority of my career. After I retired, I heard through the grapevine that they were always looking for people at Val. So I went to a job fair and ended up getting hired to do this. It's a great job.
Q: How has your experience been as a staff member so far? A: Getting to know the students has made my experience incredible. I love to help people and get involved in their day-to-day lives. I care about how everyone around me is doing and I strive to make their lives better.
Q: What is the most rewarding experience that comes from your work at Val? A: The students are the best part of the job! I love getting to know the students and following them throughout their four years here. My [daughters] are both out west, so, I say that the students give me my "kid fix."
Q: What did you do before you came to work at Amherst College? A: Before I worked at Amherst College, I was a teacher for the deaf. I worked for the Clarke School for the Deaf. But at the end of my career, I worked for the mainstream system which supports deaf kids in their public school systems. I traveled around the state going to schools where there were students who needed our assistance and teachers that wanted to learn how to better help their partially or fully deaf students. At the very end of my career, I did more itinerary teaching. This was where I would go to specific classes and support their academics.
Q: If it wasn't dining services or teaching, what field do you think that you would be working in? A: Maybe elder care. I have a bit of experience with elder care because I helped take care of my mom as she got older. But I might also just be retired and spending time enjoying life! I would like to think that I would see my kids more, too.
Q: Where in the world would you most like to travel to and why? A: I might get criticized for this, but right now the number one place on my bucket list is Alaska! I remember someone asked me this a while back and they said: "In the whole world? Really Alaska?" And I said, "Yeah! I love Alaska, and I love the United States!" There is so much to see in this country; it is full of beautiful and interesting places. But at this point in my life I don't have an incredible desire to go abroad. Yet if I had to choose a place abroad, I would probably visit where my grandparents came from — so, Hungary and Czechoslovakia, really just somewhere in the Balkans area.
Q: When you are not working at Val what do you do in your free time? A: When I'm not at Val I always make sure to exercise. I also keep my house tidy and work on other various home stuff. Family always comes first — I try to make sure that everything is good to go with them.