News
Taking One Day at a Time: Over 900 Students Adjust to Life on a Covid-Cautious Campus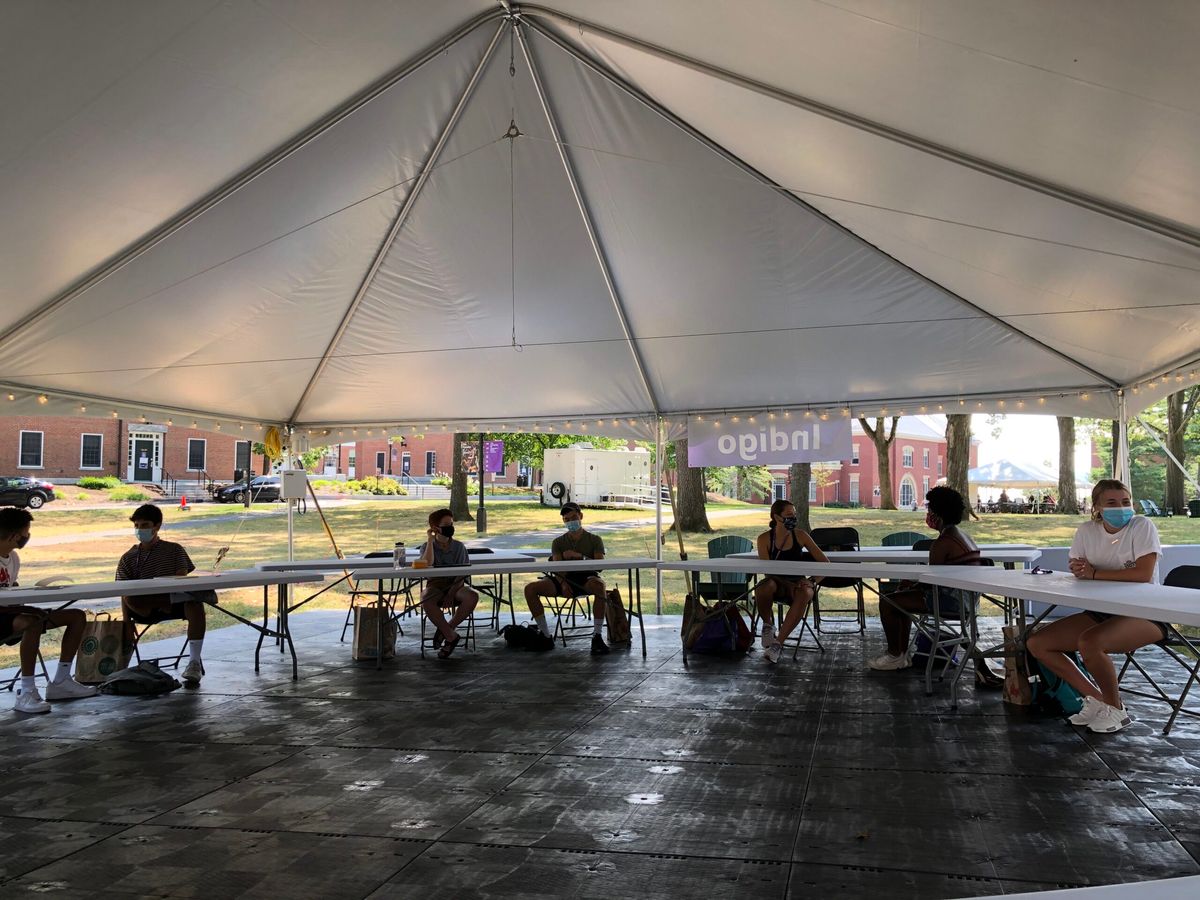 For the past three months, the college has set forth careful, calculated planning for the precarious experiment that began last week: bringing the 937 students from across the pandemic-stricken country to live and learn on campus. It did not go off without a hitch; students tested the waters and saw how firm the campus living guidelines held; out-of-state tests did not return in time; and Zoom crashed on the first morning of classes. However, all in all, the precarious mobilization seemed a success: first-years are adapting — happily, for the most part; professors are returning to the art of teaching, rather than planning; and the college has confirmed and managed a mere total of two coronavirus cases so far, set to the backdrop of large universities' massive outbreaks and drastic shifts to accommodate them.
Students, first-years and returners alike, had to check in at the Alumni House, on the edge of campus, before setting foot in their residence halls. There, they checked in as their bags were loaded into a truck and taken to their dorm for them. It's here, minutes into their drop off that students could say goodbye to the friends and family who made the trip to campus with them. Then, they were off for a Covid test.
Awaiting its results, students had to quarantine until they were confirmed to be Covid-free. For those arriving to Amherst from within the Massachusetts-sanctioned travel bubble, that campus quarantine took place within their dorm room, and they were allowed to leave to retrieve meals. Meals were distributed in tents in students' residence hall area until the first day of classes, in which students scheduled time slots on an app to pick up meals from either Valentine Dining Hall or the Friedman Room on Keefe Campus Center. For those traveling from the 42 states — and beyond — not included in the commonwealth's travel guidelines, Massachusetts requires a two-week quarantine or a negative Covid test from at most 72 hours before their arrival. The college had planned to accommodate this smoothly, sending out two tests to students living beyond the northeast bubble so that they could take them a week and then three-days prior to arrival and receive rapid results. In reality, this fell through.
"Unfortunately, the testing firm we used for pre-arrival testing has let us down," Agosto wrote to on-campus students in an Aug. 14 email. In the days before students were set to arrive on campus, LetsGetChecked, the testing company the college partnered with for the pre-arrival tests (separate from The Broad Institute, the guaranteed single-day turnaround tests students receive on campus) yielded few test results in time for students' arrival in the state.
The college quickly pivoted to secure hotel rooms in the area so that students arriving could genuinely quarantine with their own bathroom and meals delivered to them.
This was the case for Feli Obasi '24, an international student from Kenya who arrived to Amherst after flying from Italy, where she attended boarding school and lived over the summer, to North Carolina, where her sister lived. After staying with her sister for a few weeks, they flew to Boston and then traveled out to Amherst, where she quickly started her quarantine in the Inn on Boltwood.
Once she received a negative test result, she was cleared to move into her dorm, but left with little information besides its name and the fact that she was now able to go there. "I understand that you have to be socially distant and everything, but I didn't know where like this dorm is; I didn't know who to call, so I just had to put in Charles Pratt — that's my current dorm — on Google Maps, and I was like 'OK, let me use maps to find it here.'"
Once there, she still felt left on her own to move in and get settled. "I had lots of expectations," she said. "My sisters were so excited to bring me here, to help me set up my bed, to put posters on my wall. So we all are really sad that we didn't get to do it. We started this joke: don't worry there's grad school. When I go to grad school you guys can help."
But, in the meantime, Obasi has felt anything but alone, even with the school's strict distancing policies. She gushed about how friendly her floormates have been and how supportive the international students and campus Kenyan community has been. "I think, moving in was not as stressful as I thought it would be and now I'm taking one day at a time to kind of adjust to being here, but I have to say it's going pretty well."
Even before students began moving into campus, students faced uncertainty. In the late evening on Aug. 16, just one day following the college's start to its move-in process for on-campus students this semester, panic over the feasibility of an in-person experience this semester set in as one GroupMe chat for seniors, titled "Amherst '21 on Campus," sparked with rumors about a potential campus closure.
"Short PSA, Biddy has emailed the student committee [referring to the Student Pandemic Task Force] and they're considering sending everyone home because the semester hasn't even started and people are already going off campus into town and breaking quarantine 👀," read the GroupMe message instigating the panic to come.
The GroupMe message comes as multiple universities around the country, including the University of North Carolina at Chapel Hill and Notre Dame, have begun to transition towards remote learning as their campuses experienced uncontrollable coronavirus outbreaks; both colleges had welcomed all of their students back.
Merely seconds after the first message, more students began to chime in. "It's not that hard to leave campus 😔," one message said. "We've all seen how diligent and caring the school has been with this process and it would be an absolute shame for all that money to go to waste," read another.
As the chat enlivened, rumors surrounding the administration's plans, speculation around the perpetrators and calls for greater accountability took greater heed. Some who had already arrived on campus claimed that students had been caught with a box of Antonio's pizza; others hypothesized that restrictions on campus would loosen later in the semester, so long as students continued to adhere to the Statement of Shared Responsibility.
The overarching consensus, however, had remained palpable: that students should not break rules so long as to not ruin the on-campus experience for everyone else.
In an effort to convey that message, a larger GroupMe, "Amherst on Campus Fall 2020," grew from the initial senior chat to include underclassmen in the discussion. "Everyone continue being diligent and peer pressure people into following the rules," the chat's first message said. "I think it's the underclassmen who don't understand what's at stake."
For the next hours, students in the chat would debate zero-tolerance policies for rulebreakers, send emails to President Biddy Martin encouraging the college to only send home rulebreakers — as opposed to all on-campus residents — and talk through move-in logistics for students yet to move in.
The discussion would shift, however, to tackle the roots of rule breaking on campus, particularly in food services for students with allergies, restrictions and other dietary needs. While Valentine Dining Hall opened without indoor dining for the first time this semester on Monday, Aug. 24, students only received food from tents prior to that date, with options more limited than they otherwise would be. Though the details of rule breaking incidents remained unconfirmed, some suggested that dining restrictions would create tensions for those with special dietary needs, encouraging rulebreaking to occur.
"Several things, including the food situation, are very dangerous right now for some people and that is not okay," one message said, "but for the health and safety of everyone, to ensure that people who need to be on campus can stay here, and to let people have a somewhat enjoyable semester, do we agree that the solution is to put pressure on Amherst and repeatedly and sternly tell them they need to change, not to break the rules?"
Dean of Students Liz Agosto emailed on-campus students shortly after reminding students to abide by the Statement of Shared Responsibility, noting that "we have received information that some students have left campus to get take-out food or have had food delivered to campus. This is a reminder that both of these actions – leaving campus and food delivery are prohibited."
The GroupMe's panic came to an end the following evening, when Student Pandemic Task Force Member Bella Edo '21 conveyed a message from Martin, who said, "I have to believe we would allow students who need to be here to stay on campus, even if we ended up having to send others away."
Though the majority of students had been soothed by confirmation of the semester's plans to recommence on campus, the college had continued to take potential violations of Community Living Guidelines seriously due to its potential consequences. Less than 24 hours after arriving on campus from his hometown of Newton, MA, Alastair Poole '23 received an email from Agosto, Senior Associate Dean of Students Dean Gendron and Class Dean for the Class of 2023 Jess Caldwell-O'Keefe outlining the decision to remove him from campus.
According to the email, Poole had violated two parts of the Statement of Shared Responsibility, and Community Living Guidelines which all students agreed to prior to arriving on campus. According to the college's email obtained by The Student, Poole (1) [failed] to consistently wear a face covering outside [his] bedroom or in close proximity with others and (2) [failed] to maintain physical distance from others."
Poole admitted to the violations in a private meeting with Gendron. "Based on the received information and your subsequent conversation wherein you admitted to the above violations, the college is removing you from campus housing for the remainder of the Fall 2020 semester," the college wrote in Poole's dismissal explanation.
Poole's leadership positions as a Community Advisor and Orientation Leader almost certainly impacted the college's decision to remove him. "In your roles … these violations are particularly impactful," the college said.
In an interview with The Student, Poole admitted walking through his dormitory, Hitchcock Hall, and going to the bathroom without wearing a mask. For the second violation, Poole says he asked two students in his "pod," Poole's room group who live on the same floor, to help move furniture in his room.
"The offense made it sound like I had the whole town of Amherst in my room," Poole told The Student. "In reality, I had two of my friends … come to my room and move my dresser and bed. It was really hot and they may have moved their masks for a second or two. Someone saw them leaving my room, and I was reported."
"They were there for no more than five minutes," he added.
The Student confirmed that a group of students on Poole's floor in Hitchcock contacted the Office of Residential Life after seeing Poole and his friends violating the community guidelines.
"I don't believe the punishment fits the crime," Poole said. "I told [Dean Gendron], I don't feel guilty because I don't think I've done anything wrong … the college is well-aware that students have been violating the rules."
After receiving the college's decision on Thursday morning, Poole was asked to leave campus by Friday at noon. A friend living off campus picked him up, and Poole will continue his classes remotely from his home in Newton. Room and board fees will be refunded to Poole, according to Gendron's email, but the college has stated that it does not intend to give similar refunds later in the semester, according to an email sent by Chief Student Affairs Officer Karu Kozuma to the campus on Thursday, Aug. 20, the day Poole was dismissed.
Moreover, due to "the unfortunate disregard for responsibility as a leader," Poole will not receive payment for his work as a Community Advisor nor will he occupy the position for the remainder of the semester, Director of Residential Life Andrea Cadyma wrote in an email to Poole. Poole previously worked at least 15 hours as a community advisor and 10 hours as an orientation leader (OL). He expected to receive a $400 paycheck the following week, he said.
Kozuma declined to comment, noting that "the process of removing students from campus for serious violations is confidential" and linking previous communications about campus expectations.
The college had caught other rulebreakers before classes started. On Wednesday, Aug. 19, Agosto sent an email to on-campus students warning against leaving campus. "We have received information that some students have left campus to get take-out food or have had food delivered to campus. This is a reminder that both of these actions … are prohibited," Agosto wrote.
With all the campus-mandated precautions in place, on-campus social life in the first few days of the semester has felt as close to normal as it can, five months into a pandemic. Students are able to hang out together in the tents and adirondack chairs placed across campus.
Carolina Cordon '24 said that she's been able to meet students through a combination of both the virtual and real-life platforms for social interaction. She described connecting with other students over Instagram, in her Zoom orientation group or over the online-summer programming and then being able to strike up normal conversations in person, after having the initial introduction. It's certainly imperfect, though. "With the mask, sometimes you're not going to be sure," she said. You lose the implicit social cues that direct in-person introductions on campus and invite a hello, she described.
But, largely, like Obasi she's found a receptive group of peers ready, willing and excited to make friends. "I feel like right now. A lot of people want to sort of make it work," she said. "So, I feel I'm hopeful that it will happen."
Both Obasi and Cordon expressed some frustration that orientation couldn't be what it's been in the past, feeling that by missing out on the full schedule of first-year orientation events, they also missed out on one of the most formative ways to meet friends at the start of the school year.
Moved completely online, orientation this year was abridged, with only four face-to-face meetings between squads and their upperclassmen leaders, and those mostly focused on getting-to-know-you activities, while the informational content on learning the ropes of this new place shifted mostly to mood.
Zoom is a less than ideal platform for building new relationships, and Cordon explained just how challenging it was to use it for ice-breakers and introductions, where no one has the impetus or body language cues to start talking.
Matai Curzon '22, who is working in his second year as an OL, agrees that the Zoom interface makes it difficult for new students to familiarize themselves with the school and each other.
"It's harder. People are always more social in person when there isn't a mute button so easily available," Curzon said. "I do think orientation went as well as it could have given the situation," he added.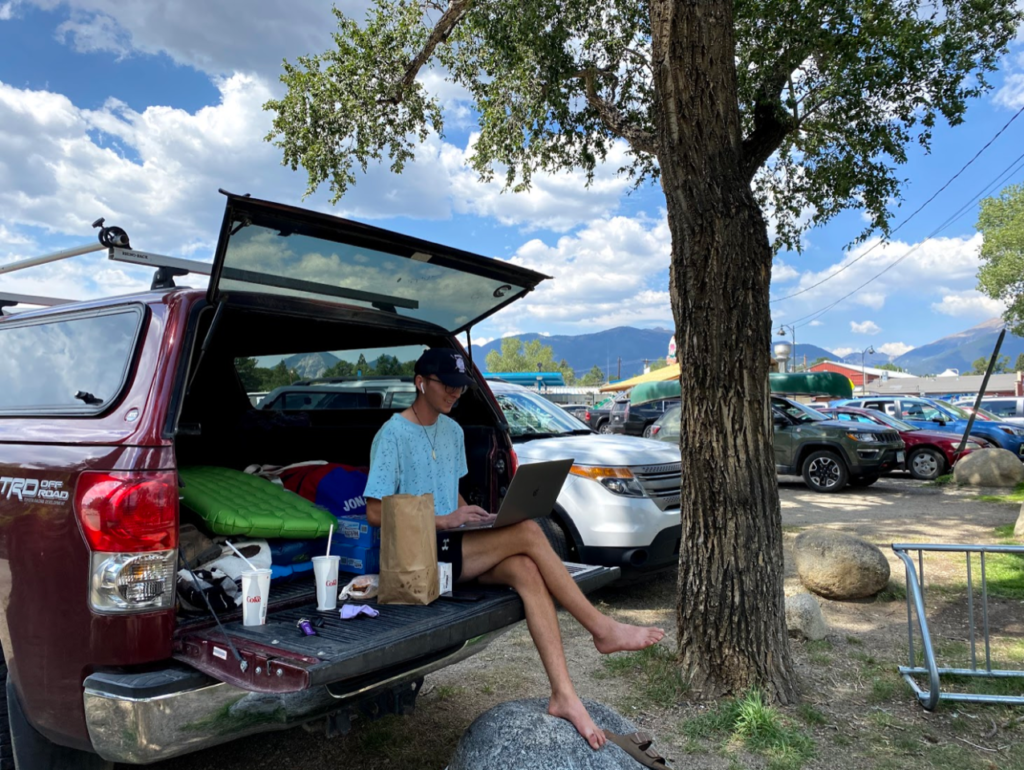 The start of classes was a little different too. Courses were split between hyflex, which entailed a mix of online and in-person teaching to accommodate both remote and on-campus students, and fully online structures. While fully remote courses were familiar to many students who were enrolled in the past spring, hyflex courses represented a new step forward — and with it, its own set of unique challenges.
For Professor of Physics David Hanneke, who is offering a hyflex lab course with students split half-and-half between in-person and remote learning, the task of promoting the collaboration that's usually integral to the course is particularly difficult. "The new challenges around building a classroom community will be tougher, especially since we won't be doing much if any hands-on collaborative projects," Hanneke said, referring to how each of the labs are to be completed remotely, although he noted that it was too early to make any definitive statements about hyflex learning.
Because of the task of managing both in-person and remote student audiences, technical difficulties have also been plentiful. William McCall Vickery 1957 Professor of the History of Art Nicola Courtright is teaching a hyflex course remotely for a class of in-person students by projecting her video onto a projector screen in the front of the class. She noted that there were multiple issues she had to fix throughout the first class that impeded its progress. Among them was the challenge of having both in-person and remote students input in a way that was unobtrusive and equitable, which was complicated by the fact that in-person students initially couldn't speak without causing loud reverberations from the speakers. Hanneke also noted similar issues with communication in his class, specifically pointing to technical challenges with microphone management.
"It was not as good as a first day in a regular, physical class," lamented Courtright. "But I had to figure it out, right? There was no practicing it on anybody. This was it; now I know how to do it. Next semester, when I teach a digital class, I'll know how to do it better."
Fully remote courses have been far from perfect either. As classes began in the early morning of August 24, Zoom experienced a world-wide outage that locked many students and faculty out of class meetings, bringing about a turbulent start to the semester.
Not every course was marred with troubles, however. Courtright, for example, is also teaching a first-year seminar entitled "Encounters with Nature," in which all the registered students are currently on campus and attending in person. Because of this, despite some changes from previous years — most notably that the class is now being held in a tent — most of the other elements of the course have stayed the same, making it "a walk in the park compared to my other class," according to her.
Especially at a time where these in-person classes are so rare, Courtright believes that they're all the more valuable to students because of it. "A lot of students said that this was their only physically present class of all their courses; most of their classes are remote," she said. "In some cases, their parents were saying, 'no, don't go unless you're going to have a physical class,' and they were knocking themselves out to try to find some physical class to convince their parents that they could come." To that end, Courtright is maximizing time spent outdoors with a number of approved hikes both on and off campus.
With the initial exercise of mass-coordination to bring students to campus and begin classes now complete, one of the semester's greatest challenges is behind us. Still, students, faculty and staff alike prepare for those that may still lie ahead, against the backdrop of courses, socialization and the ever-present threat of a Covid outbreak on campus.