commencement
Teo Ruskov: From Religion Major to World Traveler
Teo Ruskov conveys passion and dedication for religious studies, earning the prestigious Watson Fellowship and winning multiple accolades for his thesis on Buddhism.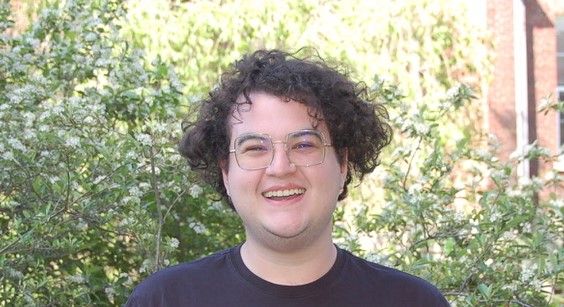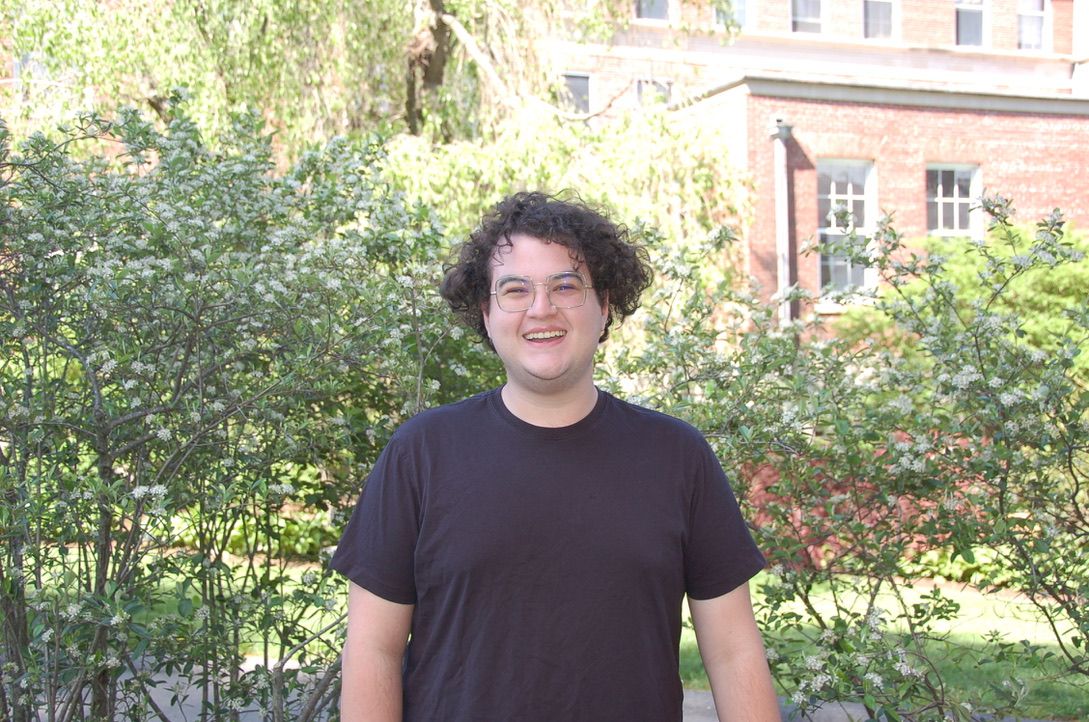 While listening to Teo Ruskov '22 speak about his interests, you can't help but smile. His passion infuses his speech in such a way that you want to hear more, even if you previously knew nothing about Buddhism or more general religious studies. This enthusiasm likely contributed to his many academic accomplishments: from winning top prize at the Three Minute Thesis competition to receiving the Watson Fellowship, a stipend awarded to graduating students to develop their personal interests outside of the United States.
As I talked with Ruskov, one thing became especially clear: He didn't want his love of religious studies to be an isolated interest. It pervaded much of his discussion, even when he was talking about something seemingly unrelated. I never felt like he was trying to do anything other than teach me something he's passionate about. One of his friends, Cat Sarosi '22, mentioned the same thing: "No matter how complicated or in the weeds what he's working on is, he always has a way to bring it to a level where he can engage with other people on it." This passion not only for learning, but for teaching others, has led to his dream of becoming a professor and continuing his work in religious studies long after he leaves Amherst.
The Road to Religious Studies
Ruskov's family is Bulgarian, but he immigrated to Cummings, Georgia, at four years old. He grew up Eastern Orthodox and bilingual, and he developed an academic interest in religious studies in high school. Yet, he entered college expecting to declare a biochemistry or biophysics major. "I just didn't really have any outlets for non-STEM things [at my high school]," he said. "And I was sure I was going to become a doctor or a chemist." He knew he had an interest in the humanities, though, and considered a double major in biochemistry and religion or philosophy.
Ruskov's path to Amherst was not as linear as many of his peers'. He graduated high school a year early, then studied French at the University of Lausanne in Switzerland. There, he audited chemistry courses while taking French as a foreign language.
After a year, Ruskov entered Amherst as a freshman. He says he was particularly drawn to Amherst because of its open curriculum. "When you're doing anything in a European university, you sign up for a course of study at the very beginning, and you don't really get to pick your classes," he said, describing the atmosphere as "a little bit suffocating."
He continued taking chemistry courses, but found that he preferred his other classes. He loved Senior Lecturer in Russian Tatyana Babyonyshev's course on first-year Russian. "My first-year seminar was [also] particularly amazing," he added. "It was on Francisco Goya, the painter, and it was an absolutely amazing class."
All the while, Ruskov kept inching toward religious studies. He took more religion classes, such as "Global Christianity," and found himself interested in all facets of the department. "[It's] so exciting because it has a really multivalent methodological approach. There's something for everyone," he said.
By his sophomore year, Ruskov was already going above and beyond in his coursework. When he took "Introduction to Buddhist Traditions" with George Lyman Crosby 1896 & Stanley Warfield Crosby Professor in Religion Maria Heim, who eventually became his advisor, "he approached me to ask if he could write a long research paper instead of the short papers assigned in this 100-level class," Heim related. "I was a little bit skeptical, but introduced him to an ancient Buddhist text I [was] translating, and we talked a lot about it and the field of Buddhist studies. Teo plunged in, did extensive research, and wrote a 29-page, very well-researched and compelling paper on this text." Ruskov's enthusiasm would only increase during his years at Amherst.
Love of Languages
Ruskov has supplemented his Buddhist studies with intensive courses on Sanskrit and Pali. He received a fellowship to study Sanskrit at the Rangjung Yeshe Institute in Nepal during the summer of 2020, but it was canceled due to Covid. The next summer, he was able to take classes remotely at both the Institute and at Harvard Divinity School, where he studied Pali.
Languages are a personal interest for Ruskov as well as a crucial tool for his course of study. He took Japanese in middle school, saying that it's one of his "greatest failures in life" that he was unable to continue the classes. He also studied Spanish and French before college, German in Switzerland, and Ancient Greek and Russian at Amherst. One of his best experiences at Amherst, he says, was during his sophomore year, during which he read "The Master and Margarita" in Russian alongside Babyonyshev.
It was also through serving as a Five College Language Partner in Bulgarian that Ruskov realized he might want to become a professor. "It's very hard to learn from a native speaker, because they just don't know what you do and don't know," he said. "You kind of have to commit to your curriculum. It seems so silly to rely that much on a textbook when you know the language, but it was very much like 'Okay, I know chapter one like the back of my hand.'" He reshaped the way he viewed Bulgarian to fit a learner's perspective. As he did whatever he could to make the knowledge he had accessible to others, he started to realize that teaching was an ideal career path for him.
Personal Interests and Thesis Work
Outside of the classroom, Ruskov works at Frost Library and does origami, showing me an impressive paper sculpture with pride. In his first two years at Amherst, he was involved in the theater department, and now enjoys snowboarding and kayaking.
When talking about his personal life, Ruskov was quick to mention his friends. The two I spoke to, Sarosi and Rachel Rozenfeld '22, both felt certain that their friendship with Ruskov would last long after they left Amherst.
"[He's] definitely one of the most driven people I know here, in the sense that when he knows that he wants something, he goes for it, and doesn't really stop pursuing it until it happens, and it almost always seems to happen," Rozenfeld said. She also noted that he was one of the kindest people she knew, adding, "He likes making people feel good about themselves."
Sarosi noted his level of intellectual curiosity, saying, "I always tease him that he's basically been a graduate student for two years, considering the level of work he's been doing in religious studies. At the same time, there's an incredible interdisciplinary spirit to the way he approaches everything."
This interdisciplinary passion for his studies led Ruskov to write a thesis, which focused on Buddhism and the more general way stories are told within religion. "It's about these stories called Jakatas," he said. "It's these 500, maybe 550, stories of the Buddha's past lives." He focused on four different versions of "The Banyan Deer," a tale which recounts Buddha's life as a king of the herd. In the story, a human king slaughtered a deer a day, and a pregnant doe was next to be killed. The Deer King sacrificed himself so that the doe didn't have to die. Two of the accounts were written in Sanskrit, and two in Pali. He wanted to understand how these texts are used, "so that we could get insight into what stories are supposed to do and why we tell them." For his work, he won the Three Minute Thesis competition, as well as the Moseley Prizes, which "are awarded to seniors for the best essays on a subject approved by the Department of Religion."
Next Steps
Ruskov was awarded the Watson Fellowship this year, which allows seniors to travel outside of the United States for a year with a $40,000 stipend. Ruskov says that the point of the fellowship is that "you are the final project," rather than your academic interests. He says that the application process was grueling, but Director of Fellowships Christine Overstreet made it easier to navigate.
Ruskov's proposal revolves around pronunciation. "As a child I was really nervous about pronouncing things properly. This was something that was constantly in the air. I was always doing little drills with my parents. It was just a big facet of my life," he said. He intends to combine this with his interest in religious studies.
While a component of the Watson Fellowship is spontaneity, there are a few things Ruskov plans on doing during his fellowship, such as volunteering at a Hindu temple in London. "It has developed language acquisition programs for people who are Indian, but they were born in England or maybe they came from India when they were three years old," he said. "So there's language classes for people for whom this is their language, and they maybe already know it, maybe they can already understand it, but they speak with accents sometimes, and that makes them really uncomfortable. So that's a context I'm interested in looking at in England."
Ruskov also plans on traveling to India, studying chanting with one teacher and classical Indian vocals with another. After that, he is unsure where he will go. He's considering Japan: "There's a large community of Vietnamese refugees right now in Japan. So there's this really interesting thing where they're practicing Vietnamese Buddhism in Japan, and they're chanting that way."
After the fellowship ends, Ruskov is attending the University of Chicago to earn his Master's in Religious Studies. He kept reiterating how he was amazed that people were intrigued by his work. On winning the Three Minute Thesis Prize, he said, "You don't think people can be interested in it, and I kind of distilled what I could distill out into three minutes and people enjoyed it, which is the best I can hope for."
His advice for Amherst students? "Don't let your ideas about what's going to make you money dictate your study choices, because you don't know what's going to make you money." He also reiterated that the people at Amherst are the reason he has accomplished what he has. His final piece of advice is this: "Take a religion course!"