Arts & Living
The Oscars in Miniature: The Nominated Short Films
On Sunday, the Academy Awards will laud winners for short films. Ruth Zuraw '25 reviews each film in the live action and animation categories, providing her recommendations for short movie nights.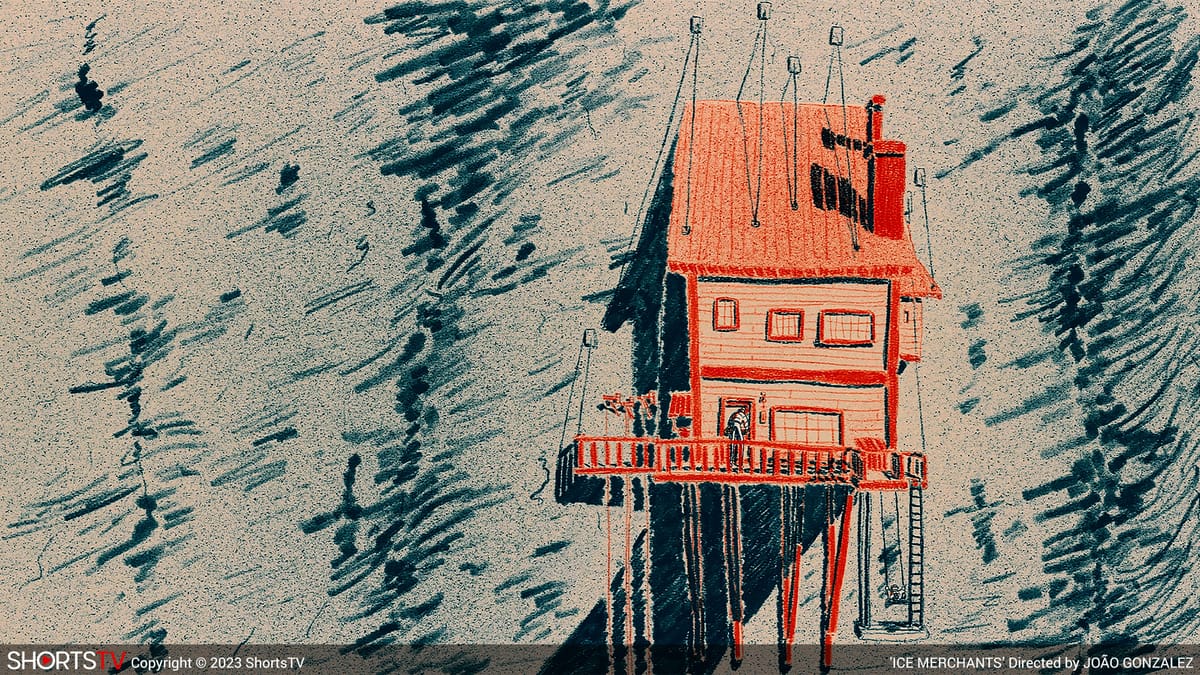 On Sunday, March 12, the 95th Academy Awards will laud short films in three categories: animation, live action, and documentary. Although the awards are often an unsatisfying exercise in celebrity worship, the Oscars are also a wonderful excuse for weekly winter excursions to Amherst Cinema (which offers showings of all of the short film nominees).
Both the animated and live action collections include their fair share of sickly-sweet narratives, ranging from unexpected animal friendships to playful brotherly love. In this ooey-gooey, lovey-dovey mess, a few captivating and inventive nominees stand out. But the Oscars are nothing if not predictable — and the choice of winners might leave me in a deep depression that can only be remedied by another trip to the movie theater.
Animation
"An Ostrich Told Me the World Was Fake and I Think I Believe It" (Lachlan Pendragon, Australia)
The traditional stop-motion style of Pendragon's 11-minute film fulfills its duty as a witty commentary on our fully commercialized modern world. The protagonist, a young employee named Neil (Lachlan Pendragon), is faced with surreal experiences — like  his co-worker, who is missing the lower half of his body. At one point, he lands in a tray of claymation clones. One of the most interesting aspects of the film was Pendragon's cinematography. He zooms out from Neil's universe and gives the viewer a glimpse the artistic process — gargantuan human hands dashing in and out of the set to adjust clay figurines. Unfortunately, the rest failed to strike a chord.
"The Flying Sailor" (Amanda Forbis and Wendy Tilby, Canada)
Forbis and Tibly's production transformed an obscure true story into a fantastical journey. The film is based on the Halifax Explosion of 1917, where a ship-on-ship collision produced a devastating explosion in a Canadian port. The short film follows a sailor who is thrown by the blast over two kilometers from the ship. In a children's book style of animation, the film transforms the fleeting moment into a glorious expedition through time and space. Lacking dialogue, the score by Luigi Allemano is crucial — and beautifully done. The sailor's body, a naked orb, twists and turns through galaxies, vulnerable yet resilient.
"Ice Merchants" (João Gonzalez and Bruno Caetano, Portugal/France/U.K.)
Despite portraying silent, largely featureless characters, Gonzalez and Caetano tell a strikingly powerful story in their 14 minutes on screen. Primary colors preserve the simplicity of the lifestyle portrayed:  a father and son who live on a cliff face and descend from their perch each day on parachutes to sell ice to a nearby town. Their precarious home, supported by creaky fixtures and strained rope, is at odds with their cyclical and steady routine. A tried-and-tested tale of familial heartbreak, with a delicate touch of climate anxiety, this film is a must-see.
"The Boy, the Mole, the Fox, and the Horse" (Charlie Mackesy and Matthew Freud, U.K.)
Although it is beautifully animated, Freud's production of Charlie Mackesy's gorgeous children's book blurts out overly sentimental catchphrases at every turn. I felt imprisoned in the Pinterest board of inspirational quotes that littered my middle-school bedroom. The 34-minute production is largely devoid of plot other than (spoiler alert) a reveal that the supposed horse is truly a pegasus. I tried not to laugh, and I failed. The morals themselves were picture-perfect, but the film couldn't "show," it could only tell.
"My Year of Dicks" (Sara Gunnarsdóttir and Pamela Ribon, U.S.)
Before seeing the film, I was wary of yet another obnoxious teenage fluff-fest. But I was pleasantly surprised by the familiar and endearing voice of Pam (Brie Tilton), a fifteen-year-old on a mission to lose her virginity. Pam's uncomfortable corporeal experiences were enhanced by the disconcerting realism of Gunnarsdóttir's animation style. I laughed out loud from deep-seated distress, second-hand embarrassment, and perfectly-timed dialogue. At one point, Pam rips her ear off of her head and it smacks dramatically against the living room wall as her father (Chris Kelman) explains that women never truly enjoy penetrative sex. It doesn't get much better than that.
Live Action
"Ivalu" (Anders Walter, Rebecca Pruzan, and Pipaluk K. Jørgensen, Denmark)
This story of two sisters who live in a rugged Arctic landscape is based on a graphic novel by Morten Dürr. The endearing, determined face of Pipaluk (Mila Heilmann) carries the film, as she climbs over cliffs and glaciers to seek out her missing sister, Ivalu (Nivi Larsen). The impressive cinematography and compelling acting interwoven with the tale of a broken-hearted child in rugged terrain left me unnerved. The initial question — where is Ivalu? — is left largely unanswered, preserving a deeply unsettling experience for the viewer.
"Night Ride" (Eirik Tveiten and Gaute Lid Larssen, Norway)
This submission opens with a likable protagonist, Ebba (Sigrid Kandal Husjord). The escalation of drama when she accidentally steals a tram car is strangely relatable. More important, however, is the main thematic examination of the film: the role of the bystander. When a trans woman is harassed in her now-stolen tram car, what is Ebba to do? I was tense throughout the film, encouraging Ebba to take action. But the ending, although sweet and succinct, leaves something to be desired.
"Le Pupille" (Alice Rohrwacher, Italy)
Despite the adorable, cherubian faces of the orphaned girls, Le Pupille failed to please. The film follows the coexistence of strict Catholic nuns and spunky children during one Christmas. In a spectacular nativity scene, the young girls are literally glued in place, their bright eyes darting to follow the action. The story's final chapter, after 37 long minutes of fidgeting in your seat, is cute but saccharine.
"The Red Suitcase" (Cyrus Neshvad, Luxembourg)
An instantly stressful tale, Neshvad's work swiftly draws its audience in and devotes them to Ariane's (Nawelle Ewad) fate. She is a 16-year-old girl traveling from Iran to Luxembourg. With very little dialogue, Ewad's expressive eyes evoke terror and sympathy in the viewer and grip you tightly. Ariane's life's work, held in the titular object, reminds us of what we are willing to sacrifice for our survival. As the film ends, the camera focuses on a billboard-style advertisement of a woman's seemingly grinning widely. As the film zooms in, her face distorts into a painful scream.
"An Irish Goodbye" (Tom Berkeley and Ross White, UK)
An "Irish goodbye" means leaving a gathering or party without announcing your departure. The departure of a mother from her two estranged sons sets the scene for this film, a sentimental tale of loss and reconnection. Chuckle-worthy banter between brothers and emotionally fulfilling moments are sprinkled throughout, but fail to capture the audience in anything beyond trite sympathy.
This year's collection of short films was unusually upbeat, prominently featuring tales of familial love and survival. Both categories were a treat to watch on the big screen, inspite of  a few cloying moments. Predicting the Oscars has become a popular tradition (I lose almost every year, so take these reviews with a grain of salt). Nevertheless, I hope "The Ice Merchants" and "The Red Suitcase" walk away with statuettes.