News
The Return to Amherst: An Interview with President Michael Elliott
President Michael Elliott sat down with The Student to discuss his journey back to Amherst, and his plans at the college moving forward.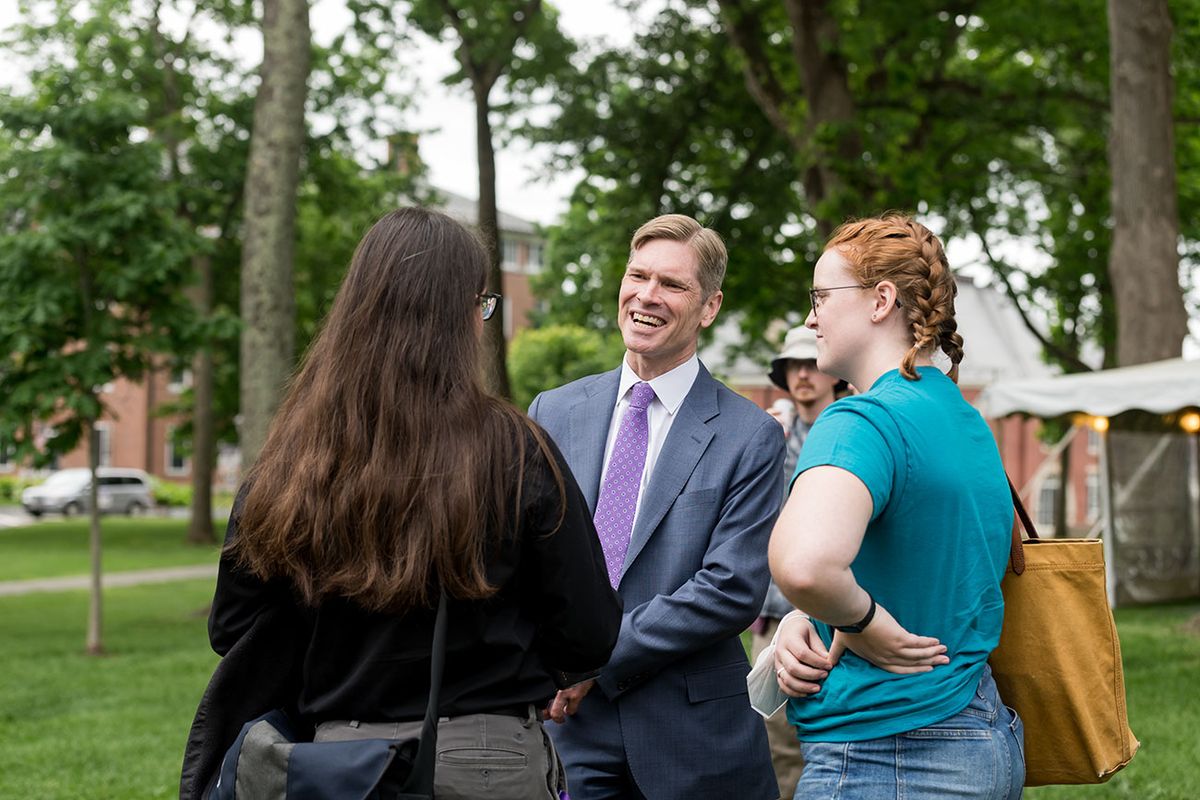 The Amherst Student: When you appeared before the college community at the meet and greet at the beginning of June, you said one of your initial goals is to "learn who the students are." Now that you've been president for about a month, what have you learned about Amherst students, and what has this learning process looked like for you?
Michael Elliott: First of all, it has only been a month. And it's been an atypical month, because it's been August. So I've had the chance to meet with a lot of students informally through a few events. But we're speaking on day two of classes, so I'm still getting to know people.
Individually, what's impressed me so far about the students I've met, is, first of all, the variety of experiences that they bring to the college. The wide range of their own sense of aspirations for what they're thinking about doing in and after college. And also, their deep pleasure just in being with each other. I don't know if that last piece is more acute right now, because of a sense that the college is still coming back from being dispersed during the Covid pandemic. But I see already that students really think about what it means to be with each other, take an interest in each other. Of course, I saw that especially during the orientation and move-in period where there were so many students on campus whose sole purpose in being on campus was to welcome and educate students in the community.
To the second part of your question — I'm working to set up office hours, to make the rounds and different student organizations and meet with student leaders. But I'm also trying to insert myself in a non-invasive way into different student spaces. I've gone to lunch a couple of times at Valentine unannounced just to be there and watch the patterns. Yesterday, I made a point of going down to the Science Center, because I was curious what that building looks like when it's actually being occupied by students and not just in the middle of summer. Formal meetings are valuable but often you learn just as much from chance encounters.
AS: Becoming the president of a college like Amherst is obviously a great honor, but it also comes with a host of new challenges. What made you want to pursue the position in the first place?
ME: So I am and have been a professor of English and American Studies. And I moved into administrative roles at Emory [University], where I was for over 20 years, because I was really curious about how to support the broader mission of the liberal arts across many different disciplines. I found that I enjoyed the chance to work with students, alumni, faculty, in really thinking about the future of something that I cherish, which is undergraduate education, especially undergraduate education in the liberal arts. And that's really where my passion lies. I also really enjoy working with a team and doing things in partnership with other people, which is one of the pleasures of an administrative role. And one of the things the pandemic clarified for me, as I took a step back and reassessed, is how much I value the kind of work that a college does in bringing people together in a physical space, to learn together in unpredictable ways, with new challenges every year, because the students are different, the faculty are different, the problems are different. During the pandemic, it felt like all of those things were being threatened, and all the things that I cared about felt very tenuous and in peril, and so I thought that I would like to have a role where I could devote my energy to making sure that they would be sustained and flourish and could evolve into the future. I didn't necessarily think that that role would be at Amherst College. But then, when I understood that I might have the chance to talk to some people about possibly coming to Amherst to lead the college — the priorities of the college are so closely aligned with my own that it seemed like a conversation that I should have.
AS: And the presidential search process was a months-long affair that took multiple rounds of interviews, I'm sure. Can you share a little bit about what that process was like for you?
ME: It was an excellent committee, in that it was a group of people who both really cared about the college and understood that the college is interested in some very difficult challenges. One of the things I liked about the search committee was that they understood that answering those challenges is not going to be easy. And they weren't looking for easy answers. People were listening to each other. It meant something to me that there were students at the table. It meant something to me that there were staff at the table. It was clearly a group that had a wide variety of viewpoints. They were as interested in each other as they were interested in me. And that made me excited about where Amherst is.
We talked a lot about community and belonging, and how to create a sense of community on our campus. We talked a lot about what it means for a campus like Amherst to engage in both diversifying the student body and continuing to engage in diversifying its faculty. We talked a lot about simply how you manage a complex organization like the college — this college is not as large as some universities, but it still contains multitudes. And they were very interested in how I thought about doing that work on a day to day basis. We talked a lot about the place of a liberal arts education in today's higher education landscape. How does a place like Amherst make the case for it? How does Amherst set an example for other institutions? So those are some of the broad topics.
AS: What was your immediate reaction to learning that you'd be the college's next president?
ME: I was in complete disbelief. I received a phone call very early in the morning, after I had just returned from my morning run. So I was not in any kind of presentable state. And as you can imagine, to have been a student here, and then have the opportunity to return here in this role, it is just an immeasurable privilege.
And it took me a good deal of time to absorb that.
And then I was thrilled. It's a place that I love so intensely. Virtually everybody I worked with at Emory knew that I was an Amherst College graduate. Because it is one of the things of which I'm most proud. Maybe aside from my children. So I would always find a way to bring it up in conversation. So when the announcement came out, I was telling colleagues about this, none of them were surprised. And frankly, most of them are like, "finally, we can stop hearing about Amherst College."
AS: Perhaps no one understands the path that lies before you better than the former president, Biddy Martin. Did she give you any advice on how to be Amherst's next president?
ME: Absolutely. President Martin and I had our first conversation in mid-May, a couple of weeks before the announcement came out. We've continued to talk together every week or two since, and she has been incredibly gracious and helpful. She has tried to give me as much information and advice as I want and at the same time, try not to overstep the boundary of continuing to be the principal. It's been a wonderful transition from that point.
She's given me several pieces of advice. One of them is to trust my own judgment. Not necessarily to do things in a certain way because that's the way that she did them. To realize that I will need to be my own president and not be Martin 2.0. And she's also reminded me to take pleasure in the things that are so wonderful about being a part of a community like this: Make time to get to games, performances, events on the quad. It's easy to lose sight of that because there are so many other pressing things.
AS: In her exit interview with The Student, President Martin said that she wants her successor to "have their own path in the greater trajectory of Amherst College's history." How do you think your leadership will differ from hers? What new visions or priorities are you bringing to the position?
ME: First of all, we're different people and so we'll have a slightly different leadership style — every president does. I'm not at the stage yet where I know exactly what all of my priorities will be. You start a position like this with a set of commitments to things that are important to you, and then as you're in the place you start to realize what are the opportunities to advance those commitments, and those will become the goals and strategies going forward. Part of my job is to think about not just having a successful year at Amherst, but to plan for Amherst in 10 or 15 years. And in fact, that's one of the unique pieces of being a president: I'm charged more than anybody else to think about the future, without neglecting, of course, the day-to-day and challenges of the moment.
I'll say this, though, I want to have several commitments. One is, to the quality of education that we provide as a means of preparing future leaders. I have a commitment to an experience in which students feel a sense of belonging that allows them to thrive and also learn from each other outside as well as inside the classroom. I also have a commitment, that I continue from President Martin and President Marx before her, that we are doing everything we can to make an Amherst education accessible to the best students from across the world.
And I would say for me, all of those commitments line up to a bigger question, which is that an Amherst education, even though we're a private institution, should serve the public good. We do this because we're doing something in service greater than ourselves. And education shouldn't just benefit all your classmates as individuals, but benefit society across the board. I think you're going to be hearing from me more about that. You're going to hear more about how the college can look outward both here and in the surrounding communities. How can we ensure that what we're doing is engaging with the questions that the world is asking of higher education. I don't know what the policies, programs, initiatives, projects are going to be. I think that's what you're going to hear from me more about.
AS: You already mentioned your pride in being an Amherst student. So we thought we would talk a little bit about your experience with that. You hail from Arizona, which is not exactly a common direction for many Amherst students. What kinds of factors led you as a high school student to decide to go to Amherst?
ME: You know, as a 17-18 year old, I was seeking a place that really cared about intellectual life. I was looking for a campus where I felt like I could make connections with professors easily and that would be supportive of me. I was very attracted to the idea of New England — And I say the idea of New England because I'd never been to New England. It seemed like an exotic location very far away from my home. And I was interested in going to an exotic location very far away from my home. No commentary on my parents, but I was ready to make a journey.
And then, there are two specific things about Amherst that really attracted me. One was the idea of the open curriculum. I love the idea that this college empowers students to make their own narrow choices about their educational journeys. The second thing that differentiates Amherst from some other colleges like Amherst, is the fact that you can navigate the town and the surrounding communities without having your own automobile. I grew up in Arizona, as you mentioned, Tucson, which is a sprawling Sunbelt City, a very difficult place to get around if you didn't have a car. I didn't have a car. And so the idea of being in a place where I can walk to restaurants, CVS, the coffee shop, where I could get on a bus to go to Northampton, that was really attractive for me. The last thing I guess I would say was, I was only able to attend Amherst because of its generosity and financial support through need-based financial aid. The most important letter that I received was not from the Office of Admission, it was from the Office of Financial Aid. And that's one of the reasons I'm so passionate about continuing to make sure that Amherst is able to support students regardless of their ability to pay. And it's one of the things I've also worked to advance at Emory in terms of raising funds for need-based scholarships.
AS: Are there any courses or professors that stand out in your mind that have been particularly influential or memorable during your time as a student?
ME:. I can go on and on about classes. Two professors in the English department were really influential in my decision to pursue American literature. Barry O'Connell, recently retired, taught an Introduction to American Literature that opened up a lot of forms of literature and ways of thinking about literature with which I was not familiar. And then I later actually served as his teaching assistant and research assistant, and I wrote my senior thesis with him. I also worked very carefully with Karen Sanchez-Eppler who taught a seminar on the 19th century that made me fall in love with the 19th century and also showed me what archival research could do. She has been a voice in my head for over 30 years now. I was also a Russian major, so I took a series of courses in the Russian language that I remember both for the passion of the faculty, and the difficulty of the language.
AS: At The Student, we have a personal interest in your time as a writer and editor for The Student. What kinds of lessons or memories from your time on The Student have stayed with you over the years?
ME: I'm so glad you asked that question. The Student was transformative for me. I probably learned as much from being on The Student as in any of my classes. By the way, I talked to the Emory Wheel reporters about this all the time — to the poor people that came  into my office to interview me as dean, I'd bend their ear for 30 minutes instead about how great I thought it was to work for the student newspaper..
The Student taught me, first of all, how to work on a team. You have to produce together,  to write on a deadline, to be edited by your peers, who were brutal to my journalism. It was also very useful for me because I have a tendency towards introversion and being on The Student forces you to speak with people from a variety of backgrounds. It gives you permission to, in my day, pick up the phone and call people from all over the college and even sometimes across the town and in the valley. And so that was really useful for me to learn how to talk to and listen to a variety of people across campus. News was a great way to learn about the way the institution worked and to hear voices from a lot of people who were working on things that were interesting and really cared about.
AS: So it's been a little more than 30 years since you walked the commencement stage and completed your time as an Amherst student. Now that you're back, which aspects of the college do you think have changed and which do you think have remained the same?
I've been thinking a lot about that. You know, some of the changes are physical — Science Center, the Greenway dorms, other changes in housing, the fact that all first-year students are around the quad, that wasn't true when I went here. The student body and faculty have changed a great deal. I recently talked to a classmate of mine that came to Amherst from India. And she pointed out to me that only seven students in our class were international students. I haven't fact-checked that but I assume she's right. In fact, as far as I can remember, she's the only international student I knew personally as well. So the point is, the composition of the student body and he and of the faculty has really changed in exciting ways. There are also a number of different ways that college undergraduate life has changed just generally over the last 30 years. That's affected Amherst in particular ways, some of which I'm still learning.
To give you a couple of examples,[when I was at Amherst], we were still working on desktop computers. I never emailed an Amherst Professor during the course of my career; that was not a thing. And students communicated with each other very differently in ways that had real effects. You know, for instance, I know a lot of students now communicate via group text, GroupMe, AmherstBussin. Those things were not possible. One of the things for me that I'm trying to figure out is how this changed the role of the student newspaper. In my time, we were not the only source of information, but there were fewer sources of information on campus, for better or for worse. So those are all pieces that have changed.
Generally, admissions has become more competitive. And I think that has changed the tenor of the student experience. That's not unique to Amherst. But given where Amherst sits in the landscape of higher education, it means that we have students who are both extraordinarily accomplished and who have been under extraordinary pressure before they've ever stepped foot on campus. And I think we're all thinking about what that change means.
What stayed the same? Obviously, there's a lot about the physical campus that still remains the same. Mo Pratt still looks the same from the outside, but the inside has elevators now, which I find extraordinary. That's a place where I spent a lot of time. But, you know, obviously, the physical campus, much remains the same. I'd say the thing that impresses me the most is that students here, still talk with and work with faculty in ways that I recognize. The connections that students make with faculty and with each other, I think is a throughline that is truly special about Amherst and something that we can easily overlook and start to take for granted. In June after the Johnson Chapel introduction, a few days later, I stuck around and went to reunions and went to reunions. And so I went around to all of the reunion tents and was introduced to everybody. And that was the constant theme: "I remember this class. I remember this professor. I met so-and-so; we're still friends." The names change, depending on which year you talk to. But that experience is very, very similar. And the way the students still talk about the faculty is very, very similar.
AS: In what ways have you remained involved with college of the years?
ME: So I have been a semi-involved alum. I've been living in Atlanta for over 20 years. So I have not been able to come back as often to campus as I would like, but we've come back to campus probably every year to visit, usually during the summer. I have a lot of pictures of my kids at different ages on Memorial Hill. So it's a place that I've stayed in touch with through alumni occasions. Because I'm in higher education, I've paid really close attention to what Amherst is doing, especially around admissions, curriculum-development, and working to support the more diverse student body. I don't know if students are aware of how our college is regarded as a leader in those categories by virtually every other institution in American higher education. Everybody has been paying attention to what Amherst does.
More generally, alumni are important members of any college community for their ability to support current students, whether it's life advice, internships. Their voices about what the future of a college should be are meaningful. And of course, at Amherst, their financial support also allows us to achieve what we've been able to achieve in terms of financially supporting the student body. I want this campus to feel welcoming to alumni. That doesn't mean that we only listen to alumni. And our alumni, like any alumni body, is a very diverse group themselves with a lot of different opinions. They're not afraid to share their errors, alumni, so they also have strong opinions. And they make those opinions known. And I will listen to them. But it's my job to chart the future of the college. And it's important to me that even though I am not alone, and was here 30 years ago, it's important to me that I'm clear that I'm not recreating the Amherst of 30 years ago. I'm interested in charting the future of Amherst 30 years from now. The strength of an institution is in its ability to change and evolve, to think about its future. And if it does so with any kind of ambition, it is necessarily going to have some disagreement among the people who care about it.
AS: So a really splendid profile in the Emory Wheel details your experience navigating the Covid-19 pandemic as the dean of Emory college. What have you learned from leading the institution through such challenging periods?
ME: The first thing that pandemic taught me is that you actually don't get to set your entire agenda as a leader. The second thing it taught me was the importance of finding the right avenues of communication, that how leaders communicate what they communicate is really valuable. And I found myself doing things that I never thought I would have done — filming videos with my own camera, taking pictures of my dog, small things that I tried to use to reach out across the enormous divide where students were dispersed. It also forced me to learn how to make sure I had the right structures of communication to receive information about the experiences of students, faculty, and staff and how challenging it can be to meet the needs of all of those constituencies at once. A It forced me to make decisions in a different way than I had done before. Because the issues, especially in early 2020, came to you — It forced me to realize that it's sometimes necessary to change course and reverse decisions. There were several things that we did as a college that we needed to reevaluate quickly and change course. It was an extraordinary learning experience.
AS: In 24 years, first as a professor and then leader in different dean positions,  what kinds of accomplishments stand out to you from your time?
ME: One of the things that I really worked on as Dean of the College of Arts and Sciences was increasing the diversity of different faculty. I also worked to build a research and teaching strength in the Study of Race and Ethnicity, including rebuilding a department of African American Studies that had been badly depleted when I started. And you know, you don't accomplish those things by yourself. But the work that I did with faculty to achieve those goals is something which I'm really proud of. I also did a lot of work to think about how career education and career preparation could be part of a liberal arts education. And we made some real progress in that regard. And I'm hoping that will be one of my legacies at Emory, that I want students in the Liberal Arts to still feel as empowered and prepared for what awaits them after graduation as students who study business and engineering as undergraduates.
AS: You mentioned continuing with efforts to diversify the College, but it's also become clear that the College still has room to improve in terms of accommodating students of different backgrounds and making all these diverse students feel at home at Amherst. Do you have any sort of initial ideas on how you plan to serve such a student body?
ME: I definitely have heard, and sometimes directly from students, a sense that they don't feel that the college belongs to them, or is a place where they feel at home in the way that they should. And that's something I'm very passionate about trying to address. It's still a problem, though, where it's going to take me some time to talk and observe more with students and faculty before I think I have a really clear idea of what the steps are to address that. For instance, I suspect that some of the challenges have been made worse by Covid. But I might be wrong. It's a hard problem. Which is why it's so important. I do think, however, that some of the solutions will lie in creating more spaces, physical spaces, but also programs, activities, unstructured interaction, that brings students together across different ways of identifying. I think engaging students  in the passions that cross different academic interests is important. And I think, actually just talking about that question: what does it mean to belong to a community? I think that's quite valuable itself. So that's where I am right now. It's something that I definitely heard a lot about, both during the search process, and afterwards. And it's something I'm asking students about. How are you finding the people with whom you identify?
AS: In recent years, difficulties in communication have emerged, again and again, as a source of conflict between the administration and the student body. What do you think about this?
ME: It's not a question that's unique to Amherst College. The question of how to communicate with the student body and listen to the student body has, in a perverse way, become even more complicated as the modes and means of communication have increased. We can now reach students through email, or social media, or through signs on the quad. And yet, it doesn't often necessarily convey what we wanted to convey. So I think what's really important is for me to figure out the right places where I and other members of my senior team can actually be in dialogue face-to-face and for a while with students, so that we are hearing not just what they want, but why they want it. That's often as important. Students say, "we want x" — it's often more important for us to understand what are the experiences and challenges they're facing, that have led them to make that request. And, likewise, it's important for us to be in a place where we can communicate our logic for arriving at a decision.
That doesn't mean that students are necessarily going to like the decision. But students should at least have access to the rationale behind it. It's okay to disagree. In fact, disagreement is part of a campus. So, where is that at Amherst? Is it with the student government? Probably in part. Is it with The Student? Probably in part. Is it in informal conversations at Valentine? Probably. So that's what I'm going to work on.
For instance, when I was an editor, I had access to the President on a pretty regular basis so that I could come in and just make sure I had very good questions related to stories we were working on. I could get quotes from the President. There is, though, something related to what you're talking about. That's at work on many college campuses, and I'm going to guess that it's at  work on this one. So it's a little presumptuous, because there's nothing yet to know. What I'm saying is "yet."
It is a difficult time in the world right now. We have all been through several experiences that have led I think all Americans to lose trust in institutions. Not just higher education, not just colleges, but also the government, other institutions. And that's reflected in opinion polls. And why is that harder on young people? Because young people are profoundly interested in the future in a way that older people are maybe just a little bit less so. When students say that they don't trust older generations on the big questions of racial justice, climate change, and economic inequality, it's hard to argue that the generations that have governed life have done a great job on these questions. What I've been trying to suggest is part of what's feeding the frustration around communication. What you are talking about is a larger sense of mistrust in institutions that I think students feel. And on this point: on my previous campus, so I'm guessing at this one too, students often feel that something is being withheld from them because they're starting from a place of such mistrust. Students often also hope that institutions of higher education can do more than they can to remedy social ills. I know that there's a joke about the Amherst bubble, virtually true on every college campus. But we're not the things that plague the world beyond Amherst College — racism, sexism, ableism, mistrust in democracy. The list could go on, I hate to start to make a list because I'll leave out important things.We can do what we can as an institution to remedy them to a certain extent to educate our students so that they can be leaders in addressing those challenges and to support faculty who do research on those challenges. But that doesn't mean that we can construct a bubble that keeps them safe.
AS: If you had to give one answer, how would you answer the question: Who is Michael Elliott?
ME: Michael Elliott is fundamentally a nerd. Michael Elliott is somebody who likes learning about other people. As serious as being President is — and it is a big job and serious — I also took this job because I thought it would be fun. Michael Elliott is somebody who thinks that even as serious a place as Amherst should also be a place that has room for joy and pleasure. And I plan to do that here.
AS: What do you do with your free time?
Remember the nerd part — I read. I like to be outside, although I'm not an outdoors person, So my version of being outside  is taking a walk or jog, but I don't really consider that fun. I like having had run and then I can be self-righteous about it for the rest of the day. But the actual process of jogging I find miserable. I love listening to music. I love walking in interesting spaces.
You know, the one other detail I didn't mention I should have dropped. You asked about my experience with The Student. The other piece of The Student is, that's where I met my future spouse. She was an editor as well. Jen Mathews '91.