Arts & Living
The Student Behind the Scenes
To celebrate the final issue of a semester which finally saw The Amherst Student's return to print, we're taking a look at a usual week through the eyes of each of the paper's sections, revealing what goes on behind the scenes.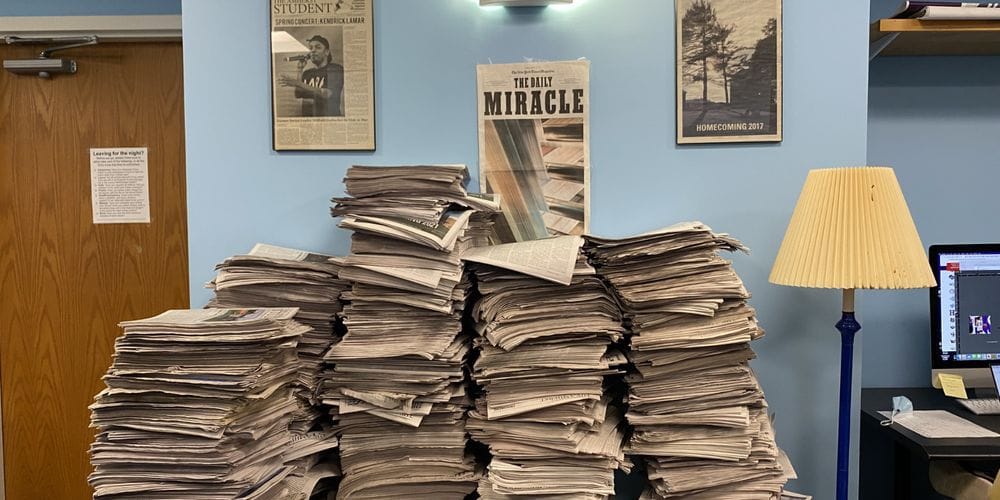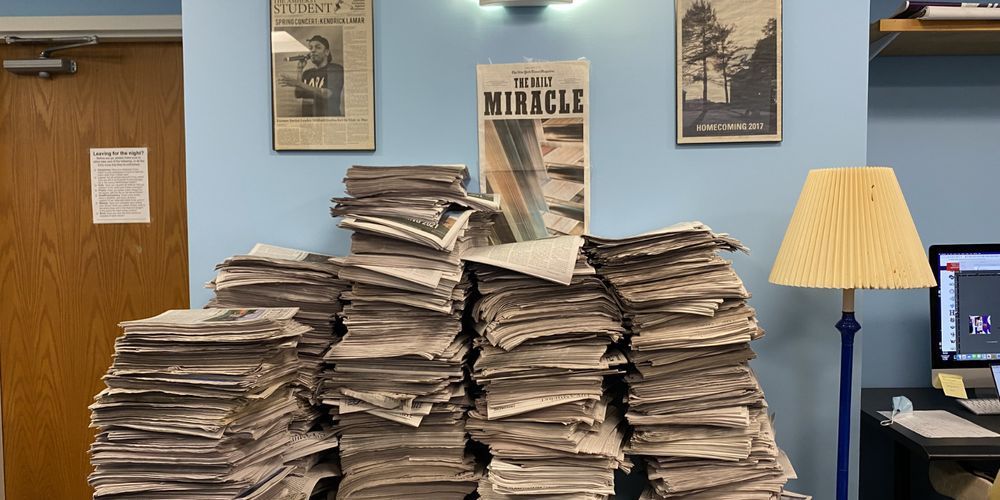 News:
Similarly to the way that stories and news itself develop on campus, the news section's week-to-week writing process is unpredictable, a bit chaotic, and always meaningful.
We start the week brainstorming important stories we should be covering or continuing, and then begin conducting the interviews, research, and information-finding that comes with putting articles together. This process oftentimes has to adjust with the development of stories or information, which can leave us up until late at night on publishing night finishing our efforts at capturing and telling the most recent stories on campus in the best and fairest way possible.
Since this task is such an important one and, arguably, an ultimately impossible one, it creates a lot of thought and debate. For example, does keeping journalistic integrity by using as few anonymous sources as possible favor stories about less vulnerable people or groups? Do longer form profiles belong on the front page alongside updates on events the college has put on? How do these different forms of news reporting change the newspaper's reinforcement of the status quo vs. its potential to disrupt it? These are some of the questions we ask ourselves, and work to answer.
Opinion:
Every Saturday, as newly submitted articles find their ways into the Opinion editors' inboxes, our work week officially begins. The Opinion section's various responsibilities — from writing the weekly editorial, searching relevant photos to feature in the Creative Commons to having heated (personal) debates with Editor-in-Chief Ryan Yu '22 — requires a collaborative multitasking.
In editorial meetings, we are actively participating in the conversation, transcribing everyone's contributions and formulating a tentative argument that holistically reflects the views of the editorial board. On publishing nights, some of us are manevering the layout in InDesign, some are relentlessly revising the editorial and some are drafting blurbs before pushing finished pieces online.
Opinion pieces have a special and indispensable presence in the Student. Constantly trying to include a broader range of opinions in our section, we regularly reach out to potential writers and help them flesh out ideas through writers' meetings. As we strive to provide a platform for anyone and everyone at Amherst, we also get to work closely with brilliant minds, uphold student activism and most importantly, engaging with diverse arguments. The process is not an easy one but undoubtedly fun and extremely rewarding.
Arts & Living:
Every Tuesday, Arts and Living is usually the first section to get to work in the newsroom, priding themselves on being both timely and — according to Editor-in-Chief Ryan Yu '22 — The Student's "least miserable section." In the newsroom, we have a few main tasks: laying out our articles for print, writing up titles and blurbs, and getting pieces ready to go onto the website. Coming up with titles is almost always the most heated part of this process. Does naming a set of four consecutive articles "Spice Spice Baby," "Slice Slice Baby," "Space Space Baby," and "Fright Fright Baby" violate the journalistic integrity of the Amherst Student? How much alliteration is too much? And is "hornswoggle" an appropriate synonym for fool? These are the sorts of hard-hitting questions we like to ask during this period.
After a long night in the newsroom, we start preparing for the next round of articles, e-mailing our writers to ask about topics they're interested in. From life and events on campus to reviews of new films, music and shows, we cover a wide range of subjects. By Sunday night, most of our articles for the upcoming week are in and we can start making edits and discussing recommendations with our writers. After that, it's back into the newsroom and the process begins again.
Sports:
Athletics are a crucial part of the Amherst experience — even for those of us who do not take to the field, court, or rink ourselves. They offer entertainment and a focal point around which the community can gather, creating a shared sense of connection between all involved. But nobody can attend every game. Here at The Student's sports section, we aim to deliver all the news you might have missed from the world of Amherst athletics in an easy-to-digest, fully contextualized weekly format.
Achieving this goal requires a concerted effort from all sports section staff, though. Staff writers cover the Mammoths' matches, columnists provide a look at the sports world beyond our campus, and editors ensure that all articles are published, at top quality, both online and in print. It's truly a team effort, and the culture of the sports section can only be described as work hard, play hard. On a given Tuesday production night, zingers will be zinged, sports will be debated, and, if you stay late enough, you may even get to hear deep philosophical discussions about the nature of reality. But, at the end of the day (or night rather), the articles are invariably published at the highest level of quality, and the cycle repeats.
Podcast:
The Podcasting Department is proud to be the newest addition to The Student's journalistic lineup. As the department that is the least beholden to deadlines, our weekly schedule is a bit more unpredictable.
Our weekly news podcast, "The Student Sums it Up," is the one constant. On Tuesday nights, we record a conversation with the news editors about the week's most salient — and sometimes controversial — stories in our semi-professional podcasting studio. Then, we cut up the vocals, add music, and apply fancy audio production techniques to make the episode coherent and enjoyable.
"Tusk Talks" and "Terras Irradient" aim to be more investigative, and our goal is to publish these on a biweekly schedule. During that two week period, we'd first discuss the topic for each episode and how we want to frame it; then we'd get in touch with potential interviewees, do background research, and script the episode. Finally, we'd record and edit. Of course, things aren't always this organized: these shows tell stories, and as we discover the characters and conflicts, the narrative takes shape.
Frankly, we need more people on the team to be able to publish these latter two episodes on a regular basis. If you're interested in contributing to the future of journalism at Amherst and beyond, email [email protected].

Digital & Social Media:
As one of the Student's newest sections, the Social Media team has spent the last few years and this semester in particular trying to lay solid foundations for the Student's Instagram, Facebook, and Twitter presences. Because of the significant amount of overlap in interests and responsibilities, we're somewhat combined with the Digital team, which oversees the functioning and design of the website.
On Wednesday nights, you can find us on the first floor of Morrow, poring over design ideas, seeing what other similar institutions are doing, weighing the pros and cons of certain fonts or layouts, and setting goals for the upcoming weeks about what features or ideas we want to implement next. Our latest goals for social media have been to make our posts more accessible by creating graphics that are more immediately readable, and to humanize the Student by posting stories and polls about current happenings on campus.
On the website, we've been playing with new looks for the header and footer, as well as adding options to subscribe and donate. We've also been looking into collecting data and analytics to see which articles perform well so we can keep making stories that the public will want to read.
When it comes to pushing out posts, we first compile all of the article headlines, summaries, authors, and hyperlinks into one Google document, organized by section. On our own time, we plug those fields into one of our many home-made templates on Figma, a web-based design editor that's a bit like Adobe Illustrator but easier to collaborate on and with a simplified interface. Afterwards, we download the finished graphic and load it, along with its accompanying blurb, into Buffer, which allows us to queue the same post for multiple platforms at once.
What articles come first is determined through a discussion with the heads of each section. The posts are spread out throughout the following week to keep our readers updated with our latest issue on the daily. And of course, the best part of this job – pretending to be an Instagram influencer by watching the likes roll in.
Design:
Acting as the bones of the publication, design starts as simple elements that come together as smaller parts of a larger whole. Much of the team's effort is exhausted in correcting font size, alignment, and kerning. Unlike any other branch of the newsroom, we are at the mercy of the staff and their editors. Oftentimes, our job does not begin until two in the morning. In the meantime, we work to assist editor's in their sign endeavors and conduct InDesign tutorials for interested staff members.
Whether we are in the confines of the newsroom or huddled in our dorms, we work on cultivating a format that is both visually appealing to the reader and follows the traditional newspaper style adopted in 2019. Over the years, the newspaper has taken on the form of various design styles and techniques, frequently, we see these components remerge and reimage themselves in our current issues. In the 2021-2022 school year alone, we have created specialized layouts for collaborations such as "The Indicator x The Student" and "WAMH x The Student." Combining the old and the new, our designers work alongside the editorial team to continuously provide a framework that will be viewed by readers in the present, as well as the past.