Arts & Living
The Subtle Magic of "The Marvelous Mrs. Maisel" Delights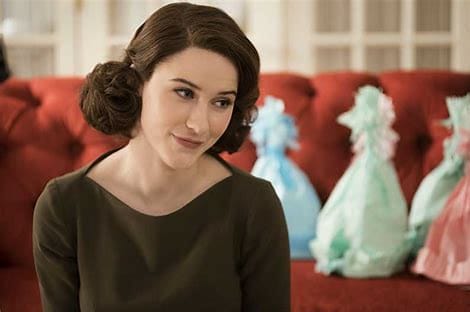 On the surface, "The Marvelous Mrs. Maisel" seems to be as ditzy as its titular character. However, beneath Miriam "Midge" Maisel's "new look" dresses and red lipstick lies a complex and fascinating person that has enchanted viewers, critics and award show judges alike. The series follows Midge, an optimistic and witty Jewish housewife living on the Upper East Side of Manhattan in the 1950s who becomes sucked into the world of stand-up comedy. The show's first season was the standout champion of the 2018 Emmys, winning five out of the six awards it was nominated for, including Outstanding Comedy Series. The second season debuted on Amazon Video in December 2018, and within a month, its lead actress, Rachel Brosnahan, picked up Best Actress in a Musical or Comedy at the 2019 Golden Globes Awards. Produced by the husband and wife duo Amy Sherman-Palladino and Daniel Palladino, most famous for "Gilmore Girls," it comes as no surprise that "Masiel" has had such success. However, "Maisel" is uniquely different from other television shows that have enjoyed similar accolades.
"The Marvelous Mrs. Maisel," unlike other TV award show darlings such as "Game of Thrones" or "The Handmaid's Tale," does not take place on a fantasy continent inspired by medieval Europe or in a future dystopian verison of Boston, but rather in late 1950s New York City. "Masiel" does not set out to wow its viewers with high-tech special effects or creative and original worldbuilding, but rather devotes itself to capturing period details so perfectly and creating an atmosphere so convincing and engrossing that I felt nostalgia for a time over 40 years before I was born. If that does not embody art and magic, I do not know what else can. Moreover, "Maisel" manages to weave several genres together — drama, comedy and historical fiction — in a way that does not seem forced or heavy-handed. The show strikes just the right balance between these categories, demonstrating the enormous skill of the show's writers and producers.
"Maisel" also shines in its attention to subtle detail. The fourth episode of season two opens with a meticulously shot and composed montage of Midge's son playing with rows of charming miniature suitcases stacked by color and a scaled-down U-Haul trailer, a scene which felt like it could have come directly out of a Wes Anderson film. The miniature suitcases are later revealed to be "not toys," but rather a model of all of the family's luggage made by Midge's father, Abe, for planning how to best pack the U-Haul for the upcoming family trip to the Catskills. This short scene embodies "Maisel's" ability to combine its constant attention to detail with its signature down-to-earth and lighthearted humor into delightful television. When we see the full-sized version of the orange and white U-Haul flying down a tree-lined highway, pulled by a pistachio green Chrysler, it is no surprise that "Maisel" somehow acquired a real trailer that looks identical to the miniature one for a scene that lasts less than two minutes.
This conscientiousness is not abandoned in the larger set design either. Amanda Foley, the locations manager for the show, described to The New York Times the dedication and precision needed to turn back time on New York City streets and buildings. Just one scene shot outside required the removal of parking and bus stop signs with the MTA's permission, covering street lights, switching out light fixtures, moving all of the modern-day cars and replacing them with vintage Cadillacs and Chevrolets. Alongside its painstaking dedication to historical accuracy, "Maisel" also stands out with its devotion to accurately representing Jewish characters and stories in a way that is not reductive or stereotypical. "Maisel" fills a badly-needed spot on the sorely small list of critically-acclaimed television shows that feature Jewish characters. It's unique too in that almost all of its major characters are not only Jewish, but are also dynamic and fully fleshed out. By depicting the lives of New York Jews in the 1950s, "Maisel" not only represents people not usually seen on television, but also illuminates a piece of American history that has been largely unexplored in mainstream media.
Similarly, "Masiel" differentiates itself from other big-budget television shows with a female lead who does not resemble her peers. The last couple years of television have bred a new brand of female lead, one valued for her strength and determination, even if it is at the cost of compassion or close relationships with others. Daenerys Targaryen from "Game of Thrones" is the archetype of this type of female character. While her confidence and drive to capture the iron throne are admirable, she is consistently hindered by her icy front and inability to put her faith in anyone other than herself. In a similar vein, Dolores Abernathy, the protagonist of HBO's "Westworld," undergoes a transformation in the show's two seasons from being naive and kind-hearted to a cold and calculating revolutionary leader who will stop at nothing in a quest for revenge, even if she has to hurt those who love her the most in the process.
It is refreshing to see a female protagonist who is celebrated for her warmth and ability to connect with others; although Midge may be bubbly and peppy, this does not mean she cannot also fight for change. While she is not attempting to become the queen of Westeros or overthrow an evil corporation, her existence as a single, working mother in the 1950s is revolutionary in and of itself. Midge's confidence in herself and her work is what allows her to fight for a place in the male-dominated comedy world. Even after having to fight club owners to pay a female comic and getting pulled offstage mid-act for saying the vulgar word "pregnant," she does not give up or back down. She never considers changing her brand of humor to please others or retreating back to the safety of her apartment. "Masiel" proves that revolutions do not only take place on the battlefield, that a strong female lead can be powerful even without an army at her side and that there is no need to sacrifice empathy to be powerful. I think that deserves a standing ovation.