Arts & Living
Time and Space: Concert Featuring Milo Brings Rap to Marsh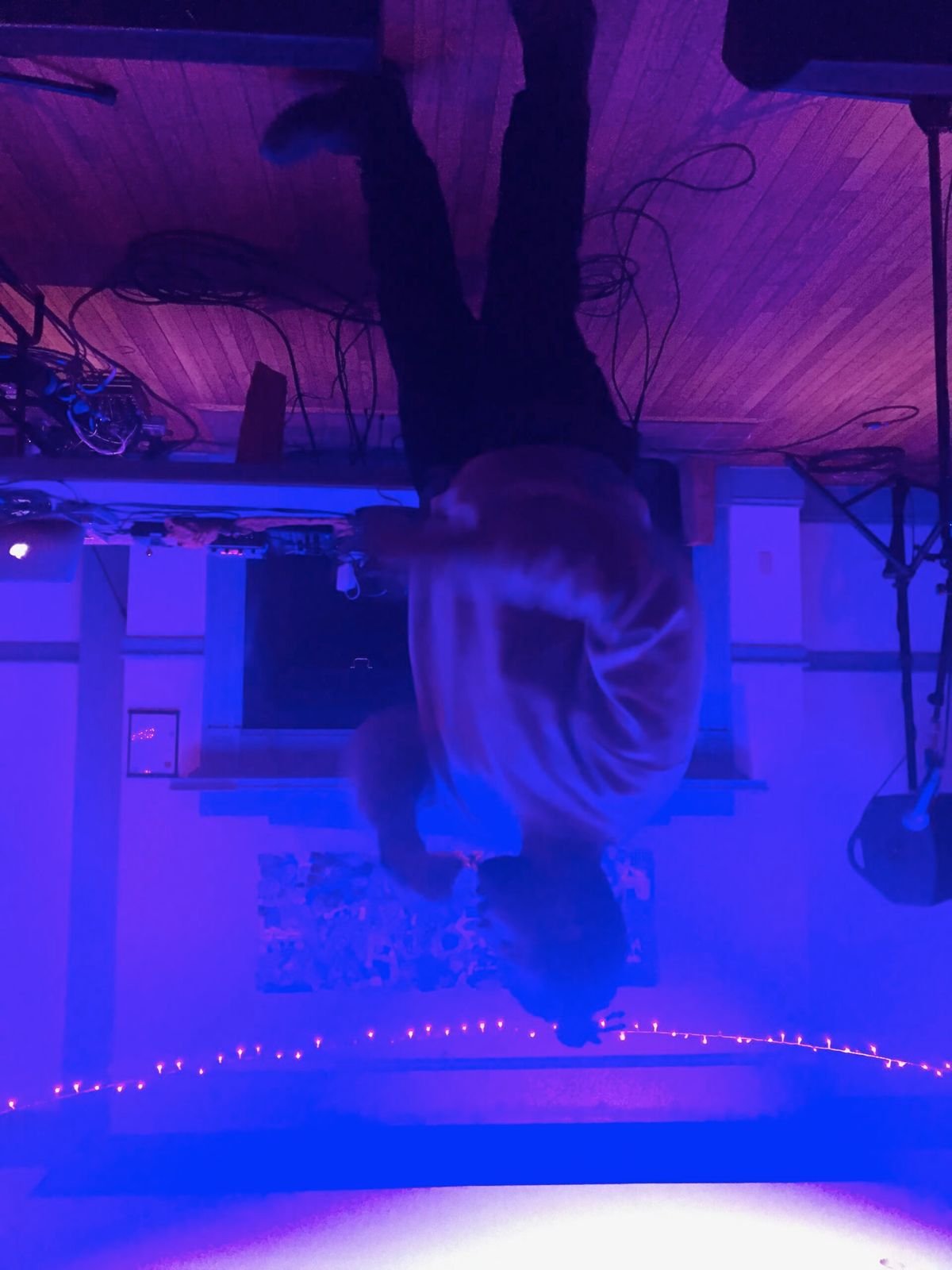 On Tuesday, February 21st, WAMH and the Hip Hop Club co-hosted a concert in the Marsh Arts House featuring sophomore Isaiah Lewis, Mal the Oddity (Amal Buford '19), ELUCID and Milo. The low turnout for a Tuesday night concert offered an initially awkward yet surprisingly effective cozy vibe for what has been vaguely characterized as experimental rap. It feels weird to attempt to categorize the performer's ranging styles. Outside of the Amherst bubble, Milwaukee native Milo (Rory Ferreira) is making waves with what Rolling Stone writer Christina Lee calls "the slippery, wordy, motormouth flow."
Brooklyn-based ELUCID weaves messages of black liberation, a punky grit and futurist inspiration together to form a distinctively intense, god-like sound. Isaiah Lewis has the nuanced ability to make even his most vulnerable lyrics sharp and sophisticated yet somehow catchy in the best possible way. Mal the Oddity carries himself with a winning confidence that engages the audience to actively participate in witnessing his clear dedication and musical intuition. Aside from this successful combination of artists, the concert continued my existential crisis about how we encounter the arts as a campus community. How can we provide alternative student spaces at Amherst without bodies to fill them? How do we make the time to step out of ourselves or into something that we enjoy? How can spheres like Marsh function to serve and include the wider community?
Isaiah Lewis '19 and Amal Buford '19 (Mal the Oddity) exemplify how to take a step back from the academic and extra-curricular grind to pursue their individual creative projects- a rare undertaking at Amherst. Warren Thimothe '18, who collaborated with both of the performers indivudally at the concert and communally in a hip hop collective called NoCoast, praises their commitment to craft.
Thimothe remarks, "Isaiah hit me up a while back asking me to play piano on a stripped down performance of his recently dropped song 'Post Up,'" he said. "It was an unconventional idea, but it was clear he had put thought into it…the acoustic vibe enabled him to focus on his delivery and really give an incredible, emotional performance. He was really the one giving that idea all the direction, unafraid to ask for exactly what he wanted, which just further demonstrated how clear his artistic vision is." Thimothe's punchy but polished sampling complements Lewis's raw storytelling and the reflective ripple effect that occurs across the space of a single song.
Part of what brings more wonder to these shows is the comfort to experiment in a space that feels like and literally is a home. Milo fan and Marsh House resident Rojas Oliva '19 observed, "Milo's music is meant for being alone." In concert, the performers brought that mood. Ferreira mentioned that he was going to try out a beat they made while setting up before the show. My favorite Mal the Oddity song was one Buford was trying out live for the first time. "They do not care about us!" he shouted with the audience. His genuine energy and critical voice, underscored by Thimothe's smooth yet textured beats, shone through on this track in particular.
After the first two acts, Elucid managed to make rapping from a laptop look impressive. He squatted and bounced behind a table, topknot ponytail hybrid bouncing above the fluorescent glow of the Apple on his computer. The gesture was only amplified by his walking through the crowd with his eyes closed, completely absorbed in his verses. He enthralled and parted the audience with his deep voice, rickety instrumentals and extended interludes in a commanding performance.
Overall, concert-goers described the show as, first and foremost, "intimate." It's a trend I've seen with many Marsh shows, but given Milo's popularity in the underground rap scene and the publicity of this show in particular, the low numbers were pretty surprising. The concert had to be postponed to a Tuesday night because of the snow day, which was a definite factor in the turnout. Even so, I've found it hard to encounter a Marsh concert that has a high attendance of Amherst College students relative to the WMUA UMass kids, Valley style down-to-earth hipsters and Hampshire students.
There was some beauty in the smallness. Milo's dry yet introspective and sensitive charm shone through in a room of less than twenty people. He couldn't help acknowledging how few people showed and joked about how no one liked him and how so many house members didn't show up to the concert right there.
Ferreira knew how to flirt with the crowd. He joked about our matching overalls and offered me a marker for a useless pocket. Ferreira hugged members of the audience and asked how they were doing, like a teacher would to a sleepy student.
Brian Zayatz '18, an organizer of the concert, noted, "One thing that struck me was how casual an environment Milo made it. People kept forgetting to clap because he made it feel like we were all just hanging out with him." Zayatz, a former Marsh House member, has made a concerted effort to make Marsh a more inclusive environment.
This concert could be an important shift for Marsh as a white indie community that needs a reckoning. As ex-Marsh leadership and a redundant figure at usual Marsh events like Coffee Haus because I look exactly like every quirky white girl with a guitar, I've been largely complicit and silent in these issues. I think part of the insidious white supremacy in environments like this stems from complacency, ignorance, indifference and a fear of doing or saying the wrong thing or taking up too much space.
Buford described his discomfort and feeling of vulnerability in front of Marsh's usual crowd. "I did Coffee Haus a few times my freshman year but haven't really gone back mostly because a lot of times my music is different in content and sound from what is usually performed there," he said. "It's not a secret that last year, Marsh did not have many people of color living there, so it was hard to perform music about issues that people of color might face when I wasn't always sure that that was what the audience was looking for…In some lyrics, I try to deal specifically with the role that whiteness and white power play in my life, and, honestly, it can feel awkward to perform in a room of mostly white people, even if they might be 'woke' or willing to understand what I'm saying."
We must take a look at ourselves and our spaces and how we traditionally define our spaces. Marsh Ballroom was a great space for a rap show. The closeness allowed you to properly hear the lyrics as opposed to moshing to pop punk, while the booming synths' tremble made Marsh's walls seem fragile.
Ultimately, the concert set many great examples for music at Amherst — an intersection between music interest groups, more representation of rap and student performers on campus in a space traditionally limited to the folksy enclave, the potential for student collaboration musically and more interactions with Five College folks.
Buford characterized this environment aptly: "I was pleasantly surprised at the energy I felt from people that were there. Even though the turnout wasn't huge, I felt a connection with the people that showed up —they seemed invested in me, so I became invested in them." Next time, it would be even better if more people showed up.