News
Timeline: The Coronavirus Pandemic at Amherst College
Between January and March, COVID-19 transformed from a distant concern to a community-devastating epidemic for many Amherst students. The coronavirus has brought rapid change to the lives of students, faculty and staff in a matter of weeks. In an attempt to help the Amherst community process recent events, The Student has crafted the following timeline.
Dec. 31, 2019
The government of Wuhan, China confirms that it is treating several cases of a pneumonia-like illness.
The illness would be identified as a novel coronavirus days later, or COVID-19, as it is now known.
Jan. 20, 2020
The first case of the novel coronavirus in the U.S. is confirmed.
The first COVID-19 patient, a 35-year-old man, was diagnosed in Snohomish County, Washington.
Jan. 27, 2020
Study abroad organizations partnered with the college begin suspending their spring semester programs in affected areas.
Programs run by the School for International Training in China — which partners with the college to deliver certain study abroad opportunities — were canceled for the spring semester due to concerns over the spread of the coronavirus, marking the first of many study abroad program cancellations.
Jan. 28, 2020
Dean of Students Liz Agosto first addresses the coronavirus in an email to students.
In her email, Agosto outlined basic information about the coronavirus from the Center for Disease Control (CDC) and emphasized that the administration had no reason to believe there was anyone on campus infected with the disease.
Jan. 31, 2020
The U.S. suspends travel from China for foreign nationals, including international students on F-1 visas.
The restriction prohibited non-U.S. citizens who traveled to China in the past 14 days from entering the U.S., with some limited restrictions. The Center for International Student Engagement reached out to students from China, who would be affected by the change, to offer support and guidance. Students were largely already on campus, as spring semester classes started earlier that week.
Jan. 31, 2020
The World Health Organization declares the coronavirus to be a global health emergency.
The declaration came after the coronavirus spread to a number of countries beyond China and after Chinese authorities quarantined the city of Wuhan.
Feb. 1, 2020
The first case of the coronavirus in Massachusetts is confirmed.
A student from the University of Massachusetts Boston who returned to school from Wuhan, China was officially diagnosed with the coronavirus.
Feb. 2, 2020
A Smith student self-isolates after potential exposure to the coronavirus, marking the first coronavirus scare in the Five College Community.
The student voluntarily self-isolated after being exposed to another individual with exposure to the coronavirus. Another Smith student went into self-isolation on Feb. 4 after traveling through Hubei Province, China, the epicenter of the coronavirus at the time.
Feb. 26, 2020
President Biddy Martin addresses the spread of COVID-19 in reference to the modification and cancellation of study abroad programs.
Martin announced in an email to the college community that study abroad programs in areas affected by the novel coronavirus — which at that time started to include countries like Italy and South Korea — had been canceled or significantly modified, with numerous students forced to return home due to health and safety concerns of their programs. Martin also urged the community to prioritize their health, wash their hands and reconsider their spring break travel plans.
March 2, 2020
The administration implements new restrictions to college-sponsored travel.
Martin announced in an email that students, faculty and staff were now required to register all travel sponsored by the college and encouraged to register all personal travel, especially trips occurring over spring break.
March 3, 2020
The college begins calling attention to video-conferencing softwares, in preparation for a possible shift to remote learning.
In the Daily Mammoth, the college started putting out announcements on methods for video-conferencing with associated guides on usage.
March 3, 2020
The college holds a faculty meeting to discuss the virus' possible impact on campus and a potential shift to remote learning.
At the meeting — in which the agenda was adjusted from other topics to focus on the coronavirus — administrators told faculty to keep the possibility of remote learning in mind and prepare accordingly. Other possible impacts of the coronavirus were also spotlighted, such as effects on faculty research and the endowment.
March 4, 2020
Martin hosts a set of open forums for students and staff about the coronavirus.
The open forums provided information to interested students and staff members about how the college plans to deal with the coronavirus crisis. Martin was joined by Agosto, Chief of Police John Carter and Jennifer Brown, the Town of Amherst's public health nurse.
March 6, 2020
Athletic Director Don Faulstick announces that public spectators would be prohibited from attending an upcoming NCAA basketball championship game on campus.
"Amherst athletics had made the difficult decision to prohibit spectators at the NCAA basketball contests at LeFrak Gymnasium," Faulstick said, adding that the games would instead be live-streamed online. Nurses were on site at the game to take the temperatures of individuals authorized to attend the game.

March 6, 2020
The college broadens restrictions on travel policy and campus events.
Martin noted that until May 1, the college would no longer allow college-sponsored international travel or domestic travel to states where governors had declared a state of emergency. Additionally, Martin encouraged community members to cancel personal trips to regions of the U.S. where emergency declarations had been issued. She also announced that access to all college events were restricted to Amherst students, faculty and staff only.
March 6, 2020
The college cancels Admitted Students Weekend over concerns about the coronavirus.
Diversity outreach interns in the admissions office were notified over email that Admitted Students Weekend, which gives prospective students an opportunity to experience a few days on campus, would be canceled for the year.
March 7, 2020
Community members deemed as potentially exposed to the coronavirus are asked to stay off campus.
A number of community members were asked to temporarily stay off-campus as a precaution. Among them were Professor of Philosophy Lauren Leydon-Hardy and John J. McCloy '16 Professor of American Institutions and International Diplomacy Masha Gessen, as well as two students who attended the American Israel Public Affairs Committee (AIPAC), which had attendees who tested positive for COVID-19,

March 8, 2020
Agosto cautions the roommates and members of the ultimate frisbee team after the club participated in a tournament in New York.
After the ultimate frisbee team traveled to Brooklyn for a tournament, during which New York Governor Andrew Cuomo announced a state of emergency, Agosto sent an email to members cautioning them about the coronavirus. Before the team was let back on campus, they were stopped for a meeting with Chief Student Affairs Officer Karu Kozuma and Agosto about preventative measures with respect to the spread of the coronavirus. She also asked their roommates if they had concerns about remaining in their assigned rooms.
7:49 p.m., March 9, 2020
The college asks students to move off campus by March 16 and announces that classes will be conducted remotely starting March 23.
In a campus-wide email, Martin informed students that the college would officially move to remote learning after spring break. The email also notified students that they were expected to move out of their dorms by the following Monday unless they successfully petition to stay on campus, and that classes on Thursday, March 12 and Friday, March 13 would be canceled to allow students to make preparations to vacate.

8:30 p.m., March 9, 2020
Kozuma, Agosto and Senior Associate Dean of Students Dean Gendron join a town hall forum during an Association of Amherst Students meeting and answer questions about the announcement.
Around 200 students crowded into Cole Assembly Hall to ask questions about the decision to move students off campus and to move classes online. Agosto noted that she did not have many concrete answers due to the quickness of the situation and acknowledged flaws in the communication process. Accordingly, she promised to keep students up-to-date with two emails a day on updates.
11:00 p.m., March 9, 2020
Students conduct a sit-in protesting the decision to move students off campus, arguing that students should be allowed to stay on campus if desired.
Over 150 people participated in a sit-in at Frost Library, which called for an option for students to remain on campus if they wish as opposed to a petition process, as well as additional support for students from disadvantaged communities and more transparency in the decision-making process. Martin and Agosto appeared in Frost around an hour into the sit-in, defending the college's decision and answering questions from concerned students until 2:00 a.m.

March 10, 2020
The deadline to move out shifts from March 16 to March 18.
The change, announced by Agosto in an email to students, came after calls from students to offer them more time to prepare to leave campus. The deadline for petitions to stay on campus was also extended from March 11 to March 13.

March 14, 2020
The first presumed cases of coronavirus in Amherst are announced by the regional school districts.
Amherst College Police Chief John Carter updated the community with information from the superintendent of Amherst Regional Public schools, who announced that the district had its first presumed case "based on symptoms" but not a "positive test." Hampshire Regional School also had an unconfirmed case.

March 15, 2020
Martin announces that college employees will switch to a remote-work model.
Martin said that, as of March 17, all employees will begin working remotely. All employees were instructed to collect all necessary work items from the college and begin working from home. Some staff members deemed essential workers will remain working on campus, including some staff from the police department, dining services, campus mail, health services, counseling services, residential life and case management.
March 20, 2020
Agosto confirms that students will be reimbursed for room and board fees.
Agosto disclosed that all students who left Amherst due to COVID-19 would be refunded for on-campus living costs. According to Agosto, the sum of money reimbursed would depend on how much each family originally contributed, but it will amount to no less than $1,750 and no more than $3,840.

March 23, 2020
Students and faculty embark on the first day of remote learning.
Many faculty members changed their curricula to accommodate the new circumstances, from easing course requirements to crafting alternative instruction tools to replace in-person activities. Faculty also received training over the previous two weeks on video-conferencing softwares like Zoom as to facilitate remote learning.

March 26, 2020
Faculty vote to extend the Flexible Grading Option (FGO) to all courses for the semester.
Provost and Dean of Faculty Catherine Epstein announced in an email to students that, after being approved by an overwhelming majority of faculty, every course would move to FGO grading scheme. The FGO allows students to choose whether to keep a letter grade upon seeing it or, if they have received a passing grade, to convert the grade to a pass.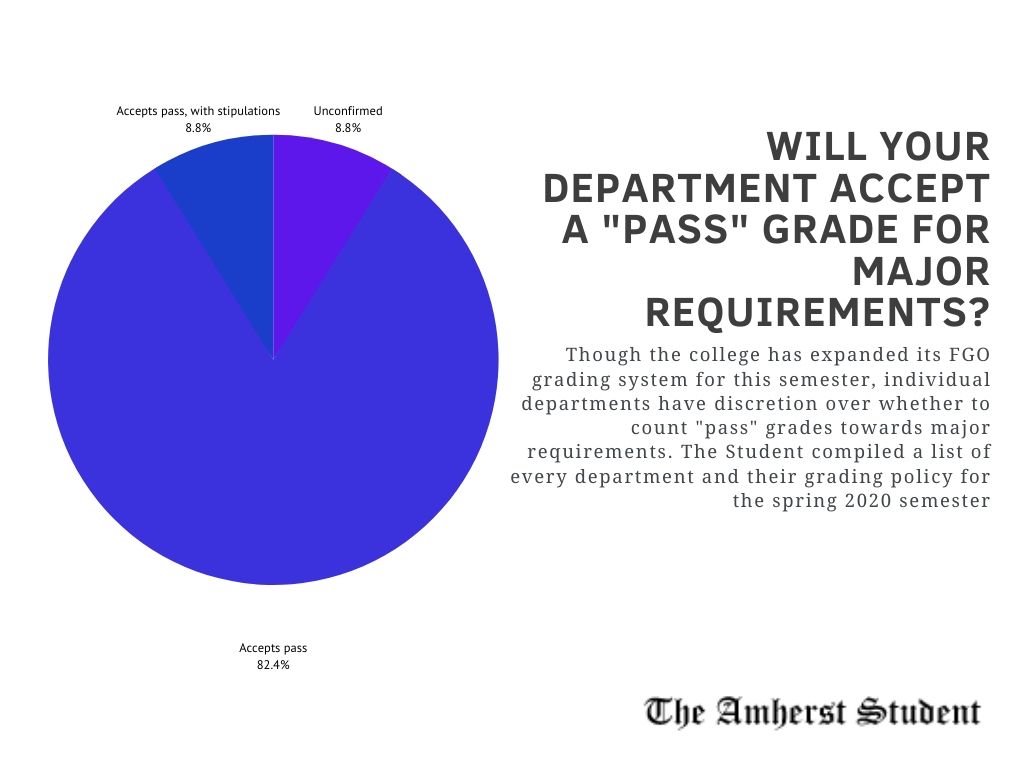 April 6, 2020
The Office of Admissions announces that it will no longer require a tuition deposit and adopt a test-optional admissions policy for the 2020-2021 admission cycle.
Citing the widespread cancelation of standardized tests such as the SAT and the ACT, the college will make the submission of such tests optional for the next year and will no longer consider SAT subject tests in admissions decisions. Members accepted into the college's class of 2024 this past March will also not be asked to pay an enrollment deposit.

April 7, 2020
Martin addressed an increase in racism spurred by COVID-19 against Asians and Asian-Americans in an email to the college community.
In her email, Martin pointed to several racist incidents against Asian and/or Asian-American students on and around campus, including "verbal assaults in the town of Amherst" and "racist banter in the dorms." Martin also reaffirmed the college's support for those affected by bias and discrimination.

As the situation and campus response progresses, The Student will continue to update this timeline.