Arts & Living
West's New Album Struggles to Find a Coherent Message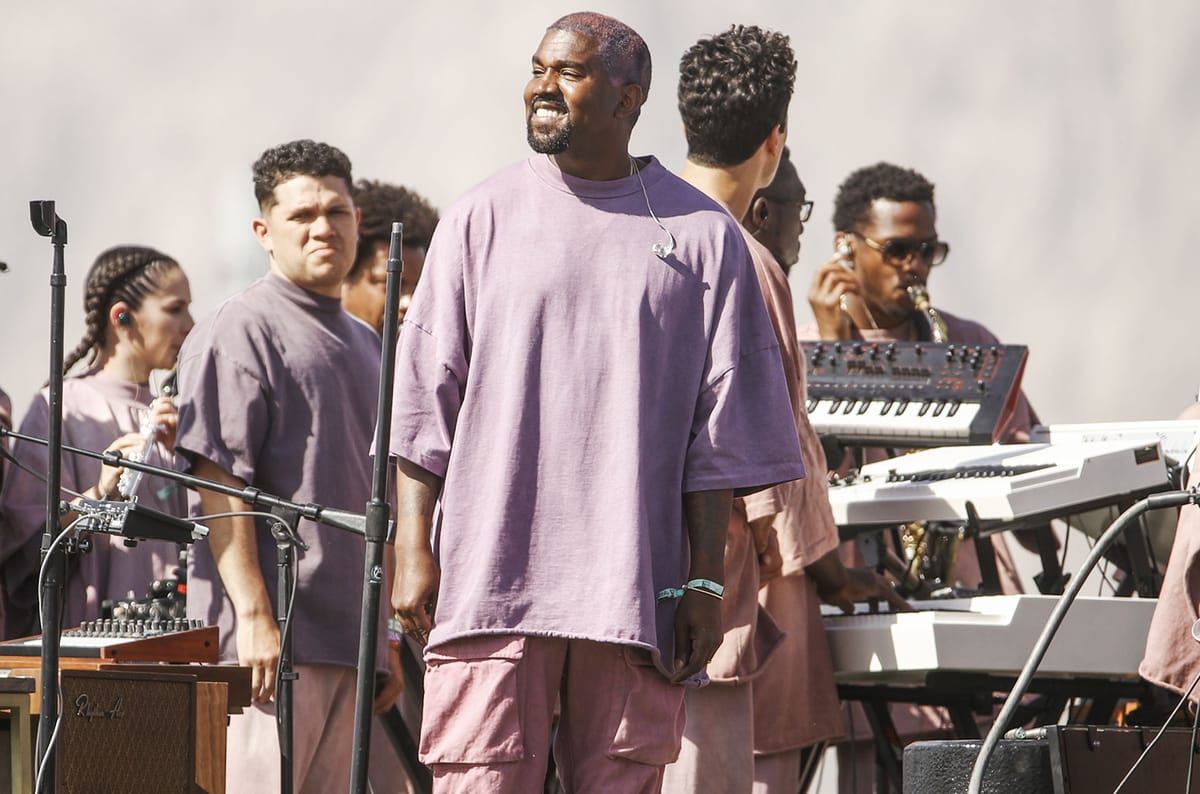 It seems we have once again arrived at the end of another turbulent Kanye West album cycle. While the album's release was originally announced for Sept. 27 by Kim Kardashian West, Kanye's latest musical venture "Jesus is King" underwent a series of delays until its eventual release on Oct. 25. West is by no means a stranger to missed due dates — The Student's own Jack Klein '20 recently wrote about Kanye's lengthy track record of sporadically delayed and canceled projects. Nevertheless, as Klein notes, when Kanye finally runs out of distractions and antics, our waiting —be it patient or frustrated — is usually rewarded in the form of yet another dazzling record that keeps us coming back to the self-proclaimed musical "genius."
However, on "Jesus is King," Kanye's ninth solo effort, we see no such deliverance. From his first single on "The College Dropout" to the electrifying "Jesus Walks" and the soulful "Ultralight Beam" on 2016's the "Life of Pablo" album, West has always worn his faith on his sleeve. On "Jesus is King," he scales up his religious ambitions to a whole Gospel-themed album. What has the potential to be an inspiring exploration of being born again in faith, however, falls victim to Kanye's distracting and strange political messaging and a surprising lack of work ethic and artistic vision.
On "Jesus is King" the usually outspoken West has remarkably little to say. The album has a runtime of just 27 minutes, and no single song reaches the four-minute mark. It also lacks any kind of narrative complexity, conflict or even a coherent message besides occasionally celebrating Jesus. Unfortunately, "On Jesus is King," West waters down and misinterprets what makes gospel and worship music compelling in the first place — joining together as a community and setting aside egoism and materialism in order to worship God. Whereas on past albums, West has called on faith for strength through his struggles or forgiveness for his sins, on "Jesus is King," he mostly comes across as self-righteous and gimmicky. Add on the fact that it seems West has put little thought into the fundamental musical elements like tone, beat selection and songwriting, and as a result "Jesus is King" falls short of most of its lofty goals.
The record begins innocuously enough with the intro "Every Hour," sung by the Sunday Service Choir, a church choir West has recently been touring with. In true gospel fashion, the choir enthusiastically sends harmonized praises to the Lord over a bright, simple piano melody. Notably, West's own voice is entirely absent from the intro track, perhaps in an effort to put aside his notorious ego and embrace the communal aspects of Christianity. Unfortunately, it has no musical payoff. The praises of the choir become tired and repetitive after almost two minutes, and after the song ends, the energy and jubilant spirit are immediately killed with the abrupt transition to the somber minor chords of the next track "Selah."
Despite the sudden change of tone, "Selah" is one of the stronger tracks on "Jesus is King." The track finds West rapping over a series of ascending chords from a church organ. The organ slowly builds as heavy percussion eventually joins in to create a powerful yet minimalistic soundscape. Just as West's rapping reaches a crescendo, a chorus of "hallelujahs" takes over the bridge that builds to its own crescendo.
Everything comes to a climax at the end when West joins back in for his second verse and begins layering on more "hallelujahs," drums and spiritual chanting. However, even in "Selah," there are hints at the album's shortcomings. West is hardly at the top of his lyrical game with ham-fisted biblical platitudes and laughably unironic lines like "Everybody wanted Yandhi, then Jesus Christ did the laundry." While West has never been known as a lyricist, on "Selah" he seems to have a newfound lack of self-awareness, which unfortunately carries over into much of the other songs on the album.
Indeed, on much of "Jesus is King," the corniness and lazy songwriting seem to bury the usual flashes of Kanye brilliance that inevitably crop up. For instance, the fourth track "Closed on Sunday" has a powerful, emotionally-charged second verse from West about putting his trust in the Lord. Unfortunately, this verse comes only after a tacky chorus based around the entendre that West's wife (his "Chick-for-lay") is off-limits on the Sabbath like the "Chick-fil-A" fast-food chain. The cringe-inducing joke completely undermines the rest of the song, and West's poignant second verse ends up falling flat.
Similarly, the otherwise immaculate banger "On God," an impassioned depiction of West's struggles that is laid out over an absolutely wild Pi'erre Bourne-produced beat, becomes completely derailed when West begins complaining about his tax rate. By some confusing logic, West explains that he needs to overcharge for his Yeezy sneakers so that his family doesn't starve. West seems to forget that just a few bars ago he was bragging about buying a $14 million ranch and appearing on the cover of Forbes magazine — it hardly seems that his family is on the brink of starving.
Still, even West's weird political agenda in "On God" is preferable to some of the bland, low-energy songs in the second half of the tracklist. "Everything We Need," "Water" and "Hands On" feature some of West's least-inspired bars. On "Everything We Need," a song repurposed from the unreleased "Yandhi" album, West's voice is conspicuously flat, especially compared to the voice of rapper Ty Dolla $ign, whose melodic singing carries the chorus. The song is notably altered from the leaked "Yandhi" version (titled "The Storm"), which featured a slightly different, more energetic verse from Kanye, an additional verse from the late artist XXXtentacion and an extended outro.
West's lack of energy also drags down "Water" and "Hands On." "Water" features some beautiful, spiritual singing from Ant Clemmons (who is also featured on "Everything We Need") and a backing gospel chorus. However, when West takes over with a monotone, spoken-word prayer, the song dies a quick death. Seemingly uninspired by the tenderness in Ant Clemmons's voice, West simply repeats various requests to Jesus like an ad-libbed grace delivered by a hungry 14 year old before Thanksgiving dinner.
Similarly, in "Hands On" West continues in a monotone that saps all life out of the song. While the lyrics are not quite as lazy as "Water's," you almost wish they were. Instead, he starts rapping about being rejected by "hypocritical" Christians and liberals, a contrived conflict of his provocative-for-the-sake-of-being-provocative political tendencies. To its credit, "Jesus is King" does feature the occasional transcendental moment, a bitter reminder of the latent musical ingenuity that elevated West to stardom and kept him there despite years of celebrity antics.
One such instance is the last full song of the album, "Use This Gospel," another track recycled from the scraps of "Yandhi." The production on "Use This Gospel" is simple, yet grandiose: a repeated metronomic tone filled in with synths that meld into West's autotuned humming. For once, West seems to put effort into his singing and manages to stay on pitch. To cap it off, his lyrics are even quite touching, as he leaves us a final call for faith in trying times. "Use This Gospel" really makes you wish it was closing out a better album.
I would be remiss if I didn't mention two other highlights: "Follow God" and "God Is." "Follow God" is probably Kanye's most nuanced take on faith throughout "Jesus is King." West flows over signature soul-sample production about handling everyday frustrations and the challenges of letting go of his ego as he tries to embrace his faith. His internal struggle comes across as sincere and self-reflective, as opposed to his more contrived political conflicts elsewhere on the album. "God Is" is another refreshingly personal moment on an otherwise bland album. West sings in a raw, emotive voice about his personal relationship with God and the joy he has found in worship.
Moments like these hint at the potentially great album buried under the surface-level grime of "Jesus is King." Throughout the record, there are many head-scratching decisions that simply take away from the religious aims of the album. Be it lazy lyricism, lifeless singing, lack of attention to cohesion or West interjecting his bizarre political views — everything seems to distract from the supposed spiritual purity of the music. The result is tragic because we have time and again witnessed what a motivated and focused Kanye West can create. Unfortunately, it seems, for now faith alone is not enough to overcome West's own impulsive and careless temperament.