News
With Three Weeks Until Election Day, Voter Registration Initiatives Intensify Across a Scattered Student Body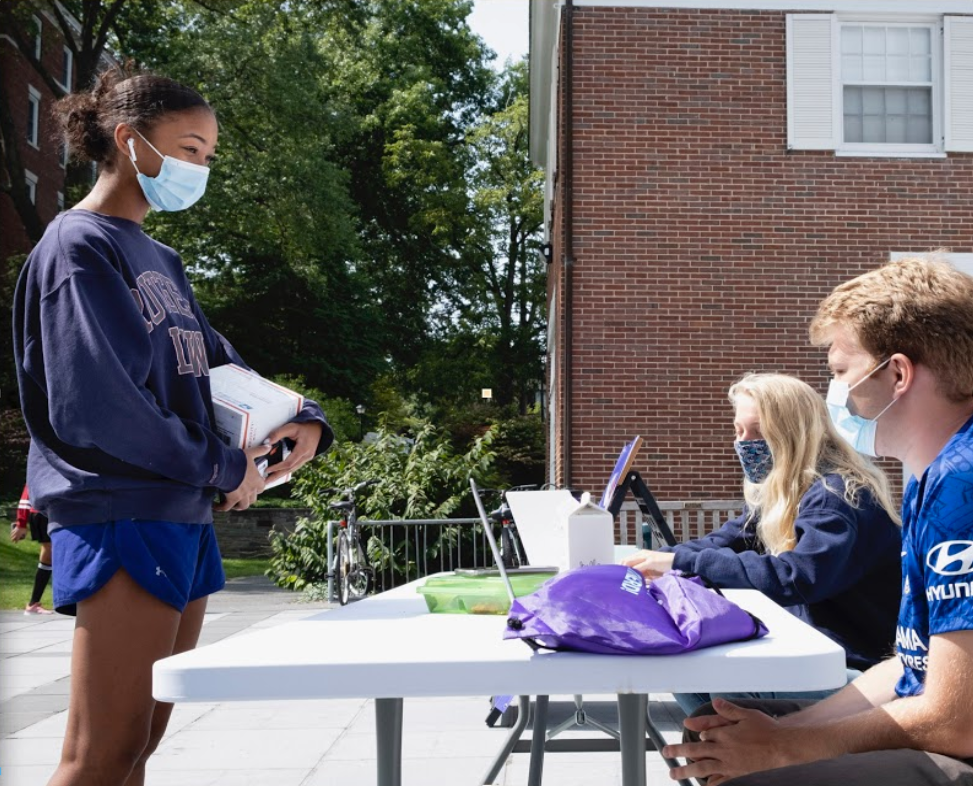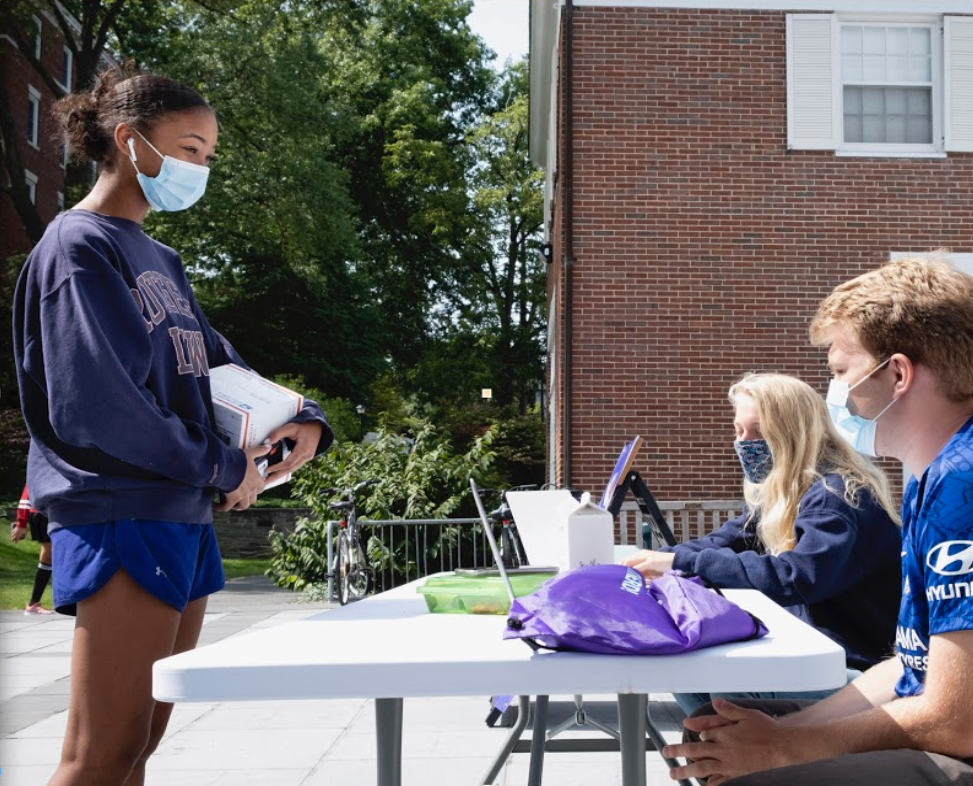 Just weeks out from the 2020 election, Amherst College Votes (ACVotes) is ramping up voter registration initiatives, navigating the hurdles of mail-in voting for many remote and socially-distanced students and experimenting with digital forms of outreach ranging from Turbo Vote to social media platforms.

Founded in 2018 as part of a collaboration between the Office of Student Life, the Center for Community Engagement, the Association of Amherst Students (AAS) and The Amherst Student, ACVotes is a non-partisan organization of students working to increase campus-wide voting turnout. Their "mission is to provide all students with the tools necessary to vote and cultivate a culture of civic engagement across campus," according to its webpage.

According to Director of Student Activities Paul Gallegos, the initiative was "sparked by a report from Tufts' National Study of Learning, Voting and Engagement, which indicated a less-than-stellar showing for Amherst College student turnout during the 2014 midterm elections, [we] tried to think collectively as a community about what resources and empowerment opportunities we could put forth with the aim of getting students exactly what they need to effectively vote … That effort turned into the initiative that is now known as ACVotes."

In 2014, the voter registration rate was 62.4 percent (1,043) for the midterm elections, though only 15.2 percent of those registered actually voted, according to the ALL IN Democracy Challenge Action Plan, released by the college in 2018. In all, only 9.5 percent of all students cast a ballot. In 2018, the voter registration rate increased to 80.6 percent. The voting rate of registered students increased to 51.8 percent, and the 41.7 percent of Amherst students voted.

This year, however, is a little different than usual. With around half of the student body studying remotely and in-person events restricted to safeguard against the coronavirus, ACVotes has faced many new and unique challenges. According to Head Student Organizer Ben Gilsdorf '21, ACVotes has been "coordinating a lot of the different moving parts … because of the nature of this semester." Gilsdorf also writes for the Sports section of The Student.

Gallegos said that the administration's "intersection with ACVotes is to ensure they have the resources needed to get the word out to peers about the registration process state-by-state — requesting an absentee ballot and reminders about deadlines. Right now, those efforts include tabling, emailing, social media reminders and partnerships with groups like athletics to help get the word out."

Athletics has been a crucial partner in this project, as Virginia Ryan '22, who created the AC Votes website and has been organizing with campus leaders, said that she has also been working closely with Emily Kelly, the coordinator for Amherst LEADS. LEADS has proven particularly important for outreach, Ryan said, because it encompasses a significant portion of the athletic community and especially those who are first years.

In terms of on-campus voter registration efforts, "We have the tabling Mondays, Wednesdays and Fridays in front of Keefe and Val. So I do the coordinating around … [and figuring] out who's doing what shifts, whether we have stamps, whether we have envelopes [and] what deadlines are coming up," Gilsdorf said.

Ryan added that "it's difficult to do tabeling on campus, because … there's a lot of restrictions and … [not] so many students are on campus. So … [everything's] become a lot more online focused. But I don't think that that's all negative because we have so many different technological platforms. And so, obviously, that's different than just going up to someone … on campus, but I do think that we've adapted well."

As for off-campus efforts, there has been "a lot of sending out emails [and] postcards to every off-campus student," according to Gilsdorf. "We have a ton of volunteers who help us [cover] student outreach [initiatives] and answer questions. So, it's managing all the different parts to make sure that every student at Amherst, whether they're on campus [or] off campus, registered [or] unregistered, voting in-person [or] voting absentee, can find the resources they need, and have someone to help them along the way."

Ryan mentioned that social media has been a big facet of ACVotes' efforts, including the abilities to post, direct messages and even stream. "I started a [story stream], and I tagged the next person in my team [off] a list. And we all went in order [and challenged] the next teammate and three other Amherst people [to register]," she said.

Ryan added that social media has been a major outlet for voicing the fact that it is crucial to "remember [that] it's not just about the president; there are other things that are on the ballot. And then in terms of our regional representatives, it's really just getting their information out there … The Instagram account with ACVotes has been really important [in] put[ting] all the regional representatives' names and emails out there."

For Gilsdorf, another tool that has effectively reached students is Turbo Vote, an online software that allows individuals to check their voter registration status, register to vote, print out absentee ballot request forms and more. "[It has] been helpful because so many students are off campus. And so we can't necessarily be there every step of the way … for that person, but we can give them a tool that spells it out for them."

More generally, Gilsdorf praised the resources being offered by the college administration in support of ACVotes. "We can get stamps and envelopes and postcards and posters, all the materials we need. The administration has been very supportive. I just did a video… [as part] of a series of videos where the first one just came out, talking about the importance of voting." Gilsdorf said,

"The faculty have been great as well. I was at the faculty meeting on Tuesday and spoke about the importance of having professors talk to their students," he added. "I've gone to a couple of classes already just to speak quickly about the importance of voting and remind students of the resources they have available to them. And so, all in all, it seems like the whole campus really united behind this effort."

Gilsdorf's bidding message for students? "Request your absentee ballot if you already haven't," he said. "We're starting to run out of time. If you're off campus, make sure you know where you're polling places and have a plan to vote in person. And if you're on campus, go check your mailbox. When you get it, send it in that day. We can give you a stamp, and there's also some 'I voted' stickers. We really want people to get on it."

"Voting is an essential part of civic life and is something that takes some navigating, with some significant variations state by state," said Gallegos. "It can take learning how to go through all the steps for one's particular state or if they are deciding to register in Massachusetts, registering once to foster a lifetime of voting and civic engagement … I hope that it [ACVotes] continues to be an area of passion and focus for students and that we continue to work toward a greater share of the community voting whenever possible."

And the work does not stop at voting, Ryan added. "I believe that voting should be … important to everyone … because [it] really is how your voice is heard. And I don't really know how else to better participate in the political process other than volunteering for campaigns [or] literally knocking door to door."