News
A Writer with a Sincere Voice and Critical Eye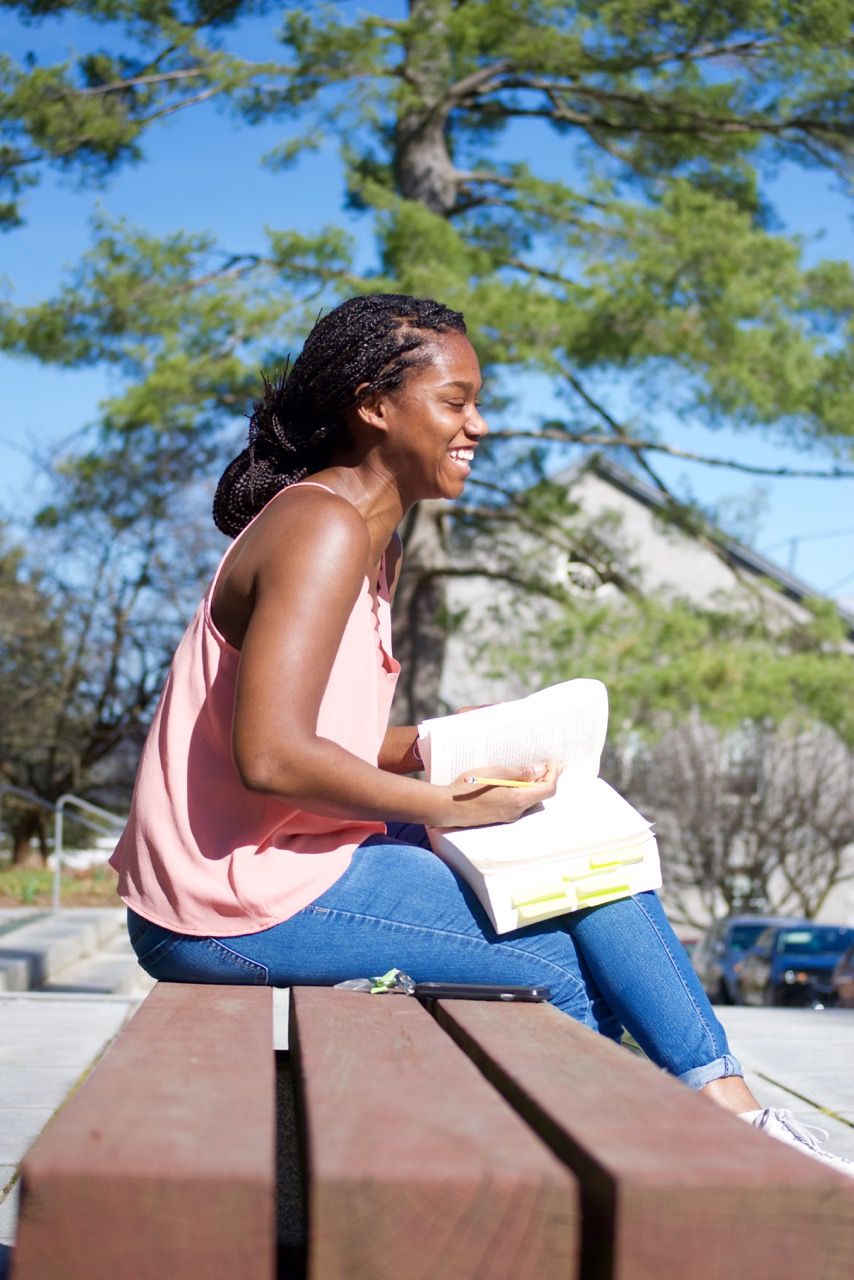 Writing the Writer
It's nerve-wracking to approach writing about Lolade (Lola) Fadulu. One of the most prolific yet modest writers at Amherst, she has played an invaluable role in articulating what she has faced as a black woman on this campus in her attentive, clear and deeply honest style. Her writing has particular qualities I love — a meta-textual attention to the materiality of note-taking and honoring writers who have come before her. Fittingly, she asserts at the end of our interview, "I write because my mother wrote." In her poignant approach to reading, writing and listening she is a writer's writer. Attempting to address her thoughtfulness in my own words is daunting.
When she talks about herself and her work, she switches between delicately prefacing comments about academics with "I worry this is too philosophical and pretentious" and self-assuredly noting that "I think of myself as a black woman writer or a black writer before I think of myself as a woman writer or just a writer." Fadulu is patient, direct and confident in her own way. She knows what is important to her but treads thoughtfully around expressing and reconsidering it from multiple angles and for her intended readers.
Even before meeting Fadulu in person, the experience of reading her work reflected this meditative quality. I have stumbled upon her writing intermittently across the years and studied it like a fan-girl before our interview. Her articulation of lows and jitters offers solace in a place like Amherst. Ironically, my neurotic self-circling when hesitating about whether or not I can do her justice in this profile provides a perfect example of the overly internal thought processing that she believes people at Amherst need to move past. As she told me during our interview, "If you want to write, write!"
Methodical Methodology: Directness and Detail
Upon first glance, Lola's focus and drive make perfect sense. Growing up in Vero Beach, Florida, known by teenage locals as Zero Beach because there can be so little to do, Fadulu was heavily committed to tennis, supporting her own expenses and undergoing a simultaneous "Bible-pushing" phase. Yet, writing and tennis seem to set a tempo to the life she approaches with determination and detailed thought.
Throughout her life and during her time at Amherst, she has always researched her next steps with great attention. Amherst not only permitted her to keep playing tennis but offered the diversity she sought when researching schools after attending a majority-white school in Vero Beach.
After arriving, however, she felt very closed off in her ability to share her feelings. As a black woman on a sports team, Fadulu's situation at Amherst still left room for questioning and alienation. As she put it in "Varsity Athletes: Detriments of Team Bonding" — one of her first conversation-starting articles on this very issue — "if some members of our community, when in a situation in which they are the minority, feel subdued, well then Amherst can't really pride itself on its diversity because it wouldn't be achieving anything other than the appearance of inclusion." Fadulu steadily developed her critical eye to raise concerns across her writing, later bringing her voice to Amherst Uprising. Amir Hall '17 mentioned how much she contributed by critiquing the movement at pivotal moments and focusing on providing mental health support for students of color.
Fadulu distinguishes herself from others in the Amherst community and beyond through her attention to detail. Hall said, "She is the master of small acts of kindness." She texts friends quotes that remind her of them, and repeatedly asks them precisely what they think she should do with the next stages of her life. Her favorite thing to do when she is stressed is head to CVS and intensely research the products she should buy. Accordingly, one of her main, detail-oriented concerns as a writer is documenting black experience and black women's existence. She changed her major three times from English to Theater and Dance and ultimtely to Philosophy, but only after considering Political Science and Law, Jurisprudence & Social Thought as well. "I am happy I chose philosophy, because it helps me with argumentation and separating truth from bullshit," she said.
Even in our hour-long conversation, Fadulu demonstrated a refreshing frankness. Hall recalls how, when he lived next door to Fadulu in Drew their sophomore year and would sing or talk to himself too loudly, she'd bang on the wall to tell him to quiet down. "That is so Lola," he joked.
Her bluntness is not harsh but forthright and caring. She lovingly chides women on hair care at Head Games, the natural hair salon in downtown Amherst. If she asks how you are, and you tell her you are doing fine, she may give you a knowing look that asks how you really feel.
"To me, Lola is funny, creative, annoying, stubborn, insightful, easily excitable, persistent, fickle and self-aware," her best friend Elaine Vilorio '17 describes her. "She's someone who has challenged me to be better and to be vulnerable. She's my friend and my sister and, while I rarely tell her this, I do love her a lot."
Resilient Vulnerability: Sensitivity to Audience
Fadulu is practiced in addressing avoidance, point-blank telling me she was surprised I did not ask about her mother's passing last fall while wrapping up our interview. Fadulu has written about her mother's passing extensively in AC Voice and found that beyond learning how she could survive on the bare minimum, the lack of perspective at Amherst shone through all too clearly. As she said in her stunningly sincere article "The Stages of Grief Explained," which largely tackles relating to others on a college campus while mourning, "Know also that if you tell them your entire life aches, they'll struggle to respond. They'll panic at their inability to offer you solace because losing a parent in college is rare. Remember that. Reassure them that they're doing just fine even if it annoys you." She does not think that certain problems are more important than others, but rather believes that our place at Amherst is still privileged, and it's important to have perspective on his not texting you back when there are bigger issues in the wider world.
Even with this perspective and grief, Fadulu related to others' concerns remarkably well. Hall notes, "The main quality that comes to mind when I think about Fadulu is how she is so intentionally caring. I keep returning to that. Even after her mother passed she would always check in on me and be there to listen. She lets her friends know they are loved."
She also lets her readers know that they are loved. She often tailors her work to an audience, directing articles such as "Toni Morrison and the White Gaze" to students of color at Amherst who care about their school in spite of its flaws. There is a not-so-secret English majors' rule of writing that you are not allowed to refer to someone's writing as "relatable," but it's tricky to avoid when thinking about Fadulu. Her work is comforting. It feels lovely to pore over the arc of her writing from year to year and think about how much I could have benefitted from reading a piece like "You Can't Hurry Love" as a first year. Noor Qasim '18, Fadulu's former AC Voice editor, praises the humor and humility in her writing. "She is able to tackle the most difficult of issues with a critical and insightful eye," Qasim said.
Education and Dedications
"Lola is an extraordinary and multitalented person. She is, in addition, one of the most thoughtful students I have encountered at Amherst. Fadulu has really taken advantage of the opportunities Amherst provides, and she has simultaneously pushed the college to live up to its aspirations. I will miss her beyond what I can express in words and am confident that her future will be filled with joy, love and accomplishment," wrote Professor of Law, Jurisprudence & Social Thought Austin Sarat. After taking multiple courses with Sarat in her time here, Fadulu conducted year-long research with him on the American Death Penalty. This was one of her favorite academic experiences.
"It was a small and engaged group where we were treated like scholars, not students," she said. "The dynamic was interactive rather than unnatural and performative, which I feel often occurs in a classroom setting."
It's not only easy to feel ensconced in a bubble but also awash in a sea of self-affirmation in a small space of so many engaged, intelligent people trying to be right — or more right than the next person. In such a sphere, Fadulu provides the honesty and advice of someone with wisdom surpassing an average college experience. She is one of the rare, intentional writers who makes a personal reach and recognizes her audience. "I want my writing to be accessible to my intended audience without being patronizing," she said.
Most seniors shy away when I ask them about how they feel regarding their legacy, but she has a thoughtful and deserved response. "I am happy to see more black women in the Philosophy department," she said. "I also think my teammates and I have begun sticking up for ourselves, and our coaches have learned to recognize the importance of having players of color from different socioeconomic backgrounds on our team."
We will be lucky enough to read more of her work after Amherst. She will be working for Quartz — a digital media publication owned by Atlantic Media — alongside a White House Correspondent on issues pertaining to Jeff Sessions and the Department of Justice, and she hopes to work on more think pieces. As she put it in her article, "What Should We Do?", she believes in following her heart. "In doing what you love, you act as a representation to other people that doing what you love is legitimate. I don't know what is more freeing than that, especially for college-educated black people who often feel an overwhelming sense of obligation."