Arts & Living
Zumba at Amherst Provides Stress Relief for Students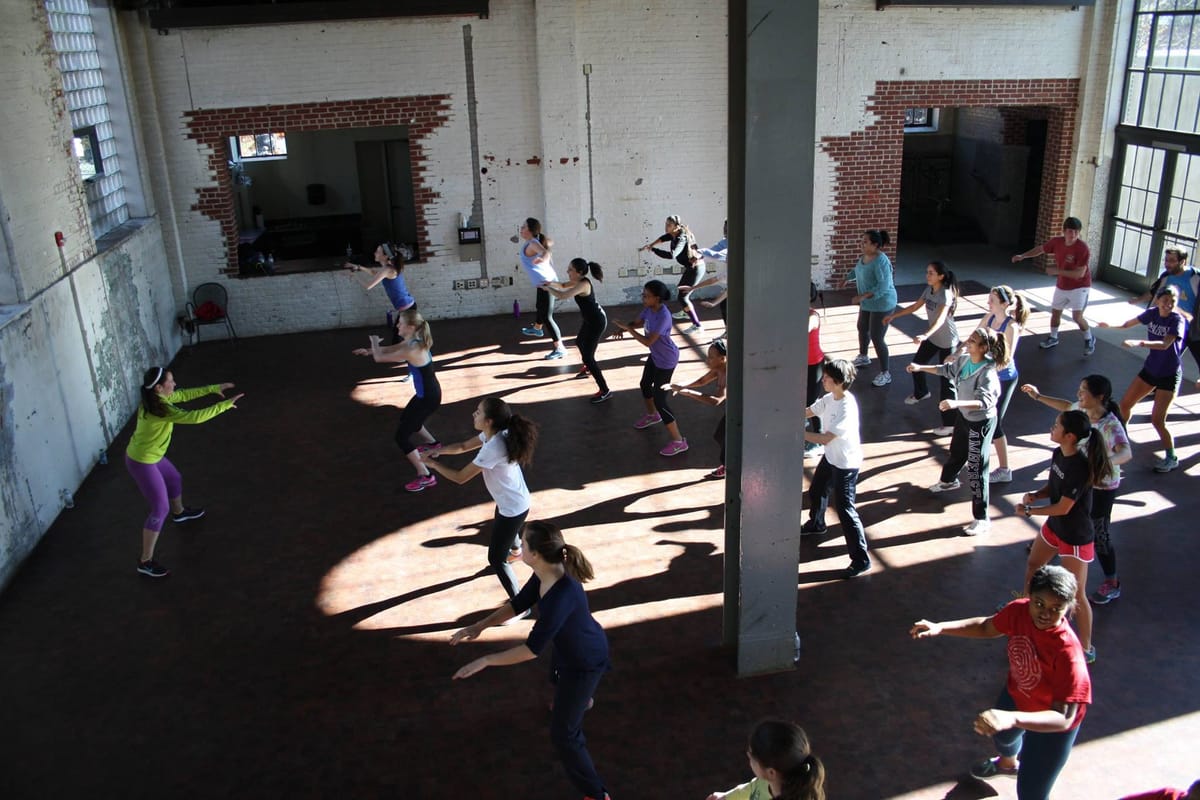 Eight years after the exercise style was invented by accident (when its founder Beto Perex simply forgot his teaching music for an aerobics class and popped in salsa tapes instead), Lauren Gladu, academic department coordinator for Spanish and campus Zumba fitness instructor, can be found spending her Tuesday and Thursday afternoons bopping and dancing, teaching Zumba in front of a group of students.
As she teaches, she pushes the style forward, morphing its traditional Latin influences with pop styles and music of the moment. "I love hip hop and pop music so I use a lot of that style," Gladu attested. "Sometimes I will hear a song on the radio and think 'I have to make up a routine to this!' My newest song is 'Juice' by Lizzo, and it's so much fun." Zumba is one of the classes currently in Amherst's "Wellness and Fitness Schedule" posted throughout campus. It's headed by Gladu Mondays from 5 – 6 p.m. and Tuesdays and Thursdays from 4:15 – 5:15 p.m. in the O' Connor Commons.
Gladu described her own induction into Zumba. Having started competitive dancing at eight years old and dancing throughout college, Gladu stopped going to dance classes and performing after graduation. "I missed dancing and started to gain a bit of weight," she said. "I was starting to feel really bad about myself, [so] I was trying to figure out a fitness routine that didn't cost a lot of money." Finding it hard to be motivated on her own, she went to her first Zumba class for a mere five dollars and was instantly hooked. "I thought, I have to become an instructor! For me it was and still is a win-win, because I get paid to workout, I get to make up my own choreography, and I get a great workout too. I went on to the Zumba website and looked up a training that was close to me and off I went," she said. "I spent a day with about 50 other soon-to-be instructors and got to learn the ins and outs of being a great Zumba instructor. I have been a licensed Zumba instructor since February of 2011."
Zumba seems to accord with both wellness and fitness as a good outlet for stress relief with an uplifting program. "I try to balance each playlist with some high energy mixed in with a couple of strength songs," Gladu described. The latter may be somewhat unexpected, even for those who exercise regularly, given its 'party' misconception. A 2011 article by the New York Times noted that Zumba "classes are fast-paced and can be quite strenuous. Few participants leave without being drenched in sweat and at least a little bit out of breath." That being said, one should not be dissuaded.
Gladu is reassuring that her class is "open to all levels of fitness and ability." It also likely depends on how much effort you want to put in. You can easily step out of a song and take a break as needed, and going at your own pace can help prevent injury. Gladu herself also tries to facilitate this by building in warm up and slow down stretch songs. The greatest benefit of Zumba, however, and why many people seem drawn to the exercise, is psychological. Gladu observed that "I can tell when [people] had to drag [themselves] to class because they just didn't feel like coming, but they did, they danced and now they feel great! To see everyone's smiling faces in each of my classes makes me so happy; I just can't help but to feel great after class."
The happiness that a Zumba class can bring plays an even more important role in stressful environments like our own. "I feel like Amherst College students put a lot of pressure on themselves and really need a resource to come to and lose themselves in the music and to just dance it out," said Gladu. Gladu's own good humor and attitude during every session is not lost throughout the sessions. She still keeps in touch with many students she taught in Zumba. "I never realized the impact Zumba had on the Amherst College community until I hear from others stating they look forward to my classes every semester," she said. "It's extremely heart warming and [I] think about it in every aspect in my daily life."