News
Accessing Amherst: Stories of Current Admissions Pathways
In the second installment of this series, The Student explores how diversity initiatives have constructed today's student body. Several student stories shine light on the way that students and their experiences with the college process relate to the institution's changes in access over time.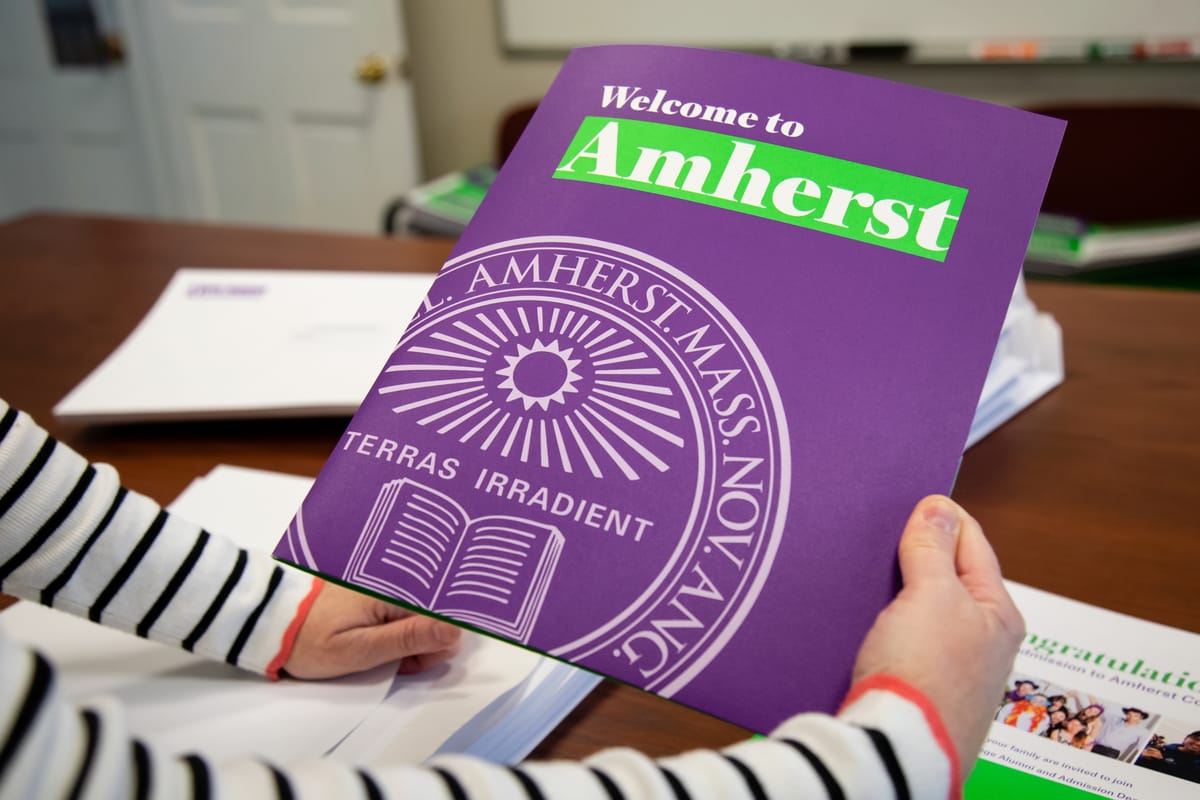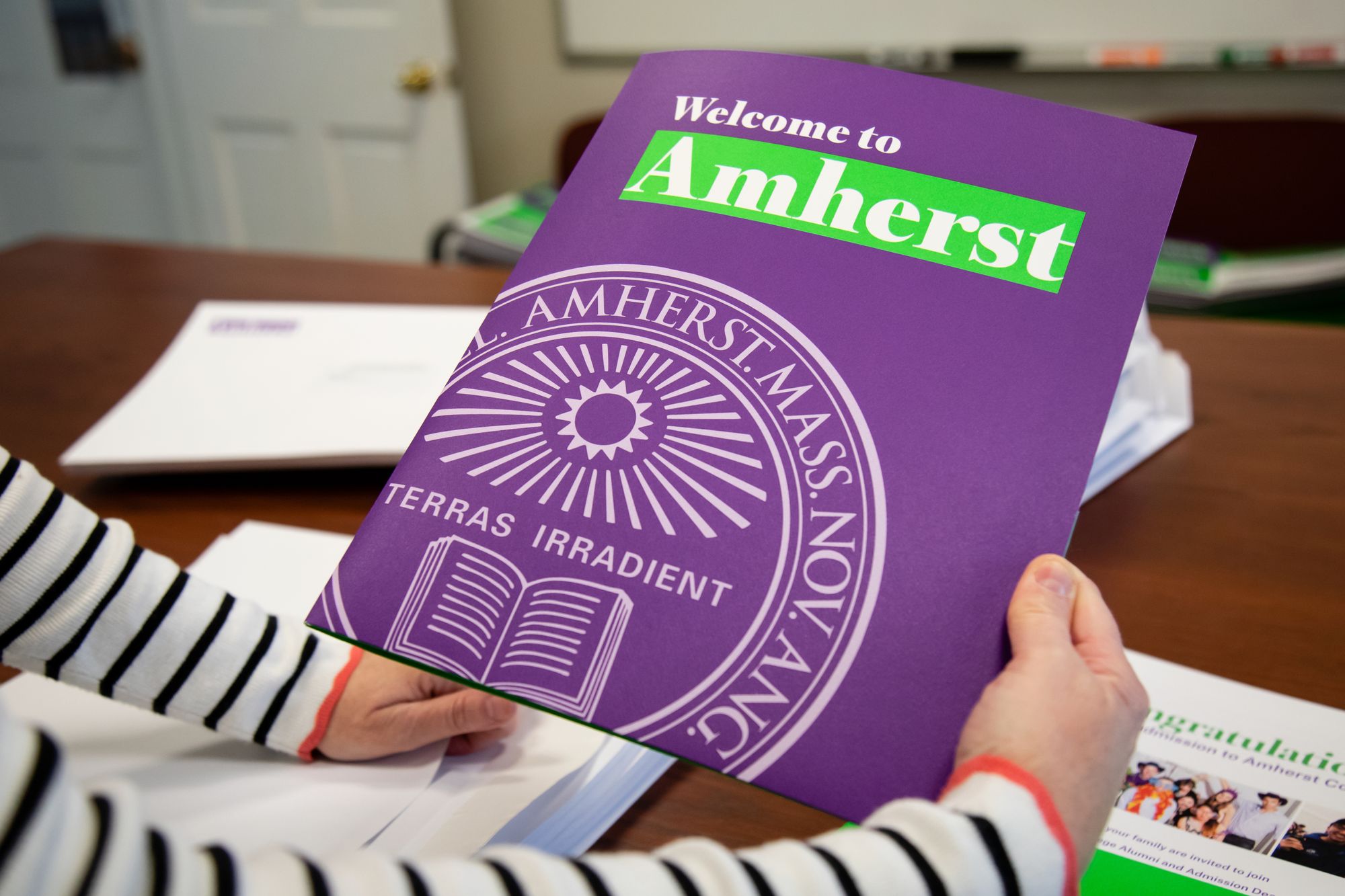 How do students make their way to Amherst College? Last week, The Student explored some of the history of Amherst's initiatives to reach more students, communities, and high schools, particularly ones with less historic access to higher education. This week, we take a look at how those diversity initiatives have evolved to construct today's student body.
The Student spoke with the admissions office and heard the stories of current students' pathways to Amherst. These pathways involved Amherst's outreach efforts, various forms of community and institutional support, and a range of other factors. These stories, which are only from domestic and current students, are only a few of the 1,970 that make up this campus. They are not intended to represent the entirety of any demographic at the college, nor to cover the vast range of student experiences that exist on this campus.
Rather, we hope they shine light on the ways that individual students and their experiences with the college process relate to the institution's changes in access over time. These stories continue to be a shaping force in students' perspectives once on campus.
"Indigent Young Men": A Mission
According to Dean of Admissions Matt McGann, cultivating a diverse population of students is "an institutional priority" of Amherst's. McGann, in fact, referred to the quote that opened last week's Accessing Amherst article: Amherst was founded to serve "indigent [poor] young men of piety and talents."
"Amherst has that in its DNA," McGann said in an interview with The Student. "It has strayed from that at times in its history, but I think in more recent history it has embraced some of that founding idea, and broadened it for the modern age."
Amherst's status as an "elite institution" comes from its acceptance rate, which has dropped to a staggeringly low 7 percent for the class of 2026, and its set tuition cost of $80,250, which in many cases the college covers based on demonstrated need. Currently, 49 percent of the student body at Amherst self-identifies as domestic students of color. Fifty-seven percent of the student body receives financial aid, and 15 percent are first-generation college students.
Diversity is complex, as our graphs last week indicated. They showed, for example, that while the populations of students on financial aid and students of color have grown over the past few decades, the proportion of students coming from public high schools has declined.
Anthony Jack '07 has extensively researched and documented this pattern, showing how racial and economic inequity in higher education, particularly at elite institutions like Amherst, runs deep. In his book "The Privileged Poor," Jack documents the way that elite schools attract a disproportionate number of first-generation, low-income (FLI) students of color from elite private high schools, as opposed to public ones. "It is this tiny slice of a slice, I discovered, who are primarily admitted to selective colleges. Over 50 percent of the lower-­income black undergraduates who attend elite colleges get ­there from boarding, day, and preparatory high schools," Jack writes. Throughout the book, Jack refers to this broader idea as the concept of "the privileged poor."
The Student attempted to obtain more specific data on this intersection of school type, income, and race at Amherst; for example, what percentage of federal Pell grant-eligible students attended public school. However, because Amherst admissions is need-blind, obtaining this data would require merging information from the Offices of Admissions and Financial Aid, an action the offices said they were unable to undertake.
The broader trends that Jack identifies, though, are highly pertinent to the Office of Admissions' efforts to diversify.
Admissions' Approach
According to Amherst Admissions' website, the college takes into account the "rigor of secondary school record," academic GPA, essay, recommendations, extracurricular activities, and the talents and personal qualities encompassed in an application. As of 2020, the college is standardized-test-optional.
Over time, the college has attempted to diversify by expanding financial aid access, increasing the hiring of faculty of color, and, most recently, ending the practice of legacy admissions. But a large factor in diversification is expanding the range of students who hear about Amherst in the first place, and those who will engage with and apply here.
A 2021 article published in Inside Higher Education discussed McGann's outlook on the importance of this outreach: "A key mistake of colleges with strong academics is believing that good students will find the college," the article reads. "It's got to be very intentional," McGann said at the time.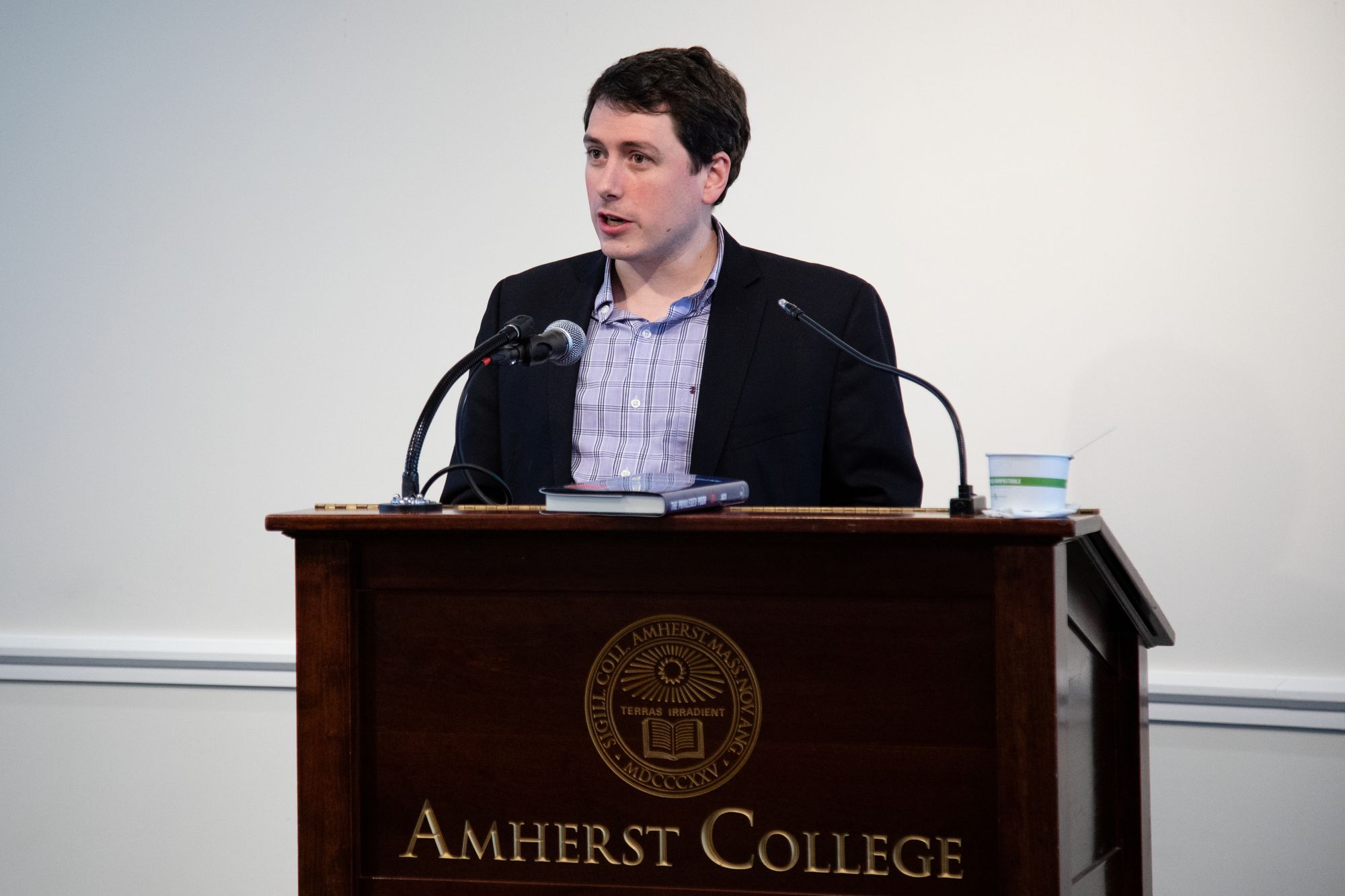 "There are really two ways that students can gain access to information about Amherst," said Associate Dean of Admissions and Coordinator of Diversity Outreach Mandy Hart. "One is by [students] coming to us … And the other way is us going out." The former of the two paths is often the one taken by students who have spent their lives expecting to attend a four-year institution, who may live in communities with primarily college-educated adults, and those who attend high schools with robust college advising and resourcing.
The latter of the two approaches, in which the college reaches out, is the one that has been developed over decades in order to diversify Amherst's student body. "We … visit high schools and organizations and community colleges, and other places where there might be pockets of students that are looking to what they are going to do for their next step in higher education," Hart said.

The College's Initiatives: Amherst "Going Out"
Zoe Callan '25 was a junior in high school when an Amherst admissions officer visited her Native American charter school in Albuquerque, New Mexico, where, she explains, "there really isn't much of a presence of Amherst." She thinks that Amherst likely decided to visit because "the goal of my school is to prepare Native American students for college."
Callan recounted that she learned about Amherst because of this outreach, and through College Horizons, a college preparatory program for Native American, Alaskan Native, and Native Hawaiian students that Callan was part of.
The fall after Amherst's presentation at her school, Callan attended Early Opportunities for Native Students (EONS), programming that Amherst hosts for prospective Native students. Looking back, she said that "the EONS program was definitely instrumental, because I got a little bit more of a sense of what the community, particularly the Native community, at Amherst was like."
EONS is a part of the Access to Amherst (A2A) weekend, one of the college's main initiatives to do the outreach that Hart referenced. A2A, formerly known as the Diversity Open House (DIVOH), is held each fall as an all-expenses-paid fly-in program for prospective students to visit campus and speak with current students, staff, and faculty. According to Amherst's website, all prospective students may apply to A2A, but the college prioritizes invitation of students from historically excluded groups, particularly by race and class. Once on campus for A2A, students engage in programming and spend time talking to student Diversity Outreach Interns.
The EONS program became part of A2A in 2014. According to the college's website, EONS "offers participants all the activities and opportunities of our A2A program, but with the added benefit of additional activities" tailored to Native students. Opportunities include spending time with the Amherst College Native and Indigenous Student Association (NISA), and learning about the college's Kim-Wait/Eisenberg Collection of Native American Literature.
Discussing the programs, Dean of Admission Cate Zolkos referenced research that suggested that "students who are coming from backgrounds where college isn't a tradition tend to under-match," meaning that they do not apply to schools like Amherst, even if they have a good chance of being accepted. According to Zolkos, this is primarily due to perceived and real cost, in addition to cultural barriers.
High school students must apply to attend A2A — the application includes a short essay, which may then be used for the Common Application as well. "[Students] do have to do a little bit of work to apply, but they can be really helpful in determining a college that's a good fit for them," Hart said. According to Zolkos and Hart, the program used to receive about 200 applications for 70 spots; currently, the college receives 600-800 applications per year and has around 200 spaces in the program.
Zolkos spoke to the importance of the program as being not just about exposure to Amherst, but to crack open the mystique around the college process in general. "We want students to come to Amherst, have a great time and want to come to Amherst," she said, "But we also want to expose individuals who might not have had that opportunity to answer a lot of questions and take away the mystery and… trepidation about applying to or attending an 'elite' college."
Callan said that much of what she liked about the EONS program was the contact with students. "I got into contact with one of the students here… I messaged her and asked for help with stuff," Callan said. "She was definitely an instrumental piece in me coming here."
Sirus Wheaton '23, a Diversity Outreach Intern, discussed the interns' role in A2A: "We show them why we chose Amherst … we just talk very frankly about our experiences with our held identities at Amherst," he relayed. Wheaton also highlighted the role that interns are unofficially expected to play in doing outreach in their own communities. "They do try …  to reach some different schools," Wheaton said, "But I think a lot of [outreach] is left to the labor of students. Like if someone … worked really hard and 'made it out the mud' or whatever, and is at Amherst, now, if they were a Diversity Intern, it would be told to them that 'you need to inform your own community.'" This follows a longer tradition of Amherst's diversification coming from Black students and alumni doing outreach in their own communities, which we documented in last week's article.
Both Wheaton and Jeanyna Garcia '23, who also works as a Diversity Outreach Intern, emphasized that interns themselves do not do much outreach in an official capacity; rather, they engage with students who have already been accepted to A2A or are engaged with Amherst. For this reason, she said, the job is "more accurately speaking, a diversity marketing intern job." Garcia also spoke about the value of talking openly with students. Interactions, even like students asking, "Does the chicken really taste that bad?" she recounted, "each makes a difference."
Garcia herself learned about A2A while attending public school in Manhattan, where she was part of a community based organization called Minds Matter New York City. Minds Matter aims to "get public high school students into these really competitive colleges by offering mentoring services," as Garcia described it. It was through a college trip organized by Minds Matter that Garcia first learned about Amherst.
Amherst connects with community-based organizations (CBO) like Minds Matter to inform students about programs like A2A. Hart explains, "There are lots of guidance and support programs out there that are designed for all kinds of students, but they predominantly work with low-income students, those who are the first in their family to go to college, students who are underrepresented in predominantly white institutions."
After the Minds Matter trip, Garcia applied for and attended A2A in the fall of her senior year of high school. She recounted that getting to meet and speak with Diversity Outreach Interns was one of the highlights of her experience. "I was able to talk about identities as a first-gen, low income student from a Latinx background … for the first time," she said.
During the same fall, Garcia completed college applications, FAFSA, and CSS profiles. She also applied to Questbridge, which matches FLI students with colleges and universities that can commit to paying their full tuition; students are matched based on the school's interest and their own ranking of where they would like to attend. In December of that year, when Garcia got her letter of acceptance from Amherst through QuestBridge, she described thinking,, "Oh my god, I actually matched to this school … It was so amazing."
The summer before she started at Amherst, Garcia attended Summer Bridge, which is, according to the college's website, an "invitation-only summer program that empowers FLI students to navigate the educational opportunities at Amherst College." The program aims to build community among FLI students, faculty, and staff. It also aims to prepare students both academically and culturally for life at Amherst.
Garcia now looks back on the program as an important part of her transition to college. "It reinforced for me that I had the skills necessary to thrive in Amherst because I felt a lot of imposter syndrome … Then attending Summer Bridge kind of debunked all that, like 'no, Jeanyna, you actually do have the skills to succeed.'"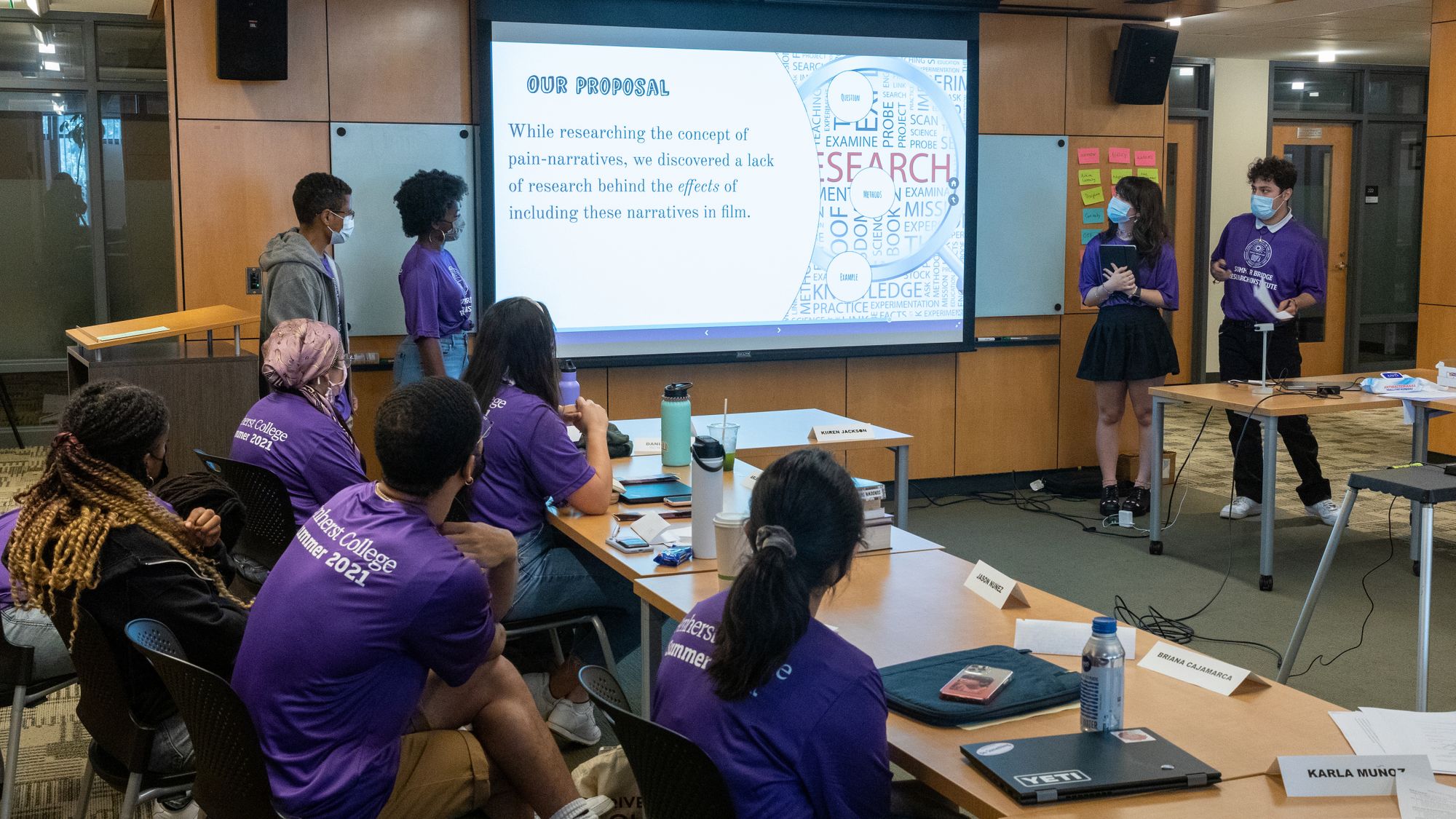 Beyond their communication with CBOs, Hart and Zolkos spoke on some of the admissions office's approaches to reaching different geographic areas of the United States. Hart said that the office divides responsibilities regionally using "geo markets," a standardized way to break up the country and world — New York state has 30 total geo markets, including nine in New York City, whereas the state of Montana has two. Every fall, admissions officers conduct outreach by traveling to different high schools around the nation.
Hart and Zolkos said that they know it will never be possible to reach every high school or student in each region, but that their goal is to make an impact in the places they can reach. Zolkos spoke about the experience of visiting high schools: "When we're traveling, going to four high schools a day, there's nothing exotic about it, it's exhausting," she said. "But it's really such a privilege to be kind of immersed, even temporarily, in the culture of the place, and learn about the place, and learn about what the challenges are, what the stresses are, what the exciting programs are. That is the context that is really helpful in holistic review."
Community-Based and Institutional Bridges to Amherst
Awareness about Amherst often comes to students from other primary institutions in their lives.
Some of these may be programs that provide support to FLI students. Jaden Richards '25, who is from the Bronx, participated in one such program, Prep for Prep, as a student, and later worked there as an advisor at the end of high school.
"I come from a community of people who have not previously lived in America, and just don't have much familiarity with the world of elite institutions," Richards said. A family friend who had heard of Prep for Prep recommended the program to Richards when he was in fifth grade, and asked his public elementary school to nominate him to take the program's entrance exam.
Richards and a group of around 3,000 other students of color took the exam in the cafeteria of the Trinity School, a private school in Manhattan. Six hundred of the 3,000 were then selected to be interviewed, IQ tested, and recommended by their public school teachers — ultimately, around 125 children are chosen per year. "For two summers, and one school year … I was essentially doing schoolwork … It was like they were teaching you how to do the work that you would do at an independent school, which of course prepares you to do work at a college," Richards recalled.
Richards described Prep as "a giant weed-out program." Throughout the course of the program, he said, dozens of students "simply cannot continue" due to the rigor of the curriculum. After completing the preparatory component, Prep for Prep students are guaranteed admission to one of over 80 private day and boarding schools, which will also offer need-based financial aid.
"The assumption is that by making it to the independent school, that you will essentially be self-sufficient from that point on," Richards said. That being said, Prep for Prep continues to provide support to students once they reach that point; this support includes working with a Prep for Prep college counselor, in addition to the college support available at the independent high schools.
In contrast to his home community, students at Richards' private high school were very much aware of Amherst. In his words, "Kids there are particularly ambitious, so some of them might have heard of Amherst [but] most of them didn't care for it. They were shooting for the 'bigger names,' so to speak."
Richards added Amherst to his college list at the suggestion of his Prep for Prep counselor, who highlighted the college's generous aid and their "good relationship with the Prep for Prep program." McGann noted that in 2021, Prep for Prep was the "leading" CBO in terms of quantity of incoming students enrolled.
"Prep is kind of like Consumer Reports, like it's giving this stamp of approval on kids … I suppose Amherst will look at the fact that a kid has done this program and is getting support from the program, and will see that as a guarantee of their qualifications," Richards explained.
As for Amherst's role, Richards questioned that the college's relationship with Prep for Prep qualifies as "diversity outreach." Referring to the "outreach" component of the phrase, Richards highlighted that it may not be necessary other than to "encourage students to apply because [they] want more," since many Prep for Prep counselors are former college admissions officers themselves, and schools like Amherst are widely known at the private schools that students attend. "You're not reaching out to people who didn't previously know about Amherst," he said.
In response to the "diversity" component of the phrase, Richards said, "Yes, you're getting students of color, but they're a very particular type of student … And they come from a very unique circumstance that doesn't necessarily reflect the backgrounds of most people who look like me."
Speaking from the perspective of a Diversity Outreach Intern, Wheaton brought up Tony Jack's work in thinking about the ways in which students tend to find out about Amherst, often through programs that they are a part of such as Prep for Prep. "This is kind of like the question of the 'privileged poor,'" Wheaton said, "Where it's like, people are in these underrepresented groups, but some of them still have access to these … organizations … a lot of our outreach is through these groups."
Other students also spoke about how private schools, on their own, can by nature provide students more access to a school like Amherst. Carter Hollingsworth '25 attended a private high school in Houston, Texas, in an area with "very wealthy people." She herself was from a different neighborhood, and attended public school up until high school. "I'm 20 minutes away from the school that I went to, really not that far, [but] the worlds of people, knowing the differences, is crazy."
In Hollingsworth's home neighborhood, which she described as predominantly college-educated, college was usually "geographically based." Most people from her neighborhood attended school either in Texas or more generally in the South. "If they went out-of-state, it's like, Ole Miss, Alabama, maybe a Colorado here and there, but that's pushing it," she described.
In her neighborhood, her friends and family were confused about where she was going to college. She described a summer crawfish boil with old neighborhood friends — people would ask where she would be attending college in the fall, and would "have no idea where I was going." In contrast, Hollingsworth said that teachers and parents at her private high school frequently recognized the name of Amherst; many of them had gone to schools in the Ivy League and were aware of out-of-state schools such as Amherst.
"If I hadn't gone to private school, there's no way I was going to go here," Hollingsworth said. She ended up hearing about Amherst and other NESCAC schools as she navigated the process as a soccer player.
Mase Peterson '23E, a transfer student from Kennebec Valley Community College in Central Maine, learned about Amherst through a different pathway. They participated in a program at Vassar College — Exploring Transfer (ET) — a five week intensive designed to connect community college students with elite institutions. As Peterson put it, "We bust ass for five weeks. And if you do well, you can put that on your transcript. Then, that's what gets you noticed by institutions like Amherst. It really is a springboard for community college students to enter into the elite sphere. The first time I even heard about Amherst was through this program. I didn't know that it existed before. Once I found out about it, it pretty much opened the floodgates to this entire new category of what education could be."
Amherst has a connection with ET as a means for connecting students from community college to the institution. Peterson noted that "the transfer acceptance rate here is less than 4 percent," and emphasized that while not a "golden ticket," "Amherst loves ET Students … at least in my knowledge, over the three or four years before Covid, I know of at least one student from each summer [program] that has gotten into Amherst."
Other Navigations
For some FLI students who did not encounter private schools, specialized programs, or Amherst's own outreach, a wider network of support and local resources helped them to get here.
Twelve miles away from Hollingsworth's high school, also in Houston, Maristhela Alvarez '25 first came into contact with Amherst on a trip during the spring of her junior year of high school. The trip was open to anyone in the top 10 percent of the class at Alvarez's open-enrollment charter school, which served predominantly low-income students. In Alvarez's words, "It was an exposure to college[s] out of Texas," many of which she and her peers had never heard of.
"My community is … kind of in the dark about what's out there, just because it is a bunch of people that are experiencing some of the same … financial struggles," she described, "We don't really realize what opportunities we have." She continued, "We weren't expected to apply to the schools [we visited]." Her high school required students to be accepted into at least one four-year institution to graduate, and most students were encouraged to apply to local universities such as Texas Southern and the University of Houston Downtown — "[they] can pay for most of your stuff, and it's close to home," Alvarez noted.
The only other contact with out-of-state colleges that Alvarez had was at a district-wide College Fair, which was also limited to the top 25 percent of the class; schools would send representatives to talk to students about their respective institutions. Alvarez mentioned that advising on out-of-state schools was also more limited. From her perspective, "Amherst didn't really … do anything to put themselves out there in communities that they really should be reaching out to." The spring trip helped make those connections instead.
"I knew I wanted to go to college," Alvarez recalled, "But I didn't think I'd come here … I feel like I also underestimated myself a lot, though. I wish I applied to more out-of-state schools." She recalled similar feelings throughout the process, expressing that she doubted whether she was "adequate" enough to go to an out-of-state school. The elite images of schools such as Amherst felt barring. "I didn't think I would belong there," she said, "It wasn't that Amherst wasn't welcoming. It was just like, I couldn't imagine myself going to that school with rich people."
Alvarez was in 11th grade when her physics teacher brought up the QuestBridge program. Encouraged by her physics teacher and other staff at her school, Alvarez applied to QuestBridge. She said that she "would have never" ranked Amherst had she not been on the trip. "Nobody knew what Amherst College was," she described. "Everybody was like, 'What is that?'"
Alvarez was eventually matched to Amherst through QuestBridge, becoming the first QuestBridge scholar from her high school. QuestBridge continued to provide support after her acceptance, such as hosting panels, and Alvarez said that the incoming class of Amherst QuestBridge scholars made a group chat over the summer.
She also participated in Summer Bridge, and noted her appreciation for the program in both the academic and cultural sense, as well as for the community that it gave her. "I'm glad that I found the group of people during Summer Bridge who were people of color, low-income first-gen," she said, "Because, I want to say it's like home."
Alvarez noted that Amherst could make the admissions process more accessible by "putting more resources out there for parents who obviously don't come from college backgrounds or privileged backgrounds." She specifically suggested that Amherst "start putting things out in different languages because it's hard, being a first-gen student translating all the paperwork to your parents who … don't even know how elite the college is."
Debra Thayer '24 is another student who recounted navigating the process without concentrated institutional or community support. Thayer described themself as being from "Minnesota, out in the boondocks, the middle of nowhere." They first learned about Amherst through "the Internet" — Thayer described googling "D3 track school" and "elite???" which yielded Amherst as a result. "I really wanted to go somewhere that was academically driven," they said.
Thayer said that in their home and school communities, "nobody had ever heard [of Amherst]. I think it's definitely small public school culture. The counselors do nothing to help — if anything, they're a detriment." As a FLI student, Thayer said that their family did not have any further knowledge of Amherst, either. Even now, Thayer said that old classmates "send me TikToks of UMass, and they're like, 'oh, my god, your school.'"
While there was some college outreach at Thayer's school — "college counselors [came in] from other places," none of it was from schools similar to Amherst, even including Carleton and Macalester College, both of which are small liberal arts schools in Minnesota. Thayer participated in a CBO called Trio Upward Bound, which helped pay for application fees and other resources such as ACT prep.
After completing the application process almost completely independently, Thayer committed to Amherst. "I found out so many things when I came here," they said, "I didn't know we had an open curriculum. I showed up, and I was like, cool."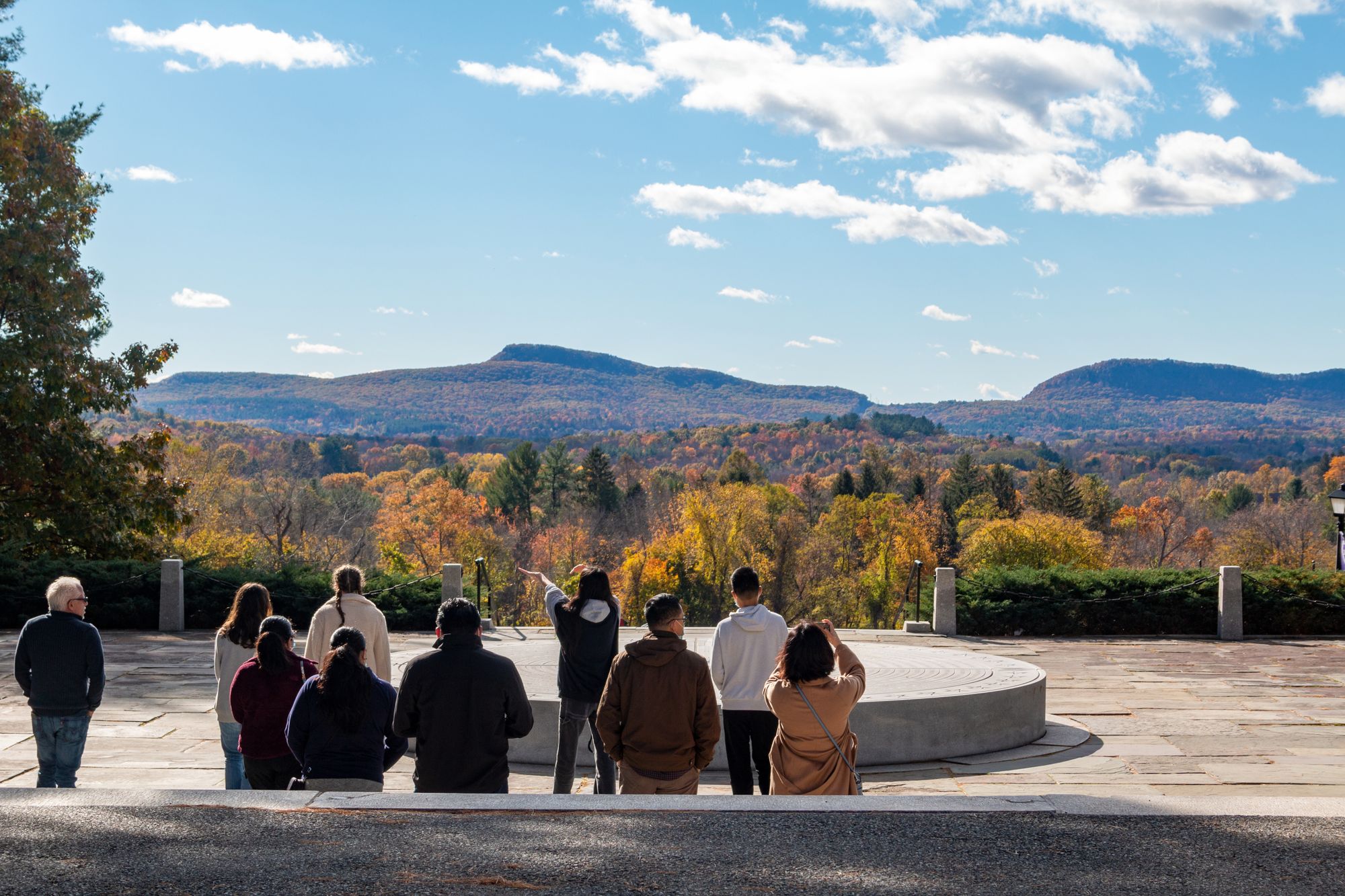 Pathways to Positionality
Richards commented that, "The thing that people say a lot here is, 'we're all here anyway, so it doesn't really matter.'" Richards, and the others interviewed for this story were united in the opinion that indeed, it matters how they got here. They each reflected on the way that their pathways to Amherst feel relevant to their positionality now that they are here.
"I don't really want to be congratulated or anything, I don't want a pat on the back," Richards said, "But I've spent my life working to get to this place. And the education and the value of that education means a lot more to me than some of my peers at Amherst who expected an acceptance letter instead of hoping for one."
Richards also expressed his opinion that the differences in people's journeys of getting to Amherst underscore elements of the social and academic life here. "Some people just don't really understand how valuable an opportunity this is, and have no desire to take advantage of it," he expressed, "When looking at who is … most involved in the community … it is probably more diverse than the college itself."
Echoing Richards, Alvarez said, "Sometimes I do feel like the way that I got to college is kind of diminished … I put so much blood and sweat into shaping my portfolio to look a certain way … using myself in the process … [to] go to a school where … I know damn well that after I graduate, I have a good chance of getting into med school, or getting a job right after college."
Also similarly to Richards, she expressed that the different stakes of a college education for her set her experience apart from some of the wealthier students she has met: "I just need to break the cycle … I'm going to college for my mom, like, as much as it's for me, it's for her … and for my siblings … It's just all the hard work I put into proving to myself and my family that it's worth it."
Reflecting on their path to Amherst, Peterson said, "I was just lucky to have had opportunities at my disposal to take advantage of. I did work hard," they said. "And I did try to maximize my potential in many facets of my education, pre-Amherst, but I think really … the thing that I keep grappling with since being here is that it really wasn't about my hard work. It was primarily about access."
Upon arriving at Amherst, Peterson said, "I suddenly realized that my relationship with the institution was different from everyone else's. Not just because of my age, but because of my experiences before Amherst. I realized that a lot of people here … the majority, it feels like, come from backgrounds of wealth and of access that I have never, ever seen."
This perception began what Peterson called a "gradual whiplash." "I suddenly realized that all the things that I had been fed about my education, what it was supposed to be, to be worthy … I realized that so much of it was wrapped up in this capitalist box of achievement, of grind, of individualism. And I didn't know what to do with that. I still don't know what to do with that," they said. "I think that we need to rid ourselves of this illusion that Amherst is… going to provide. That Amherst is going to be the solution to all of our problems when we come here. Amherst is a singular moment in time."
Other students also spoke about the ways that pressure to succeed contributed to their experiences now. One student who completed the Prep for Prep program, who preferred to remain anonymous to preserve her relationship with the organization, mentioned that despite the immense help the program provided, its intensity created a pressure that stays with her to this day. She noted the high-stress environment of the classes and the emphasis the program placed on persistence — according to her, the names of the students who dropped out of Prep for Prep were read to current students on a daily basis.  "There's a certain fear of … not being able to live up to the expectations that we signed up for when we were 10 years old," she said, "There's this feeling that you have to perform, you have to succeed, and if not, then … you're just not valuable anymore to the program, and also just to society."
Garcia also reflected on the change in intentional outreach from the college once accepted. She calls the period of outreach the "honeymoon phase of Amherst, because it's when Amherst is investing the most in students." She continued, "I think the honeymoon phase stops once these marginalized students are selected. Once they bring them onto this campus, the outreach or investment in the students, kind of starts lacking… I really think that's a gap that Amherst should be filling in."
She recounted that after being accepted to Amherst, an admissions officer told her that all QuestBridge match students, including herself, could not receive funding to travel to attend admitted students' day, as they had already matched with Amherst and the event was intended for students still making their decisions.
Garcia believes that "Just because we are already [accepted] does not mean that we are suddenly just another batch of students that add up to … their diversity stat reports," she said. "Amherst should never stop investing in its students, especially its first-gen, low income students of color."
Additional research contributed by Margo Pedersen '25.