Arts & Living
Black Art Matters Festival Showcases Black Creativity
The sixth Black Art Matters Festival celebrated the work of Black student artists over two days, spanning musical performances, poetry, dance, and visual art exhibitions.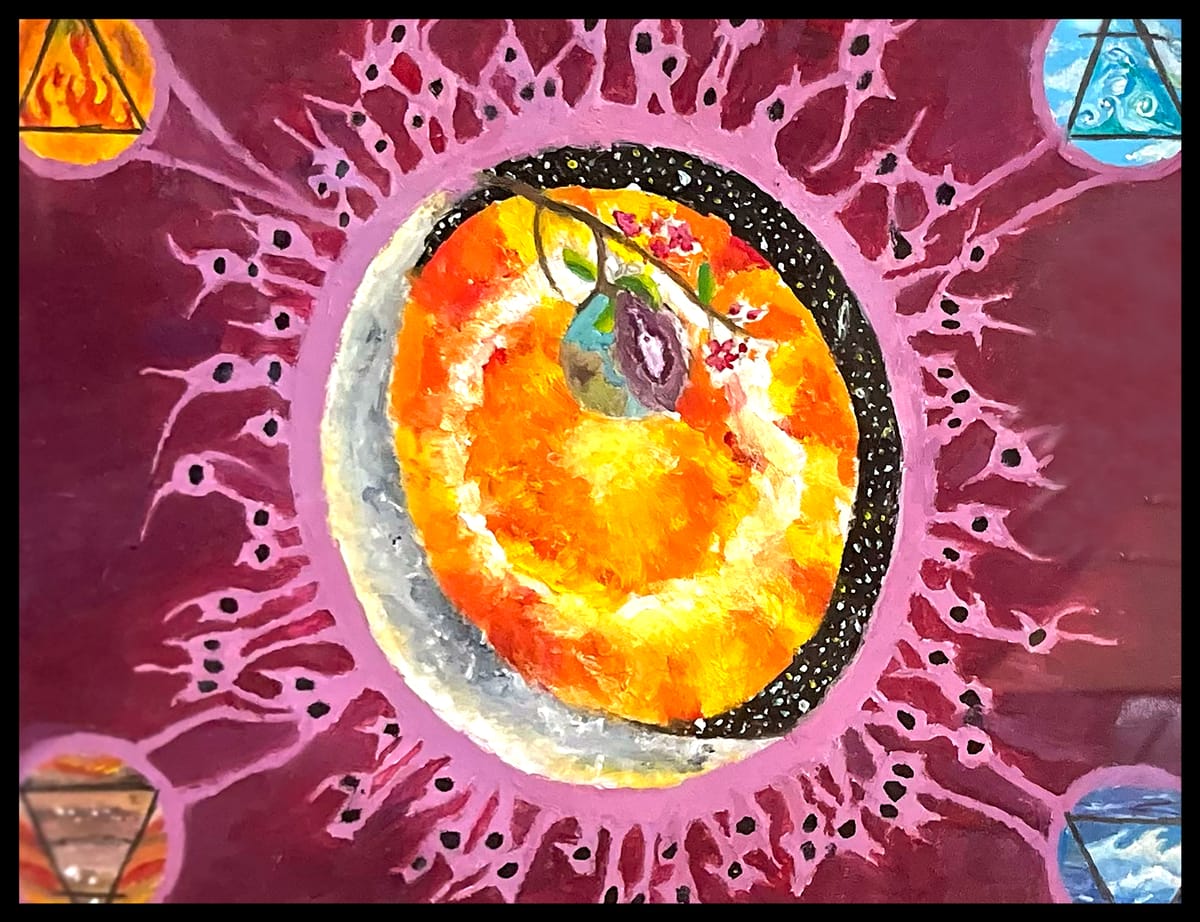 The Sixth Annual Black Art Matters (BAM) Festival ran from March 5, starting with live performances, until March 7, when the visual art gallery opened. BAM showcased many student talents this year, from painting and drawing to singing and poetry. Like the years before it, this year's BAM Festival is a reminder of the wide ranging experiences of Black students on campus: it showcases our pain and our beauty as it centers us.
On March 5, the Eighmy Powerhouse was filled with faculty and students alike, eager to watch and celebrate Black student art. Energetic moderators  Grace Nyanchoka '24 and Abadai Zoboi '24 kept the showcase flowing with their wit and humor.
DASAC (Dance and Step at Amherst College) kicked off the performances with a sensual  rendition of Aaliyah's "Rock the Boat." The individual showcases followed, starting with Kiiren Aamer '24, who smoothly rapped an original piece, "Poetry," over a J. Cole-esque beat. Aamer noted that the song is one of his favorites from his catalog. Next was Gregory Smith '24, who skillfully performed his own song, "Rude Boy Ting." His performance was reminiscent of Billie Holiday's voice and musical cadence, with strong, grim vocals in contrast to the melodic guitar. Smith's electric guitar was accompanied by Kenny Hilario's '24 acoustic guitar, whose strumming resonated in my heart.. Throughout the night, I was in awe seeing so many Black creatives on stage. This had been the first time since last year's BAM that I was able to see Black artists come together, on such a major platform, to share their powerful beats, melodies, and freestyles. Aside from solely racial struggles, I loved being able to see Black people share their individual emotions and souls.
Next up was Ernest Collins '23, who read two poems about rebirth. Collins shared that just like how winter turns to spring, "every living thing has a purpose," and even in our worst seasons, we can all find ourselves. Mel Arthur '25, one of the coordinators for the festival, followed by reading their poem titled "Lady in Blue." The piece took inspiration from Ntozake Shange's "choreopoems," which center women of color's frustrations about not being cared for sufficiently. "Lady in Blue" was accompanied by a dim, blue light in the Powerhouse to set the ambience for the piece. The evening continued with poems from Victoria Thomas '25, who explored what it's like to be a Black lesbian woman in a reinvention of Nancy Holt's television broadcast "Boomerang." Through echoes and the weaving together of poems by both Thomas and other poets, Thomas powerfully stated, "The only time I feel inside is when I'm in a community of outsiders."
The night continued with melodic songs from Maya Roberts '23 and Gabriella Moore '23, who provided background acoustic sounds to Patrick Smith '23, and more performances from Aamar, Smith and Hilario. The night was filled with emotion, heart, and soul from all performers. Last year, visual artists and performers both compiled multiple clips of their pieces into one video that was presented to the audience. This year's festival separated the BAM live performances and visual arts showcase, which allowed artists more time to express themselves and for audience members to more fully appreciate each performance.
This next stage of the festival began on March 7, as the Mead welcomed artists, students and faculty to its BAM gallery. I spoke with Arthur and they explained that they were the one who proposed the idea to lengthen the festival to two days, noting that "usually festivals are multiple days." Arthur wanted everyone to have a chance to share and experience Black art.
At the Mead, there was a mix of photography, drawing, painting, printmaking, and other mediums on display. All artists had the chance to share their inspiration at the opening reception, with many artists mentioning that they were inspired by family and culture. Naila Thevenot '23, for example, showcased her Haitian heritage with a collection of colorful, intricate beading.
Another dominant theme was hair. Angie Camarena '25 reminisced on mornings in the Dominican Republic when her mother combed her and her siblings' hair via expressive drawing. Makayla Boxley '24 and Beluolisah (Bo) Oranye '23 presented Bips by Bo, a barbershop service in partnership with Assistant Professor of English Dr. Frank Leon Roberts. Oranye explained that he sees haircuts as a form of art, while Boxley was invested in showing the care that goes into a haircut and the connection of hair and culture for the Black community.
Last year, I created a piece titled "Roots" that emphasized this same significance of our hair in the Black community. After so many years of struggling to accept my Blackness and all of my features that come with it, being able to fix my hair and make art about it helps me feel beautiful. My piece this year continued with the themes of roots: I incorporated my twin sister holding my twin nephews in an expressive charcoal piece. This is what Black art is about, to me: beauty and appreciation.
There were more art pieces presented throughout the night by Alana Bailey '23, Zora Duncan '23, Ayo Eniola '24, Maya Foster '23, Kendall Greene '24, Tiia McKinney '25 (myself), Osasikemwen (Sike) Ogieva '25, Zachary Rivers '24, Maëlle Sannon '24, Jacinta Smith '25 Neviah Waldron '24, and Abadai Zoboi '25. All of these pieces explored how Black artists see the world and the emotions that motivated their artwork. Some of the artists submitted pieces last year, and some artists were new to the gallery, but they all explained the soul behind their art pieces and their inspiration for submitting to BAM.
Arthur emphasized that BAM provides a space for Black creators to express themselves. For Arthur, "[they] came to Amherst seeking a community of artists, specifically Black artists, who all come together to create and share work together." Black Art Matters is one way to actualize these hopes, creating a community on a campus where many Black artists can often feel "scattered." Black Art Matters helps Black student artists feel more seen, comfortable and connected in a space that honors our uniqueness.
While this is the sixth year of the Black Art Matters Festival, it will certainly continue to grow. Arthur imagines future iterations of the festival inviting Black creatives to campus to host workshops and share their art, such as poets like Danez Smith and Ross Gay, who are some of Arthur's inspirations.
More than a show and tell, BAM is a collective; it is a community. For me, BAM is an appreciation of many different styles of art forms. It means being able to express myself as an artist with other people who can, in some capacity, relate to my experiences. At the end of the festival, when I was embraced by my art teacher and other Black artists, I was reminded of the heart and soul of BAM.