Homecoming
Building Bonds and a Coaching Career — Alumni Profile, Brooke Diamond O'Brien '03
Brooke Diamond O'Brien '03 has built her achievement-packed coaching career on both her love of sport and her desire to connect with people both on the field and off.
When it was announced this June that Brooke Diamond O'Brien '03 would return to her alma mater to take the position of head women's lacrosse coach at the helm of a team that had done so much for her development as a person, it felt like a full circle moment for her. But that journey was not completed overnight. Though the first thing that pops out when reading through O'Brien's long list of accomplishments is her athletic career — she was a three-sport athlete at Amherst and eventually found her way into coaching — O'Brien is not just an athlete or just a coach. She has always known that helping people was her calling, and Amherst was just one piece of that puzzle.

An All-Around Athlete
While O'Brien's path to Amherst was windy, it was certainly short — she grew up in the Pioneer Valley only 30 minutes south of our campus, in the town of Longmeadow, Massachusetts. Despite growing up in what she described as a "really big lacrosse town," O'Brien didn't even pick up a lacrosse stick until high school, after she had left the Springfield area. She entered her freshman year at The Loomis Chaffee School in Windsor, Connecticut, playing soccer at the club level as a goalkeeper and basketball in the winters during the offseason. It was through soccer that she made her first contact with Amherst, through the women's soccer program and then-head coach Michele Morgan.
From talking to O'Brien, it seemed like Amherst was the perfect fit. Like many student-athletes today, she knew she wanted to go to a school where she could receive a great education, while also getting the opportunity to play the sport she loved. And, coming from a small high school environment like that of Loomis Chaffee, she knew she wanted a college experience similar to that of her high school, where she thrived. To top it all off, as a local kid, she already knew a few of the women on the team. Additionally, she would have the opportunity to get on the field right away, as the team needed a goalkeeper, and her parents would only be a short car ride away. It's no wonder that, for O'Brien, Amherst "checked all the boxes."

From Soccer to Lacrosse
While she didn't anticipate it coming into high school, it was her experience playing goalkeeper in soccer that would jump-start her career in athletics. The Loomis Chaffee girl's lacrosse team needed a goalkeeper. With her experience playing the position in soccer, and all the similarities between the position in the two sports, O'Brien not only fit the bill — she excelled. But despite her up-and-coming lacrosse career, her relative inexperience playing the sport meant that she spent her college recruiting process looking to play soccer, not lacrosse.
So, it was at Amherst that her lacrosse career found an unexpected footing. "I think, late in the spring, [then-women's-lacrosse-Head] Coach [Chris] Paradis reached out and said, 'Hey, I heard you're coming to Amherst, and we'd love to have you come out for the lacrosse team,'" O'Brien said. "And that was exciting. I thought, maybe I'll play a couple years of lacrosse; I wasn't thinking lacrosse [would be] my main driving [sic] sport at that point."
And, although she got a late start, and her soccer career was laden with success — she started in goal right away and reached the NCAA National Championship game with the team in her junior season (2001) — it was on the lacrosse field where O'Brien really found her home. During her four years as a member of the women's lacrosse team, O'Brien was a two-time First Team All-America selection and two-time winner of the Kelly Award, given to the Division III National Goaltender of the Year. She was also named the Intercollegiate Women's Lacrosse Coaches Association Division III Scholar-Athlete of the Year and the Division III Women's Lacrosse Tournament's Most Outstanding Player in 2003, when she led Amherst to a National Championship victory.
But despite all of her success on the field, after her lacrosse career ended with that 2003 National Championship win, O'Brien didn't initially return to the field. A psychology and law,  jurisprudence, and social thought (LJST) major at Amherst, she took her liberal arts education and transitioned into the world of finance, where she spent two years working at Goldman Sachs. But despite her good relationships with her coworkers, she longed to connect with people on a deeper level. While working in finance was rewarding, it just wasn't what she was passionate about. And so it was then that O'Brien made a life-altering decision — she left Goldman Sachs and returned to Western Mass., to the place where it all began.

Following Her Gut
This decision didn't come out of nowhere, as her journey to this point started while she was still a student at Amherst. While on campus, she was entrenched in student life at Amherst, both on and off the field. She was a Residential Counselor (RC, now Community Advisor) in both Crossett House (one of the old social dorms) and Mayo-Smith House, which she credits as being one of the best parts of her college experience. Her desire to form relationships with people also showed itself on the field — she was elected captain of not one, not two, but three varsity sports teams: soccer, lacrosse, and basketball, a team she joined as a first-year walk-on once she arrived at Amherst.
These different types of relationships were what she missed the most in the years immediately following her graduation from Amherst, and were ultimately what drove her to the realization that she needed to return to sport, this time, through coaching. "I think [my desire to coach] branches a lot off of my experiences, managing and guiding and helping people in the dorms," O'Brien said. "[It came from helping] to connect them to resources and knowing how to help them have the best experience they can during their time [at Amherst]."
And so, the local girl returned to her roots, applying to and getting accepted into the Exercise and Sports Studies Program at Smith College (which is dedicated to the practice of coaching women's intercollegiate sports), in addition to taking a job as a graduate assistant coach for the Smith soccer team and coaching women's lacrosse under Paradis at Amherst. And while soccer was still her first love, she found coaching lacrosse to be her calling. Lacrosse had been the sport that made her love being a part of something bigger than herself, and she wanted to bring that love to other people. Her reasoning? "It's my turn to start to give back and pay it forward, and start to influence, coach, and hopefully mentor positively the next generation of women," she said.
Over the course of those two years, while learning how to coach at Smith and putting that education into practice with the Mammoths, O'Brien realized that coaching, especially at schools like Amherst and Smith, was what she wanted to do. So, even though she was relatively young and very inexperienced, she applied to, and eventually received, the head women's lacrosse coaching job at Washington and Lee University, a Division III school in Virginia. And so, she moved down to Lexington for her first head coaching job, where she inherited a top-20 program and, at 25 years old, turned the Generals into a perennial championship contender.
How was she so successful? O'Brien credits the relationships she built and the people she was exposed to during her time in the Amherst area. "Every one of those programs every single year has a different team culture and a different way of doing things," she said. "I think I was able to look at all of those situations and say: These are the things that were really great that I want to recreate, capture, and make sure I take with me, and these are the things that maybe weren't as good that I want to make sure I don't make that mistake again."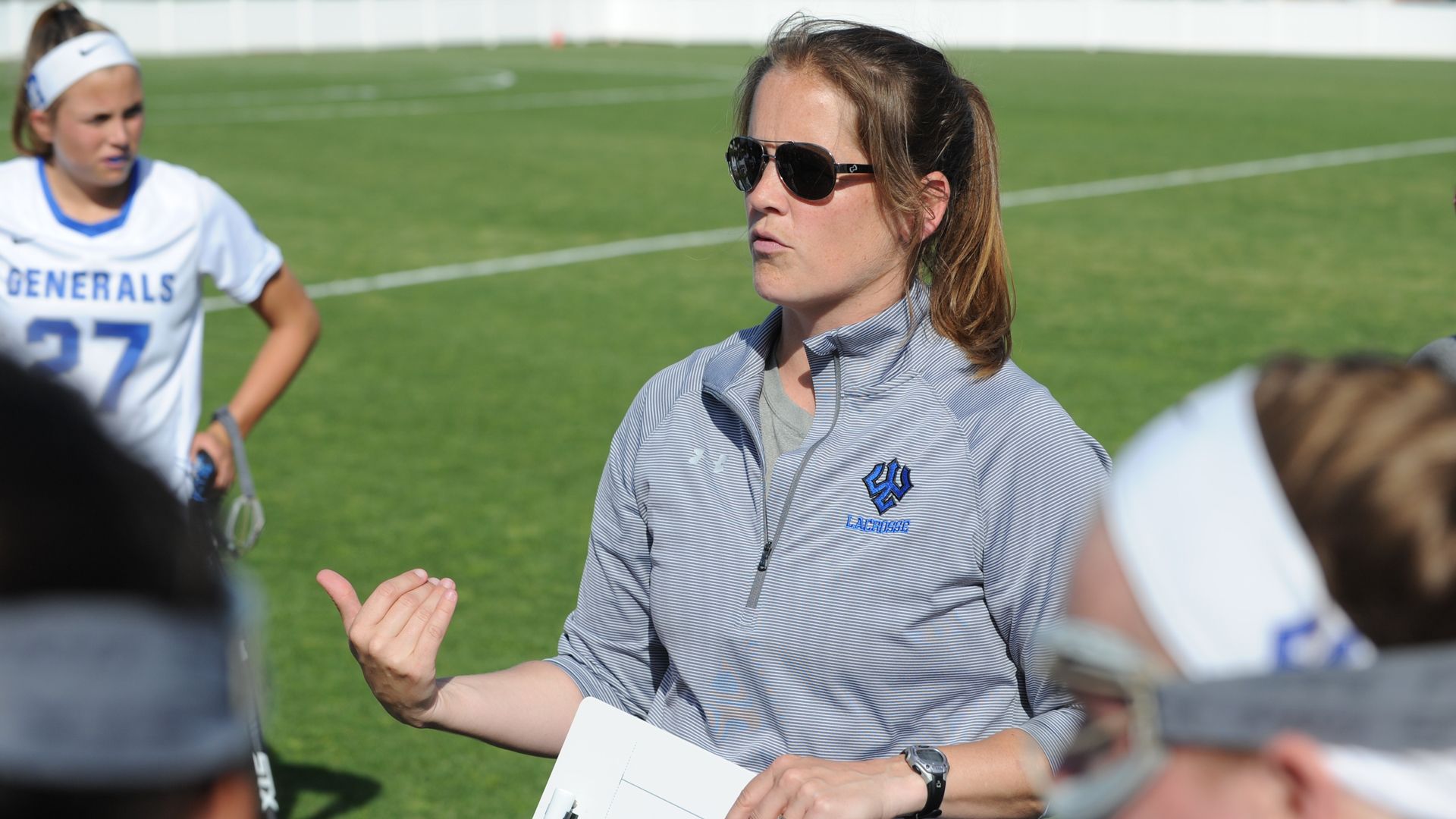 Returning to Amherst
But while she formed close bonds and put down roots in Lexington, when the Amherst coaching job opened up, she could not pass up the opportunity to coach at her alma mater. Getting the job as the new Amherst women's lacrosse coach was a "dream come true" for O'Brien, and even though she now has the job she's always wanted, her mentality and approach to coaching have not changed. Like her time in Virginia, she's building her program here one step at a time, with player-coach relationships at the forefront of her mind.
And while she's spent much of her time this fall working with her new team, O'Brien says that her next step will be connecting with the community she loves and the professors that she came into contact with when she was a student herself. She wants to give back to the community that has done so much for her. Her advice to current students? "Follow your gut and follow your interests," she said. "Don't get swayed by what the crowd thinks or what other people are doing and carve out your own experience, and do something that's a little bit different from your normal experience … Don't overthink it, and just find something that makes you excited and fulfilled in terms of your professional life. And if you do that, then, hopefully, you're on the right path."
Without a doubt, O'Brien's advice has rung true for her, and I, for one, am excited to see what her passion, not just for sport, but for people themselves, will bring to the Amherst community both on and off the field for years to come.