commencement
Cailin Plunkett: An Astronomical Researcher and Spirited Leader
Having translated her lifelong love for space into groundbreaking research on planetary formation, Cailin Plunkett exemplifies zealous dedication. Her passion has invigorated Amherst's scientific community, and will carry over into an MIT doctorate.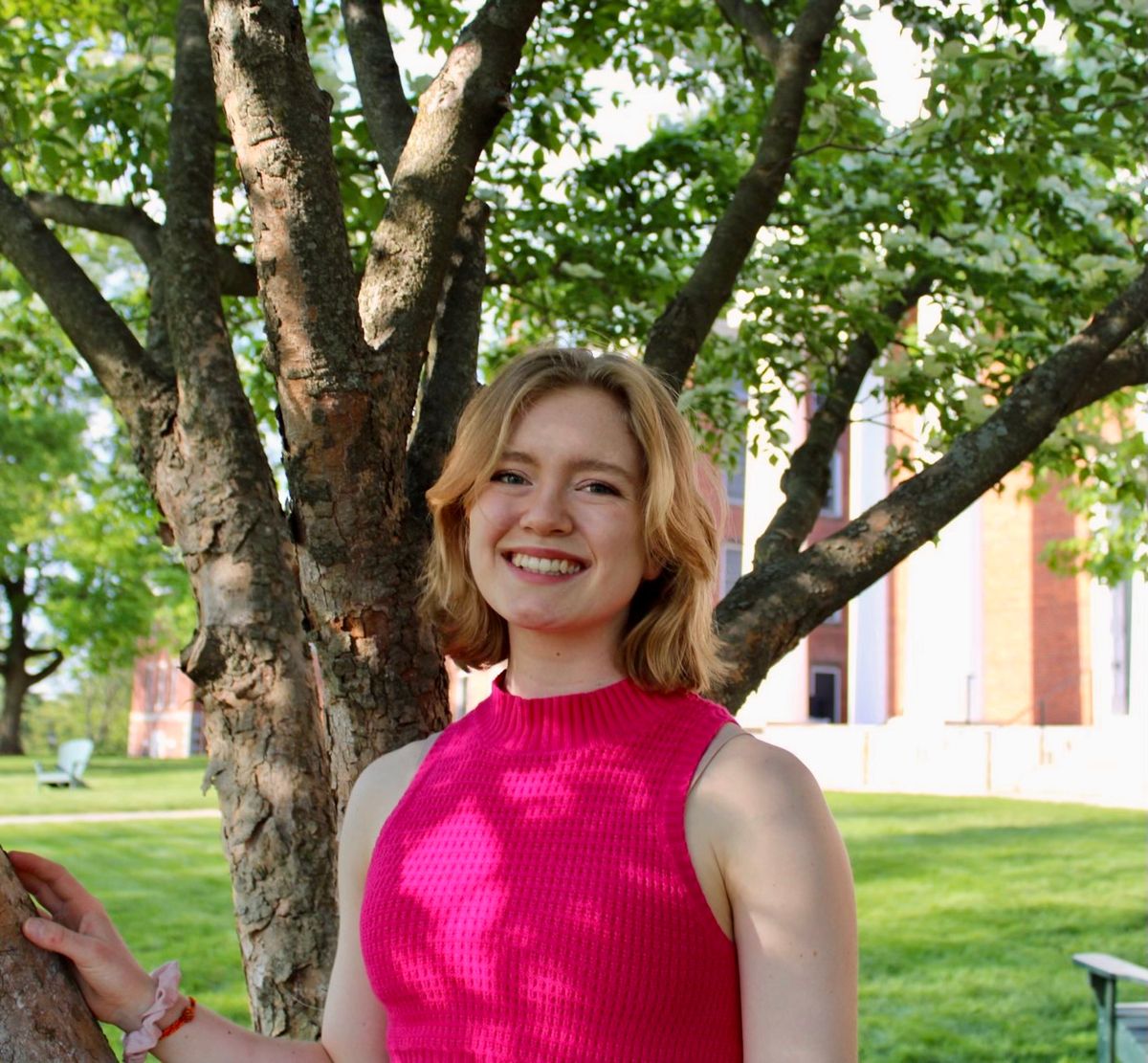 To those in the Department of Physics and Astronomy, Cailin Plunkett '23 is nothing short of a star. She has a singular commitment to the department that manifests in her impressive academic track record, research resume, and community leadership.
But the layperson is probably most familiar with her on-stage presence: Plunkett is an avid actress who, most notably, has starred in numerous productions by Green Room, an Amherst student-theater organization. I, like many others in the class of '26, knew her first as the person who made fun of my college admissions essay. Allow me to elaborate — she performed this year in Voices, the annual orientation show where student actors satirize the often melodramatic admissions essays written by the incoming class.
I thought at the time that the show would be my first and last encounter with Plunkett — until this profile. After sitting down for our conversation, I came to know the brilliant physics and math major that so many across campus are already familiar with. I learned of her extensive research expanding the horizons of our knowledge of the universe. I learned of her contributions to creating a welcoming community as a leader of Spectra (Amherst's physics and astronomy student organization) and the Climate and Community Committee. And, outside of her skills and achievements, I also got to know Plunkett as the down-to-earth person who loves to act, bake, and spend time outdoors. Her time at Amherst paints a portrait of someone driven by their love of knowledge, of people, and of life.
In a way, she was also expressing this passion by participating in Voices: When asked about what originally drew her to Amherst, Plunkett recalled falling in love with the quirky tradition, and, by becoming a performer, she sought to pass down her love for the college to the next class of Amherst students.
The Big Bang
Plunkett's past four years have very much revolved around astronomy. As she recalls, it has always been this way.
As a child living in Oakland, she and her family would visit the Tuolumne Meadows in Yosemite National Park, in August, to watch the Perseid meteor shower. "We would go wearing our headlamps down a little trail from the campground and go lie on the rocks at night and watch for meteors," she said. "And I loved that. You have your dinosaur phase, your paleo phase — all the phases that people go through as kids — and I just never got out of the space phase, I guess."
Despite her long-standing interest, it wasn't a straightforward path to studying astronomy and physics at Amherst — or even attending Amherst at all. At the end of high school, Plunkett was deciding between Amherst and a school that both her dad and sister had gone to, ultimately choosing the former out of a desire to forge her own path. As a STEM student, the then-brand-new Science Center was another plus. As to seriously pursuing her childhood passion, it was a decision that surprisingly involved some serendipity.
"I felt like I'd been pulled in several different directions in high school," Plunkett told me. "I felt like I wasn't sure what I wanted to do anymore when I got to college. I knew I wanted to do physics. I wanted to do math. And so I tried those. Then, I kind of took a leap: I took this class ['Intro to Data Science with Astronomical Applications'] unexpectedly. I didn't even know it was happening until two days before classes started — I took the PVTA to Target and I was talking to a girl on the bus who was taking that class and thought, 'That sounds really cool.' And I did that, and since, I have basically not looked back."
An Expanding Universe
Plunkett certainly hasn't looked back — she's been dedicated to astronomy research all four years of her undergraduate career. The Research Experiences for Undergraduates (REU) she participated in each summer carried her across the country: She worked a  Summer Undergraduate Research Fellowship (SURF) program at Amherst during her freshman summer, an REU at Caltech her sophomore year, another at the University of Michigan the year after that, and finally returned to Amherst for her thesis research. The subject of her research has alternated between planet formation and gravitational waves. All of her investigations have been underpinned by solving astronomical problems with data science and statistics.
Plunkett experienced some obstacles along the way. SURF was virtual during her freshman year, and her junior year summer spent at the University of Michigan was marred by housing issues. Nonetheless, she looks back fondly on her research experiences, as they provided her with a great community and solidified her love for astronomy.
Take, for example, her sophomore summer, when she landed a spot at Caltech's Laser Interferometer Gravitational wave Observatory (LIGO). LIGO is the leading program in the study of gravitational waves in the world and the largest project ever funded by the National Science Foundation (NSF). There, she studied black holes using parameter estimation, a technique used to extract meaning from noisy data.
"In detectors, when you're trying to search for black-hole signals that have two black holes colliding into each other, they create these ripples in space and time [called gravitational waves]," Plunkett explained. "And there's a lot of noise in the detectors because these signals are really, really small. So there's a ton of other stuff that's messing up your data. And I was looking at two different models for the noise: One was essentially better than the other model, but is a lot harder to compute. [We're] trying to understand how badly we can mismodel our noise and still get the same results for our estimates of the masses and spins of these black holes."
"That was like the best summer of my life," Plunkett told me, referring to her time spent at Caltech. "And I think a lot of that was [because it was] summer 2021. I got to be in person, I got to be back with other people. But [it was] also just a fantastic community to work with and research that really interested me."
Forming Planets
Plunkett wrote a thesis advised by Assistant Professor of Astronomy Kate Follette. In line with her past research concerning statistics and astronomy, her thesis seeks to correct the bias that is present within our picture of the universe. Astronomers have a large database of protoplanets (that is, still-growing planets) but it is an incomplete picture: Planets that are brighter or more massive are more likely to be detected, while those that are dimmer or smaller can easily slip under the radar. As a result, our data likely gives us a distorted representation of what's truly out there. Plunkett's thesis tries to correct this problem.
"I simulated 'baby planets' — these still-growing planets — to understand what the probability is of us detecting such an object if it were out there," Plunkett explained. "And I have these maps that say, 'Here's the probability of me detecting some sort of planet.' And then we have the actual planets we detected, and we can compare them and say, 'Here's what I can say about what's really out there.'"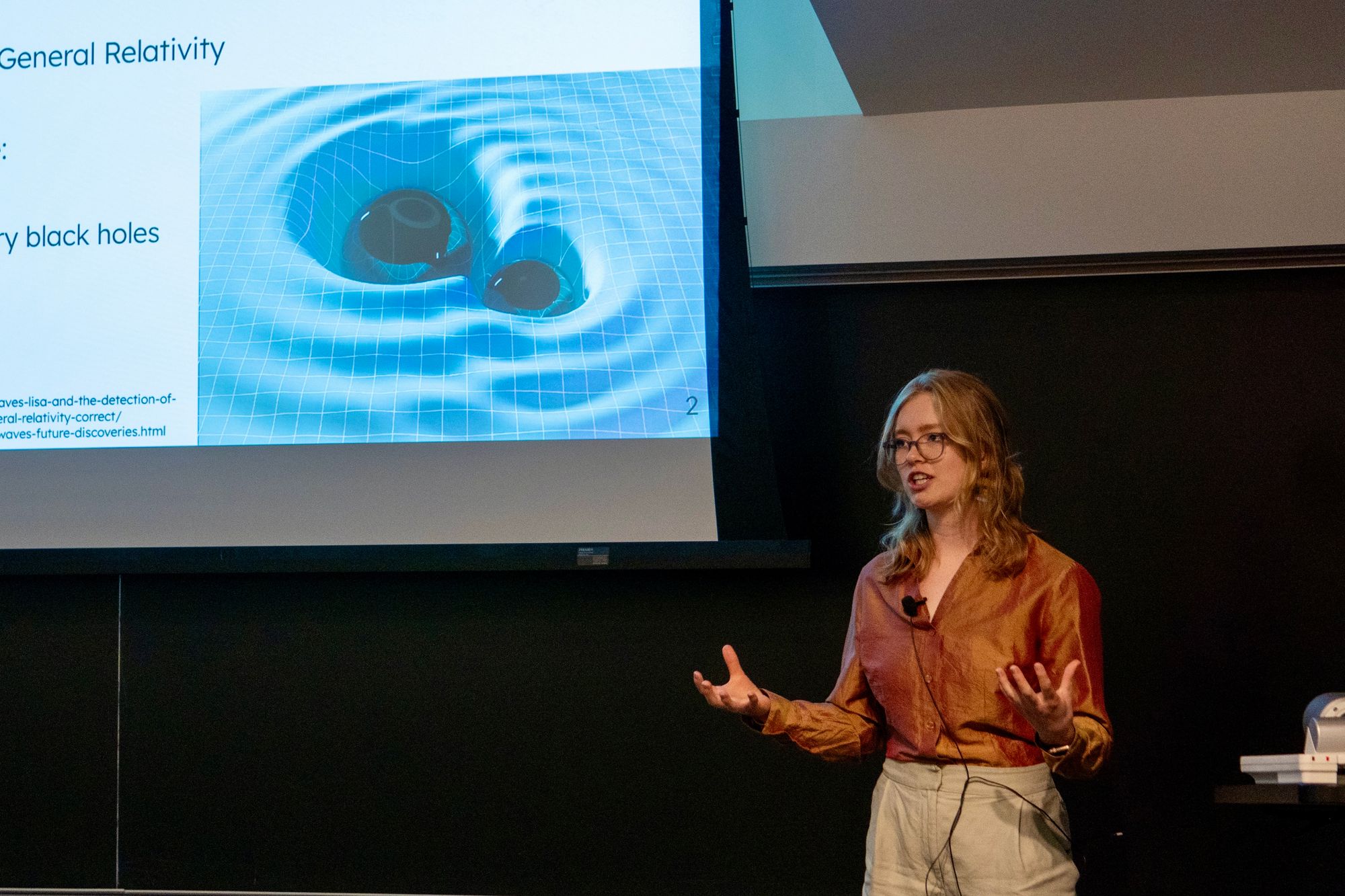 Plunkett's thesis is a tour de force of research. She has developed a novel method to analyze the population of protoplanets, which, when expanded in scope, will put prescription glasses on our distorted view of the composition of the universe. The sophistication of her thesis impressed Assistant Professor of Astronomy Daniella C. Bardalez Gagliuffi, who was one of Plunkett's thesis readers. "Her thesis read like a Ph.D. thesis, and I wasn't the only one to say [that]," said Gagliuffi.
She presented her thesis at the college's annual Three-Minute Thesis Competition, a speaking competition for thesis-writers nominated by their department. Plunkett won the People's Choice Award, which was decided through audience ballot. In her speech, she placed her research in the context of a grand existential question: "As we increase the statistics, we narrow down the possibilities for how we on Earth came to be," she said. "We study others to understand ourselves. My thesis brings us closer to understanding how we compare to the others out there, to answering the ultimate question: Are we alone in the universe?"
Forming Systems
But Plunkett's commitment to her department goes beyond academics. Anywhere space is discussed on campus, Plunkett is sure to have left a lasting impact. She's the co-chair of the physics department's Climate and Community Committee (CCC); co-president of Spectra, Amherst's physics and astronomy club; and co-manager of Amherst's observatory.
It's a long laundry list of titles that may look good on a resume, but Plunkett's dedication to the astronomy and physics community derives from a genuine interest in bringing people together. For instance, every semester, the department holds a physics formal, and every semester, Plunkett spends hours baking dozens of (delicious) cookies for attendees. Alyssa Cordero '23 is Plunkett's partner in crime in many things — Cordero is also co-president of Spectra, co-manager of the observatory, and co-baker of cookies — and according to her, Plunkett is "one of the kindest human beings [she's] ever met." "She will basically drop everything and help anyone, no matter who it is," Cordero added.
Plunkett has also used her aptitude for community leadership to make practical changes. As the head of both the CCC and Spectra, Plunkett gets to engage with the community on both the staff and student sides. "I'm kind of this liaison between the students and the professors, trying to make things better for students, have more support and courses, have a better community among the majors, have more resources for success in physics, astro[nomy], and beyond," Plunkett said, commenting on her position in the department.
Notably, she's helped run a mentorship program that pairs upperclassmen with freshmen to help them get started in the world of physics. "I had no idea how to apply to a research internship," Plunkett told me. "I relied heavily on upperclassmen. I took the initiative to reach out and say, 'Well, how do I write an application?' — and that was scary. And helping remove that barrier is something that we're still working on."
"They run the department, essentially — the students in Spectra," Gagliuffi joked.
Beyond
Of course, Plunkett's interests extend past astronomy and physics —"because not everything's about physics," Plunkett said.
Plunkett has an aforementioned passion for theater, which she has mainly channeled through performances with Green Room. Her favorite shows that she's done include Agatha Christie's "And Then There Were None" and the Ten-Minute Play Festival.
When asked about the most memorable classes she had taken, Plunkett named "Ramayanas in History," which explored the many lives of an ancient Indian epic, and "Climate Dynamics," a geology class. When asked about her favorite memory at Amherst, she mentioned accidental two-hour dinners in Valentine Dining Hall and late-night walks with friends on the bike path.
But it is clear that Plunkett is determined to follow one path, and that path is to the stars. As Plunkett's academic advisor for all four years, Professor of Physics Jagu Jagannathan has observed her journey intently. "From the beginning, she has shown strong motivation and ability in pursuing a research career," said Jagannathan. "From early on, she was attracted to astronomical research. And she has done that with Professor Follette. And she's going on in that area … this cutting edge, important kind of work."
This August, Plunkett will begin pursuing a doctorate in physics at MIT. There, she will be continuing her work on gravitational wave astrophysics, proceeding in her journey to answer the big, unanswered questions of our universe.
"I'm very excited to see where she goes in the future," says Cordero. "I always say that when she gets a Nobel Prize — because she's going to get a Nobel Prize — she has to thank me."