commencement
Cole Graber-Mitchell: Making His Voice Heard
Cole Graber-Mitchell is committed to civic engagement, whether it be as an AAS senator or an opinion columnist. The Marshall Scholar's world revolves around three principles: persistence, community, and joy.
I met Cole Graber-Mitchell '22 on Webster Circle on one of the first hot days of spring. Wearing a lilac T-shirt proudly emblazoned with the logo of the Amherst College Choral Society, Graber-Mitchell sat across from me with the sun in his eyes, head framed by trees flowering in all shades of pink and purple.
It was only months ago that Graber-Mitchell had been awarded a Marshall Scholarship, one of the most prestigious American fellowships, only weeks ago that he had completed his senior thesis in law, jurisprudence, and social thought (LJST), and (most likely) only minutes since he had been attending to one of his many roles in campus politics. In his time at Amherst, Graber-Mitchell has been an AAS senator, a longtime student member of Amherst's Committee on Educational Policy (CEP), an organizer, an opinion columnist for The Student, and the only college student serving on the Town of Amherst's Cultural Council; Graber-Mitchell even found time to co-write a book with William Nelson Cromwell Professor of Jurisprudence and Political Science Austin Sarat.
Yet, the ensuing conversation was peaceful, with Graber-Mitchell's steady and eloquent speech accompanied by the chirping of May birds. What I came to learn is that as much as Graber-Mitchell has devoted his time and energy to the Amherst community over the past four years, it is only because he has learned to stay tethered to one central principle: joy.
A Minnesotan Political Education
The roots of Graber-Mitchell's political consciousness lie in his Minnesotan upbringing. Attending Minneapolis public schools his whole life, he told me that his high school teachers were the first to open his mind to the troubled and essential world of politics. First, his AP U.S. History teacher assigned the class Howard Zinn's "A People's History of the United States" alongside their standard AP U.S. History textbook. Zinn's text problematizes the nationalism that you would find in a typical history textbook, and this new lens was integral to Graber-Mitchell's realization that a lot of work needed to be done to make America a place where all people could flourish.
On top of this progressive awareness, Graber-Mitchell described his hometown of Minneapolis as a uniquely civically engaged city, boasting one of the highest voter turnouts in the country. Southwest High School, which Graber-Mitchell attended, was no exception: His teachers were union stewards and campaign volunteers. In this environment, Graber-Mitchell was the recipient of a long-held tradition of civic duty.
"I was embedded in this world where the expectation was that you would vote, that you would care," he said. "And I had role models that showed me how to do that."
Integral to Graber-Mitchell's democratic participation was the realization that he possessed the power to change the things that he saw were wrong in the world. His AP Government teacher taught him the essential maxim: "Decisions are made by those who show up." And "show up" he did. When Graber-Mitchell campaigned for Minneapolis Attorney General Keith Ellison the summer before coming to Amherst, he was only beginning a long journey of determined civic engagement.
Finding Joy and Voice at Amherst
Though Graber-Mitchell told me that he had initial difficulty integrating himself with the Amherst community, it didn't take long for his instinct for activism to kick in. Graber-Mitchell's first major political action at Amherst was organizing the 2019 Climate Strike, which successfully pressured the college to commit itself more wholeheartedly to climate action.
"Thanks to the strike, we began to receive frequent progress reports on core climate projects, and built coalitions that fought for divestment [from fossil fuels] and a new sustainability director," he said.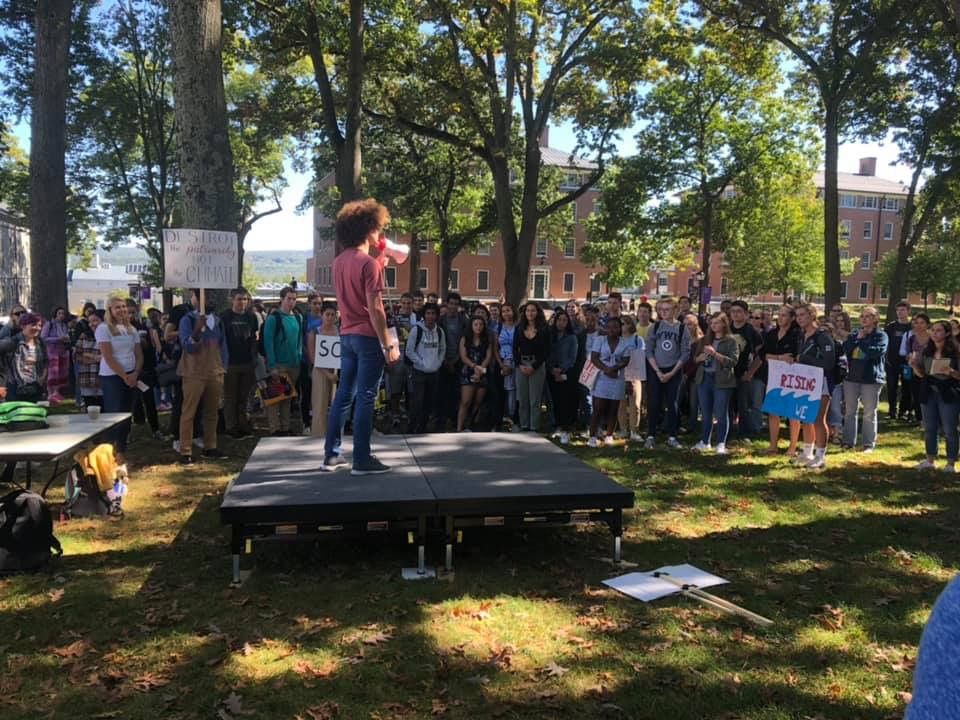 But most of Graber-Mitchell's political life at Amherst has been centered around his participation in more official political roles: He has served as an AAS senator for three years and, more recently, as a member of the Cultural Council in the Town of Amherst. Particularly formative was his two-and-a-half-year stint as one of the only students serving on the Committee on Educational Policy (CEP): a rotating group of five faculty members, the provost and dean of the faculty, and at most three student members. As a representative of students' needs, Graber-Mitchell said his time on the CEP challenged him to trust his Minnesotan instinct for civic responsibility and find an authoritative voice among a group of people who would normally be his teachers and superiors.
"We all had equal voting power, so I had to learn how to assert my place as an equal member of the committee," he reflected. "I had to learn that just because someone you respect disagrees with you, it doesn't mean you're wrong."
Having joined the CEP just before the onset of the pandemic, Graber-Mitchell was placed in a particularly fraught situation, but one that was also full of possibilities for him to speak out for students' needs in a room of people who would not otherwise understand them. For instance, he took the initiative to write up a proposal for a universal flexible grading option (FGO) when classes were remote.
"It would not have been right to expect students to use the normal pass/fail option during such an extraordinary time," Graber-Mitchell asserted, "and we ended up finding much-needed relief for a lot of students." It is this empathetic drive to help his community find "relief," and more importantly, joy, that motivates many of Graber-Mitchell's political commitments. "My politics [are] all based on joy, enjoyment of life — something I think everyone deserves," Graber-Mitchell said with a smile.
But a focus on joy certainly doesn't preclude having difficult conversations — rather, this end goal motivates Graber-Mitchell to talk about the difficult things. As someone who can be, self-admittedly, "pretty intense and stubborn," Graber-Mitchell also devoted energy to the world of journalism and public speaking as another medium for speaking his mind and, more importantly, teasing out the core of his beliefs. For three of his years at Amherst, Graber-Mitchell contributed to a weekly column for The Student entitled "Seeing Double," in which he often went head-to-head with co-columnist Thomas Brodey '22 on issues ranging from moon mining to Court-packing.
"Being able to write articles is one way that I think and figure out what I actually believe. It's a fantastic way of putting what you believe out there and getting back feedback and learning and growing," Graber-Mitchell said.
This is another way that Graber-Mitchell's focus on joy feeds into his politics: His generosity and public involvement are enabled by self-awareness and emotional intelligence. When I asked him if he had any advice for current Amherst students, he immediately replied, "To say no to things, to not do too much."
"We have to prioritize our joy in order to bring joy to others. And I can't be good at helping people enjoy their lives if I'm not enjoying [mine]."
For this reason, Graber-Mitchell gushed about his four-year involvement with Amherst's Choral Society. "I've met some of my best friends through singing," he said. "It's not productive, it doesn't look good on a resume, but I feel joy when I sing with other people, so I do it."
It surprised me to hear something like this coming from someone who works so tirelessly to make the world a better place; it surprised me that someone so embedded in political struggle could remain so optimistic. But humility and idealism are the qualities that make Graber-Mitchell so uniquely capable of making change, of translating his instincts into action. Martha Umphrey, Bertrand H. Snell 1894 professor in American government in the department of law, jurisprudence and social thought, echoed that curiosity and self-awareness are two of Graber-Mitchell's most distinctive qualities.
"I've known him well over the past two years [as a thesis advisor and an academic advisor]. I admire him as a brilliant student and a polymath equally comfortable writing a thesis, making beautiful woodcuts, working backstage on a theater production, singing with the Glee Club, and constructing elaborate computer games for relaxation," Umphrey said. "Never content with surface understandings of ideas or people or events, Cole wonders about the world, thinks deeply about what he cares about, and situates himself with generosity and humility in conversations with others."
In his thesis and upcoming research as a Marshall Scholar, Graber-Mitchell has stayed grounded in his humanism and passion for real-world action, using academics as a means of clarifying his beliefs and learning how to enact the change he wants to see in the world.
Teaching and Learning Community
In his academic life, Graber-Mitchell decided to double major in LJST and mathematics. Much like his time with the Choral Society, Graber-Mitchell told me that he completed the Math major just for the fun of it. I was still wondering, however, why Graber-Mitchell would choose LJST over political science given his passion for politics: He chalked up his decision to the desire to think abstractly, creatively, and deeply about what it means to be a member of society.
"LJST felt more anthropological. We didn't do surveys, we didn't do statistics, we didn't do anything like that — it was all interpretative, which I really loved, and more necessarily interdisciplinary," Graber-Mitchell reflected.
Maintaining this commitment to interdisciplinary thinking, Graber-Mitchell wrote a senior thesis focusing on the way religion has and does encroach on the hegemony of law in America. Ultimately, he thinks that religious influence in the courtroom poses a major threat to the endurance of our political communities.
"What we're seeing in society [are] battle lines being drawn between a secular universalist version of the world and religious traditionalism that I think doesn't serve our nation well," Graber-Mitchell asserted. He pointed out the leaked Supreme Court opinion for Dobbs v. Jackson Women's Health Organization as the most recent, and far from unprecedented, example.
In the early days of his thesis writing, Graber-Mitchell told me that he had a fledgling desire to use his research as a way to delve into pure theory and academia. But in order to produce good work, Graber-Mitchell realized that whatever he researched also had to feel useful to him, connected to his political mission to bring communities closer together.
So, while other Marshall Scholars will be using their rarified opportunity to start off on a career of pure academia, Graber-Mitchell will head to the London School of Economics in the fall with an evidently practical question in mind: How do communities stay together despite division, crisis, and disagreement? The Marshall Scholarship is highly selective, offering only 50 awards each year to fund two to three years of graduate study at a U.K. university. It is indicative of Graber-Mitchell's integrity, in all facets of his life, that when filling out this high-stakes application he prioritized authenticity more than anything else. Director of Fellowships Christine Overstreet told me, "There is a temptation, sometimes, to squeeze oneself into a particular model in order to 'give them what they want to hear' — all in hopes of winning. Cole stayed true to himself, articulating his opinions and values with conviction, trusting that if who he is was what they wanted, he would have a fighting chance."
After he completes his Marshall Fellowship, it isn't a question of what Graber-Mitchell will do next, but what he will do first. He might attend law school, run for local or state office, or teach math to high school students so that he can sow new seeds of democratic idealism, as his own teachers once did. Knowing all that Graber-Mitchell accomplished during his time at Amherst, there's no doubt that he'll do all of this, and more. His persistent faith in the power of democracy, discussion, and joy has enabled him to strengthen the Amherst community, and wherever he goes next, Graber-Mitchell is certain to be a changemaker: After all, "decisions are made by those who show up."