News
College Admissions Scandal Provokes Questions About Athletics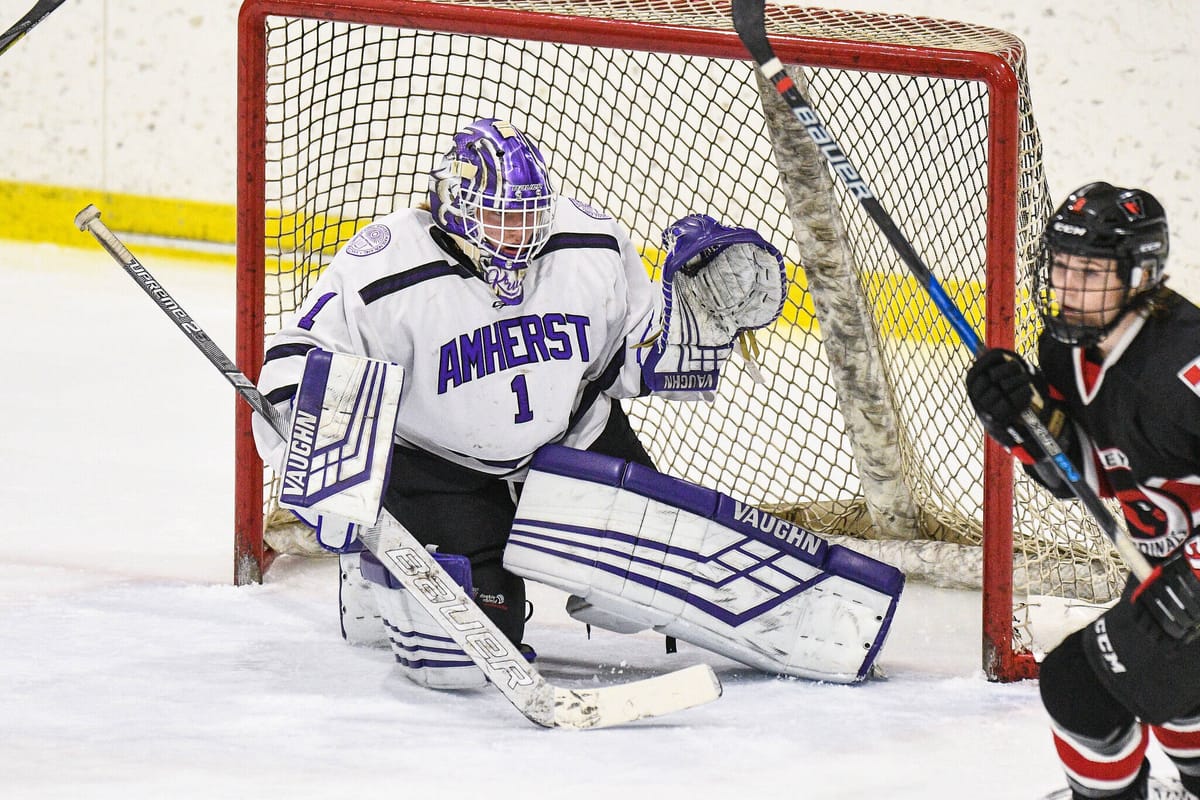 In light of Operation Varsity Blues and its fallout — actress Felicity Huffman and 15 others who were implicated in the charges of bribing and/or fraud agreed to plead guilty on Monday, April 8 — The Student examines the implications of the scandal for Amherst College and its admissions practices. This week, we take a look at athletics.
The FBI investigation, which was disclosed to the public on March 12, revealed that wealthy, upper-class parents paid anywhere from $500,000 to $6.5 million to William Rick Singer, who operated two firms involved in the scheme, to guarantee their children's admissions into top schools including USC, Stanford, Yale, Harvard and Georgetown.
Shortly after the scandal blew up, Bloomberg published an article titled "The Amazing Admissions Advantages for Athletes at the Apex of Academia," in which columnist Justin Fox discussed Amherst College's admissions practices as they relate to athletics and their implications for the college admissions scandal. "If you were wondering why so many of the students caught up in the Varsity Blues college admissions scandal's faked sports credentials, this is a key reason," he writes. "Getting recruited as an athlete is perhaps the single biggest leg up one can get in the elite-college admissions game in the U.S., far bigger than being a member of a minority group or an alumni child."
According to a 2016 college report titled "The Place of Athletics at Amherst College," 67 admissions slots are reserved for "athletic factor athletes … identified by coaches and endorsed by the Department of Athletics as prospective students who truly excel at their sports, and whose presence would have a significant impact on the success of their teams." Another 60 to 90 are reserved for "coded athletes [who] are academically high-achieving students … [and] excellent athletes, and have been identified to the admission office by the coaches."
Coded athletes are admitted at a higher rate than the general admission rate for students with similar academic standings. Other students who are excellent athletes but also "priorities for admission to the college for other reasons, such as students of color, first-generation college attendance, legacies, those from low socioeconomic backgrounds or who have stellar academic qualifications" can be brought to the attention of the admission office.
Between 27 and 33 percent of student athletes made up the incoming classes of 2010 to 2016.
The demographics of varsity athletes for the 2011 to 2015 cohorts show a sharp lack of diversity along race and class lines. On men's teams, 73 percent of athletes were white. Low-income and first-generation students made up six and four percent, respectively. On women's teams, 74 percent of athletes were white; low-income and first-generation students made up two and two percent, respectively.
Among all students, in contrast, 47 percent of students were white, 23 percent were low-income and 15 percent were first-generation.
The report acknowledged that the costs of participating in athletics "make it harder for students from low-income backgrounds to compete successfully for places on college rosters."
Recruiting guidelines also pose challenges. According to the 2018-2019 NCAA Division III (DIII) manual, "an institution may not provide transportation to a prospective student-athlete other than on the official paid visit or, on an unofficial visit." The manual limits each prospective student-athlete to one official visit, reducing the number of opportunities for low-income students to interact with the college and its athletics programs.
A 2017 diversity and inclusion report obtained by The Student recognized the difficulties of recruiting low-income students within NESCAC's "tight regulations."
The report, an internal document produced by the college's Presidential Task Force on Diversity and Inclusion and presented to the college's External Advisory Committee on Diversity, Inclusion and Excellence, wrote that coaches have "very limited recruiting budgets, making it difficult for them to travel on a regular basis outside of the Northeast." As a result, coaches often focus primarily on recruiting from schools in the Northeast, "particularly from private schools."
"Also, becoming a Division III eligible athlete often involves considerable resources, e.g. private lessons, tournament travel, camps and summer showcase events," the report added.
Felix Wu '21, who plays for men's soccer, said that in the NESCACs, socioeconomic diversity "suffers." As a member of the one percent of household income in the U.S., he recognizes that he is fortunate enough to not qualify for financial aid.
"I don't think that experience is unusual within athletics," he said. "Obviously, wealth signifiers are different and less visible than racial signifiers — a lot of athletes come from private schools or boarding schools — but the general impression I get within athletics is that I am by no means an outlier."
The majority of soccer players, he said, come from preparatory schools or academies.
"In a lot of these recruiting pools, to reach a high level of play, you have to have access to a lot of resources," Wu said. "It's not necessarily something a specific college can do."
He added that Amherst's recruiting budgets are like "a fourth of comparable universities" such as the Ivy Leagues. "I also think that shouldn't be an excuse," Wu said. "Having those restrictions does make a lot of coaches complacent. Realistically, you still can make an effort."
Unlike Division I schools, which are allowed to grant athletic scholarships to recruited students, DIII schools are barred from doing so.
Craig Smith '20, a member of the men's swim and dive team, noted that the lack of athletic scholarships at DIII schools limits the options a student has in terms of financing their college careers.
"I know from experience that there are a lot of people from the town that I grew up in who went DI because they were getting scholarships from what some might consider 'worse schools,'" he said. "So there's schools people wanted to go to, but couldn't afford it, so they were getting recruited by a school that maybe wasn't as high of a caliber but was giving them a DI athletic scholarship."
Smith added, however, that there is value to the lack of athletic scholarships at DIII schools.
"There's a big emphasis in DIII on the student athlete, not the athlete. For me personally, just because I was getting recruited by Amherst, I still had to maintain a very high standard for my academics in high school," he said.
Students hoping to be recruited to Amherst must also apply to the college through the binding early decision application. Though students have the advantage of gaining early admission, oftentimes it restrains students who cannot commit to a college without the assurance that their financial aid package meets their needs.
According to Director of Athletics Don Faulstick, while this policy poses challenges in creating socioeconomically diverse teams, it is necessary for the college to remain competitive.
"Early decision is widely used in the Ivy League and with other elite DIII schools," he wrote in an email interview. "It is extremely challenging for Amherst College and/or other NESCAC schools to compete at the same levels without an early decision process." In order to offset this challenge, coaches and the admission office work together during the regular-decision round to identify low-income students and students of color who were unable to apply during early decision.
Faulstick also noted that DIII rules limit how much the colleges can accomplish.
"NESCAC is the most restrictive DIII conference in the country and directly impacts efforts to diversify our student-athlete population," he said. "Other conferences and Ivy League schools can provide an earlier indication or promise of admission and financial aid packages in advance of admission."
Students described Amherst's admissions processes as more hands-off, limiting how much first-generation students, low-income students and students of color know about the college, let alone its recruiting practices.
Meredith King '21, who is on the women's swim team, noted that NCAA rules mimic this larger admissions practice by placing much of the responsibility on the athlete.
"I think the swimmer has to reach out first, and you can't do that until your junior year," she said. "There's a certain time after that the coach is allowed to call you — maybe twice. You can meet beforehand but you can't talk about college stuff until your junior summer."
Eden Charles '19, president of the Council of Amherst College Student-Athletes of Color (CACSAC), said that she and other CACSAC members have worked with athletics over the years to improve diversity and inclusion in aspects of recruitment.
"[Athletics] has a finite amount of money, so they're going to go to the biggest tournaments," Charles said. "Who's going to be at the biggest tournaments? For example, for Florida soccer tournaments — you have to be on a club team, and it's not cheap to get to the tournament. I understand their argument: we don't have enough resources to go and find low-income athletes. My pushback is: there are so many low-income athletes that are so geographically close to Amherst, in New York City, etc. — it's not far. There are so many wonderful athletes that I think are in places they wouldn't typically think about."
Charles pointed to Harlem Lacrosse, a program in New York City, as one example of a nearby location for recruitment. Harlem Lacrosse serves students at risk of academic decline.
According to the program's website, 92 percent of its students identify as African-American, Hispanic or multiracial, 45 percent speak a language other than English at home and 96 percent qualify for free or reduced lunches. The program teaches students lacrosse and "acts like a mobility path to really elite colleges," Charles said. Two CACSAC members and Assistant Athletic Director and Head of Diversity and Inclusion Billy McBride visited Harlem Lacrosse students earlier this semester.
While it may not appear necessary to broaden the scope of recruitment when teams such as women's basketball are consistently and repeatedly winning, Charles added that "when we have diversity, everyone benefits."
Some athletes, however, find that the task of diversifying teams is more nuanced than it might appear. King noted that different recruiting processes between sports impose barriers to promoting diversity. Though some sports recruit students by watching games, sports like swimming rely on objective data, such as race times. When students are recruited exclusively based on their numbers, coaches tend to take whichever students present the best data.
"We want it to be diverse, but if our top eight most qualified people are not diverse, then we don't want to unqualify them. It's a very complicated thing," she said. "Swimming is a very concrete sport; you're either fast enough or you're not."
In the future, Faulstick hopes to implement a variety of programs to reach low-income athletes and athletes of color, including traveling to areas with high concentrations of students of color and low-income students, hiring more coaches of color and hosting recruiting events specifically for these students.
"Amherst College athletics has been a leader nationally in DIII as well as within the NESCAC when it comes to having diverse athletic teams … However, our goal is to have the diversity of our teams reflect the overall student body of Amherst College. We are not yet where we want to be yet and we take that challenge seriously," he wrote.
This is the second of a four-part series examining admissions at Amherst.
Part one — "Admissions Scandal Highlights Wealth Disparities at Amherst"
Part three — "Legacy Admissions Scrutinized in Wake of Varsity Blues"
Part four — "Low-Income Students' Experiences Marked by Alienation"