Arts & Living
Donald Glover's "Atlanta" Covers Social Issues with Poignant Humor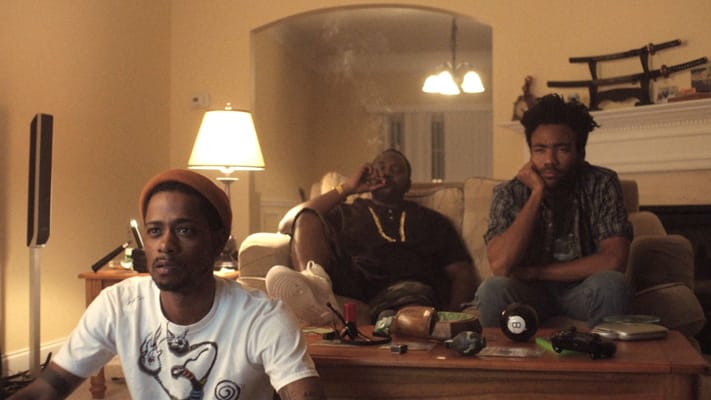 On Sept. 6 FX premiered the pilot of Donald Glover's new series, "Atlanta." Glover, who has done everything from writing for Emmy-winning TV shows like "30 Rock," to releasing critically-acclaimed rap albums under the moniker Childish Gambino, takes on the roles of creator, executive-producer, writer and lead actor in this comedy-drama series. The show is situated in Atlanta, where Glover's character, Earn, is homeless and in search of a steady paycheck in order to support his daughter, whom he had with his best friend and on-and-off landlord, Van. Instead of continuing at his dead-end job at an airport, Earn sees an opportunity for a better life in his cousin, Alfred, whose mixtape, released under the name Paper Boi, has been generating buzz around the city. The two, along with Alfred's best friend, Darius, work within the show's titular city to make money in any ways they can.
What is most evident in the first four episodes is the presence of Donald Glover. It is clear, that no matter if it is in his own character, production, dialogue or soundtrack, everything seems to hold a bit of Glover's distinct charm. There are unconventional camera angles that will captivate an audience during seemingly meaningless interludes, musical choices that range so far from one another, you would think there were five different soundtrack curators and plenty of instances of self-deprecating, quirky and awkward moments that are so palpably human that it is clear they are the signature work of Glover. All around "Atlanta" are the fingerprints of its puppet-master, but there is more to the show's charm than Glover himself.
The brightest spot, for me, is the strength of the supporting characters in the show, and how quickly they develop into affective, personable parts of the series. The two guys that Earn is with most often, Alfred and Darius, thrive because they do not fall victim to the typical, one-dimensional, pseudo-human tertiary character problem. Instead, Alfred and Darius are multi-dimensional, fully-autonomous guys who do not need Earn around to offer something crucial to a plot. They have interests, they have things that make them tick, they argue, hysterically, between one another — what they bring to the show is a depth of personality that offers a balance for Earn, something that is pertinent to the success of each episode and the series as a whole. Though "Atlanta" is very clearly Donald Glover's show, it never feels like Earn's, which is liberating for the show's narrative and its supporting characters.
Through four episodes, "Atlanta" has not reserved itself to audiences when depicting the city in its naturalistic way. Instead of romanticizing the city and making the show's hometown feel utopian and idealistic, Glover chooses to bring all that he knows, both good and bad, into the city of Atlanta. In doing this, "Atlanta" offers some evocative scenes that deal with many real-life, difficult issues. There are scenes of disturbing gang violence, police brutality and drug use that some comedies on television may have trouble incorporating into an episode. "Atlanta," because of how naturalistic it feels, integrates these scenes seamlessly, and even in these troubling scenes, Glover's charm is still present. The show does not try to solve these issues, or turn them into a laughing stock. Instead, it just lets them exist within the show, and the audience is left to experience these situations as their own reality.
"Atlanta" succeeds because of its sincere charm. At no point, at least in the first four episodes, does this show feel like anything else I have seen on TV. The show is almost always funny, but the sort of funny that leaves you smiling and a little confused; the deadpan interactions between characters are quick and smart, and you will laugh at places where there was never actually a joke being told. The show utilizes topical culture in its gags, and though some television attempts to generate jokes in cultural references may seem corny and disingenuous, "Atlanta" is extremely conscious of what the topics are, and what can be meaningfully translated into jokes. The dialogue remains charming during scenes of police brutality and harsh homophobia. Glover's character, Earn, is able to make his audience giggle while he mistreats his baby's mother and is incapable of supporting his own child. There is a constant paradox in "Atlanta," and it makes the show even more enticing.
The show airs on Tuesdays on FX, and it certainly has something for everyone. I could not recommend it more.