News
Flueckiger Steps Down as Head of Dining Services
Joe Flueckiger, who has served as executive director of dining and hospitality services for more than six years, resigned earlier this week. He shared his reflections on his time in the role.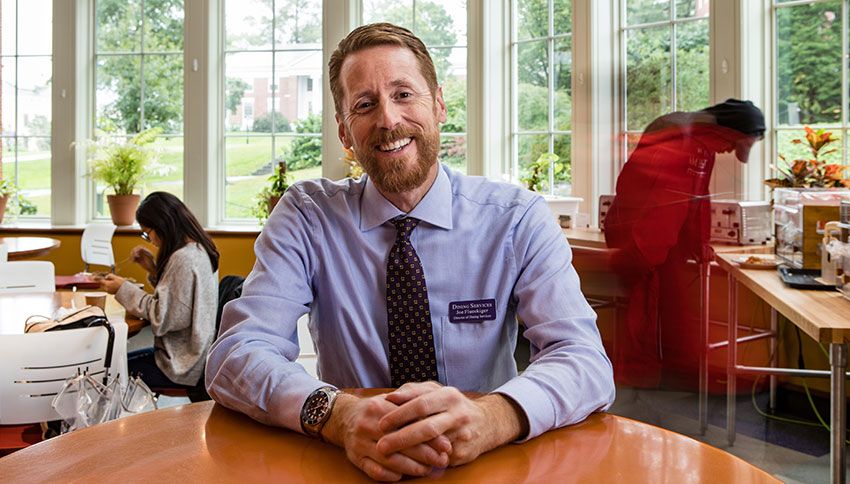 Joe Flueckiger, executive director of dining and hospitality services, stepped down as the head of the college's dining operations. He made the decision in order to pursue other career opportunities, said Chief Financial and Administrative Officer Mike Thomas.
Over the remainder of the month, Flueckiger will help the college devise a transition plan for his departure, Thomas said. Once the interim plan is finalized and shared with staff, the search for Flueckiger's permanent replacement will begin.
"Ralph Johnson, Executive Director of Campus Operations, and I are confident in the leaders in dining operations and the entire dining team and will support them in the transition," Thomas added. "We expect members of the community will experience full continuity of services."
News of Flueckiger's departure was shared with dining staff on Monday in an email from Johnson.
"We would like to acknowledge Joe's contributions during his time at Amherst College and thank him for his dedication to and effort on behalf of Dining Services," the email read. "He has made valuable contributions to many College projects and initiatives."
Formerly dining services manager at UMass Amherst, Flueckiger was hired by the college in 2017 and oversaw its dining program for more than six years. His tenure was marked by both expansion and pandemic-induced challenges for dining at the college.
The start of Flueckiger's time at Amherst saw added food options and changes to the layout of Valentine Dining Hall, which he said at the time responded directly to student requests. The additions included a greater fresh fruit selection, a yogurt bar at breakfast, and two soft serve machines.
The onset of Covid in the spring of 2020 necessitated significant changes to the college's dining operations in order to align with health protocols. Rather than serving buffet-style from a single dining hall, the college began to supply meals for students to pick up from four distinct locations. The college also added late-night dining options during this period, which remain today.
In an email statement to The Student, Flueckiger cited Dining Services' response to the challenge of Covid as one his proudest achievements at Amherst.
Also among the highlights of his tenure, Flueckiger wrote, were dining's commitment to increasing sustainability, the creation of events to celebrate student diversity, and the high number of internal staff promotions.
"Overall, I am proud to have been a part of both Dining Services and Book and Plow Farm," Flueckiger wrote. "These teams contribute to the community by providing essential support, nourishing food, and sustainable practices. They also serve as places for education and enrichment, and the staff truly care about the community, striving to make Amherst College better each day."
"I like the metaphor of Dining and Book & Plow being the roots of our ecosystem," Flueckiger added. "We nourish the roots so that students can reach for the light."