Features
Keeping Up With the Jones Library
A hub for volunteerism, English language lessons, board games, and more, Jones Library has been a long-standing staple of the Amherst community. The Student explores the library's various initiatives and its importance to the town.
The Jones Library, located across the street from Amherst Coffee and Amherst Cinema, is a well-known and well-loved Amherst institution that offers a vast array of programs and resources for the town community. To learn more about the library's role in the town of Amherst and how the upcoming building project will affect their work, I spoke with Jones staff members Lynne Weintraub, Mia Cabana, Cecilia Jezek, and Katherine Whitcomb.  
ESL and Citizenship Education
On the lower level of the library, one can find a robust English-language-learning and citizenship education center. Lynne Weintraub, the library's English as a second language (ESL) and citizenship education coordinator, facilitates services for Amherst residents who want to learn English and/or become United States citizens.
The library's ESL and Citizenship Education Department began in 1985, after a survey revealed a need for more programming for non-English speaking residents, including many Cambodian refugees who resettled in Amherst after the Vietnam War. Today, the library's services are primarily used by immigrants, and international students and faculty from the local colleges, Weintraub said.
The department works primarily with adult learners, who can utilize one-on-one sessions with an instructional tutor or come to an informal conversation circle to practice their speaking skills. The highly successful citizenship education program also prepares students for their naturalization tests, which 100 percent of students have passed since 1985.
Weintraub also runs an innovative program for "older beginners" (aged over 50) who speak little to no English. In January 2023, the program received a $121,000 two-year grant from the U.S. Citizenship and Immigration Service to pilot a curriculum for older beginner English language learners. The library has been offering older beginner classes since 2018, but Weintraub notes the need for more robust and relevant materials for older learners.
Because the Jones' ESL and citizenship programs are so well-established, word gets around quickly about these services. "We're like the second stop after the social security office," Weintraub quipped. New immigrants to Amherst hear about the Jones Library through networks of friends or family members who've used the services before.
Weintraub said that she hopes her work helps create a welcoming environment for immigrants and international students at the library and in the town at large, as anti-immigrant policy and rhetoric rises nationwide. "I worried that [they] were feeling unwelcome here and unsafe here, and I knew for a fact that that was increasing," she said. "And there wasn't very much that I could do to change the politics, but there was a lot that I and all of my volunteers could do to make [immigrants] understand that they are welcome here, and we appreciate having them here. They make Amherst a richer place."  
The library's programs rely on support from volunteers, who serve as tutors and conversation partners for the English language learners. Weintraub had a surplus of volunteers during the height of the Covid-19 pandemic, but now the student waitlist has exceeded the number of available volunteers. She said she urges Amherst students to apply.
"A Center for Lifelong Learning": Teen and Youth Services
The ground floor of the library houses a lively children's section, where Cecilia Jezek, head of teen services, and Mia Cabana, head of youth services, shared that they envision the Jones Library as a "center for lifelong learning."
They both recognize the potential for libraries to serve as "third spaces": places outside of the home, workplace, or school where people can find community with others. Jezek feels this is especially important for teens, who don't always have reliable and accessible third spaces. Amherst teens can visit the teen lounge after school, serve on the teen advisory board to shape the library's programming, and check out a wide variety of young-adult literature from a collection curated by Jezek.
Children become familiar with the library at an early age. All second graders in the Amherst public schools visit the library with their class to get a library card and check out a book. Cabana works to ensure that children remain connected to the library after this visit, collaborating with library staff, families, and community partners to develop programs such as book clubs, homework help, and music and art workshops for children of all ages.                                                                                
The teen and youth services departments also have ongoing partnerships with Amherst College, notably the Spanish Department and the Mead Art Museum. The Poetry Club also runs the Words Together program, a weekly poetry workshop that brings Amherst college student volunteers together with local middle and high schoolers to read, write, and learn about the poetry of a diverse group of authors.
Poetry Club President Siri Palreddy '24 says that the partnership has been a wonderful experience for college students and local middle and high schoolers alike. She and volunteer coordinator Madi Suh '26 hope to organize a showcase for the students' poetry at the Jones next year. "[The students] want to have an avenue to talk about and perform [their poetry]," Palreddy said. "And I think that would probably be the Jones Library. They really like the Jones Library, and I think that's also a credit to the environment that the library offers."
The upcoming building project will create a permanent "hangout" space at the Jones, specifically for teens, some of whom have given their input in the planning process for the space. Their design wish list includes comfortable seating, fairy lights, plants, and a neutral color palette. Jezek hopes that the new space will be a welcoming environment for local teens to do homework, utilize the new maker space, play video games and board games, or simply spend time with friends.
A college town, Amherst is known for its robust intellectual community, but Jezek and Cabana recognize that the resources of the area's various institutions of higher education aren't always equitably distributed to the entire town community. They work to ensure that the Jones Library can serve as an accessible educational space for people of all ages and backgrounds in Amherst.
"The Memory of Amherst": Special Collections
On the top floor of the library is the Special Collections Department, which houses a small town of Amherst history exhibit, a reading room, and stacks of thousands of local history materials, including letters, town tax records, school books, maps, and more.
Head of Special Collections Katherine Whitcomb is a self-proclaimed "history nerd" and a living repository of town history knowledge. She emphasizes the library's commitment to preserving the voices of those who are often left out of the historical record.
"Our goal is to have items that represent all of Amherst. We're not there yet. We know that. It's an ongoing project," Whitcomb said.
"[That means] looking for information on the middle class, the immigrants, Irish immigrants, the Black community," she said. "And then later on, the people who came to Amherst through one of the colleges, or the churches, looking for a better life. [We're] trying to make sure that everyone is represented, to ensure that we can provide the best overall view of Amherst."
The new renovation will expand the storage space for Special Collections, helping Whitcomb and other staff achieve their goal of creating a broader, more representative Amherst archive. They'll also get a more effectively climate-controlled archive, a larger reading room, and a work room for staff. The new Special Collections will be on the ground floor, which Whitcomb says will make the department more visible and accessible for patrons.
Whitcomb urges Amherst students to pay a visit to the Jones archives if they have a research project, a town history question, or just simply want to look around. She noted that the space is air-conditioned to protect the archive materials, which makes it a wonderfully cool place to visit during the hot, humid Amherst summer!
The Jones Library is a civic center, community space, repository of Amherst history, and so much more. It's buzzing with activity at all hours of the day, as visitors come from across Amherst and the Pioneer Valley to enjoy the multiple programs and resources that staff work tirelessly to organize. If you're looking for a welcoming space to spend some time reading, studying, volunteering, or just exploring, walk exactly seven minutes down the road (Palreddy and Suh told me they've timed it) and check out all the library has to offer.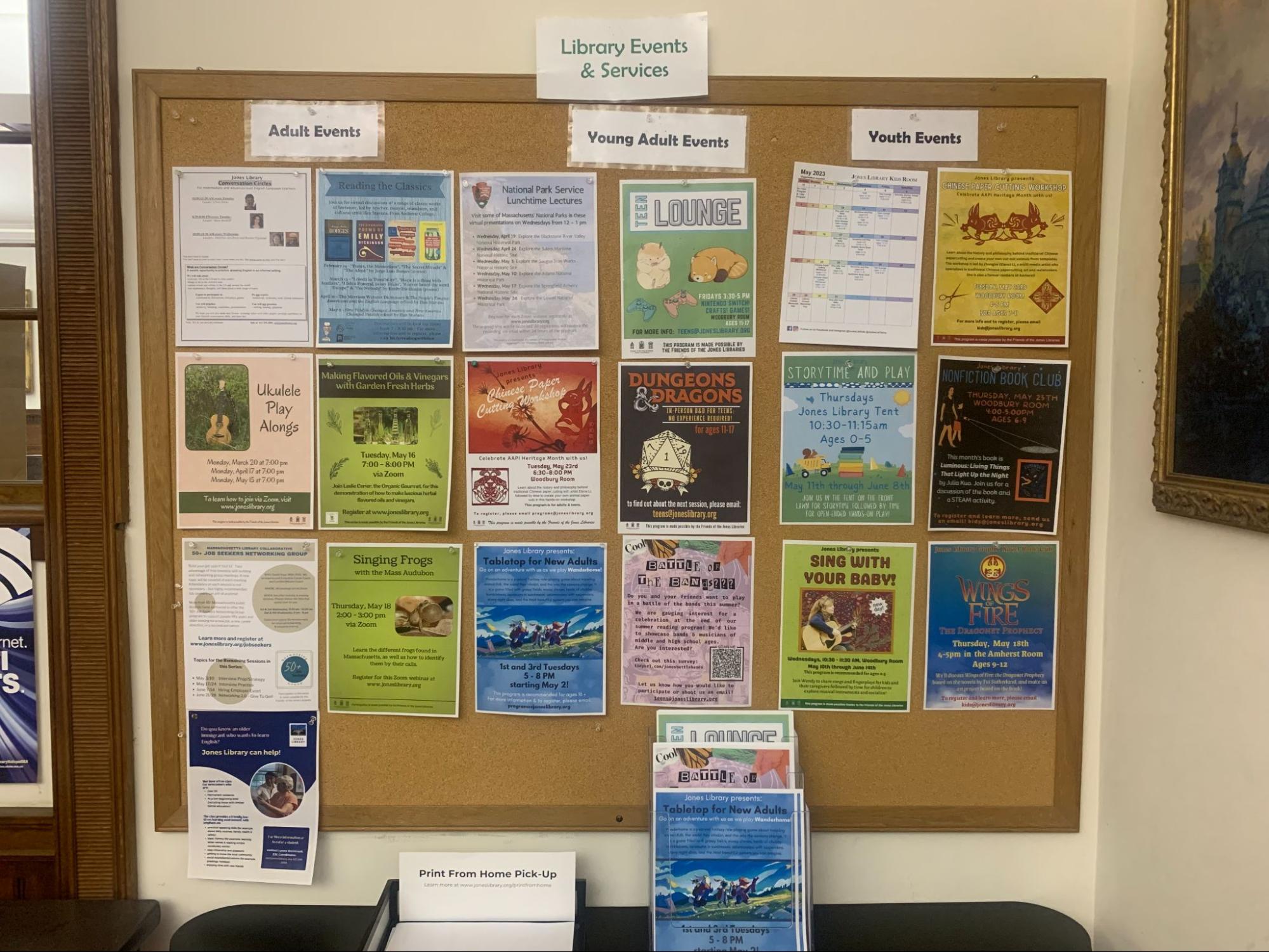 Links to get involved:
Apply to be a volunteer instructional tutor at the ESL and citizenship center here.
Apply to be a volunteer informal conversation partner for English learning here.
For more information, Lynne Weintraub can be reached at [email protected].
Follow @joneslibteens and @joneslibkids on Instagram, and follow the Poetry Club @tpc_amherst or visit their website to learn more and get involved.
For research or general questions, or to schedule an appointment with the Jones Library Special Collections, Katherine Whitcomb can be reached at [email protected].