commencement
Margot Lurie: Championing Justice, One Question at a Time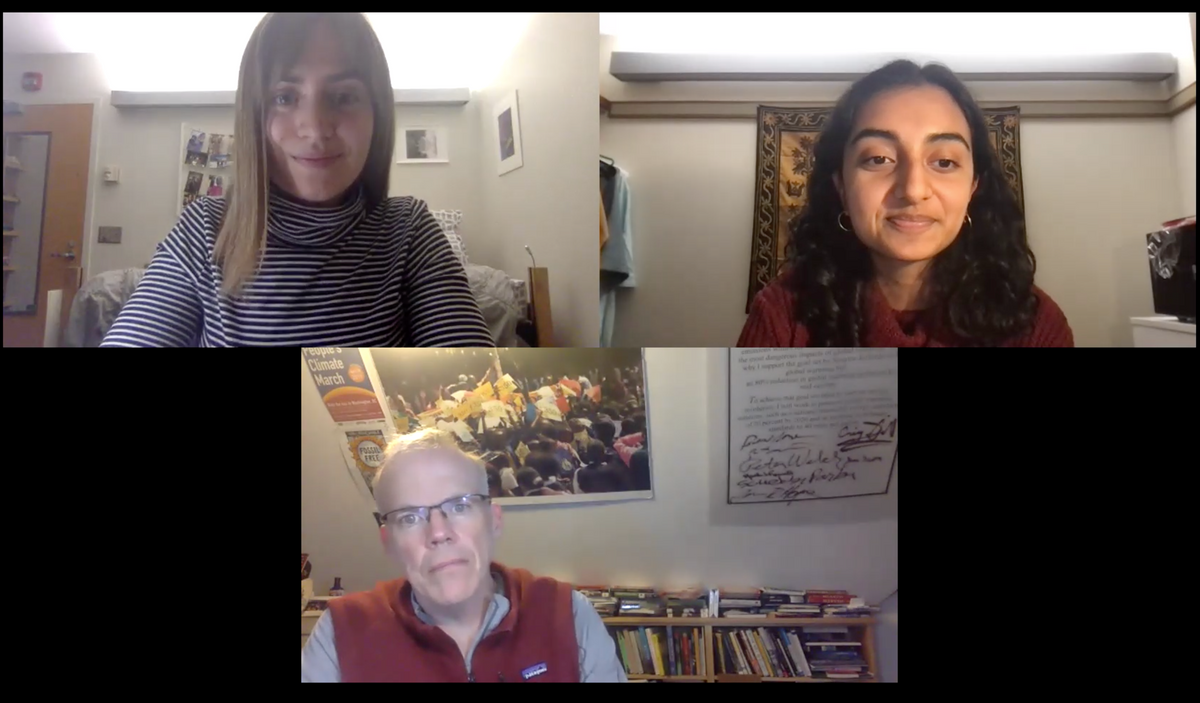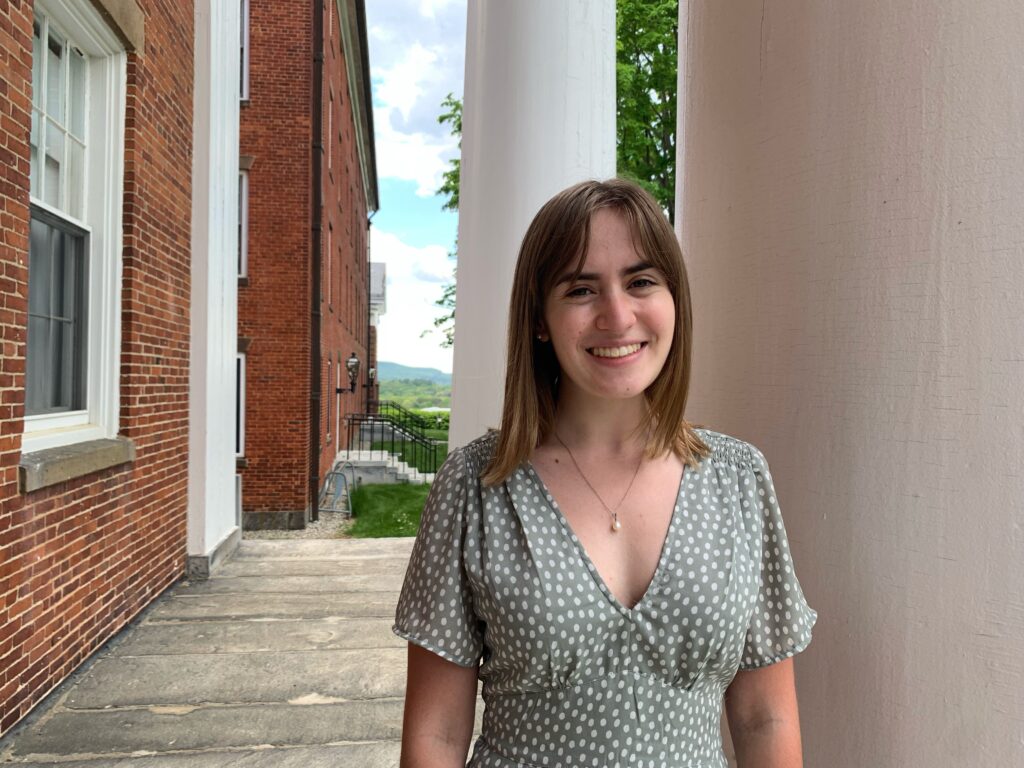 As she walked the halls of her deeply segregated Colorado high school, Margot Lurie '21 saw injustice everywhere she looked. The structural inequalities of American society were lived out each day in school, where only a few would go on to attend four-year colleges and the limited resources were filtered to the predominantly white International Baccalaureate (IB) program. While many accepted these conditions as a fact of life, Lurie started asking questions about the roots of inequality — and since she started asking, she has not stopped.
While she lives in a world full of questions, to most on campus, Lurie provides a steady source of answers. Whether sharing her groundbreaking environmental activism research, showing a new tour guide the ropes, serving on the Environmental Steering Committee to increase the diversity of thought in the department, explaining a problem set as a teaching assistant or leading the Amherst College Sunrise Movement to demand divestment from fossil fuels, Lurie's work inspires others to interrogate the world around them.
Fellow Sunrise organizer Jeanyna Garcia '23 credits Lurie's steady support for allowing her to flourish at Amherst: "She has taught me so much about navigating this campus and creating institutional change and I don't think I would be where I am without her."
Anchored By Academics 
Drawn to Amherst because of the small class sizes, open curriculum and opportunity to work closely with professors, Lurie took full advantage of the wide variety of academic opportunities and sought out as many unique classes as possible. While most of Amherst felt like a huge culture shock, as fellow students' extreme wealth seeped into most conversations and extracurriculars, she always felt at home in the classroom.
Her first year, Lurie took classes in many different departments and relished the opportunity to learn new ways of asking questions. She explored Philosophy, Biology, Statistics, Political Science, Economics and any other department that sounded interesting. Lurie laughs playfully when I ask if she knew what she wanted to major in when she arrived in Western Massachusetts: "I didn't even know my first year and a half, I liked so many departments."
As she adjusted to Amherst, she found joy in the passion and support of her professors. Lurie explains, "I always felt they truly cared about me, about the things I wanted to learn and the questions I wanted to ask." 
Finding a Home 
After spending a year and a half exploring classes and departments, picking up new questions along the way, Lurie found her home in environmental studies. She credits the class "Unequal Footprints on the Earth" taught by Professor Hannah Hollerman with changing the trajectory of her life. The course takes root in environmental sociology, and Luries believes it provided her with the lens for integrating her academic interests with her concerns for the injustices she saw around her. The class gave her a "radical shift for how to see the world as it led me to understand that if I am serious with tackling inequality I need to understand that the environment has been a space for the elite production of power, wealth and colonialism." The course provided Lurie a lens to start answering the questions she had been asking for years while also pushing her to ask brand new ones.
An essential piece of this lens rests in intersectionality. While people throw the word around frequently on our campus, Lurie's work lives and breathes it. In just our short conversation,Lurie and I discussed ecofeminism and the feminization of land and its connection to the crisis of missing and murdered Indigenous women and two-spirit people, extractive colonialism, the bodily impacts of fracking, how environmental exploitation impacts bodies differently and the racialization of exploitation.
Many of these intersectional questions came to Lurie in the classroom, but she believes her time studying abroad in Ecuador proved essential to challenge her pre-established way of thinking. While the readings and conversations in her classes often applauded attempts at conservation, Lurie discovered the lived experiences of displaced people in the Galápagos as a result of environmental preservation.
She further explored conservation in her research with Professor Katharine Sims which examines who New England conservation serves and who it hurts, finding large disparities by race and income level. Sims shared that Lurie is constantly inspiring everyone around her to reach the next level: "Margot's ideas provided the spark for this paper; her passion for research that can advance social justice has motivated everyone on the team." These neauces all came together in Lurie's honors thesis work. Her experiences in Ecuador led her to further investigate Indigenous land stewardship. While most Western scholars ask what are Indigenous people doing differently to address the environment, Lurie asked a different question. "What would it mean to take Indigenous resistance movements seriously as a means of protection, especially the work of women, non-binary and two-spirit people who are leading these movements in Turtle island?"
Lurie centered her questions on the place she knows best: the Southwest. She conducted ethnographic research relying on the methods of Māori scholar, Linda Tuhiwai Smith who centers on reciprocity rather than extraction in research. After concluding that the resistance of Indigenous women and binary people in the Southwest presents a meaningful alternative to mainstream methods of environmental protection, Lurie's goals grew even bigger. She ultimately wants to take the burden off Indigenous people to teach settlers, a mission she incorporates into her daily conversations and academic endeavors .
Professor Hollerman, who served as her thesis advisor, emphasized  Lurie's commitment to ethical scholarship. "Margot stands out as a consequence of what she asks of our society and herself. She doesn't take anything about the present for granted, but instead works very hard to understand how we arrived at the present moment and where we should go from here. She also takes responsibility for acting on this knowledge. In other words, she is both a highly committed, ethical scholar and intellectual, as well as an effective activist. In her work, this is a powerful combination."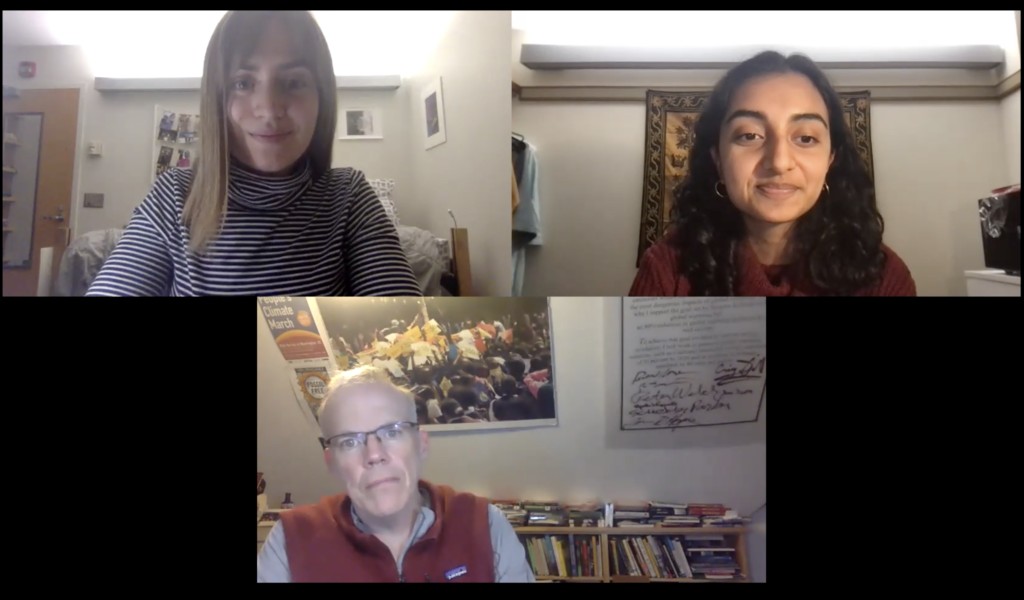 From Student to Activist 
Lurie has never been satisfied with simply asking questions; she works to turn answers into action. Lurie started on a smaller scale, working with Facilities, Dining Services and the Office of Environmental Sustainability to reduce landfill waste and serving on the environmental studies steering committee to make the department more inclusive for first-generation students, low-income students and students of color. Lurie wanted to do more, and during her senior year, saw an opportunity to create large-scale change as part of the newly established Amherst Sunrise chapter.
While the group has no official leadership structure, Lurie's experience organizing on campus, her inquisitive nature and thoughtful listening ability have brought her into a de facto leadership position. A group of current sophomores brought Sunrise and its divestment coalition to Amherst in 2020. One of those sophomores, Garcia explains that Lurie "is the only upperclassmen that empowered our group … the divestment coalition would not be where we are without her." Garcia aspires to follow in Lurie's footsteps on campus as a fearless organizer. Another Sunrise founder, Meenakshi Jani '23, shares that "Margot was a brilliant leader … willing to put in the work when others were unable and step in when support was needed."
Lurie's activism has brought her into conversation with President Biddy Martin and the Board of Trustees. She ultimately convinced the Board to publicly announce they will divest from fossil fuels by 2030. She explained that "this doesn't come close to Sunrise's demands, but it is a huge win because divestment at the end of the day is a political act … what matters is removing the social license to operate from fossil fuels and the prison-industrial complex … so this statement represents a giant step in that direction."
While continuing to hold the administration's feet to the fire, Lurie is working to hold Sunrise itself accountable, especially when it comes to their relationship with the Native and Indigenous Student Association (NISA). As the group moves forward, Lurie is determined to build a broader coalition that centers Indigenous communities who are usually most impacted by environmental injustice.
Even as her time on campus concludes, Lurie plans to continue her work with Sunrise and the Divestment Coalition to build a strong alumni network.
Asking Questions Beyond Amherst 
After graduation, Lurie will continue to ask questions as a Watson Scholar. A scholarship created to allow students "purposeful, inde­pen­dent explo­ration," the Watson seems tailor-made for Lurie.
Her scholarship will take her to six different countries to explore post-extractive communities. Lurie wants to learn more about what takes place after extraction, explaining no place is truly post-extractive "because the nature of extractive economies is that they continue to yield extractive economics." This project reflects on her family's past, as coal brought her grandfather to Colorado from South Africa, to forge her future.
Upon completing her Watson, Lurie plans to pursue a Ph.D in Environmental Sociology. Lurie chuckles as she shares that she wants to be a professor, a path she never pictured for herself. Yet, the potential for continued activism draws her to academia. Lurie hopes to help undergraduates foster their own activism while continuing her research and advocacy.
As Lurie ventures beyond Amherst, we can all rest assured knowing she has helped shape the next generation of Amherst leaders, and the questions she will ask in the future will most certainly bend the arc of history towards justice.