News
President Martin Raises Possibilities for Fall Semester, Fields Student Questions in Virtual Town Hall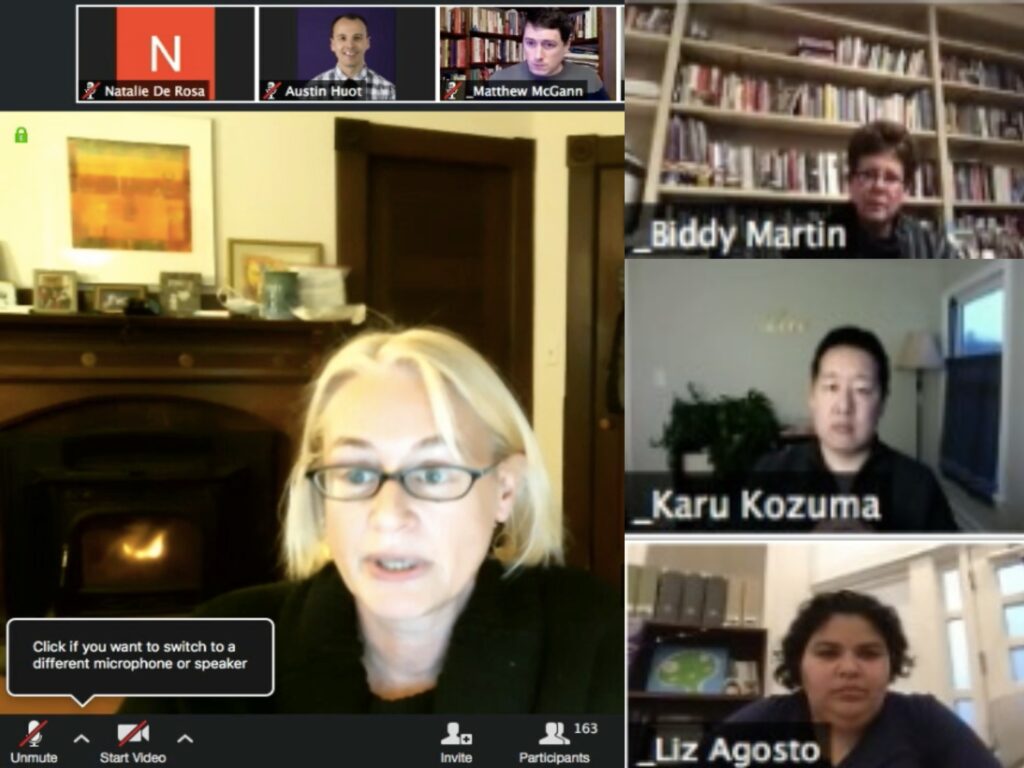 President Biddy Martin hosted a virtual town hall for students on Wednesday, April 22, in which she joined Provost and Dean of Faculty Catherine Epstein, Dean of Students Liz Agosto and Chief of Student Affairs Karu Kozuma in a conversation moderated by Dean of Admission and Financial Aid Matt McGann to field questions. The town hall, which was attended by nearly 200 students, covered matters ranging from the college's plans for the fall semester to procedures for students remaining on campus to commencement. The Student has broken down the night's conversations, topic by topic, to highlight what you need to know.

THE FALL 2020 SEMESTER
The first item on the night's agenda, Martin discussed the uncertainty hovering over the status of the upcoming fall semester and emphasized the college's hope to bring students back in September in some form. The fall semester is dependent on Massachusetts Governor Charlie Baker's decision on when to reopen the state, Martin said; the state is currently closed until May 5, though the possibility of an extension still looms as the coronavirus continues to spread. Martin outlined a number of possibilities for what the fall could look like: staggering when students return to campus and pursuing a hybrid model of online and in-person classes were among the options the college is considering, along with a continuation of full remote learning.

Later in the town hall, Epstein added that pushing back the fall semester to begin in January 2021 was not ideal, as health experts predict that the virus will begin to re-escalate beginning in November. Delaying the fall semester, Epstein said, would be risky, as the possibility of a fully remote spring 2021 semester still lingers if the virus does resurface.

If the college does return to an in-person model in September, Martin said that students must be prepared for a "different" semester from previous as the college abides by precautions recommended by the Center for Disease Control (CDC). Social distancing, temperature checks and the use of masks and gloves would occur if students were to return to campus. Already, the administration was able to ensure that students would also be required to stay on campus upon returning, restricting travel even to other college campuses for five-college courses, which will be online.

The college hopes to have a decision on the status of the fall semester by June, Martin said, though she reiterated that the college's actions will continue to shift as the situation does. She advised students to wait until the college makes an announcement about the fall semester before deciding whether to take a gap year or semester.

CARES ACT FUNDING
Martin revealed that the college will join other elite institutions, including Harvard, Princeton and Stanford, in rejecting institutional funds offered by the Coronavirus Aid, Relief and Economic Security (CARES) Act, highlighting that the aid should be allocated to other institutions with smaller endowments and graver financial circumstances. The college will accept the portion of the CARES Act designated as emergency relief funds for high-need students — nearly $790,000, according to an analysis by The Chronicle of Higher Education. The amount colleges receive in emergency grants is calculated on the number of Pell Grant-eligible full-time students.

There will be no application or petition process for students to access CARES Act grants, with the college identifying its high-need students to offer funding to.

STUDENTS ON CAMPUS
Agosto addressed the procedures that will be in place for the 179 students remaining on campus in the coming weeks, particularly concerning move-out, summer residency and the fall semester. Students currently on campus can petition to remain on campus throughout the summer, though Agosto noted that she expected many students will want to leave considering the drastic changes to campus life since the college vacated last month. Seniors will not be able to petition and are expected to leave campus by May 25, the day after what would have been commencement, Agosto said, adding that she will work with individuals based on their circumstances if that expectation is unattainable. Those whose petitions are approved to remain on campus over the summer will not have to petition to remain in the fall, both Agosto and Martin affirmed.
COMMENCEMENT
While the college is still making plans for an in-person commencement sometime in the future, Martin and Epstein noted that a virtual commencement will occur on May 31, with degrees conferred on this date. Senior prizes will also be issued sometime this semester, with the hopes of "publicly recognizing" award winners in-person in the future, Epstein said. Martin and Epstein encouraged seniors to fill out a survey recently sent to them on commencement "honestly and quickly."
FINANCES
Martin affirmed that the college is in good health financially for at least the next year — "more prepared than some colleges were in 2008" — thanks to liquidity in the endowment. What the college's finance looks like a couple of years out, however, is uncertain, with Martin anticipating that the college will have to make some "undesirable" decisions to keep running.
When asked about whether there would be reductions to financial aid, Martin succinctly responded "no." She added that some students' financial situations may have changed due to the virus, which will alter their financial aid package, but that the college remains committed to meeting students' needs as they have previously done.
On the possibility of tuition reductions for next semester if courses are taught fully online, Martin said that she does not currently have an answer, and the college's decision will depend on "multiple variables."
HEALTH AND SAFETY
In preparation for the eventual return of students to campus, the college has requested tests for the coronavirus and for coronavirus antibodies, both of which are "important," Martin said. The college is also beginning to acquire masks and gloves for the community to use once on campus, and is coordinating with experts including David Kessler '73, a former commissioner at the Food and Drug Association, to make decisions on health and safety.

ACADEMICS
Faculty have been told to prepare their courses for next semester for every possible scenario for next semester — whether that be fully online, fully in-person or a hybrid model — according to Martin. Students will still be able to take courses at the other four colleges in the consortium, though the courses will only be offered online and students will not be traveling to the other colleges' campuses. Students in majors that require labs are encouraged to take lab courses in later semesters, while those planning on writing theses with a lab component should discuss possible options with their department and the faculty member they will be working with.

SPORTS
While there is no update on fall athletics, Martin noted that the NESCAC is considering moving fall sports to the spring, though there is no final decision yet.

STUDY ABROAD PROGRAMS
There is the possibility that study away programs could be cancelled, but because most programs are run by third-parties, the decision to cancel is not up to the college. Students planning on studying away in the fall should register for Amherst classes and participate in the housing lottery in the event that their programs are cancelled.

Correction: A previous version of this article said that students remaining on campus for the summer will not be charged; the college is still unsure of there will be costs. Additionally, sports seasons will not be merged, but the fall season may possibly occur in the spring. Corrected on April 24, 2020 at 9:08 p.m.
Correction: The original version stated seniors would not be eligible for CARES funding, as was relayed in the meeting, but in fact, high-need students enrolled in the spring semester at the time of the campus closure will be eligible. Corrected on April 29, 2020 at 10:54