Arts & Living
Quavo's First Solo Album "Quavo Huncho" Signals Future Success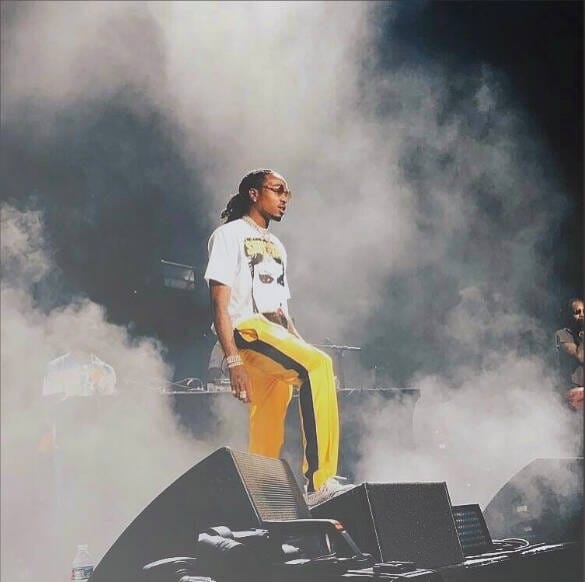 On the first verse of his first solo album, "Quavo Huncho," Quavo raps, "write my name 'cross the hall of fame banner." Although this project had been eagerly awaited by many of Quavo's fans for some time, such an opening statement was quite bold for someone who had risen to fame due to the success of his music group Migos. As Migos' popularity and success grew, all three members, starting with Quavo, began accepting feature roles on other musicians' songs — although Takeoff failed to achieve the individual stardoms attained by Quavo and Offset.
Quavo's choice of a Salvador Dalí-esque album cover is fitting, as the sound and beats of "Quavo Huncho" are kaleidoscopic and ever-changing. In "Huncho Dreams," an immersive xylophone and chime beat sets the stage for Quavo to rap, companionless, about his relationship with Nicki Minaj. The sound of "Bubble Gum" is reminiscent of many of the songs on "Huncho Jack, Jack Huncho," a previous album by Quavo and Travis Scott. Quavo uses autotune and synth liberally to assemble an upbeat experience.
Although the main attraction on the album is Quavo's solo stylings, the features on "Quavo Huncho" also live up to expectations. On "Flip The Switch," Drake doesn't hold back, rapping "I just let the money energize me / You was in your 20s in the 90s." Quavo's cadence is classic Migos on the chorus, with his quick stop-and-go rapping.
Meanwhile, "Rerun" features Travis Scott, another artist who frequently collaborates with Quavo. The duo's chemistry, as has been the case in past projects, holds the song together as the two often alternate lines, with Scott rapping "She like it, I'm swiping / I had to come right back and rerun."
Quavo wisely stays in his comfort zone throughout the album; there are almost no surprises and he sounds mostly the same as he has in past projects. The pace of "Workin Me" is reminiscent of "Big on Big" from "Culture." His lyrics don't deviate from the norm either. For example, on "Pass Out," he raps "Pull up, park and do damage / Trap house to a mansion." Quavo might not have the range to artistically or lyrically branch out from his normal music, which isn't necessarily a bad trait. He knows his strengths and sticks to them, a safe and prudent approach for a debut album. He gives his listeners exactly what they're paying for.
What does Quavo's album mean for the rest of the music industry? Not much, as it turns out. Migos is a unique group that works well with others and all its members know that if they fully break up, there is no assurance of individual success.
As such, Migos seems like the rare group that will explore solo projects while managing to remain together. In an interview with AP News, Quavo admitted that although Takeoff and Offset plan to release solo albums in 2019, the group will nevertheless put out the group-album, "Culture III."
When asked whether he thinks the members of the group would be as successful individually as they are collectively, he responded in the negative, saying, "Nah, I never really did see myself as a stand-alone. We never really saw ourselves having solo careers. We came in as a group. We were trying new ways and new sounds. It's all about growth. When we were coming [together] as a group, we weren't thinking about kids, marriage or like real stuff. Seeing Offset have his wife [Cardi B] and kids, it makes you want to grow up. We all can't stay in the same house no more."
Migos' members' motivations behind their solo ventures genuinely seem like the pursuit of creative art, rather than the money-grabs that many other solo projects often are. The fact that the trio continues to explore these avenues while maintaining the integrity of the group speaks to their maturity and brotherhood. Although their solo projects might not top their group efforts, "Quavo Huncho" proves that they are worth a listen.