Arts & Living
"Reasons to Leave": A Sensational Senior Thesis
Sebastian Son's '22 senior thesis in music composition, "Reasons to Leave," integrated original musical pieces with strong theatrical performances. Managing Arts & Living Editor Alex Brandfonbrener '23 explores the one-night production and Son's creative process.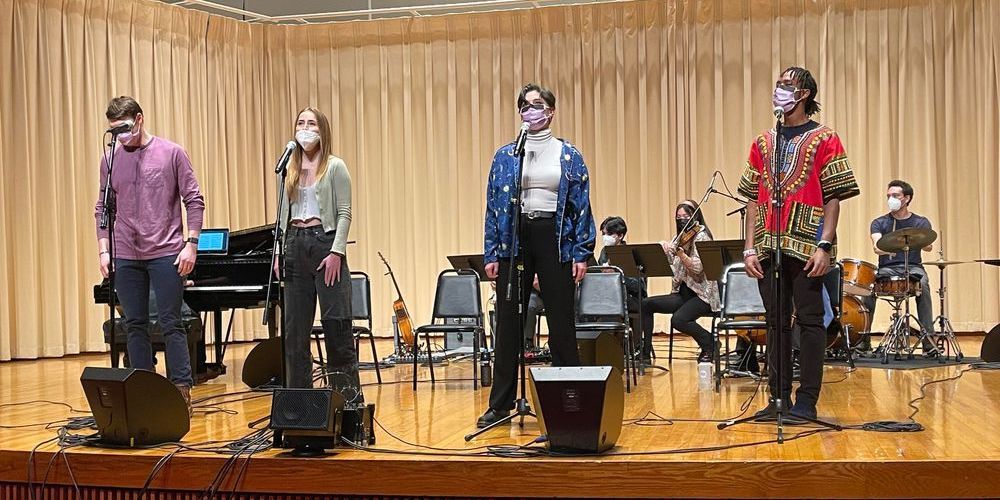 If you could leave your past entirely behind, would you? This was the premise of "Reasons to Leave," Sebastian Son's '22 senior thesis in music composition. The one-night performance, which took place on Saturday, Feb. 5, in Buckley Recital Hall, was the first live performance of the spring semester. The musical starred four main performers — Scott Romeyn '22, Annika Paylor '24, Anika Grimsrud '24, and Alfred Kidowen '23 — bared on a stage without any decor or set pieces. Each performer played multiple characters over the course of the show, all connected by a desire to leave the world they know behind, but each for different reasons. Through a series of emotional musical numbers combining song and acting, each character expresses what's pushing them to leave, the doubts and reservations keeping them from leaving, and what they expect to be waiting for them beyond the stars.
Son says that the premise of the musical was inspired by his own "sense of restlessness [and] unhappiness during the pandemic." He shared that, during the long months stuck at home, he felt much like the characters of "Reasons to Leave": "I had this sense of wanting to get away, and combined with all the bad news I was consuming about the rest of the world, it felt like the wistful solution was to pick up and leave the planet entirely."
The show kicked off with an overture featuring Son's varied musical inclinations, taking influence from pop rock and jazz, as well as employing unconventional rhythms. It was a strong introduction to the musical's tone and themes, an upbeat and curious beginning that contrasted with its mournful lyrics.
This juxtaposition was a constant presence throughout the play. The characters' doubts about whether to leave were made clear onstage when they sang about their pains while sporting smiles. The playful, lighthearted, and earnest nature of the musical made for some of my favorite moments. For instance, I liked when Grimsrud danced during the bridge of her solo song, swinging her legs across the stage like a rejected Rockette. I also enjoyed the song that followed, a satirical ragtime piece that echoed the 2019 hit musical "Hadestown." During the song, the four performers kept themselves rigid and upright, chiming about respecting one's "body and soul" — a motif that Son continued to use throughout the play — like a stifled church choir. Another playful moment could be found in Romeyn's solo song, where he played an eccentric scientist pushing himself to leave his past behind because of hair loss, making use of dynamic acting and unexpected sounds to bring the humorous character to life. It was in these lighthearted moments that the musical settled into a groove and immersed me in the intersection between music and acting.
And yet, the serious parts of the musical were impactful as well. A standout moment was Kibowen's solo song, which was elevated by his singularly impressive voice. Flexible, lyrical, and resounding, he played off the musical's unorthodox rhythms as if he were improvising. The song was immersive and emotionally charged, showing off both Kibowen's performative flair and Son's use of tempo to create narrative.
Of course, Son's music was the backbone of the musical. All of the musicians — the singers, a talented set of supporting musicians, and Son himself on piano — had moments to shine both individually and as a unified ensemble. The instrumentation also felt varied and lively, which Son attributes to the creative freedom given to him by his thesis advisors: "I didn't have to get the concept approved, I could choose my own instrumentation, and that really let me flourish creatively. [Andrew W. Mellon] Professor [of Music] Eric Sawyer was a big help — he's really great with giving suggestions about how my songs could be made more interesting with a few more details. Professor [of Theater and Dance] Jude Sandy also spoke with me about the concept of the show and helped run my first table read, which was a fantastic help."
Yet, Son's clever music and writing, filled with tricks and unexpected moments, truly came to life through the performances of the show's four actors. All four appeared comfortable and well-rehearsed, with enough space to breathe, move, and explore. I was impressed by how Son divided emotions and themes between them, giving each distinct roles that shifted as the play progressed.
Paylor in particular blossomed over the course of the show, delivering her most compelling performance in the penultimate song, where she and Romeyn played a failing couple who can't seem to get on the same page. At the beginning of the musical, I thought that Paylor was an understated presence, at risk of being overshadowed by the other three, who each maintained unique tones of voice. Only in this song did I see Paylor's acting technique, which relied on practiced, carefully choreographed motions in concert with her impactful singing. Mirroring Romeyn's positioning at times — as if she were taking his side — by the end of the song, she had spoken her mind against him, swinging her hair confidently and freely. It was not only a well-acted progression, but also one that seamlessly integrated the acting with the music and the writing.
At the start of the show, Son said that writing a musical was his "dream." As a viewer, I take that as an insight into just what it took to create "Reasons to Leave." I was struck by how much work must have gone into writing a full production of music, uniformly filled with surprise and suspense. The musical was a testament to Son's creative vision and resilience, as well as a proper opening to a new semester of live performances.
After the show, I asked Son what he would like to say to everyone who watched "Reasons to Leave." He responded, "You don't need a 'good' reason to justify your own unhappiness, or your own 'reason to leave.' … What matters is the truthfulness of the emotion, and embracing it sincerely — and when enough people come together in that sort of honesty, anything is possible. Even flying away on a rocketship."
Note: This article was modified on Feb. 10, 2022, to exclude a description that made some readers uncomfortable. While we typically amend articles only to correct for factual inaccuracies, The Student is also committed to treating the subjects of its articles with full respect. We deeply regret any harm that was caused by the original piece.