News
Sexual Violence at Amherst: A History and Legacy
In this archival and interview-based piece, The Student traces the history and legacy of sexual misconduct at Amherst, from the college's move to a co-ed model in the 1970s to the present day.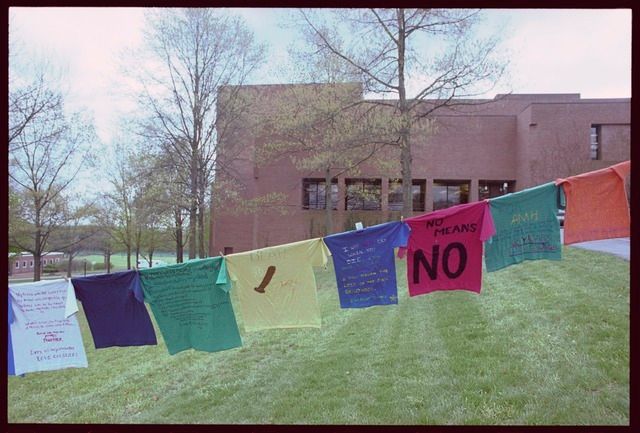 Content warning: This article contains mentions of sexual assault and suicide.
In a post on Feb. 4, the Instagram account @amherstshareyourstory addressed their frustrations with the lack of change concerning the culture of sexual misconduct at the college. Responding explicitly to an email from the President's Office, the post reads, "If significant change has been made since the 2012 investigation, why are the same conversations around sexual misconduct still happening?"
What conversations were taking place in 2012 regarding sexual misconduct? How has the campus culture concerning sexual misconduct evolved since then?
In this article, The Student explores the history of sexual misconduct at Amherst College, beginning in the 1970s when the college went co-ed, and following the progression of events to the present day. Through newspaper findings, archival data, and personal alumni narratives, this article hopes to expand upon some important questions. How has the attitude regarding sexual respect on campus changed over the past nearly 50 years? What events are responsible for these changes? How has the student body and the administration responded to issues of sexual misconduct — and what do these responses show about the potential for the development of a culture of sexual respect on this campus?
Late 1960s to 1980s: Amherst College Goes Co-Ed
In the late 1960s and early 1970s, colleges that had previously been male-dominated started making the switch to coeducation. Yale University and Princeton University went co-ed in 1969, with Williams College following their lead the next year.
On Nov. 2, 1974, the Board of Trustees voted in favor of making Amherst College coeducational, and the first class of women were accepted into the college for the following academic year. The decision to go co-ed was not a popular one with everyone in the Amherst community; a 1974 article in The Student reported that the decision was expected to negatively affect alumni contributions, as some felt that it was a "step backwards."
The college's fraternities — which had not yet been banned at the time — were also divided on the issue of coeducation. While fraternities Phi Gam, Psi U, and Chi Psi expressed their enthusiasm for opening their doors to women in another 1974 article, fraternities like DU and Chi Phi voiced their concern that an influx of women into fraternities would eradicate the "last vestige of male influence at Amherst."
Sentiments such as these reflected an already deeply-ingrained culture of misogyny that was prevalent on campus before women arrived. But the college's decision to go coed subjected a large number of new students to difficult conditions.
In an interview with The Student, Jody Kujovich '78, who was among one of the first classes of women to attend Amherst, described her unique experience living in a fraternity. "I said yes, stupidly, because they gave me a single room in a nice building. It was a mistake," she said. "It was awful living there. It was so bad that I began to petition to get out. It was gross, I mean they were just obscene in the way they talked."
Evidently, introducing women into an all-male campus was not an easy feat, requiring challenging the general attitude toward women — an attitude that viewed women far from being intellectually capable. In 1973, a year before the college voted to go co-ed, an article titled "Sleazing" was published in The Student, which detailed how to "pick up" women while simultaneously objectifying and insulting them. The article, posted anonymously under the name "Homunculus," states: "We hate to admit that we need women physically (I mean, when was the last time a Holyoke broad made a significant contribution in your English class?) There are all sorts of 'liberal' arguments about women being more than objects, but face it … when Nature calls, you answer."
The article provides insight on the attitude of sexual entitlement Amherst men felt towards women in the 1970s. In their eyes, "there [was] no reason why any Amherst male should go scoreless." "Sleazing" also expressed appreciation for Amherst being a male-only college, stating that "Once you've scored and shipped them, you never have to see them again. The girls you screw don't live in Pratt, they live miles away!" This attitude affected incoming classes of women at Amherst over the following years — the women who, instead of being miles away, were now next door.
Kujovich recalled being stalked by a male peer for a period of time at Amherst, sharing she dealt with it with help from her friends. "We kind of took care of ourselves … it didn't even occur to me to seek out help … because, who would I go to?" From her perspective, the administration was not yet equipped to deal with such issues of sexual misconduct, "I can't recall any resource that would have been available to me other than going to a dean. There was really no channel for that yet. [Women] were just too new."
In terms of formal policy regarding sexual respect, Kujovich told The Student, "I don't know that they even had one because they were busy trying to figure out how to even have women [at Amherst]. They were kind of making it up as they went along, and that was evident in everything."
Late 1980s to early 2000s: Shifts in Policy and Attitude
The end of the 1980s and the early 1990s began to show signs of a shift in attitude concerning the place of women at Amherst, according to historical documents and the testimony of alumni. Feminism started to plant its seeds on campus, and women at Amherst started to speak up on issues related to sexism, including sexual assault.
In an interview with The Student, Heather Cristol '91 recalled participating in "Take Back the Night" events during her time at Amherst. "We were rallying for the idea that women shouldn't have to be afraid to be out alone at night, and that the world should be a place where we felt safe," she said.
The 80s also produced a series of events known as "Womenspeak" that focused on drawing attention to issues of women's rights. Originally established as the Amherst Women's Group in 1975, the staff and resources allotted to what is now recognized as the Women's and Gender Center slowly began increasing during this time as well, establishing the center as a valuable resource for women on campus.
Despite student progress towards creating a safer atmosphere, formal training on matters related to sexual respect was scarce at Amherst College in the early 1990s. Cristol reflected on a lack of resources concerning issues of sexual respect. "I mean, maybe there was a workshop or something, but I just don't remember there being any sort of formalized education about consent," she said. Cristol expressed that during her time at Amherst, most of the community wasn't equipped to handle cases of sexual assault: "At the time, it was like how would you support someone who was telling you that they had been assaulted? I mean [rape] was just like, this is a thing that happens to people and then nobody really knew how to deal with it."
In 1997, the college adopted a Sexual Harassment Policy in accordance with the Massachusetts Act Relative to Sexual Harassment, Education, and Training in the Workplace. The law now required employers to adopt a comprehensive sexual harassment policy to be shared with all employees.
In an email to the Amherst community on June 3, 1997, President Tom Gerety announced this new policy change, writing: "We will continue to offer all academic and administrative departments educational programs on sexual harassment laws and policy. We expect all employees to be familiar with the enclosed policy and to abide by its letter and spirit."
Records available today still preserve some of the instances of sexual harassment that this policy was created in response to. In the same year that the college adopted its Sexual Harassment Policy, a former Amherst College employee who worked in the office of Foundation and Corporate Support, Marjorie Hutter, filed a complaint of sexual harassment against her supervisor Marvin Weaver. Hutter claimed that Weaver's behavior towards her changed after she became pregnant, including making demeaning comments that created a "hostile work environment" according to an article in The Student.
Over the course of that entire year, the college reported 12 cases of "forcible sex offenses" in compliance with the Jeanne Clery Disclosure of Campus Security Policy and Campus Crime Statistics Act. The Clery Act was passed in 1990 as an initiative to increase transparency about crimes committed on college campuses. The Clery Act has been amended several times since 1990, notably in 2013 when it was altered to include domestic violence, dating violence, and stalking.
The changes to law and formal policy brought an increase in awareness of sexual assault at Amherst College in the early 2000s. During this time, numerous programs and events took place to promote conversations of sexual respect.
For example, Rape Aggression Defense (R.A.D.) classes were offered for free to all Amherst students and their family members. R.A.D. classes were advertised on flyers as a "program of realistic self-defense tactics and techniques which are designed specifically for women." By 2002, over 300 Amherst women had completed R.A.D. training.
In 2001, during the week of April 9, a series of events were held for "Break the Silence: Sexual Assault Awareness Week," including the Five College Clothesline Project. The Clothesline Project is a visual display dedicated to increasing awareness of sexual violence — through the medium of a T-shirt, survivors of sexual assault are given a space to voice their personal experiences.
During this time, the administration also began to implement educational training on sexual respect for faculty. In 2000, the Affirmative Action Office, led by Hermenia T. Gardner, held a Sexual Harassment/Sexual Respect Staff Workshop.
2012: Student Testimony Reveals Deep-Running Issues
The illusion of progress was shattered on October 17, 2012, when Angie Epifano — a student at the time — published an account in The Student of her rape and the college administration's inadequate handling of her case. Epifano's story garnered a substantial amount of media attention and sparked an uproar of conversation on campus concerning sexual assault.
Shazi Lyle '15 reflected to The Student, "That letter being published was really shocking. I remember my friends and I spent days reading it, rereading it, and talking about it. We felt very disappointed and confused about the way the administration was portrayed in that letter. It just felt very isolating and it really made me lose faith in the administration and the way they handle students."
Epifano's narrative detailed that she was questioned by the sexual assault counselor about whether she was "sure it was rape," discouraged from following through with a disciplinary hearing, sent to a psychiatric ward by the administration, and faced with academic restrictions. Eventually, Epifano withdrew from Amherst. The impact of her story can be seen in the events of subsequent months and years.
On Oct. 23, 2012, only a few days after Epifano's essay was published, Dana Bolger '14 compiled a photo project titled "It Happens Here" featuring photographs of people who experienced sexual assault at Amherst and the things they were told by the community after their assault. The photo project includes some shocking messages, such as a sign reading, "why couldn't you fight him off? -friend." The project not only confronted the administration's inadequacy, but also addressed the larger culture of sexual misconduct at the college.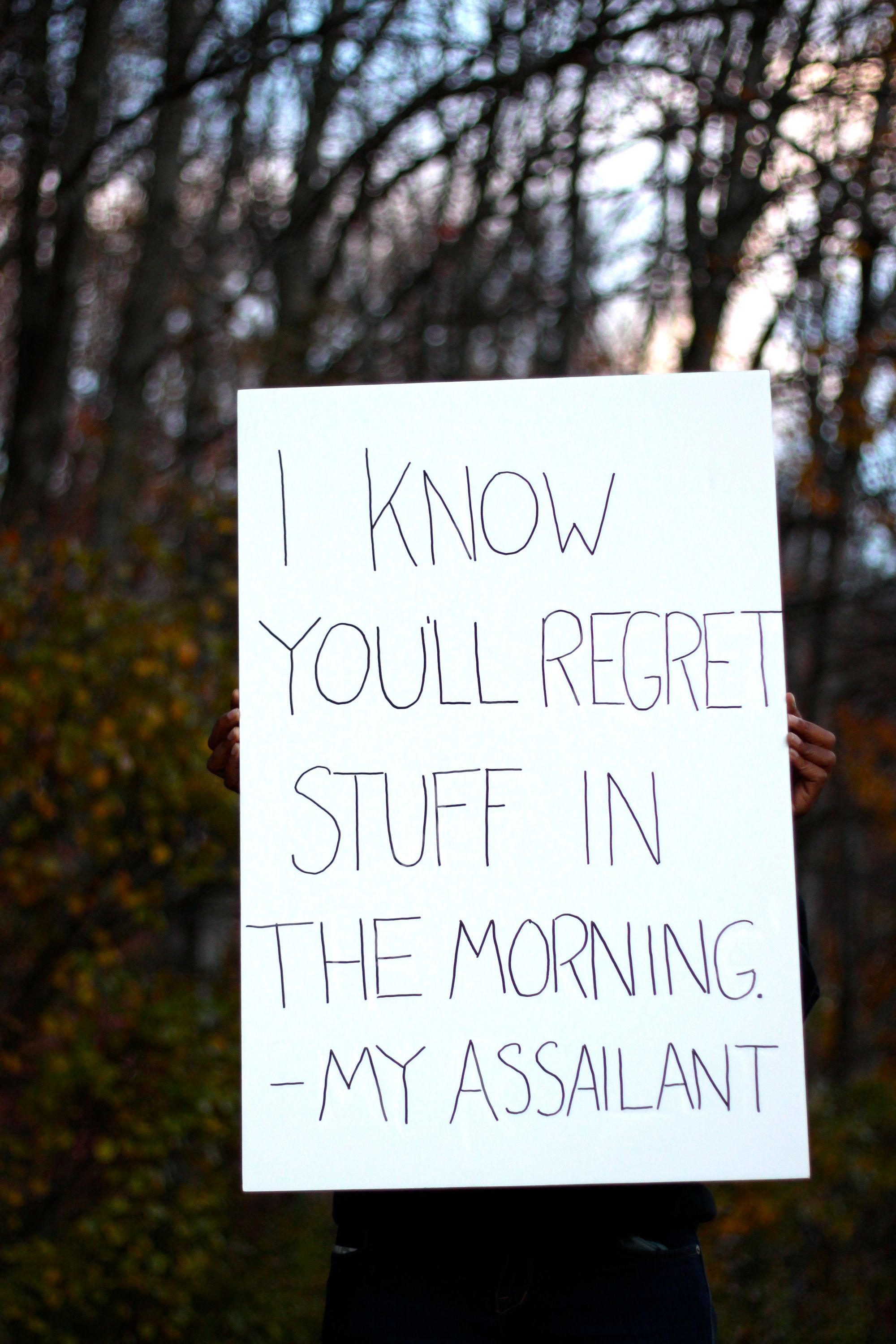 In Bolger's words on the "It Happens Here" website, "In our impulse to point a finger outward at the Amherst administration, let us not forget to look inward at our own complicity in the creation of a culture that gives Angie's rapist the power to act and our administration the power to silence and dismiss her experience."
On Oct. 26, 2012, Sexual Respect Counselor Gretchen Krull resigned. References to Krull were made throughout Epifano's essay, and her capabilities in her role as sexual respect counselor were portrayed negatively. No confirmation was explicitly made that Krull resigned as a direct result of the essay, but an email from the President's Office stated, "In keeping with what we have learned about the broad area of Student Affairs over the past months, we are redesigning and restructuring our student support services for victims of sexual misconduct and violence."
On Nov. 2, 2012, President Biddy Martin canceled classes and closed offices for a "day of dialogue" for the Amherst community. The Day of Dialogue drew approximately 1,900 people to gather in the LeFrak Gymnasium and have conversations about sexual assault supported by presentations from faculty and administration members, including President Martin.  
Reflecting on the Day of Dialogue, Lyle said, "I was really proud of the people that I was close with and that I knew from class, seeing them doing [their] best to be heard. Having a Day of Dialogue, having a call to action about adjusting the way that we frame sexual respect was really important for addressing the culture of sexual respect at the time."
A few days later, on Nov. 5, 2012, the necessity of the Day of Dialogue was further amplified by the publishing of former Amherst student Trey Malone's suicide letter on The Good Men Project. Malone's letter explicitly mentions an incident of sexual assault he experienced at Amherst and his difficulty coping with it afterwards, which was made even more difficult by the administration's ineffective handling of his assault.
"There was no adequate form of preparation available for that and no repair afterwards. What began as an earnest effort to help on the part of Amherst, became an emotionless hand washing. In those places I should've received help, I saw none," Malone wrote.
President Martin addressed the community afterward in a letter, expressing her sorrow and claiming that "the lessons in his words have informed the on-going changes we are making at the college directly."
The collective unfolding of these events — Epifano's essay, Bolger's photo project, and Malone's suicide letter — placed the college under substantial pressure to implement fundamental change in their approach to issues of sexual misconduct. The student body was demanding changes be made in several areas, including increased resources for survivors of sexual assault, a review of penalties for those found responsible for sexual misconduct and assault, and student membership on the Title IX committee.
In a letter to the editor published in The Student on Oct. 23, 2012, faculty stood in solidarity with the student body regarding these demands. The letter states, "We are writing to express our deep support for all who have been affected by this in any way. We are also troubled that the College has failed you … We realize that nothing can change the past. But as we face the future, know that we stand with you and we will come through this together."
In response to the pressure to address sexual misconduct, the college established the Special Oversight Committee on Sexual Misconduct in October 2012. The committee was comprised of a mix of faculty, staff, students, and trustees for the purpose of reviewing the policies then in place concerning sexual misconduct and providing recommendations to more effectively adress sexual misconduct on campus. The recommendations produced by the committee included requiring workshops on sexual respect and bystander training for first-year students, restructuring the Counseling Center to provide more services available to students 24/7, providing alcohol use education to all students, and allocating more resources toward the Dean of Students office.
In 2013, in response to the sexual assault crisis happening on campus, Amherst hired its first full-time Title IX Coordinator, Laurie Frankl. Reflecting on the work of the Title IX office, Frankl told The Student, "Over the years, we have implemented DEI principles and practices, like: engaging and training around issues of bias; requiring anti-racism training for all members of the Title IX team; and actively considering how individuals' identities affect both their experiences with gender-based violence and their interactions with the Title IX office. There is even more work to be done on that front and we are eager to undertake it."
More recently, the work of the Title IX office and the college's administrative policies have once again come under the spotlight in the wake of another period of increased visibility of sexual assault on campus. On Dec. 10, 2021, an Instagram account with the handle @amherstshareyourstory began posting anonymous stories of sexual misconduct at the college. The account has called attention to the current culture of sexual violence on campus, with narratives describing various forms of sexual misconduct such as slut-shaming, stalking, and manipulation. Several posts also explicitly address the lack of adequate resources and support provided to survivors by the administration.
Taking a response similar to the one in 2012, in a Feb. 3, 2022 email President Martin announced enlisting the help of Gina Maisto Smith and Leslie Gomez to review the college's policies and practices on sexual misconduct. Smith and Gomez were hired in 2012 for the same purpose, resulting in a report titled Toward a Culture of Respect: The Problem of Sexual Misconduct at Amherst College, also known as the SMOC report.
According to Frankl, "The 2012 SMOC report was clear that it is not enough for Amherst to "just" comply with the bare minimum of the law.  Rather, all aspects of our work must embrace the essence of Title IX's categorical prohibition of sex discrimination in education. We have been continually executing and building on this mandate through our community care model and our strict adherence to fair policies."
The culture of sexual respect on campus has undergone significant change since the college's origins of co-education in the 1970s and has been considerably reformed since the events of 2012.
Lyle recalls one reform as a result of these events being a shift in the use of language regarding sex, "There was a call to reframe conversations about consent. I think a lot of verbiage from the SHEs [Student Health Educators] in particular was like 'consent is sexy', which is great but what really came out of those discussions is that it needs to be more nuanced; 'you can't have sex without consent' is basically what we should be saying because it's not sex at that point."
Changes in culture are also reflected by current student initiatives that promote positive and inclusive conversations concerning sex. In the week of Oct. 25, 2021 the SHEs held a "Sex Week" where events included a BDSM and kink workshop, discussion centered around LGBTQ+ experiences, and promoting sexual education.  
Campus-wide support for, and solidarity with, survivors of sexual assault has also increased since 2012. In April, the Peer Advocates for Sexual Respect hosted a series of events in light of Sexual Assault Awareness Month, aiming to promote prevention and awareness of sexual assault.
However, despite these improvements in the college's culture and policy concerning sexual respect, the Instagram account @amherstshareyourstory has drawn attention to the work that is still left ahead of us towards creating a safer campus.
In Frankl's view, reaching this goal requires the contribution of every member of the Amherst community. "There is no simple, obvious "fix" for sexual misconduct and gender discrimination, in general," she said. "What I do know is that culture change requires each of us to participate: speaking up about what is happening; supporting those affected by sexual violence; engaging with the work on the campus, local, and national level; educating ourselves; being an active bystander; speaking plainly about our expectations that we will not hurt each other; and listening to and supporting survivors in their choices for what accountability and justice looks like for them."
"We all have a role to play."