Features
Staff Spotlight: Michelle Phillips
Michelle Phillips is a Cash Operations Supervisor who currently works at Grab-n-Go. She spoke on her 30 years working at Amherst, Pride, birdhouses, coaching sports, and her advice for Amherst students.
Q: What is your role at Amherst?
A: I've been here since 1993. I'm sure you can do the math yourself. I started here in the salad department ever so briefly, and then moved quickly into catering, [where I spent] 17 years. I then came over to retail for the last 13 or 14 [years], which was more along the lines of what Schwemm's is over at the Science Center. Then it transitioned into Grab-n-Go, because [that] was a [much] needed program on campus, but it was a beast to take over. With that program, I really try to make sure that we're really genuinely just taking care of you kids. I have two kids who are around your age, so it's such a great connection with you all throughout the day, because I feel like I totally get what you guys are going through. It's really important to me to support you guys and foster what you're doing, and if there's a step in your day that we can make easier, that's awesome.
Q: How do you spend your time outside of Amherst?
A: Well, this is funny but I'm an avid cross country skier, so I keep my skis in my car. And I keep hoping that we're gonna get a dump of snow, so I still have my skis in my car, even though it still hasn't snowed. So that's kind of a bummer. Lately, though, I've been targeting newly built trails on conservation land to explore the woods. For me, it's a pretty big deal to spend time in the woods. Spending time in the woods is really amazing –- I feel like I can breathe differently and it makes me feel better. It's very nurturing, and it's good for the soul. I also love gardening and flowers. I always have flowers on my table. They're very joyful.
Q: What do you keep in your garden?
A: Perennials. The typical lilies and hostas and stuff like that. I just enjoy looking at the flowers. In the morning, I love to have my coffee and look out the window and watch the birds in my birdhouses. There is something so peaceful about it, and there's so many different colors. I feel like when I see different birds visiting my bird feeders, it reminds me that the world's a pretty amazing place. So I'm a bit of a birdhouse collector. I have birdhouses all over. I love to go out thrifting and searching for them in antique stores. My garden's full of flowers and birdhouses.
Q: Where are you from?
A: I was born and raised in Northampton -– always been there. It's a great town. Very progressive, super fun. It's the kind of place where everyone wants to be, which is pretty darn awesome. I often drive up north of Boston, and when I drive back down into the valley on [U.S.] Route 2, I'm like, God, it is so dang pretty here. So it's a really great experience to feel like I have deep roots and ties to this area.
Q: How has the area changed since you were growing up?
A: When I was growing up as a kid, there were a lot of things that people needed to learn and that we didn't deal with as a society. And I'm thankful that now we're in a time and place where we can deal with them and move together towards greater good. I think there's a lot of different parts to having conversations and moving forward. I'm a gay woman myself. I remember when, even in Northampton, with the gay movement, Pride was initially 50 people and they felt like they had to have bags on their heads. That is really sad to me. Now, it's evolved to a day to celebrate community, joy, and acceptance, and there's so many people there. I've seen that evolution and change. And that could be about so many different other subjects. It's one of the things that I think about often with my own kids and I wonder how much of this you all understand at your age. When I was your age, I was just kind of focused on what I was focused on. But I would like to believe everybody's a good person. I believe in that and I believe in finding better ways.
Q: What does fostering the community look like to you?
A: I spent a lot of time as a community-sports coach, specifically for my son's team. But I was introduced to community when I was a kid myself. I was introduced to it by these 'grandfathers of community' who encouraged me and taught me how to give back in a good way. Once I had kids, it was essential for me to give kids a place to go out and enjoy themselves and learn about [being on a] team. Because of coaching, I went to a few conferences on team-building, which were just fascinating. Team is very important to me. Coaching has been a really great experience.
At Amherst, there's a lot of things going on that are fun. Whenever students invite me to a performance or a sporting event, I make my best effort to get there. I tend to go to softball and baseball the most because of my background, but I'm very spirited with everything here. I'm absolutely a Mammoth. And the theater events are mind-blowing. I went to one a couple weeks ago because students invited me, and it was just so cool. I've never been to one that I didn't leave feeling impressed. It's important for me to go when I get invited because I'm at a juncture in my life as an empty nester where I have a lot of time. I love supporting you kids and seeing what you're doing.

Q: What is your favorite part of your days at Amherst?
A: I've been here for 30 years and I can't emphasize enough how much I appreciate the kids. Sometimes I'll get to have great conversations with students. It's just nice to let you talk about yourselves for a bit. I feel so lucky to hear about what's going on and what your dreams are, and what you want to do with your lives. You all have such a busy schedule, and I like to give you a chance to check in outside of all that stress. You all are so fortunate to have these faculty members teaching you. Sometimes I get to have conversations with faculty, and when they have a chance to share what's going on, I'm blown away. I just think it's really awesome to hear about what's going on around campus.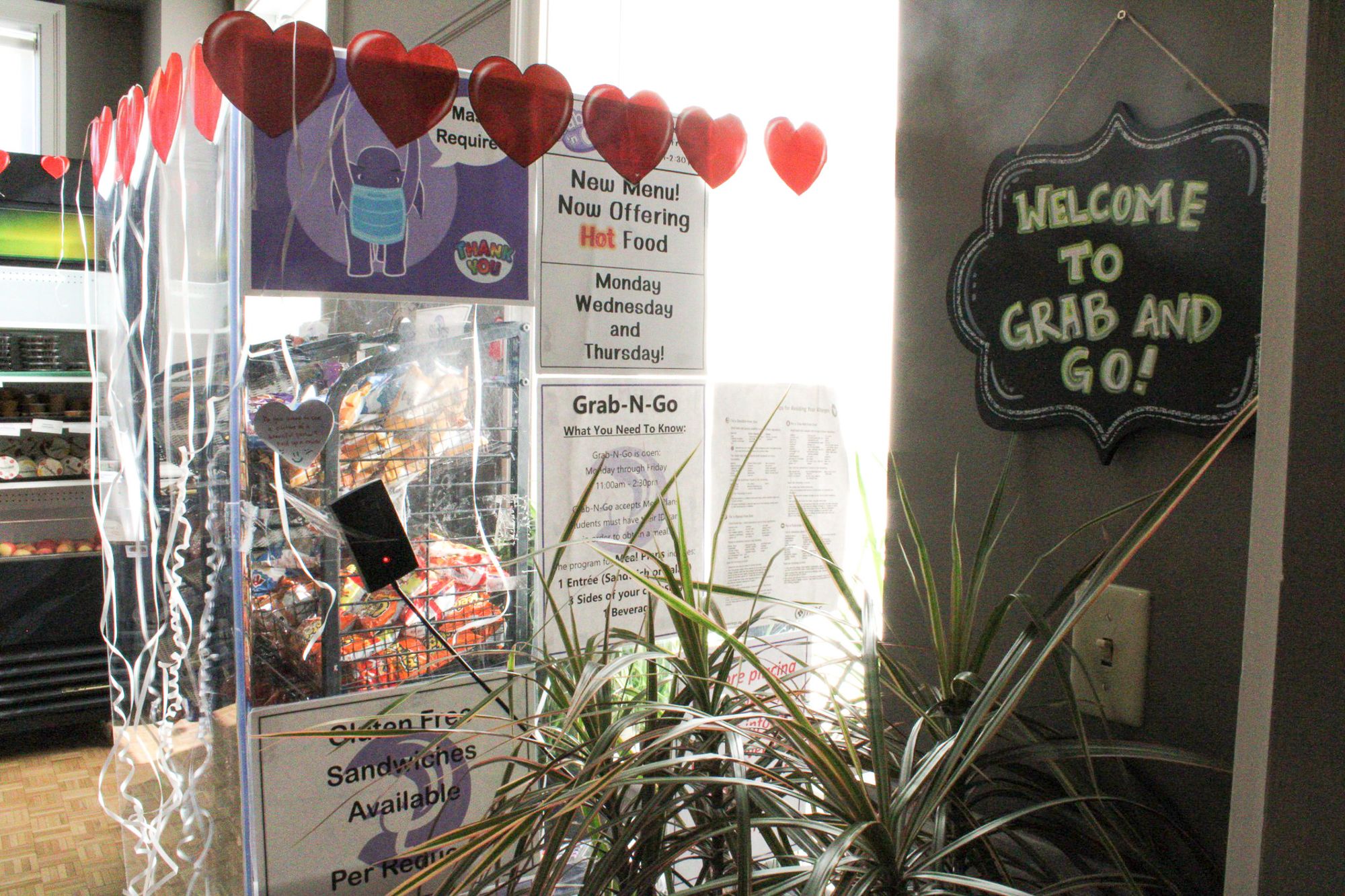 Q: If you could take a class at Amherst, what class would it be?
A: I would love to take one with [William Nelson Cromwell Professor of Jurisprudence and Political Science] Austin Sarat or [John E. Kirkpatrick 1951 Professor in Law, Jurisprudence and Social Thought] Adam Sitze. Kids come in here so excited to talk about the research they work on with Austin. And I've had a few short conversations with Adam when he comes through Schwemm's or Grab-n-Go, and I really like his trains of thought. Even in such brief conversations, it feels like he makes such brilliant associations. The other one that sounded really cool was [Poler Family Professor of Psychology] Catherine Sanderson's class on happiness. I also think anything going on over at the science center would be super wild and really awesome. Even geology — I always thought of geology as just rocks, but I realized it's really about so many different things. I'd also love to take a class with [William McCall Vickery 1957 Professor of the History of Art] Nicola Courtright. I read a spotlight about how she was teaching art history during Covid, and I was so impressed by it. I think art history is really cool, especially thinking about the period of buildings. When we go to museums, my partner and I do quizzes on the pieces of art, and try to figure it out. She's much better than I am, because she was actually an art major, so she nails it almost every time. For me, it's a bit of a guessing game, but I'm learning a lot about it from her. But you kids are really lucky to have the faculty that you do.

Q: Do you ever keep in touch with students after they graduate?
A: Most of the time if kids come back, they'll pop in to see how I'm doing, and it's super sweet. I usually tell them when they come through, 'I think you were in my seventh class, or 14th class…' So when they come and ask, 'Oh, Michelle, how are you doing?' I have to stop and ask myself, 'Michelle, how are you doing?' But that's good, because it means I'm still young! It's really rewarding. It's like when I run into parents of kids that I used to coach at the grocery store, and they say, 'Thank you so much for the experience you gave my kid.' It's very humbling to realize that I might have impacted someone. And you're like, 'Oh, yeah, that's a good thing,' you know? That's kind of neat.

Q: Do you have any advice for us?
A: Yeah. Be patient in life. Be patient. You know, life is long, so follow your dreams. Go for it, and don't be afraid to ask for help, or even the fundamental things. Don't be afraid to advocate and get the best for yourself. And be kind to each other. You know, that's what's important.